Terry Fenwick, an England 1986 World Cup defender and former Central FC and San Juan Jabloteh coach, is the new Trinidad and Tobago Men's National Senior Team head coach, after the Trinidad and Tobago Football Association (TTFA) offered him a two-year deal today that could stretch to four years based on performances.
Fenwick will officially start work on 1 January 2020 and must immediately approve friendly matches for the Soca Warriors for the next Fifa international match window in March.
More importantly, he must lead Trinidad and Tobago past either Guyana or Barbados next June in a two-legged 2021 Concacaf Gold Cup Play fixture—a contest that could have a major impact on his future with the side.
Fenwick was tipped for the post by former TTFA Technical Committee chairman Dexter Skeene, three years ago, only for the Board to overrule him and instead select Dennis Lawrence.
Today, the Board voted 8-1 in favour of Fenwick via email, after members decided last Saturday to vote electronically for the new Men's National Senior Team head coach rather than have a second meeting within five days.

And, with 12 Board members eligible to vote, the TTFA opted to name the Englishman as the new Soca Warriors head coach instead of waiting for the remaining three ballots.
"We received strong representation from a number of candidates for the position of head coach," said TTFA president William Wallace, via the TTFA Media, "but Terry's knowledge of our football, coupled with his international experience made him the obvious choice.
"I am delighted and excited by Terry's appointment as it represents a significant step in our overall re-development. As part of the National Teams Programme, his influence will be felt at all levels and the TTFA Board is looking forward to supporting him in every way possible."
Look Loy, the Technical Committee chairman, suggested that Fenwick was a fairly obvious choice.
"There is no better candidate in Trinidad and Tobago than Terry Fenwick," Look Loy told Wired868. "Everyone else has had a chance… He is the best choice we have in Trinidad and Tobago and now he has to go and validate that confidence the Board and Technical Committee have shown in him. It is his baby.
"If he succeeds, then he gets his bonuses, he gets his contract extension and he gets to take the project forward, which is what we want."
Fenwick, who turned 60 last month, first came to Trinidad on 4 January 2000—two years after a three year spell as boss of then England second division club, Portsmouth.
Twice, he left Trinidad for disastrous short-lived stints at cash-strapped, crisis-stricken European clubs, Northampton Town (England) and CV Visé (Belgium). But he never lost his Midas touch on the twin island republic where his fast, aggressive style won him Pro League titles at Jabloteh and Central.
His last of past players within the current Soca Warriors pool is extensive and includes team captain Khaleem Hyland, defender Sheldon Bateau and maverick midfielder Ataulla Guerra.
"I know most of the players relatively well and, having been here as long as I have, I know the strengths and weaknesses of Trinidad and Tobago football," Fenwick told Wired868. "So I will try to tailor my plans to their strengths to bring quick success. I need support around me and I welcome the public's support to help lift our football back to where it should be."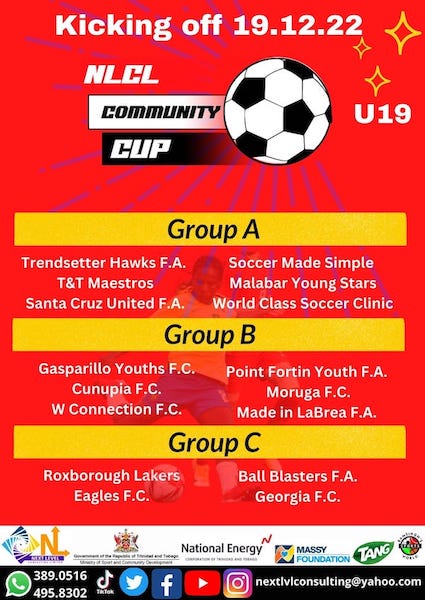 Fenwick cited athleticism as an attribute within the local game with mentality as a general weakness. It is now his job to turn around a team that won just one of 15 matches in this calendar year—against Fifa's worst ranked nation, Anguilla—and have not managed three points in a competitive fixture since their 2-1 win over the United States on 10 October 2017; some 799 days ago.
First order of business for the new Warriors coach is to create a clear understanding of roles and functions within his squad.
"I'm organised, I'm structured and players know exactly what they have to do in my system," he said. "I'm also very flexible tactically and I'm able to change formations during matches and I've demonstrated that over the years. I demand plenty from my players.
"We might not have the Dwight Yorkes and Russell Latapys of yesteryear but we have still got lots of quality, particularly in terms of the defenders we have produced over the last 10 years."
It has been a long road for the combative Englishman. Born in Seaham on the outskirts of Sunderland, Fenwick credited his early aptitude in the sport for saving him from life as a coal miner. Instead, he moved to England where he linked up with renowned coach Terry Venables at Crystal Palace.
Fenwick, an uncompromising defender, followed Venables to Queen's Park Rangers and Tottenham Hotspur and captained each side, while he also played for the late Sir Bobby Robson at the 1986 World Cup in Mexico—where he had the misfortune of being one of a half dozen Englishmen outfoxed by Argentine Diego Maradona in the most iconic goal of all time.
As a coach, Fenwick took Portsmouth within a play off spot of the England top flight in his second full season. But a disastrous follow-up year ruined his reputation in his homeland and he re-invented himself in Trinidad.
The father of a three year old Trinidadian, Remi Fenwick, his knowledge of the local game proved key as he staved off local and foreign applicants for the post, including former England coach Peter Taylor.
Taylor, according to a source, was unavailable until next June. But, even if the TTFA was prepared to wait, there was an issue of demands that did not arise with Fenwick.
"The important considerations here were finance, availability, the fact that he knows the players," said Look Loy, "the fact that he is willing to come alone and the rest [of the applicants] wanted to bring a band of coaches who each wanted how much USD, cars, housing, etc. It is a combination of things.
"[…] Let me be clear though, it wasn't a question of taking the cheapest option. It is a range of factors we took on board and finance is only one. We think he has the qualities to lead the team; and now we, the TTFA, have to give him the resources he needs to the job. The rest is up to him."
Another factor is Fenwick's willingness to work with the Men's National Under-20 and Under-17 Teams—a point that the Englishman and Look Loy seem equally keen on.
"The National Senior Team coach will work alongside the coaches in the youth team," said Look Loy. "Not dominate eh; but work with. The idea is that the National Under-17 coach will be assistant to the National Under-20 coach and the Under-20 coach will be assistant to the Senior Team coach. That way, we will have tactical unity, continuity and fluidity between the teams.
"The day of a National Team being the private reserve of the national coach is gone and will not resurface under my watch. Now, we need integration of the teams and the staff and we will do it by having linkages."
On the topic of youth development, the new head coach and technical committee chairman appear to be singing from the same hymn book.
"Our young players here are missing four or five years development on and off the field," said Fenwick. "They are not turning professional early enough. We are behind Central and North American teams, who are better at bringing young players through; and you see it in their squads which have a few veterans and lots of youths."
Fenwick is renowned for blooding young players and gave the likes of Khaleem Hyland, Sheldon Bateau, Ataulla Guerra and Kevon Goddard their Pro League debuts as teenagers. He hopes to do the same at National Senior Team level, although he accepts that winning matches is the first order of business.
"We have to get back on track and start winning games," said Fenwick. "Of course I want to bring youngsters through but I will be very selective. I want to work closely with the Under-17s and Under-20s, so I can cherry pick the best youngsters and have them involved with the senior team and fit them in when I get the chance.
"[…] But I can't run myself too thin. We need results, which is not just for the players but the fans as well."
Fenwick has not yet signed a contract with the local football body or selected his backroom staff and there remains the possibility of late wrangling. For now, the suggestion is that the Englishman has the job for exactly two years and will need to get the Warriors into the 2021 Gold Cup quarterfinals to get a two year renewal.
In other words, Fenwick has six months and two competitive matches to get Trinidad and Tobago into the Gold Cup to start with, via the Play Offs. Then, he has another 12 months to transform a team just demoted from Concacaf's top tier of 12 nations into a top eight outfit in the Caribbean—as they were under former head coach Stephen Hart.
"The Gold Cup qualifiers are very important and for a team coming out of the worst winless streak in Trinidad and Tobago's football history, our opponents are a little ahead of us," said Fenwick. "But that will not deter me. I have things in my mind to turn things around.
"I think it safe to say that I have a real love and passion for Trinidad and Tobago. There are a lot of talented people here—and I'm not only talking about in football. Now it is up to people like myself to help them shine and show their skill-set for the betterment of themselves and their country.
"And I hope the public will help me. Because I am going to need their help."