Naparima College successfully defended their Secondary Schools Football League Premier Divison title, beating Queen's Royal College 4-0 on the final day of play at CIC Ground in St Clair. 'Naps' have now claimed four of the last six Premier Division titles and stretched their unbeaten league run to an incredible 28 matches.
As the Naparima students and supporters swarmed their champions, head coach Angus Eve reminisced on another fantastic, unprecedented season.
"[It was] phenomenal. The guys were excellent and very consistent. To go two seasons back to back without losing a game; it says a lot about the school, the principal and the programme."
Eve continued to dole out praise: "I worked with a fantastic team of people, Clayton Ince, the goalkeeping coach, Darryl John, Percy Samlalsingh, Abdallah Phillips and Roger Ryan. Those guys were phenomenal; they were really focused. And when you ask them to perform a role, they perform it."
He credited the team's excellence and discipline on the field to Naparima College's standards overall. "It's not just about football," he said. "It's about holistic development for the kids."

The teams began the match in different shades of blue. Their supporters wore identical uniforms, but the differences told on the pitch.
[sports-match template="logos" match="57318″]
For the duration of the scrappy, nervous opening minutes, both teams gave as good as they got. But Shippley's intuitive shoulder flick sent Nathaniel Perouse in after 17 minutes. He obliged with a low shot that kissed the right upright, beating the keeper to the back of the net.
Three minutes later, Decklan Marcelle played a through ball into Shoaib Khan, which he stroked in for the second goal.
The third came from the penalty spot. Ezekiel Armstrong was adjudged to have handled Isa Bramble's cross, delivered after he had muscled his way into the area down the left flank. Shippley took charge and dispatched it with aplomb to the keeper's right.
QRC fans, though silenced by the proceedings, grumbled about the veracity of the referees call. Armstrong's arms were at his side when the whistle was blown.
In the 26th minute, QRC's uphill climb became that much steeper when they went down to 10 men. QRC keeper Jacques Poon-Lewis caught and released the ball outside the area with Seon Shippley bearing down on goal unaccompanied after the last defender misjudged the height of a clearance
Referee Crystal Sobers showed Poon-Lewis' a straight red, and defender Randy Lewis had to be sacrificed for Jumaane McNeil.
Despite the lead, Naps never took their foot off the gas. Shippley, Bramble, Perouse and Marcelle were a constant thorn in QRC's side.
At the other end, the Naps defenders, with the imposing Tyrike Andrews at their centre, looked to be strolling the match. Their positional awareness, shape and cohesion made the task look easier than it was.
Still, QRC head coach Nigel 'Grovey' Grovesnor said he was pleased with his team's application. "They scored, I think, a soft goal in the 17th and had us 3-0 first half, but I'm really proud of the guys for coming back out and fighting it, we always knew it was going to be hard."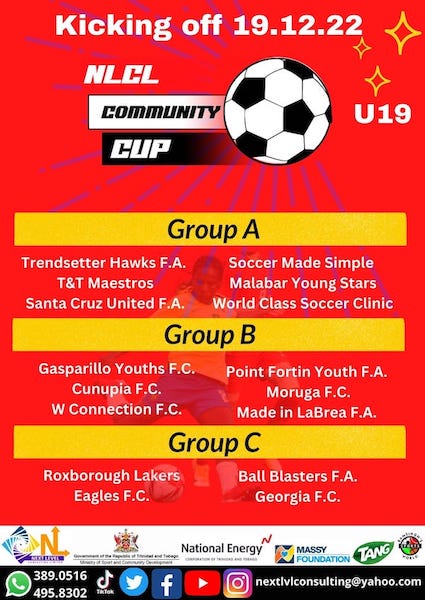 From the break, Naps came out with the same vigor in the second half and managed their possession well, looking very much the efficient, well-oiled machine they have been for the past three years.
Marcelle had the first gilt edged chance of the second 45, but he put his free volley at the last post into orbit.
Jaheim Granderson, who was kept out of the match for most of the first half, had two chances for QRC early in the second. The first was a scuffed shot right at Fernandez, and the second was a header in the 56th that went just wide of the upright.
But without Nathaniel James, QRC lacked the bite, leadership and imagination needed to overcome the reigning champions.
QRC was short in two key departments and it showed. National Under-15 midfielder Nathaniel James and wingback Tristan Stafford missed the match through injury.
"I would've loved the entire team out there; we had two quality players out. I'm not saying it would make a difference on the outcome per se, but it could've been a lot more competitive."
Bramble put the exclamation point on the match with a goal of the season contender. Controlling Marvin Waldrop's long pass out of defence at full stretch, he then dinked it over the keeper without the ball touching the ground. The score was 4-0.
QRC's second-choice keeper, McNeil, kept things somewhat respectable, beating away a late Kodel Frontin penalty. But the result was already sealed at that point.
As non-alcoholic bubbly fizzed into the air, Eve said the strength of his team was their adaptability.
"We used the players we have. Sometimes the opposition dictates that we do things a little different; on two occasions we played 3-5-2. Because we always practice three different systems, we are able to adjust to whatever is going on on the field at any time, and we can change matches at any moment."
But it was not all love from the Naps coach. "Thank the sponsors who stuck by us even when Sportsmax tried to derail it," Eve said. "People have to understand that denominational schools have to survive on subventions and sponsorship money because we aren't like government schools that get funding from the state."
Grovey said the end of the match was important to the rest of QRC's season. "I'm pleased with the second-half performance, which will make them feel a little better. If we got five, six goals today, it would've been hard to pick them up, but the kind of fight they fought is good for going into the Intercol."
He said he was proud of what his young, inexperienced team achieved this season. "I'm just looking forward to next season with these guys. The boys were really young [and] all of them, bar the last stopper and first-choice goalkeeper, will be back next season and here for the next three years."
SSFL president William Wallace was also in attendance and credited both teams for their quality and fighting spirit, which he said augured well for the league.
"When we introduced the Premier Division, it was specifically for the purpose of trying to improve the football, [and] I have seen the quality improve. Teams are better prepared, schools are putting more into their preparation because you are meeting the best teams throughout T&T."
He continued with a grin: "What is beautiful is this is the third year we have come down to the last day to decide the league, and that is good, that is beautiful. Today we had personnel at both games because it could've gone either way, so that's a good sign and it's also good for TV.
"Now we have the Intercol coming up and we can't prejudge that competition. You know what happens with Intercol, it's a whole different ball game. It's a knock-out competition and teams that did badly in the league, sometimes they shine then very brightly."
Naparima College is also defending that title, but it would take a real betting man to think they are not capable of a repeat.
(Teams)
Queen's Royal College (4-5-1): 1.Jacques Poon-Lewis(GK); 4.Ezekiel Armstrong, 17.Donnell Claxton, 9.Veron Aqui, 6.Abbas Abdul-Latif; 25.Kaylon Taylor (8.Brian Armstrong 64), 16.Nathaniel Brown, 7.Jaheim Granderson, 10.Darian Bradshaw (21.Tyreke Harding 46), 19.Jude-Anthony Johnson; 2.Randy Harris (22.Jumaane McNeil 29).
Unused Subs: 3.Abrahim Abu-Bakr, 6.Abbaas Abdul-Latif, 14.Miguel Cross.
Head Coach: Nigel Grovesnor
Naparima College (4-3-3): 1.Levi Fernandez (GK/Captain); 15.Marvin Waldrop, 12.Asukile Christopher, 4.Tyrike Andrews (2.Thaj Neptune), 5.Atiba Lewis; 6.Shoaib Khan, 8.Kodel Frontin, 20.Seon Shippley (7.Mark Ramdeen 64); 10.Decklan Marcelle (9.Ezekiel Kesar 64), 17.Nathaniel Perouse, 19.Isa Bramble.
Unused subs: 30.Regaleo Holder (GK), 3.Chakim Guy, 11.Kern Cedeno, 18.Jaden McKree.
Head Coach: Angus Eve
Wired868 Man of the Match: Isa Bramble (Naparima College)
SSFL Premier Division
(Monday 4 November)
QRC 0, Naparima College 4 (Nathaniel Perouse 17, Shoaib Khan 20, Seon Shippley 22, Isa Bramble 80) at Serpentine Road;
St Anthony's College 0, Presentation College (San F'do) 0 at Westmoorings.