The commissioner of police has a problem; in fact, he has more than one. You are probably thinking crime, but you're wrong; crime is not his problem, it's ours!
The problems to which I want to call attention are not communal but personal. And they could cost him his job, which, one can be forgiven for thinking, sometimes mean more to him than his life.
Gary Griffith's first problem is a mouth that has a mind of its own. True of the mouth, some would have us believe, but not of the man; there is someone behind the curtain pulling the CoP's strings. Recent evidence, however, suggests that those who subscribe to that view are way, way off the mark.
Problem number two is that the CoP has a very high opinion of himself and of his own importance. Not to be confused, I hasten to point out, with the importance of the office he currently holds.
And high office and an untrustworthy mouth can be a very dangerous combination, as anyone following contemporary American politics can attest.
Some people who follow politics in T&T have apparently arrived at their own conclusions about the dangers posed by high officeholders who speak out of both sides of their mouths. And who have people pulling their strings. Among them is a well-known Sunday newspaper columnist.
Having presumably looked in his wardrobe and ensured that there were court clothes hanging therein, Ralph Maraj proceeded to share with his readers an interesting opinion about the prime minister.
Now I know that some in T&T are of the view that Dr Keith Rowley is the man in front, not the true leader. But that is not what Maraj, who was once in the bowels of the PNM, called him. So I feel certain that Maraj has evidence. Hard, justiciable evidence. Not the kind of evidence that, as happened in a famous rape case acquittal, could not stand up in court.
Once in this space, I called Dr Rowley a "S.H.E.L.L." I was following someone's lead then, but I have over the years accumulated tons of circumstantial evidence to satisfy myself that every one of the five unflattering descriptors in that mnemonic is deadly accurate.
Far be it from me, though, to spell them out in public. Why? Chalkdust's 1970s bogeyman was Karl. Me? Ah fraid KCR.
The PM recently reminded us all of how jealously he guards his good name and how zealously he will defend it. So I simply cannot imagine that he would allow anyone to get away with calling him what Maraj called him in the Sunday Express. I propose to keep my ears to the ground to hear when Maraj gets his pre-action protocol letter. And I shall be most present in court, God willing, when the case is called; I'd love to be able to give my handful of readers whole words instead of mere letters…
…if the 70-year-old Maraj's evidence stands up!
Which brings me right back to Motor Mouth GG. I feel certain that his supporters are very proud of the way he has stood up to power. But they should be less proud of the way he has failed to keep clear the distinction between the man and the office.
When he was sworn in as CoP in August last year, the man swore that he was no longer going to be talking about Gary Griffith. And he kept his word, keeping himself to himself—for a little while!
But running his mouth is not really something of which the sports-minded commissioner is really in control. Last month, for instance, he got himself into some very hot water, failing to load his brain before shooting off at the mouth. When the TTPS launched a fo'day morning raid on Transformed Life Ministries in Arouca, he sounded off loudly and prematurely on the national airwaves about 'slavery' and 'human trafficking'. He has since had to walk that back because it soon became clear that his pronouncements were, not to put too fine a point on it, premature.
Lesson learnt? Ha!
Late last week, the TTPS damblayed their high-wall-scaling heroics, their target this time not a high priest but a high-profile St Clair resident. You had to hear it to believe it. Presumably, the CoP did not beat his chest and howl à la Tarzan. But he did let the world know that Gary Griffith had no intention of turning a blind eye to crime, whether it existed in Westmoorings, Gulf City or St Clair. No mention, mind you, of Petrotrin, the Ministry of Sport and Youth Affairs, the Ministry of Housing or the Judiciary.
The Law Association, however, felt sufficiently targeted by some of his other comments on crime for its president to publicly demand that MMGG cease and desist.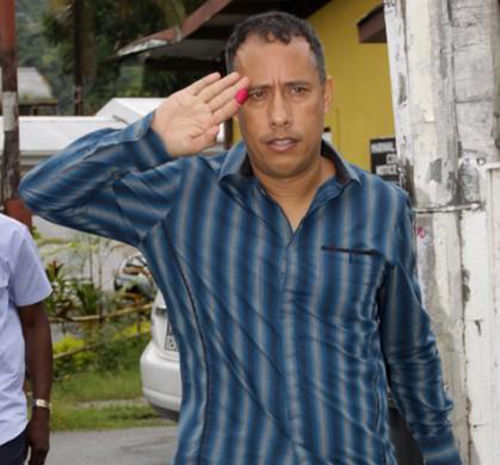 Call names and press charges, Douglas Mendes S.C. urged, or call off the snide comments about criminal lawyers.
Gary Griffith? Ha! Since when, came his retort in the form of a rhetorical question, does a robe make some people more equal than others?
So the lawyers too are still waiting for the shoe to drop. Or the shhhh! But they are destined, one feels, to wait at least as long as the country has had to wait to see the Darryl Smith report. Or any other report, for that matter, which has the potential to embarrass the ruling party in the loooooooooooooooooooooong run-up to next year's general elections.
And both the Sunday Express and its red-jacket-yellow-jacket columnist can count themselves lucky if, while we wait, they aren't served with an embarrassing legal letter.