Like many—dare I say most—citizens of this rock, I, too, am fed up. Fed up of the illiteracy which poses and passes for governance; fed up of the sorry excuses with which citizens are provided; fed up of excuses parroted as reasons for their massive and collective incompetence.
I am fed up of those with over-inflated egos with matching titles collecting huge salaries, sitting in their plush, taxpayer-subsidised, air-conditioned offices and tax-free luxury vehicles, insulting the intelligence of citizens of this nation on an hourly basis.
It is abundantly clear that sorry bag of morons holding on to the reigns of power should be fired forthwith, if not sooner. The Peter Principle comes to mind but does injustice to describe this failed state. The closest I can come to accurately describing this place is a 'kakistocracy'.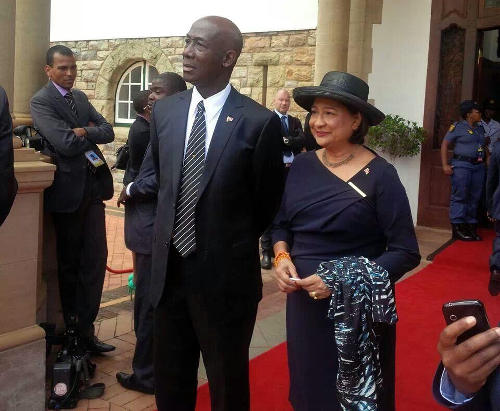 That a gang of social misfits and highly glorified incompetents came into office "red and ready" and have managed to make the lives of the average citizen in this land a living hell, need not be revisited. One might think that the massive incompetence would have been reserved specifically for this cohort of political parasites. Unfortunately, they have also managed to install persons in strategic positions who are equally incompetent.
Case in point, being, the current commissioner of police.
In a recent report, the Commissioner of Police told this nation that 'intelligence agencies' revealed that there are 'over 50 shooters […] taking out hits on opposing gang members'. He was further quoted as saying that this is 'the root cause of a significant number of homicides'.
Thanks for the heads up, Mr CoP! Just what we needed to know. Reminds me of the weather reports with 'partly cloudy and party sunny'. Methinks it's wise to take the brolly along, just in case.
I find it most amusing that the 'intelligence agencies' can provide such 'accurate numbers', yet have been either reluctant or unable to provide the CoP with other relevant data, like names and addresses, perhaps even a contact number here or there and a user name  on one of the myriad social media forums.
To tell this nation that there are over 50 'shotters' and not provide crucial support data—as per their location/hide-outs and significant others, like girlfriends, baby-mamas, wives, etc—is to be engaging in the same rhetoric as the late Martin Joseph, who informed the nation as to the number of gangs, along with membership numbers. And not one thing was done!
The CoP, in all honestly, cannot be blamed for the ill-conceived policies and decision emanating from the political parasites. But I have said it in numerous forums: when one wishes to take credit, one must also be willing to accept blame. Sadly, we are a society driven by persons seeking glory and fame, as in him being front and centre at drug busts to use as photo-ops.
It is my professional analysis—emanating from this loud mouth—that the CoP has a long term plan laid out, part of which is a political agenda. He has been and is continuously seeking to brand himself, using public offices for just that. Based on his ego, he's seeking to become a household name; something in which he has partially succeeded.
But for folks with long-term memories, like my dishonourable self, we recall his statement: "judge me by the murder rates." He has no credibility. The murder rates continues to rise…
The TTPS is, has been, and seems destined to continue being dysfunctional, despite massive budgets, major advances in technologies and exposure to international, best-practices. They continue to arrest weed smokers and find an assortment of other drugs at abandoned houses. They continue to find guns and ammo in 'fig patches' instead of setting up sting operations. They continue to abuse citizens who end up being financially rewarded by the state—paid for by taxpayers—to the tune of millions of dollars.
Mr CoP, we don't need to know how many shotters there are out there; we already know. The TTPS has the sole responsibility to investigate and charge. Just do it!