"In all," observes Jon Hotten in The Meaning of Cricket, "he faced 19, 753 balls in Test cricket and another 13,086 in one-day internationals before he retired in 2007. Only 483 of those resulted in his dismissal, so 32,356 did not.
"Put differently, just 1.47 per cent of the deliveries bowled at Brian Lara got him out."
Regrettably, I have no access to comparable ready-made figures for the Little Master, Sachin Tendulkar, who played 200 Tests and 463 ODIs, or the Boy from Bowral, Donald George Bradman. Nor do I have comparable ready-made figures for the percentage of all of the team's runs Tendulkar scored in the 663 matches he played for India on five continents.
For the West Indies, Lara's percentage is an admirable 18.8%, second only to George 'Massa George' Headley's stunning 25.61% of the West Indian runs scored before the War during matches at home and in England and Australia. But Bradman's contribution in his 52 Tests in Australia and England relegates the Caribbean pair to second and third overall.
Playing against England in Leeds in 1930, Bradman, aged just under 22, hit a world record 334. Four years later, he repeated the feat, amassing 304, again at Leeds and again versus England.
In the 109-year history of Test cricket up to mid-April 1994, only 18 batsmen had contrived to take their individual score as far as 300; only. The Don, however, had been able to do it twice.
Among the 18 were two West Indians. One was Lawrence Rowe, he of the truncated Test career, who had made a total of 314 runs in his debut Test and then got 302 in a single innings against England in 1974 in his 14th Test innings.
The other was Garry Sobers, who had made 365 n.o. at Sabina Park in 1958 in his 29th Test innings to own the record set by Len Hutton in England just under 20 years earlier.
[dfp-ad]
That high-water mark still remained out of the reach of all Indian batsmen, including Tendulkar. He was already beginning to impress with his obvious appetite for big runs. And those who had eyes to see probably had already spotted in the Little Master a clone of his Mumbai predecessor, Sunil Gavaskar. The prolific opener had, many have argued, overstayed his time in the Test arena, intent merely on sealing a permanent place in the record books.
Some are convinced that Tendulkar's 24-year-long career was extended for the same reason. Insiders, however, and the more discerning pooh-pooh the idea, pointing to his stabilising and inspirational influence on the new generation, which may yet produce another world-beater in Virat Kohli.
Between April 1994 and April 2004, Tendulkar again fell short of qualification for the exclusive 300 Club. The honour of being the first Indian to do so had fallen to swashbuckling opener Virender Sehwag. With his 309 versus Pakistan in Multan in March 2004, he threatened to grab the world record from Australia's Matthew Hayden, who had 'borrowed'—espncricinfo's word—it from Lara a mere five months earlier.
And three others—Sri Lanka's Sanath Jayasuriya, who hit 340 versus India in Colombo in 1997, Pakistan's Inzamam-ul-Haq with his 329 vs New Zealand in Lahore in 2002 and Australian skipper Mark Taylor—had also secured their place among the 300-plus elite.
For entirely different reasons, the two Australian innings require further comment. Playing against Pakistan in Peshawar in 1998, Taylor had declared the innings closed with his individual overnight score on 334. He did not think it fit, he would later explain, for him—or any Australian—to go past Bradman's highest score.
Going to bed on April 17 on 320, Lara, in sharp contrast, had spent half the night awake, plotting strategy for getting the 46 runs he needed to overhaul Sobers' 26-year-old record, with nary a thought, as far as we know, about his fitness to go one—or many—better than Sobers.
In fact, he told an interviewer years later, knowing that he had a chance to break the record 'was actually a great feeling'.
Hayden showed himself happy to make history, unhamstrung by Taylor's Bradman hang-ups. His 380 against Zimbabwe at Perth in October of 2003 came in 622 minutes and off a mere 437 balls. It contained 38 fours and 11 sixes. In posting 501 for Warwickshire in June of 1994 to add to his 375 Test mark the record for the highest individual innings in a first-class match, Lara had only managed ten sixes.
Who can blame the then 32-year-old hard-hitting, left-handed opener for being smugly confident that the record was his not just in the short term? And when Sehwag fell 71 runs short of the mountaintop in March of the next year, that confidence might well have got a boost.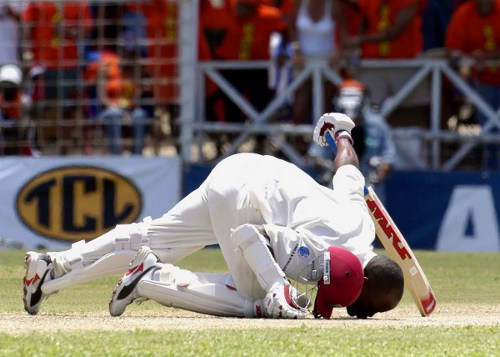 It would get bombed only a month later. And in the immediate aftermath of his 400, Lara told Michael Holding that Hayden 'might have tried (to call me) but I didn't get that call yet'.
If the then 34-year-old ex-record holder spent the six or so months between October 2003 and April 2004 plotting strategy for reclaiming the record that he—and many West Indians—had come to think of as his, it is not a matter of record. In one of the Prince's many interviews, there is just the slightest suggestion, I think, that the Australian's somewhat terse responses when Lara's congratulatory call had finally got through in October did steel the Prince's resolve to reclaim what was his as of right; perhaps, however, that is merely the fruit of an overactive imagination.
What is a matter of record is that, by November of 2013 when Tendulkar finally called it a day, Chris Gayle (317 vs South Africa in Antigua in 2005 and 333 vs Sri Lanka in Galle in 2010) and Sehwag (319 vs South Africa in Chennai in 2008) had both joined Bradman and Lara as double 300-plus scorers.
Seven more batsmen—including the first South African, Hashim Amla (311* vs England at The Oval in 2012)—had made the qualifying mark to secure membership in the elite club. Subsequently, three others have done the deed.
However, the gifted Indian, who, reckless of hyperbole, espncricinfo says 'owns almost every batting record worth owning', was not among these ten new inductees. His highest Test score remains the unbeaten 248 he made against Bangladesh in Dhaka in 2004.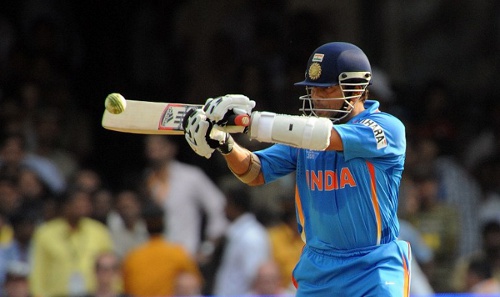 Nevertheless, Lara has consistently declined to put the GOAT crown on his own head. Interviewers, including Wired868's Lasana Liburd, generally receive vague, evasive, non-committal responses, underlining only that he and Tendulkar have not really discussed the issue.
Still, inside Lara's own head, the second question may well have been answered. In the Holding post-ARG 2004 interview, he confessed to having dreamt, in the wake of the June 1994 501, about what it would mean to have a royal flush, a century, a double, a triple, a quintuple and a quadruple to his credit.
To adapt the question Shakespeare's Cassius asked of Julius Caesar, who else has so manifestly soared above the view of men and kept us all in stunned adulation?
Mere weeks short of his 35th birthday, he had driven England's Gareth Batty straight for six and then for four to claim a half-share of his record. He had then added another 20 runs to make his 1-2-3-4-5 dream a reality.
The royal flush and the recapture of the record were both unprecedented in the annals of international cricket. The accomplishment represented at least more very compelling evidence supporting the view expressed early by Sobers that BC Lara would one day be 'the best batsman the world has ever seen'.
In his 2002 autobiography, Sobers had written that Lara's breaking of his record had 'established him as a premier batsman of all time'.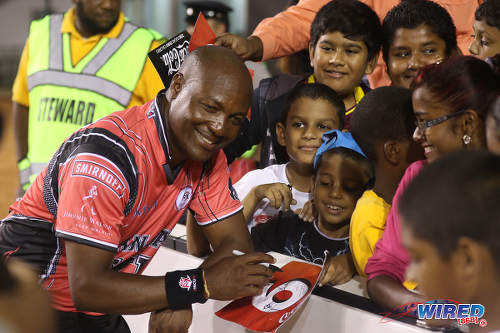 Might the Prince not reasonably think that doing it a second time was the perfect way to silence those who were still backing Bradman and Tendulkar in the GOAT stakes?
Editor's Note: Click HERE to read Part One of Earl Best's series on the great West Indies and Trinidad and Tobago cricket icon Brian Lara: 'centuries we'll always remember and Aprils we'll never forget'.