I keep hearing the phrase that 'Trinidad is not a real place'. I've lived here almost the entire part of my life and I know that Trinidad is not a figment of my imagination or some fictional or imaginary parallel universe.
But I can relate to the bewilderment, angst and frustration for the people who use that sarcastic phrase. Sometimes it seems difficult to get a firm grasp on the going-ons of this place.
The late calypsonian Maestro, in his classic 1974 song Mr Trinidad, poignantly captured the Trinbagonian psyche: "Trinidadians ent really know wey they want…"
Take for example the new Police Commissioner. For years we have been clamouring to install a permanent CoP; and when one has been selected, you hear criticism in some quarters about his wearing army fatigues. Not that he is trying to shake up the status quo by restructuring or forming new policies, or creating more visibility of police officers in its operation or uplifting morale in the ranks. No. They criticise his dress code instead!
Hear Maestro: "You criticising the way you live, yet you can't produce an alternative…"
When leaders incite and inflame their bases, they should be held accountable for words and actions and whatever mayhem follows as a result. But in Trinidad, everything is ah joke. We laugh and repeat the same foolish sentiments, pretending it is harmless picong and mamaguy.
What would drive the Opposition Leader Kamla Persad-Bissessar to make such an injudicious and careless statement about the government 'blighting' the crashed Boeing airplanes? It was upsetting regardless of which side of the fence you are on, given that hundreds were killed on those Boeing 737 Max8 aircraft.
Is this place for real? I mean take for example National Carnival Commission (NCC) Chairman Winston 'Gypsy' Peters competing in this year's Extempo and National Calypso Monarch Finals—sashaying his stuff on stage despite the displeasure of many citizens and fellow bards in the calypso fraternity. Wasn't this a blatant conflict of interest?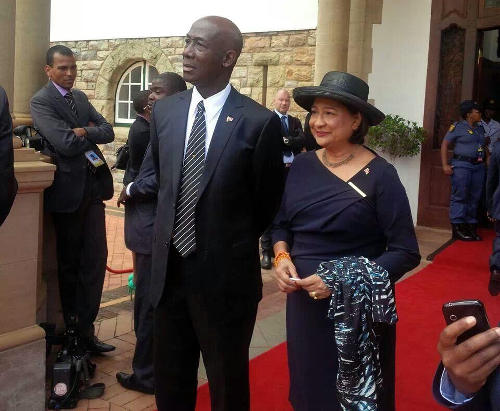 In most serious and professional organisations there are policies and procedures that prohibit individuals who have competing interests, since there is the potential to undermine the impartiality of the event. But this is Trinidad, where integrity and ethical behaviour in public life has a different meaning, and Gypsy's decision to compete would have zero consequences.
Is this place real? I mean in the aftermath of election 2015 are we better off? Has the Dr Keith Rowley administration inculcated confidence and hopefulness in our future?
Have our roads and infrastructure improved? Are we satisfied with our education system, our health sector or the quality of life for the underprivileged?
What will it take for us as a people to make our country stand out and take our place in the real world? Where are the strong leaders in our society who can solve our current socio-economic challenges?
We need to better focus on being environmentally conscious and economically sustainable, promoting equality, protecting our children and recognising the role and contribution of women in our society. We need to set a goal for improvement in the entire country and not just a select few.
For Trinidad to become a 'real place', we must abide by existing laws, diminish corruption in the public and private sectors, respect our elders, be tolerant of each other, provide professional customer service and above all, be productive in all our endeavours.
The list is not exhaustive but those points are fundamental to the blueprint for success in a developed country. By now, 'Trinidadians really should know what they want'.