Rookie Trinidad and Tobago Football Association (TTFA) general secretary Camara David hinted at an immediate intention to ape the public persona of his namesake, TTFA president David John-Williams, as the local football body attempted to hide behind a 'non statement' on a failed drug test by two national footballers.
Last week, two international hopefuls were cut from the Soca Warriors after failing a drug test administered by the TTFA. Both players were allegedly found to have marijuana in their system and the story was published last night by CNC3 and, today, by the Trinidad Guardian newspaper.
Neither player could be considered a standout at international senior level. The elder attacker is 30 with a total of eight senior caps and one goal. The younger player, who is 23, is a former Caribbean champion at Under-20 level but has just one senior cap as a substitute.
The two players have never played professionally abroad.
This afternoon, the TTFA decided that the incident was important enough to merit a press statement. Yet, bizarrely, the general secretariat of the local football body—now headed by the 28 year old David—failed to even acknowledge that there was a failed drug test and said little more than when and where the tests were conducted.

"All members of [the] Senior Men's National Team underwent mandatory medical testing on March 7th and 8th," read the TTFA statement, "as part of the Trinidad and Tobago Football Association's anti-doping programme.
"The tests were conducted by the TTFA's Medical team at the Ato Boldon Stadium. The players have been addressed and a communication has gone out to their clubs."
If—as is likely—the statement was drafted by David, Wired868 had already been warned that the local football body could be attempting a new era of information suppression.
On 19 May 2016, John-Williams, in his first press conference as president, set the tone for what was to follow, as he ignored questions on a training ground incident with then National Senior Team head coach Stephen Hart and responded with his credo instead.
"Let me just tell you this," John-Williams told Wired868, "the TTFA has decided not to conduct its business in public…"
Three years later and the TTFA president has kept the business of local football so close to his chest that board member Keith Look Loy was forced to turn to the High Court to find out how much had been spent on the controversial Home of Football and to which contractors.
And, earlier this month, John-Williams remarkably got the board to renew Dennis Lawrence's contract as National Senior Team coach despite telling his colleagues that he did not trust them enough to reveal Lawrence's terms.
Not everyone was willing to keep John-Williams' cult-like vow of silence. Last September, then TTFA general secretary Justin Latapy-George revealed that the football president ordered him to keep the resignation of his vice-president Joanne Salazar secret—even from the board.
And, remarkably, John-Williams appeared to count a vote from the already-departed Salazar when he tried to appoint Shawn Cooper as head coach of the Women's National Senior Team without a board meeting.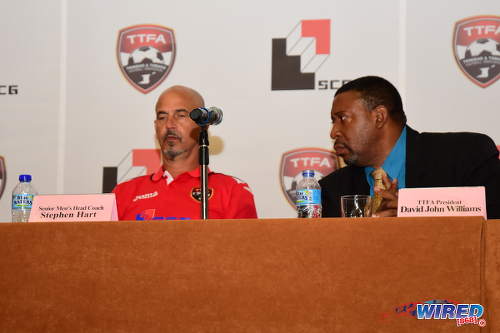 John-Williams told Latapy-George to start looking for a job, almost immediately after his public confession, and spent the next five months grooming David and urging his board to allow him to hire his dream general secretary.
On three occasions during that period, David's ethics were publicly called into question as he attended events as general secretary and his name was shared on the FIFA website with that job title, even as Latapy-George continued to work in the role.
Finally appointed by the TTFA board at the second time of asking on 25 February 2019, David wasted little time in proving that he and the football president had more than a surname in common.
After insisting that Wired868 ask questions of him via Whats App rather than in a phone call—a request that was refused—David declined the chance to do an interview.
"I'm not one to speak outside my federation until an official release is issued," said David, in response to a media enquiry on 8 March. "So I will advise [you] to run your story as is without any comments from the TTFA."
When asked whether this was now the established position of the general secretary towards Wired868 and/or the media or if he was directed to take that stance, David—who had offered an interview with the website during his informal campaign for the job—promised to call to explain. But he did not.
Four days later, David retained his position when questioned by Wired868 on a failed drug test by two national players.
"From now on, the TTFA will be issuing releases and only the releases will be the voice of the FA," said David, via Whats App. "No one from the FA is permitted to comment on matters unless I permit otherwise."
David asked Wired868 not to use that statement as his official comment. We refused, unless he did a formal interview.
Instead, the rookie general secretary followed up with: "The FA has released a statement regarding that, that matter is now closed."
David's stated intention to ban all national coaches from speaking to the media, unless personally authorised by him, is the second attempt at this ploy under the John-Williams-led administration.
John-Williams instituted a similar rule soon after being elected to the post in November 2015. However, coaches resisted the bureaucracy caused by requiring internal clearance to advise a reporter on even a training ground injury while Hart, a former Canada international coach, said he had never operated with such a stifling rule and arguably demeaning ban in his career.
David, apparently, intends to ram home the ideology of DJW, come what may.
TTFA statement (after two players failed a drug test):
All members of [sic] Senior Men's National Team underwent mandatory medical testing on March 7th and 8th as part of the Trinidad and Tobago Football Association's anti-doping programme.
The tests were conducted by the TTFA's Medical team at the Ato Boldon Stadium. The players have been addressed and a communication has gone out to their clubs. The TTFA will continue its anti-doping programme as necessary and preparations remain ongoing under head coach Dennis Lawrence as the team looks ahead to departing for Wales on Sunday for its international friendly on March 20th.
FIFA and CONCACAF's regulations require compliance with anti-doping from all football associations internationally, and itself carries out the drug-testing in international competitions. The TTFA will continue its medical testing leading into upcoming international competitions such as the CONCACAF Gold Cup, CONCACAF Nations League  and 2022 World Cup qualifying campaign.