Another Secondary Schools Football League (SSFL) match day and another goal for bustling centre forward Kesean St Rose, as St Augustine Secondary maintained their unbeaten run this season with a 1-0 over Queen's Royal College at Gordon Street, St Augustine.
St Rose, a former Trinity College (Moka) stand-out, has been a St Augustine student for barely two weeks and might still need help finding his way around the compound. Nobody needs to point him towards the opposing goal, though.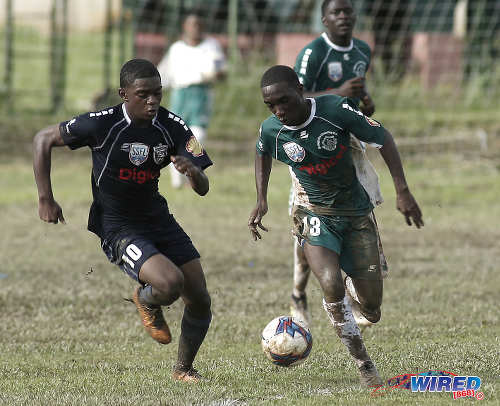 This afternoon, St Rose scored in his third straight match for the "Green Machine" who remain locked on points with second place Naparima College in the Premier Division.
Naparima now lead St Augustine on goal difference though, as they downed St Benedict's College 3-2 in a south zone derby at Guaracara Park today, while Presentation College (San Fernando) stayed on top of the standings with a 1-0 win over St Mary's College at Serpentine Road in St Clair.
Keep an eye on East Zone Intercol champions, San Juan North Secondary, too, as the "Boys from Bourg Mulatresse" matched Presentation's 100 percent record with a 4-2 win over the visiting Bishop's High School (Tobago).

San Juan North, who had a bye in midweek, have a game in hand over the SSFL leaders.
At St Augustine, the hosts shook off Wednesday's 2-2 tie against Trinity College East to return to winning ways against QRC, who tasted defeat for the first time this season.
"We tried to put it in [but] it just didn't run for us," QRC coach Nigel Grosvenor told Wired868. "It was very disappointing."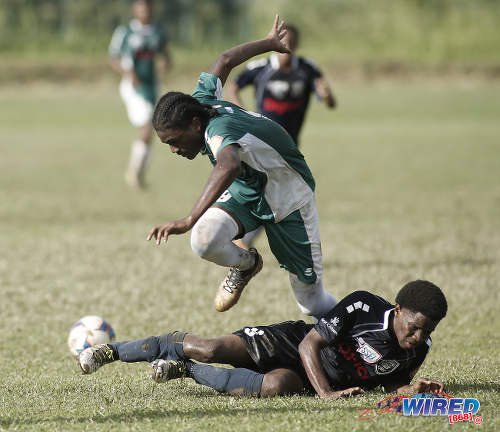 QRC could boast of having the game's outstanding individual talent in National Under-20 playmaker John-Paul Rochford, who had a free role and seemed to be in charge of everything short of serving water.
Whether Rochford was as effective as possible in that 'man for all seasons' role is another matter. By the hour mark, he looked winded on the soggy surface; and it was hard not to think that the "Royalians" would get more purchase from their talisman if he saved his energy for the attacking third of the field—rather than launching offensive forays from his own half.
Perhaps things may have turned out differently if Rochford got a fraction more bend on his 20th minute free kick, which clipped the outside of the far post. The Royalians were in control of the proceedings at the time.
Five minutes later, the visitors' bright start was undone, as Rochford's national youth teammate, Rivaldo Coryat, caught the QRC defence napping with a precise cross from a free kick, which St Rose cooly side footed into the corner of the net.
Coryat wore the armband for the Green Machine and St Augustine coach Adrian Romain made it clear that he would be key to their title challenge this season. The freekick apart, Coryat did not really impose himself on the contest, which was only partly down to tigerish QRC midfielder, T'shad Selvon, who often had him in his sights.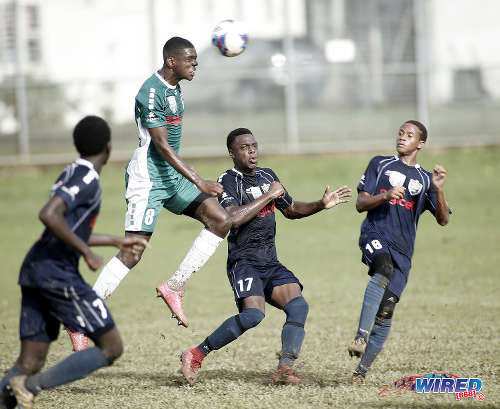 "The pitch was really wet and it didn't [allow us the style] of play that we like," said Romain, "which is to be comfortable with the ball."
At this level, Coryat should be able to improvise more effectively under difficult conditions, though, and he faded badly in the second half—as did the host team.
"I think [our lacklustre second half] was down to fitness," said Romain. "It is only our third game and that is something I am working on."
But Rochford and QRC could not take advantage, as St Augustine managed their first clean sheet of the season.
Grosvenor—who barely got off the bench today as assistant coach and former Soca Warriors captain Kenwyne Jones directed the troops from the sidelines—said he expects his team to be boosted in midweek as key attackers Kalev Kiel and Randy Harris return after injuries.
Rochford came close to a QRC goal on at least four occasions. But not close enough.
"One of those balls was supposed to go in the back of the net," said Grosvenor, "but that's how the ball does play sometimes."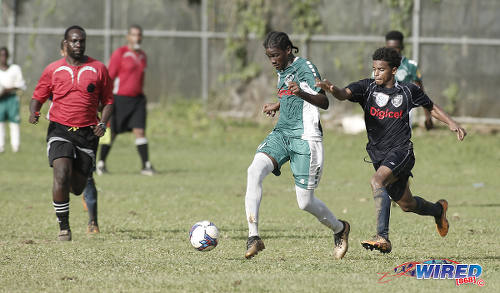 Still, St Augustine, who also had solid showings by left winger Dorian Sampson and central defender Jamal Meloney, are no pushovers. Romain is in his third season with the Green Machine and has not yet lifted a trophy with the iconic eastern outfit.
He thinks this year might be different.
"We are hungry," said Romain.
There certainly seems to be no satisfying St Rose so far this term.
St Augustine Secondary (4-2-3-1): 22.Akiel Siefert (GK); 16.Tyrique Trotman, 5.Daniel Rahaman, 18.Jamal Meloney, 4.Kiel Lopez; 6.Jelani Augustus (2.Jabari Anthony), 19.Rivaldo Coryat (captain); 8.Marli Greaves (14.Derrel Springer 65), 10.Ethan Bonaparte, 9.Dorian Sampson; 13.Kesean St Rose (7.Nickell Alexander 74).
Unused substitutes: 1.Keiyon Henry (GK), 11.Ronaldo Lopez, 12.Andge Williams, 23.Rivaldo Patron.
Coach: Adrian Romain
QRC (4-2-3-1): 1.Jacques Poon-Lewis (GK); 6.Rawle Felix, 4.Anfernee Stokes (captain), 17.Donnell Claxton, 10.Naeem Bisnath; 2.T'shad Selvon, 12.Jabari McKell; 16.Nathaniel Brown (19.Darius Dickson 46), 15.John-Paul Rochford, 7.Darian Bradshaw (25.Jahiem Granderson 56); 11.Renaldo Mullings (22.Jakeem McNeil 56).
Unused substitutes: 30.Jumaane McNeil (GK), 13.Jardel Joslyn, 14.Miguel Cross, 21.Jordan Pope.
Coach: Nigel Grosvenor
Wired868 Man of the Match: John-Paul Rochford (QRC)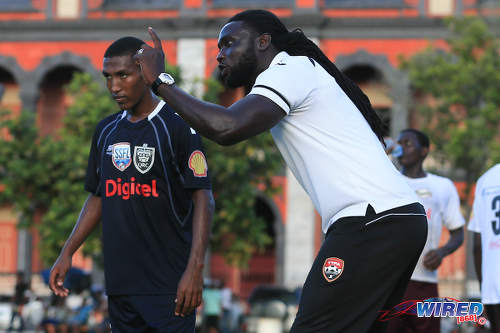 SSFL Premier Division results
(Saturday 22 September)
St Augustine Secondary 1 (Kesean St Rose), QRC 0 at St Augustine;
East Mucurapo Secondary 2 (Kidane Lewis 56, Elijah Joseph 86), Carapichaima East Secondary 3 (Luke Charles 19, Kelon Williams 28, Keilon Burnett 79) at QRC;
Fatima College 0, Trinity College East 1 (Tyrike Sutherland) at Fatima;
San Juan North 4 (Isaiah Chase 1, Elair Brewster 25, Renaldo Boyce 26, Christon Mitchell 89), Bishop's High School 2 (Dominique Lyons 8, 81) at San Juan;
St Benedict's College 1 (Jabari Jones 71), Naparima College 3 (Mark Ramdeen 37 FK, Seon Shippley 83, Isa Bramble 90) at St Benedict's;
St Mary's College 0, Presentation (San F'do) 1 (Akeem Barclay 79) at Serpentine Road;
Trinity College (Moka) 3 (Kai Phillip 37, Mulik Duke 39, Menes Lara 90+3), Valencia Secondary 2 (Ezikel De Suze 15, Jardel Carter 90+5) at Moka;
St Anthony's College are on a bye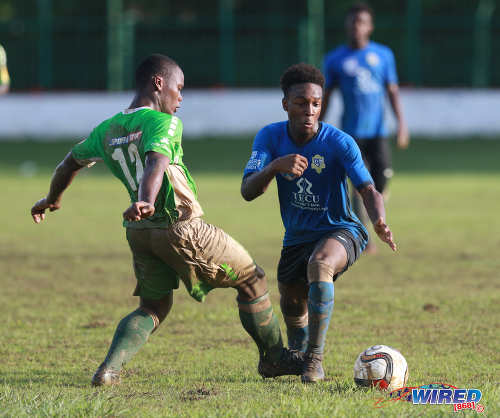 Upcoming fixtures
(Wednesday 26 September)
All kick offs are at 3:40pm
Bishop's High School (Tobago) vs Trinity College (Moka) at Plymouth Recreation Ground;
Carapichaima East vs St Augustine Secondary at Carapichaima;
Naparima College vs Fatima College at Lewis Street, San Fernando;
Presentation (San F'do) vs St Benedict's College at Mannie Ramjohn Stadium;
St Anthony's College vs QRC at Westmoorings;
Trinity College East vs San Juan North at Trincity;
Valencia Secondary vs St Mary's College at Valencia;
East Mucurapo Secondary are on a bye.
SSFL Premier Division Standings
| Pos | Club | P | W | D | L | F | A | GD | Pts |
| --- | --- | --- | --- | --- | --- | --- | --- | --- | --- |
| 1 | Naparima | 14 | 10 | 4 | 0 | 27 | 9 | 18 | 34 |
| 2 | Presentation | 14 | 10 | 3 | 1 | 30 | 12 | 18 | 33 |
| 3 | San Juan | 14 | 9 | 3 | 2 | 25 | 15 | 10 | 30 |
| 4 | Carapichaima | 14 | 7 | 3 | 4 | 25 | 22 | 3 | 24 |
| 5 | St Benedict's | 14 | 6 | 3 | 5 | 22 | 21 | 1 | 21 |