A couple made their way from South. It was already dark. The historic Pride Parade in Woodbrook had ended but, "I had to be here for some part of this day," said the elder partner as she entered the after-party. As a young gay woman, living with her partner in a rental apartment in the 1980s, she was disparaged each morning as she left for work; two male tenants would mimic the sounds of cocks crowing.
"I was so ashamed," she said, "I was young. I would be afraid every time I left for work in the morning."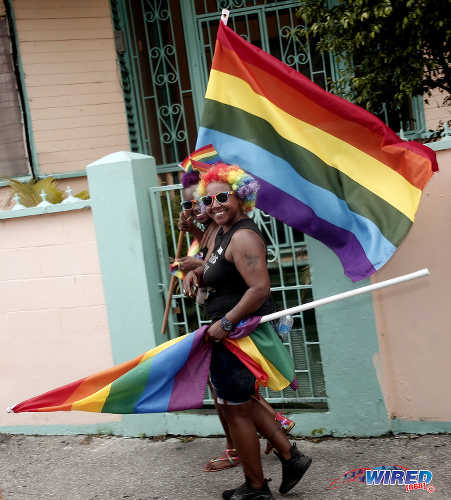 Forty-one years of navigating her life with ambiguity and duplicity were interrupted for her last Saturday. Tomorrow would be another one of those, but on that Saturday she came with her partner of 21 years to exhale a burden, a shame, a not-so-secret secret.
Two other women—one 36, the other younger—parent four children. Their four-year-old relationship inherited three from a marriage and one from the younger partner. They both work and are thankful for the support of their families; one is pursuing a tertiary degree. They spend most of their evenings poring over homework. The time spent over lunch during the work week is treasured as "their" time.
The couple attended the parade but had to leave early for the routine Saturday parental pick-ups-and-drop-offs. After they settled the children, they returned for fellowship. They felt they were truly regular citizens when, minutes after they arrived, the ubiquitous wrecker made off with their car.
For both couples, Saturday was a moment of joyful release and celebration of their integrity. Marchers—whether members or allies of the gay community—had their own stories and those stories shared threads of historical rejection, ridicule and rancour. On Saturday, plucked from the fringes, all paraded and partied in proud celebration of themselves.
For the well-known, elder heads—Raymond Choo Kong, Anthony and his brother Gregory Medina, Christopher Santos, Meiling, those in the theatre fraternity et al—it was a moment they thought might never happen in their lifetimes.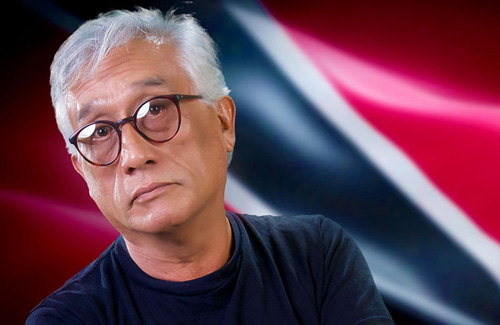 They and others had spent their lives contributing to the cultural complexion of an oftentimes Philistine nation, reaching into their artistic core for a society that ignored or violated that core. On Saturday they were flush.
"This is a highly emotional time for me," said Choo Kong on Monday, reflecting on the parade. "I feel so good and strong. That is what the young people have given us. They have given us the opportunity to be courageous, to live outrageous lives and we took a huge step (towards that) on Saturday.
"I thought we would have little Pride events but the walking of the public road, that made the difference. We walked on the main street, not the back streets, and we looked into the eyes of the people on the sides of the streets and they were ok and we were ok."
For years, he said, he and others had been living gay lives quietly without feeling the need to wave flags and declare their identity.
"But there was always that five of apology for who we are. On Saturday, we walked that extra five per cent. Saturday was letting people know who we are. The time had come to make the complete statement."
He credited young people for "putting the whole community in a different space" and felt the least the elders could have done was to stand with them, let them know they have support "because it's not good enough to live your life as a gay person if you cannot go that extra five per cent and say we don't have to apologise for ourselves."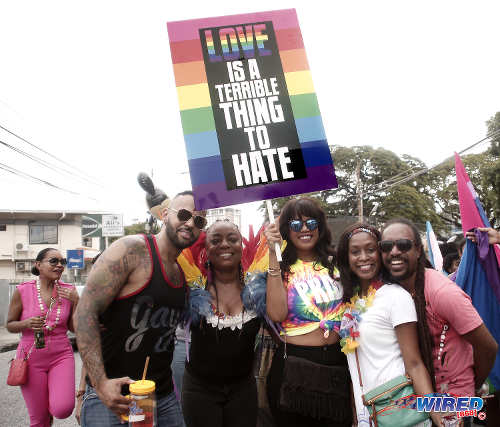 Choo Kong's decision to publicly "come out" through the fact of his presence in the parade was not without consequence. A close family member is angry, feels Choo Kong was selfish in not considering the implications of his public demonstration on his family.
"I was shocked, taken aback. I have spoken to him about this for years and to walk the walk and talk the talk and put your hands in the air and make that complete statement… now I have to start all over again. And it's because of that five per cent. He (the relative) knew that now there is no doubt about who I am."
The immediate beginning of Saturday was that 9 April day of laser sunlight outside Parliament when flags of members and allies raised the signal. Religious fundamentalists had announced themselves there the Friday before. A small, defiant band of colourful, creative and intellectual citizens reached for the rainbow, symbol of inclusivity, and hurtled into the country's turbulent political currents.
"We had to show that we could fund our own community," said the Pride Arts Festival Committee Chair and former Congress of the People (CoP) activist Rudy Hamanji at the Pride parade. "We did not go to corporate Trinidad and the government. You funded this entire (Pride) festival!"
Economic independence illustrated, he spoke of the gay community as consumers, hinting deliberately at a strategy for political leverage.
After that Parliament presence, the warm refuge of the Constitution was confirmed as available to all on April 12. In soaring language commensurate with the defining historical moment, Justice Davindra Rampersad told exiled challenger Jason Jones that he and others like him were equal citizens, entitled to protection under the law and to be released from the criminal grip of primitive statute.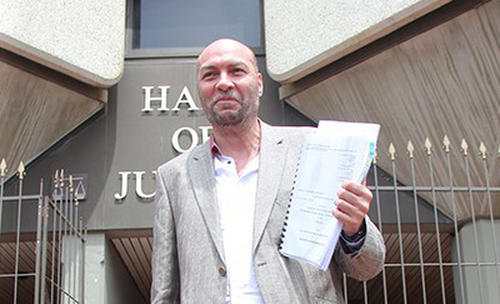 The explosion of joyful colour on the steps of the Hall of Justice refined the public Parliament exercise.
Colin Robinson's thoughtful intellectual presence, Jason Jones' protracted gumption, Luke Sinnette's social activism, the politics of Hamanji, solidarity of women's organisations and others, yearnings of elders and joyous hope of youth created the collective that paraded last Saturday under the guidance of good-natured, light-hearted, professional police officers.
Returning to the foundation of The Mas with spontaneous costuming and appropriation of "Fire Go Bun Dem", the collective brought to the streets familiar anthems and performed a fancy-sailor electric slide.
Emancipation Day was being launched at the Queen's Park Savannah while a corner of a smaller park renamed for the global contemporary symbol of justice, equality and freedom was being populated with happy people. The events could not have been more connected. Those at the Savannah should have heard an ancient chorus from Mandela Park, the sound of a people marching towards justice, the momentum of change being fashioned, a society wanting to fulfil its promise of inclusion and equity.
Pronged with legal audacity, intellectual refinement and political charisma, Saturday proved that the movement for so-called gay rights is indeed a movement, and its time has come.