Jereem Richards' 200m Commonwealth Games gold medal was all the rage yesterday. So I want to salute the 24-year-old sprinter on his achievement and give him all the respect he deserves for it before I turn my attention to another medallist.
Richard Thompson has thrice medalled at the Olympics. And although I have rarely meddled in politics, I certainly felt the PNM's actions over the last week constitute gross disrespect. Sport Minister Darryl Smith, Deputy Political Leader Camille Robinson-Regis and Political Leader Keith Rowley hardly modelled the kind of behaviour we want our up-and-coming politicians to emulate.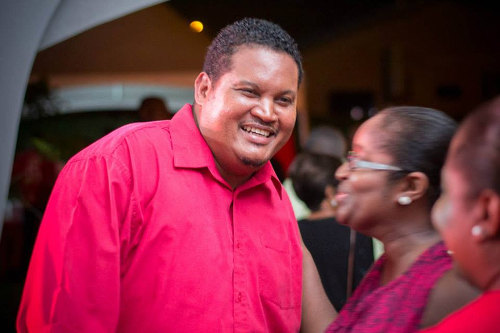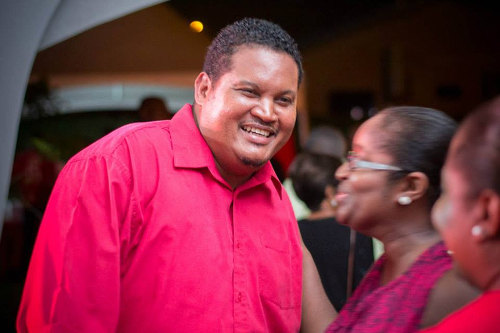 So I found myself wondering if the much more highly accoladed three-time Olympic medallist was feeling at all disrespected.
Last week, remember, was when it became obvious that Smith's personal shit was seriously stinking and his political ship was slowly sinking.
But the PNM leaders' muddle-headedness is entirely inexcusable. No more so, of course, than the PM's efforts to muddle through somehow, which my dictionary defines as "cope more or less satisfactorily despite lack of expertise, planning or equipment."
For the Rowley Administration, which has abandoned the balisier tie, "Muddle through somehow" has replaced the time-honoured "Magnum est PNM." Their focus is merely on responding satisfactorily to the current issue. putting out today's fire, living "Phew!" to fight another day.''
Adhocracy with a vengeance. Small wonder that Rowley and company have largely bungled their way through the last two and a half years.
I think that caring PNM people will have many questions to ask and Robinson-Regis, who is also Women's League chair and Minister of Planning and Development, with as yet unanswered questions about a substantial cash deposit, will have many of them to answer.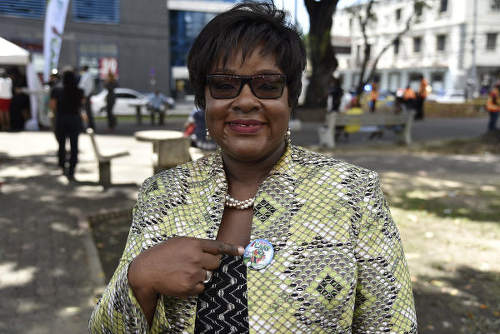 The buck, however, stops with the Prime Minister and I suspect that, like Smith, he would prefer if the questions were directed at someone else. I agree wholeheartedly with Express columnist Darryn Boodan, who, in today's paper, equates Rowley's promotion of the under-fire minister to "encouraging your sugar-addicted 12-year-old to eat properly by sending him to live in a chocolate factory."
But let us look at the chronology of this affair.
Wednesday 28 March: Wired868's respected investigative reporter Lasana Liburd publishes a story headlined" in part, "Smith discussed suppression of 'sexual harassment' in controversial settlement."
The opening sentence tells the world that "Minister of Sport and Youth Affairs Darryl Smith could face scrutiny over his role in what was effectively a sexual harassment case at his ministry."
Liburd continues his exposé in subsequent days. I can confirm that he got nary a call from the Prime Minister, the Planning Minister or any identifiable PNM person.
Monday 2 April: A Newsday reporter confronts Robinson-Regis with breaking news about the then Sport Minister.
"I don't know where you all are getting this story," she responds, adding that the media were "trying to make a story out of a non-story."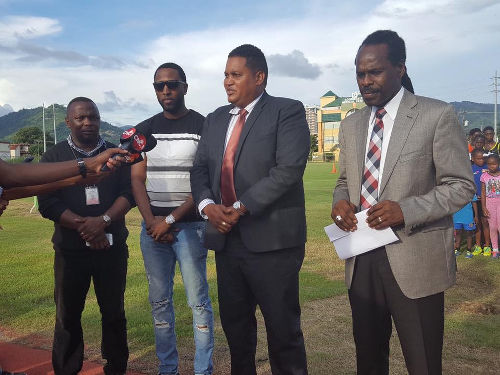 Wednesday 4 April: Another installment of Liburd's continuing series is headlined, "I was feeling very uncomfortable!" The sexual harassment claims that Smith wanted hidden behind NDA."
It features another very explicit opening sentence: "Minister of Sport and Youth Affairs Darryl Smith's unwanted advances to former personal staff member, Carrie-Ann Moreau, were at the heart of the latter's trade dispute with the Ministry, which led to a TT$150,000 pay off with taxpayers' money."
Thursday 5 April: Prime Minister Rowley tells the post-Cabinet media conference that he does not have the facts relative to the issue involving the Sport Minister.
"I am trying to find out what went on there," Rowley claims.  "I don't even know who was complaining about whom…"
No reporter dares refer him to Wired868's 28 March story. I suppose you don't want to do your Prime Minister that. Not unless your name is Lasana Liburd.
"Would the Honourable Prime Minister," I imagine Liburd inquiring politely, "tell us if Minister Smith and his PS are both in Siberia?"
"Yes?"
"And they are incommunicado? Well then, surely your Minister of Planning, who was alerted a week ago that there might be more in the mortar than just the Minister's bull-pistle, has been able to find out the facts for you?"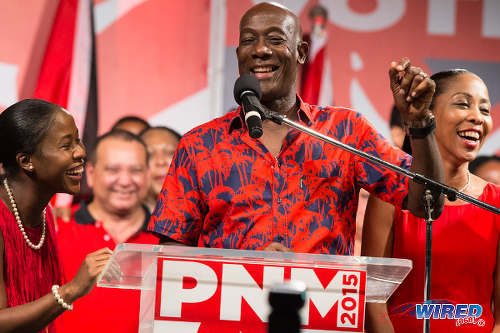 Sunday 8 April: The Sunday Express headline reads: "Darryl Exposed." Says the strap: Fired employee details alleged sexual advances by Sport Minister." Sheila Rampersad's page 4 and 5 story, headlined "Smith's sexy comments" puts a smoking gun in Smith's hand.
Opposition Leader Kamla Persad-Bissessar demands that PM Rowley fire Smith and UNC Princes Town MP Barry Padarath recommends that "Darryl and Faris has to go." Rowley properly ignores KPB but not her echo. To him, he responds that "…if he wants to give me advice, he first has to master BASIC GRAMMAR."
Monday 9 April: Rowley announces a Cabinet reshuffle, upgrading the then Minister of Sports and Youth Affairs to the status of Minister in the Ministry of Housing.
Tuesday 10 April: Rowley summons Smith and Robinson-Regis to a meeting and then, "shocked," announces the revocation of Smith's 24-hour-old appointment and his firing from the Cabinet. Also disclosed is the setting up of an all-female three-member committee to investigate all the circumstances leading to the controversial $150,00 payment and the attached non-disclosure agreement.
Robinson-Regis subsequently explains that the PM had no choice in light of "new information" coming to hand.
Thursday 12 April: Everything Minister Stuart Young reassures the country that the PM will share with the country the "new information" which led to Smith's axing.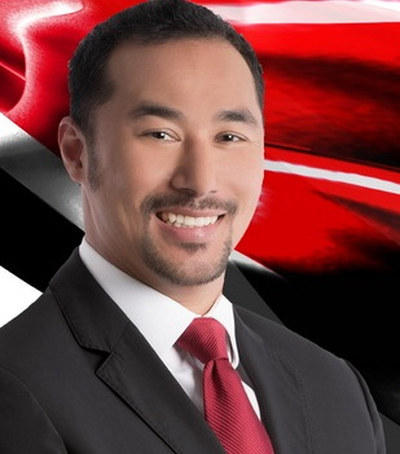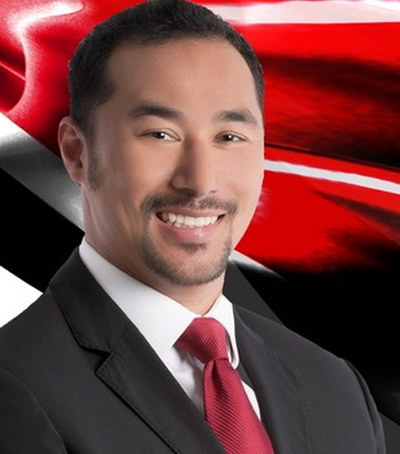 So today, Friday 13 April, there are still, I think, many, many, many questions that PNM people must ask of their leadership. I wish to highlight just three: Are responsible government—and party!—officials taught to ignore rumours? How could you, a responsible government—and party!—official, having been alerted to the existence of "a non-story" on 2 April, be so naïve as to assume—let alone believe!—that it was all smoke without fire? What new information did you, as the Woman's League Chair and a responsible government—and party!—official, unearth between 2 April and 9 April?
As an emphatically non-PNM person, I have two questions: Are rumours in the Age of Social Media the same as rumours in, say, John O'Halloran's or Gene Miles' day? Has the Leader of Government Business never been told that, especially if you're in politics, too little knowledge is a dangerous thing?
And I want to place our model, non-meddling medallists in the middle of this sorry muddle and ask them just one question: Don't you feel disrespected that, after all that, the PM continues to have confidence in his Minister of Planning and Development?