He has, one of his fans has boasted, more hands than a sousou and Denzil "Peng" Smith showed how true that is yesterday. The Shiva Boys' Hindu College goalkeeper saved two penalty kicks at last evening's Field of Dreams/Secondary Schools Football League (SSFL) All-Star game to earn the South team a 4-2 shootout win over their North counterparts.
Playing in the season-ending exhibition game before a crowd of just over 1,000 spectators at the Mannie Ramjohn Stadium in Marabella, Smith did what he does best, smothering penalties by North skipper Matthaeus Granger and Fatima College midfielder Andrew Peter-Abraham to earn the Southern All-Stars victory after an intriguing 1-1 regulation tie.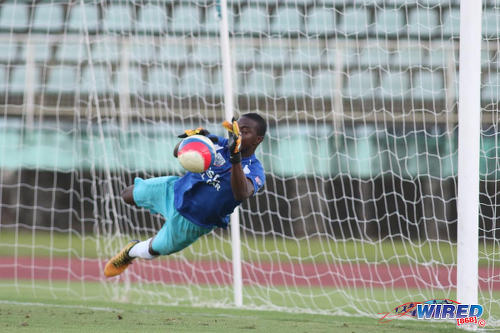 For those fortunate enough to have witnessed the Coca-Cola National Intercol semi-final between Shiva Boys and Carapichaima East Secondary, it was a familiar script.
In that 30 November semi, Carapichaima had scored first through attacker Elijah King before a late Junior Asson equaliser and three penalty saves by Smith saw Shiva Boys into the National Intercol final. Yesterday, the North team struck first through San Juan North Secondary's bulldozing forward Renaldo Boyce before substitute Quinn Rodney drew the South team level in the 85th minute.
That was when Smith got into the act.

"Aye, Trevor, yuh see keeper?" one vociferous South supporter asked loudly, addressing himself to North's goalkeeping coach Trevor Nottingham after "Peng" had dived to his left to stop Granger's penalty, his team's second in the shootout. "Now that is keeper! Let's see yours save one now."
North custodian Jacques Poon-Lewis had been lively and sharp on his feet all game long but his attempts to give Nottingham the upper hand in the argument came up short.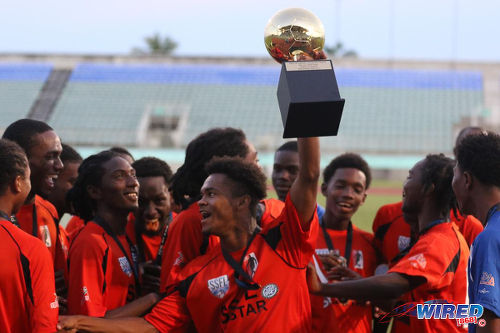 Smith, meanwhile, was winning new fans, including US- based coach Zach Ganzberg. The Mount Vernon Nazarene University head coach was the lone foreign coach among SSFL's list of invitees but he was quite pleased, impressed even with what he saw on display, particularly from the agile "Peng."
"I liked the goalkeeper. That's a position of need for us [at Mount Vernon] so that's kinda part of it too," Ganzberg told Wired868. "The goalkeeper Denzil [Smith] was good as far as I saw."
"I told [Trinidad and Tobago Football Association (TTFA) Technical Director] Anton [Corneal] that this would compare favourably to what I would call a showpiece game in the US," revealed Ganzberg, who recently completed his first season as the Mount Nazarene coach. "I thought the talent was a little bit better. Obviously, what you get in the American game is a little higher [intensity] and sheer athletes and size. But what I'm looking for are creative players and that's why I'm here in Trinidad. There's a lot of that here so I was pleased."
Both Corneal and SSFL President William Wallace stated that the main aim of yesterday's exhibition game was to try and market the players to a wider audience. Video footage from the All-Star clash, they said, will be shared on YouTube so many other coaches like Ganzberg could get a good look at the players. Additionally, ACTN (Acts 25 TV) will air a full replay of the match on Tuesday 12 December from 9.30pm.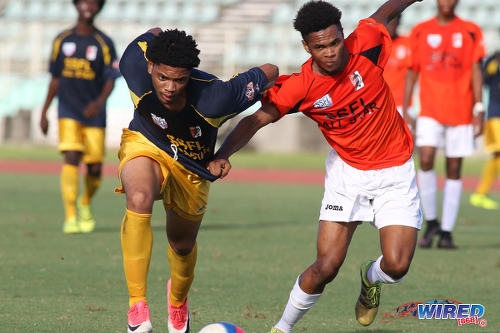 What is not likely to be discussed on Field of Dreams is the event's clash with Unveil Magazine's "Footy Fest" at Marvin Lee Stadium in Macoya. Nor is the programme likely to mention the cancellation of the skills competition. It had been planned for Saturday but never came off owing to the underwhelming response from would-be participants.
Scheduled to include a 60-metre dash and one-on-one sequences with goalkeepers, it would, Wallace conceded, have been better conceived as a same-day twin of the All-Star game.
"We were supposed to have an activity on Saturday but that didn't come off," Wallace told Wired868. "But I was certain that today's activity would have and I was very pleased with what happened today."
"Actually, I think it (the Saturday event) wasn't marketed properly," Wallace continued, "and I had suggested before yesterday, based on the feedback we were getting from schools, that we should have one day [of events] and have the [skill] activities before the All-Star game. Going forward, that is definitely something we have to look at because asking persons to come out for the two days was a bit problematic."
Field of Dreams producer George Mathison shared Wallace's sentiments, suggesting that in the future the skills competition of the All-Star weekend should be open exclusively to Championship Division schools.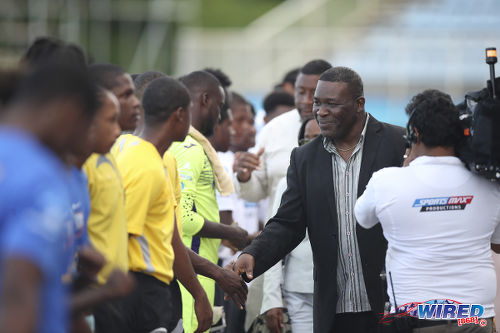 Another area needing attention from the SFL organisers is Tobago. Proper arrangements were not made by Field of Dreams/SSFL for Signal Hill's Akil Frank and Speyside High School's Kerri McDonald to be a part of the weekend. Frank told Wired868 that Unveil had booked his plane tickets and he featured at Unveil Magazine's Footy Fest yesterday, where he rubbed shoulders with SSFL standouts such as Che Benny, John-Paul Rochford, Brandon Semper and Judah St Louis.
"We apologise to everyone in Tobago for the mishap but certain things slipped through the cracks," said Mathison. "It was never our intention to leave the Tobago players out and we take full responsibility for what happened there."
And the 30-minute delay in the start of proceedings was the result of yet another aspect of the All-Star weekend event that did not go to plan, the bus originally scheduled to bring the North team to Marabella never arriving so that alternative transport arrangements had to be hurriedly made.
Had Boyce participated in the SSFL's one-on-one challenge, he would have been a shoo-in to walk away with the prize as he showed a dead eye in front of goal in Unveil's Footy Fest on Saturday. In the seven-a-side final against Shiva Boys, the San Juan captain sent three clinical finishes past "Peng" as the teams played to a 3-3 draw in some 40 minutes of pulsating football.
However, Shiva Boys had the last laugh, edging past San Juan in the penalty shootout to walk away with the title in the 14-team tournament.
Yesterday once more, Boyce found himself up against Smith and, despite missing a sitter in the 21st minute, the striker won round one, tapping in from close range in the 50th minute after teammate Kishon Hackshaw had blown past defender Shirwin Noel down the right flank.
Smith eventually grabbed the headlines with his late heroics but Hackshaw dazzled on the day, his blistering acceleration and neat footwork repeatedly leaving South left-back Matthew Beal in a tangle.
North's Gabriel Nanton, Jaydon Prowell and Anthony Samuel simply couldn't match the flash of Hackshaw or that of their counterparts in Tyrel "Pappy" Emmanuel, Judah Garcia or Jordan Riley although the Ronald Daniel-coached northerners looked the more cohesive unit at times. South coach Shawn Cooper stated that some of his players' involvement in Saturday's Footy Fest tourney had left them weary.
"Some of them would have conserved some energy by not going and play in the seven-a-side Footy Fest yesterday," Cooper said. "But a number of players from the South team did participate in Footy Fest yesterday and their legs went at certain parts of the game. But all in all, they stuck it out and got the victory."
Daniel, who coaches St Anthony's in the SSFL, was without his own "Tigers" quartet of Haile Beckles, Derron John, Jesse Williams and Benny, all of whom opted to participate in Footy Fest on both days.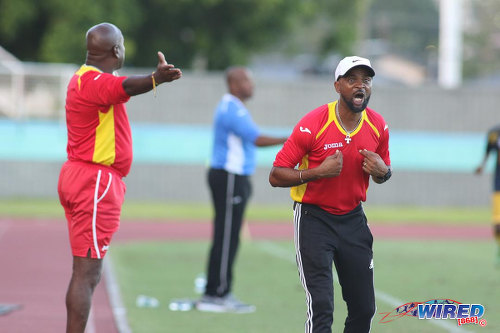 Even without the feisty Tigers at his disposal, Daniel almost had the Field of Dreams challenge trophy within his reach, thanks to some wasteful finishing from the South team. However, South substitutes Tyrell "Sexyman" Baptiste and Rodney combined to get the 85th minute equaliser and take the game down to the lottery that is the penalty shootout.
Junior Asson, Kierron Mason, Yohannes Richardson and Noel all scored confidently for South, while Smith's "sousou hands" earned him the MVP award.
And bigger things may be on the cards for him.
"We had at least one foreign coach in today and he has earmarked one player he'd like to take out of Trinidad and Tobago very soon," Wallace stated. "This is a good start for us, and when you put the game up, it gives other persons the opportunity to be looked at. And leaving Trinidad and Tobago on scholarships is a definite opportunity"
Cooper too focused on the benefits of the day's activities.
"I think they did a fantastic job in getting the folks and the spectators to see the kinda talent our youngsters really have in Trinidad and Tobago," he said. "I'm very thankful for the event that they put on for the boys. […] The players relished it. I think now that the event has ended, they could see the importance of it."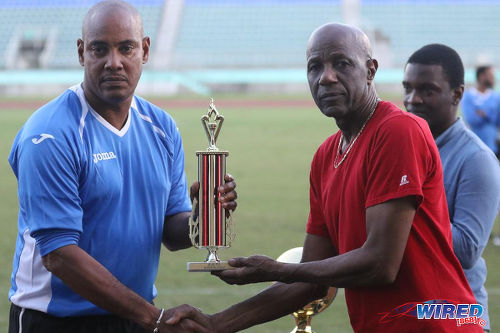 Next year, Field of Dreams and SSFL are promising a bigger and better event. And they have indicated their plans to pencil in the date of their All-Star weekend at the start of next season.
"We had quality football on the field of play and we had a crowd here which was beyond our expectations," Wallace stated. "It was littered with legends and this really augurs well for this aspect of the SSFL, in collaboration with Field of Dreams, of course…"
"Going forward, we will definitely do an evaluation of this year's activity," the SSFL President ended. "And I'm certain it will be better and, in years to come, it will be a massive thing."
(Teams)
South All-Stars (4-2-3-1): 1.Denzil Smith (GK); 2.Mylz Barrington, 5.Yohannes Richardson, 4.Shirwin Noel, 3.Matthew Beal; 8.Kierron Mason, 6.Judah Garcia (captain); 7.Jordan Riley (16.Quinn Riley 52), 10.Tyrel Emmanuel (15.Tyrell Baptiste 55), 11.Darnell Hospedales (14.Joshua King 55 [13.Jabari Graham 76]); 9.Keon Boney (17.Junior Asson 40).
Coach: Shawn Cooper
North All-Stars (4-2-3-1): 1.Jacque Poon-Lewis (GK); 15.Lukeman Brooks (12.Stephon Marcano 36), 3.Nkosi Salandy, 8.Matthaeus Granger (captain), 4.Joshua Araujo-Wilson; 11.Anthony Samuel, 10.Gabriel Nanton (5.Andrew Peter-Abraham 69); 13.Kishon Hackshaw, 14.Jaydon Prowell (7.Justin Araujo-Wilson 72), 11.Nickel Orr (16.Tyrese Spicer 60); 9.Renaldo Boyce (6.Nathaniel Perouse 81).
Coach: Ronald Daniel
Referee: Kevin Smart
All-Star MVP: Denzil Smith (South All-Stars)
South All-Stars 1 (Quinn Rodney 85), North All Stars 1 (Renaldo Boyce 50) at Mannie Ramjohn Stadium;
(South All-Stars won 4-2 on penalty kicks.)