Trinidad and Tobago National Senior Team head coach Dennis Lawrence struck a bullish pose at today's media conference at the National Cycling Centre in Couva, insisting that he had 100 percent confidence in his ability to steer the Soca Warriors towards success, despite a run of eight consecutive matches without a win—including six successive defeats.
Since he took over the Warriors' reins in February, Lawrence, a former national stand-out turned rookie head coach, has rationed his availability to the local media. But, although the Warriors have dropped 15 spots to 99th in the FIFA rankings since his appointment, "Tallest" gave no hint of self-doubt or uncertainty regarding his job security.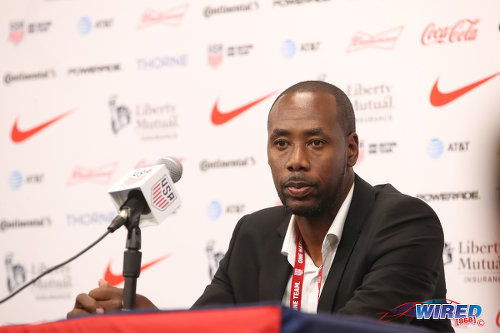 "The only pressure I am under is the pressure I put myself under," he told the assembled media. "As I have said before, when your work has direction and you know exactly what you're gonna do, you don't put yourself under pressure. When you become a head coach, you have to be sure about what you are doing and I am 100 percent sure."
Lawrence revealed that he considered his own culpability in the Warriors' returns—the team won its first qualifier under the head coach and lost the next five—before deciding to give himself the vote of confidence.
"We didn't qualify for the Russia campaign for many obvious reasons," said Lawrence. "The first place I start to look is [at] myself: what can I do better, what can I improve? I didn't think [my inexperience as a head coach] was the reason why we didn't qualify; I think it was because of our performances."
Having failed to get the Warriors to the Russia 2018 World Cup, Lawrence has opted to make an early start to building for Qatar 2022.
"We selected the squad [to play Mexico on 6 October and the United States on 10 October] based on the fact that we're looking forward to the future and, if you look at the squad, there are 10 players in there who are 24 and under," said the Warriors head coach. "So the idea now is to try and get these players to understand what international football is all about and immediately refocus on the development of Trinidad and Tobago football and the pathway we are going to choose.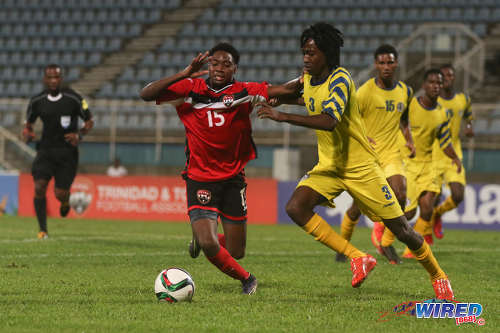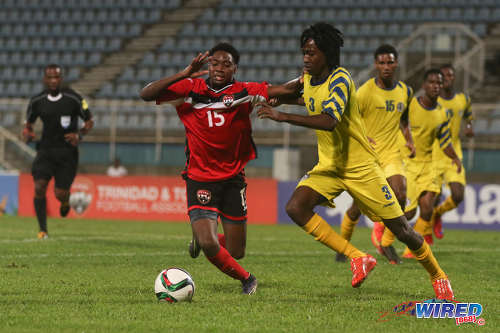 "Some of the players are going to be young and exciting… I think they are going to offer something that is going to bear well for Trinidad and Tobago's future."
Lawrence singled out 19-year-old St Ann's Rangers winger Kathon St Hillaire, a former National Under-20 player, for special praise.
But could four days' preparation time possibly be enough for a teenaged Pro League player to get ready to face Mexico at senior international level? Might a more measured learning approach—facing increasingly testing opponents from Grenada to El Salvador to Jamaica to Panama to Mexico—not prove more beneficial in the long term?
Lawrence was convinced by his own thinking.
"It is a good opportunity for them to come in and get a feel about what top-level international competition is going to be about," he said Lawrence. "I think it is the best time. If you don't do it now, then when will be the best time?
"Sometimes going into the deep end is the best way to learn."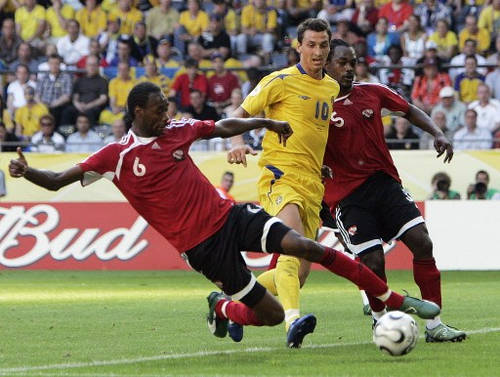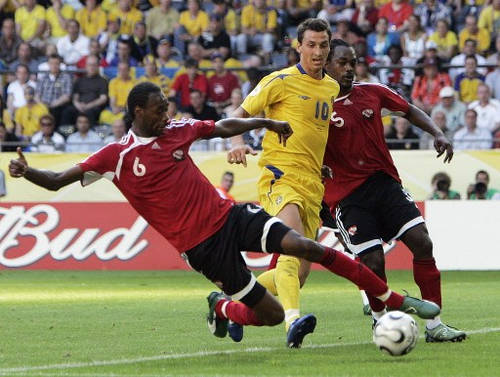 It is a debate in which there are pros and cons on either side. Lawrence's own international career which started against the Netherland Antilles on 18 March 2000 went like this: Netherland Antilles (draw), Dominican Republic (win), Dominican Republic (win), Haiti (win), Haiti (draw), Canada (loss), Barbados (draw), St Vincent and the Grenadines (loss), Cuba (win) and Jamaica (loss).
By the time, Lawrence finally travelled to Mexico, he had 15 caps under his belt—including nine competitive matches. It probably made it easier for him to shake off what turned out to be a 7-0 massacre at the Azteca Stadium.
However, defender Radanfah Abu Bakr is one player who made his competitive debut in Mexico City and did not come out worse for wear. In Abu Bakr's case, though, he had already had two friendly appearances under his belt and had been a non-playing team member for months before his break came—ironically because Lawrence skipped the trip to Mexico in 2009 because of an illness in his family.
Still, St Hillaire and 20-year-old Club Sando defender Josiah Trimmingham might easily be required to observe proceedings from the safety of the substitutes' bench only, as Lawrence has selected at least one experienced player for each position.
Lawrence gave varying reasons for the 11 omissions from his last travelling squad. Defender Sheldon Bateau, who captained the team in their 3-0 loss away to Panama, was suspended for the Mexico fixture and the coach decided to allow him to remain in Kazakhstan and focus on club duties.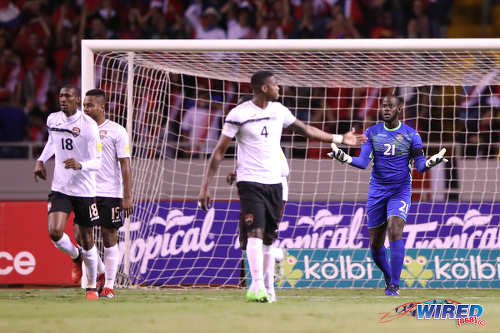 In the case of 32-year-old Honduras-based goalkeeper Jan-Michael Williams, who captained the team against Honduras, and 30-year-old Lithuania-based defender Abu Bakr, Lawrence wanted to give a shot to some younger players.
That meant a call-up for Canada-born goalkeeper Greg Ranjitsingh, who plays for USL team Louisville City FC.
"I have been looking at Greg for a while," said Lawrence. "I didn't think at the time there was any need to push the button. The opportunity has come where we can look at him and see what he has to offer to Trinidad and Tobago."
There was no such luck for 18-year-old Slovak-based left-back Keston Julien or 20-year-old USL box-to-box midfielder Neveal Hackshaw, who was capped under former coach Stephen Hart.
"They are both on the radar," said Lawrence. "Keston has not played a competitive game since the 12th of august. [Cordell] Cato is in the same position and Jomal [Williams] too.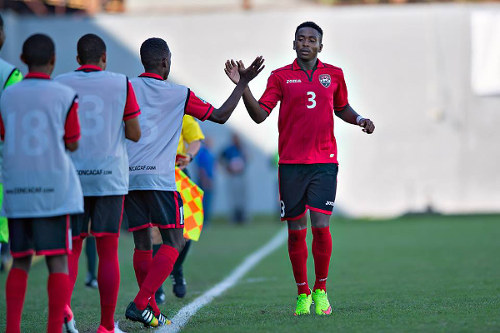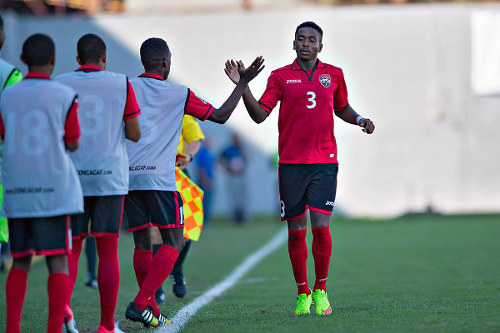 "If there is a player who is consistently playing in the Pro League and doing well, I think it is unfair for me to select players who are not actively involved in their clubs."
It appeared to be a new position taken by Lawrence, who has previously selected even Pro League players like Keron Cummings and Isaiah Hudson who were not regulars in their respective squads.
Of course, it did not explain Hackshaw's omission since he has been an ever-present for his club this season.
Lawrence said even less when asked to explain his general lack of interest in England-based midfielder Andre Boucaud.
"Next question," said Lawrence, when asked about the popular midfielder.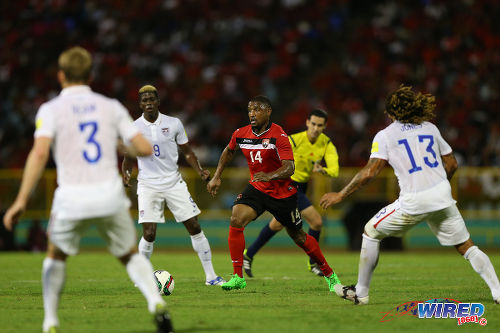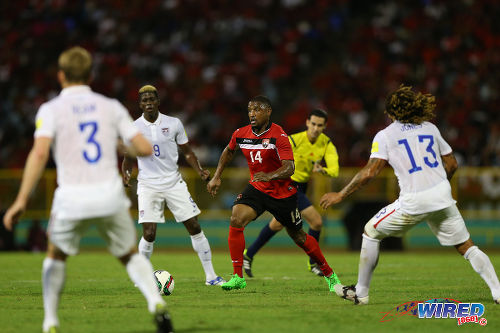 Lawrence spoke sympathetically on right-back Aubrey David and forward Jamille Boatswain, who are both serving two-game suspensions after they were discovered to have played minor league football before the Honduras outing. The incidents happened before the Warriors went into camp but both players, according to the TTFA, have agreed to give up their match fees for the perceived infraction.
Lawrence stressed that David and Boatswain, who play professionally in Finland and Costa Rica respectively, were generally two level-headed and dependable young men.
"I think it very important that people understand Jamille and Aubrey are two of the more disciplined players in the squad," said Lawrence. "Obviously the two players made a huge error in judgment [and] when you make errors like that there has to be consequences…
"[But] they are very much in the [team's] plans for the future."
Lawrence touched on an incident involving his assistant coach Stern John, who, while representing Central FC in a Pro League affair, was accused of taunting North East Stars defender Julius James about his inability to break into the national team and telling another, Keston George, that he had only got a call-up on account of his (John's) say so.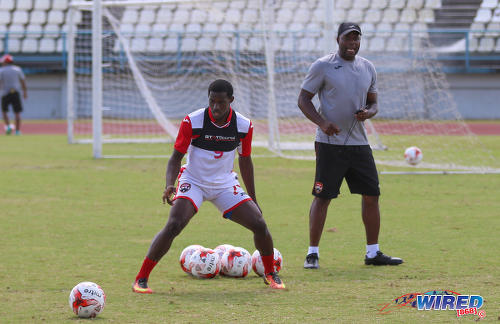 "I've spoken to Stern and the North East Stars head coach Derek King," said Lawrence, "and we both expressed our thoughts on the matter. And it is a matter that is being dealt with [as] private and confidential."
Why, Wired868 asked, is the behaviour of David and Boatswain a public issue but not John's? Were coaches not held to the same standard as players?
Lawrence said David and Boatswain both admitted their own wrongdoing. However, he would neither confirm nor deny whether John has confirmed the accuracy of the complaints about his own behaviour.
"I was not on the football pitch [and] anytime you are dealing with allegations, there has to be some sort of investigation," said Lawrence, who gave no details on the 'investigation' beyond his own phone calls to both parties. "[…] I don't think he will play in any more Pro League games because I think it is better he serves from the sidelines."
And why, I enquired again, did Cato not also apologise to the public after he walked out of the team—before the World Cup qualifier away to the United States in June—only to be allowed to return to action once he made himself available in August?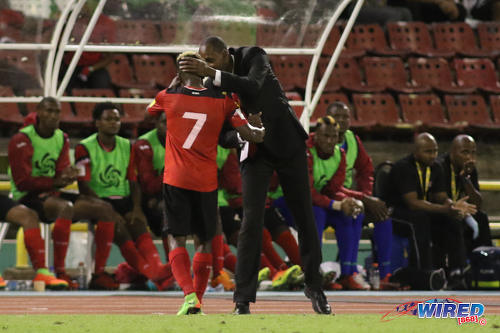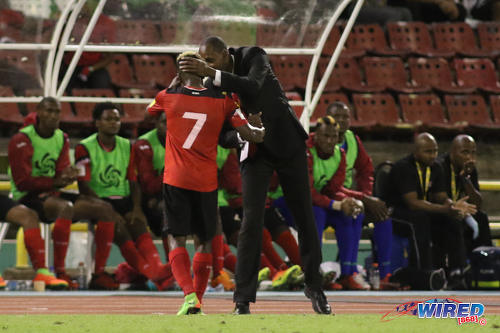 "[Cato] never apologised to the public because it was a private matter between him and the team," said Lawrence.
And what about apologising to his teammates?
Lawrence: "He did [apologise to the team]. This was before we played against Costa Rica."
Wired868: "Did he go to the team camp? Was it in person? Was it an email?"
Lawrence: "He apologised to the team…. Maybe you should speak to Cordell Cato. All I can say to you is he did apologise."
At least three National Senior Team members denied that Cato ever apologised to the squad.
"I think at one time one of the players passed on word in a What's App group that Cato said he knew his decision affected the team but that was it," said one player, who spoke on condition of anonymity. "It was not even an apology and it did not come directly from him."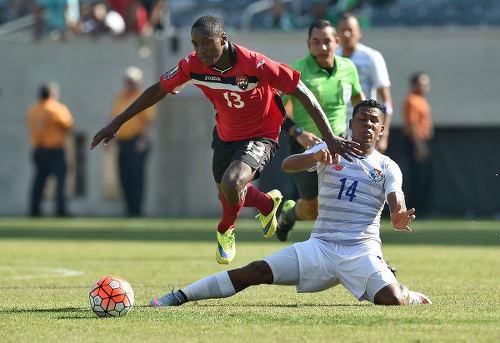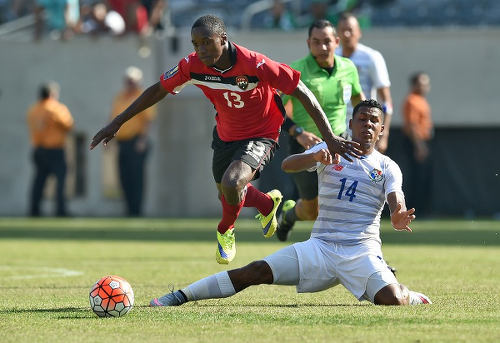 When Lawrence recalled Cato to face Jamaica in a friendly at the Hasely Crawford Stadium on 24 August, he said, at the time, that the winger had "recently" made peace with the head coach. The Costa Rica match, which supposedly followed Cato's apology, was played on 14 June.
"Cordell phoned me [and] we had a conversation," said Lawrence, on 17 August. "Cordell understands what I'm expecting of him. I think what happened is behind us now. As I said before, the door was never closed to him.
"We had a good conversation and Cordell is going to be here as part of the group. He is going to try to help us achieve what we [set out] to accomplish."
The role of his assistant coach and ex-England and Arsenal legend Sol Campbell was another banana skin for Lawrence, who tried to explain why Campbell only showed up a week before World Cup qualifying matches and was not around for all but one of the team's friendly matches when he could work with, in particular, the Pro League players.
"Sol Campbell was brought into the squad particularly to try to improve us for the World Cup campaign," said Lawrence. "Sol Campbell was not brought into the set-up with the vision of […] improving Trinidad and Tobago in the long term. Sol Campbell has a wealth of experience and I thought it would be best used in the short-term period, which is to try and achieve this goal of qualifying for Russia…
"In terms of the long-term development, it is a discussion I am going to have with Sol [about] whether or not it is something he will be interested in doing… There has been no decision made yet on the path of the staff and what we are going to do."
Incidentally, Campbell is listed on a FIFA technical study group for the India 2017 Under-17 World Cup, which kicks off on 6 October. If the former England stand-out is serious about his Trinidad and Tobago post, we will know soon enough.
Lawrence said he is already in the second part of the two-tier plan that he unveiled to the TTFA during his job interview earlier this year—he was the TTFA technical committee's third choice after Stuart Charles-Février and Terry Fenwick but got the nod after the Board overruled its committee.
"[We gave] Russia our best, best shot, [so now it is about] how do we move forward in terms of developing a football philosophy for our country and in terms of how we are going to develop players," said the Trinidad and Tobago coach. "We have not won anything for the last 16 years, including the Caribbean Cup, and I think that is where our development process has to start.
"We have to become more competitive in the Caribbean by winning things [there] before we start branching off to the Gold Cup and World Cup.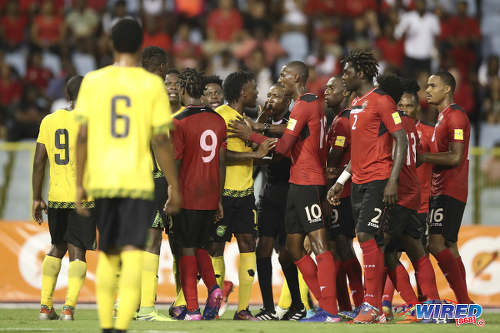 "[…] So the focus at the moment is to become number one in the Caribbean again and then we can build from there."
Lawrence said there have already been discussions with technical director Anton Corneal and the various national youth team coaches about a common philosophy through the ranks.
He was encouraged by the talent and enthusiasm on show in the Secondary Schools Football League (SSFL).
"The only way you correct these things is by work on the football pitch," said Lawrence, "not by going about trying to find a player with a Trinidad and Tobago passport. We have to work; that is the only way we are going to get results [and] go forward…
"I have been to a couple of the Secondary Schools Football games and it is really, really exciting… Some of those games are like blood and thunder and it is something we need to […] find a way to harness and take [it] into our national set-up.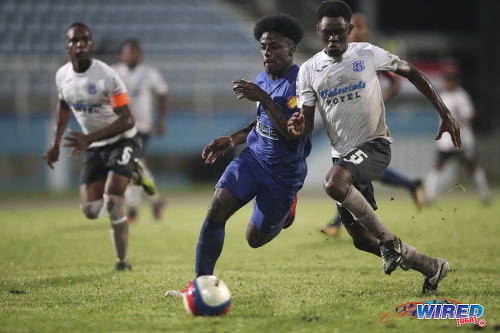 "[…] I now need to build a team that will be surrounded with discipline, surrounded with passion and surrounded by dedication. That is the only way you are going to achieve anything."
The new journey, according to Lawrence, starts against Mexico on 6 October and the Warriors will travel to that country four days early. There are many different schools of thought about preparing to play at altitude and Trinidad and Tobago have tried them all without success where Mexico is concerned.
Before the Costa Rica match, the Warriors were about to spend nearly two weeks at altitude, which is the recommended time frame but is impossible now.
The next best thing, according to most doctors, is to travel to higher ground on match day and play before your body catches on to the new conditions. But that was what Trinidad and Tobago did in 2000 when they lost 7-0 at the Azteca.
At that time, Mexico were thirsty for revenge after having lost 1-0 in Port-of-Spain. It is, however, hard to guess the current frame of mind of "El Tricolor."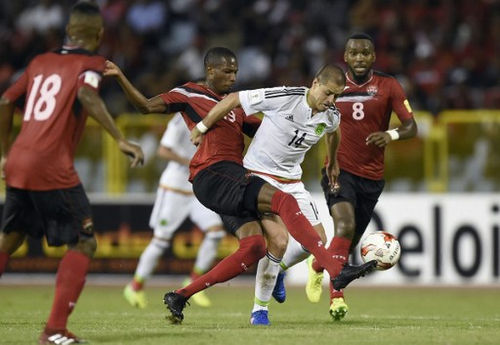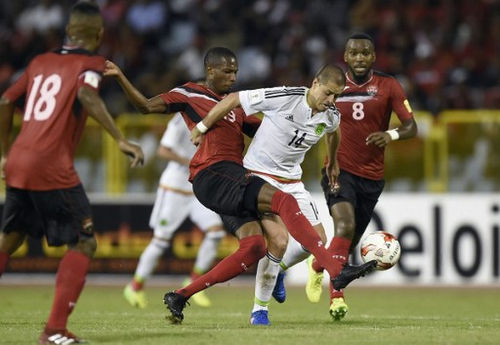 Mexico have already qualified for the 2018 World Cup and the country is grieving after two massive earthquakes hit them within two weeks. Potentially, that could turn the game into an emotional affair.
For Lawrence, there are no life or death problems but his are tricky ones too.
"The biggest challenge I've had is that so many of our players who play abroad have had inconsistent seasons," he said, "in regards to playing for 90 minutes and then not playing for a [long] period. And that has been an issue in terms of selecting a squad with the right balance."
After the Warriors produced disappointing performances in their last two matches, Lawrence moaned that he felt let down by his senior players.
So was his selection of playmaker Kevin Molino and flanker Joevin Jones—two players who have had their difficulties on and off the field during this campaign—a vote of confidence and an indicator that the coach was happy with what they brought to the table?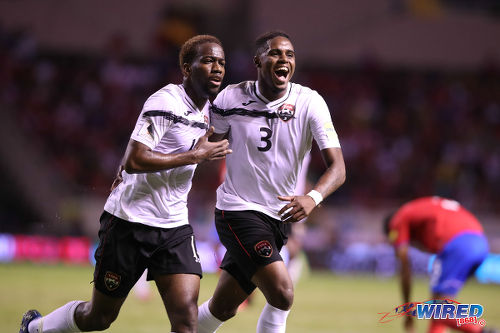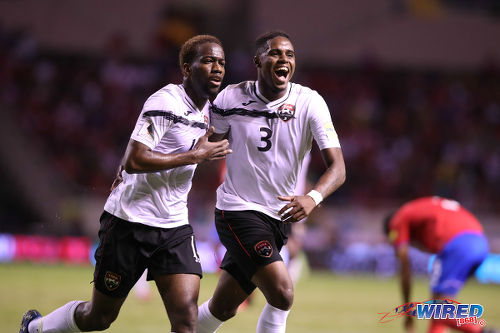 "I needed to put some senior players in and around the younger group," said Lawrence. "The senior players that [I selected] for me are the senior players that, from the time that I have been working, have showed good leadership qualities; they showed good responsibility in being able to lead the younger ones."
Lawrence said he already has a new captain in mind although he won't reveal the name until he speaks to the players. Despite the issues around the team, the Warriors coach fully intends to march on.
Team manager Richard Piper, who was present but not on the head table, faced just one question.
Wired868: "When will the TTFA pay the players their outstanding match fees [the debt stretches back to June and to as many as six games for some players]?"
Piper: "It is supposed to be by the end of the month."