The Secondary Schools Football League (SSFL) Disciplinary Committee dropped the hammer today on two students from Presentation College (San Fernando) and Carapichaima East Secondary, as the quartet were given increased suspensions for their behaviour in last weekend's SSFL Premier Division clash.
Presentation won the contest 2-1 but both teams had two players sent off in the affair.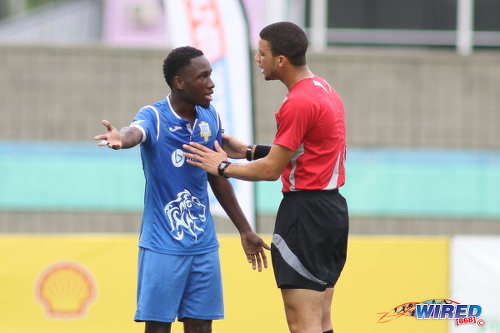 "Pres Lions" forward Omri Baird, who was the second-highest scorer in the competition at that point, and central defender Shirwin Noel were both ejected along with talented "Caps" attacker Theophilus Bourne and stopper Brandon St Clair after a mid-game flare-up between the two teams.
Presentation argued that Baird's red card was unfair in the first place and tried, unsuccessfully, to have the player available for Wednesday's derby with Naparima College. Baird, they claimed was only trying to defend himself while being attacked.
Not only did the SSFL Disciplinary Committee rule that Baird was correctly sent off but the attacker had his initial punishment doubled, as he will now serve out a two-match suspension.

Noel and Bourne also had their automatic one match suspensions stretched to two games.
It means that Presentation, who lost 2-1 to Naparima yesterday, must do without Baird and Noel on Saturday too when they play away to Fyzabad Secondary.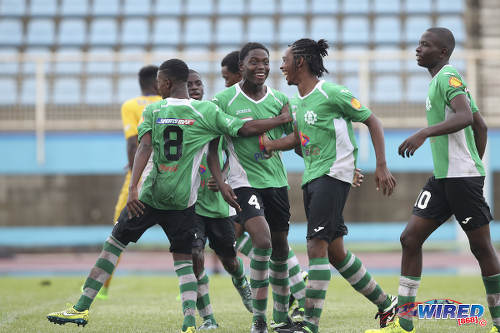 However, St Clair, who threw a punch in the fracas, saw his own punishment climb to four matches.
Bourne and St Clair must now look on from the sidelines as Carapichaima East host St Benedict's College on Saturday while St Clair will also miss subsequent outings against Signal Hill Secondary and San Juan North Secondary.
St Clair will not be available to represent his school again until Wednesday 11 October when Caps play away to Naparima College.
Both schools have three days to lodge an appeal, which must be accompanied by a TT$1,000 fee.
At present, Carapichaima are eighth in the 16-team standings after climbing two places with a 3-1 mid-week win away to St Mary's College on Serpentine Road in St Clair.
Presentation skipped one place to the top of the standings on Tuesday after a successful protest by Naparima against Shiva Boys Hindu College. However, they dropped back to second after Wednesday's loss to their arch-rivals.
Only goal difference separates the top three SSFL teams at the moment with Shiva Boys, Presentation and Naparima occupying the top places while Fatima College is one point adrift in fourth position.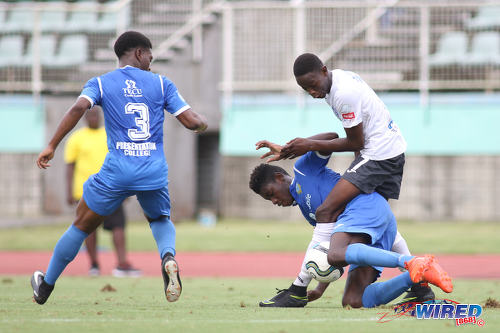 Upcoming fixtures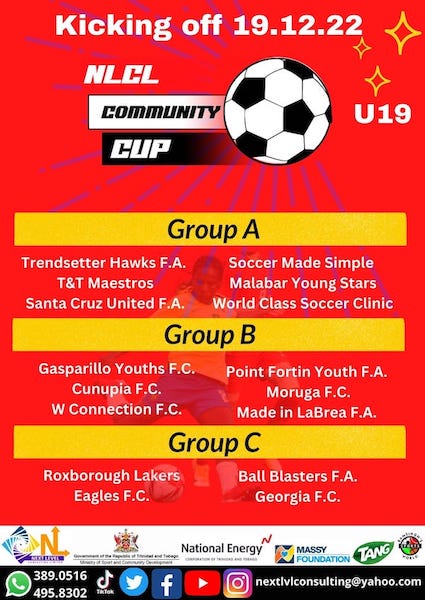 (Saturday 30 September)
QRC v St Anthony's College, 3.40pm, QRC;
Fatima College v Shiva Boys HC, 3.40pm, Fatima;
Carapichaima East v St Benedict's College, 3.40pm, Carapichaima;
Trinity Moka v Trinity East, 3.40pm, Moka;
Naparima College v St Mary's College, 3.40pm, Lewis Street;
Fyzabad Secondary v Presentation College, 3.40pm, Fyzabad;
St Augustine Secondary v Speyside High, 3.40pm, St Augustine;
Signal Hill v San Juan North, 3.40pm, Signal Hill.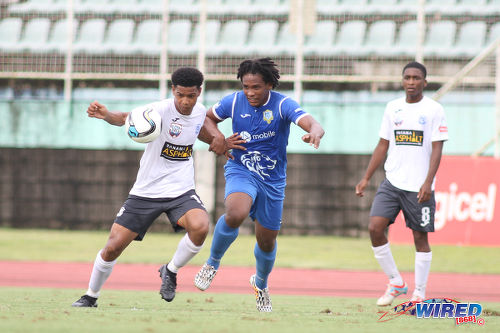 SSFL Standings
(Played-Won-Drew-Lost-Goals For-Goals Against-Points)
Shiva Boys HC     6-4-1-1-14-4–13
Presentation        6-4-1-1-14-6-13
Naparima             6-4-1-1-13-7-13
Fatima                  6-4-0-2-6-4–12
St Anthony's        5-3-1-1-16-6-10
Trinity East           6-3-1-2-11-6-10
St Augustine        5-3-1-1-11-7-10
Carapichaima E   6-3-1-2-10-8-10
Fyzabad Sec        5-3-0-2-7-7-9
San Juan N          6-1-5-0-13-6-8
St Mary's             5-1-2-2-9-13-5
Signal Hill            6-1-1-4-5-10-4
QRC                     6-1-1-4-5-13-4
Trinity Moka        6-1-0-5-4-17-3
Speyside High     6-1-0-5-3–19–3
St Benedict's       6-0-2-4-6-14-2