Call them the draw specialists if you will.
San Juan North played to their fifth draw of the 2017 Secondary Schools Football League (SSFL) season today when they held defending champions Shiva Boys Hindu College to a goalless draw at home in Bourg Mulatresse this afternoon.
Shiva, who had a 100% record before the League penalised them for using midfielder Kierron Mason in their opening game against Naparima College, were frustrated by a dogged San Juan outfit which played the last 20 minutes with 10 men.
With just under quarter of the regulation time left, referee Rashby McPhie gave substitute Tigana O'Brien his marching orders for dissent after a foul on Shiva playmaker Judah Garcia. However, Bourg did not wilt under the pressure and, steadied by robust defender Kyle Thomas, the hosts dug deep to keep their stylish opponents at bay.
The lanky Mason came close to recouping the three points his team lost in a SSFL board room. However, the Bourg wall stood strong.

With a mere five minutes left on the clock, Shiva Boys coach Hayden Ryan and his free-flowing charges probably realised that they were not going to get all three points. As a marauding Mason fired at San Juan goalie Shawndell Byer from point blank range, only for the custodian to prove equal to the task.
Ryan told his players that they had no reason to hang their heads after their battle with the gritty Bourg Mulatresse outfit, only his own face mirrored his disappointment.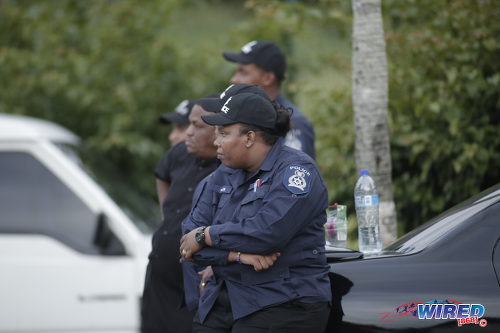 "It's always good to get a point away from home," Ryan told Wired868. "The boys fought and it was a tough game but now it's over and we will go back to the drawing board… We didn't score and, if you ain't score, you can't win."
Following massive wins last Wednesday for both San Juan (7-nil over Trinity College Moka) and Shiva (5-1 over QRC), the partisan Bourg crowd—which included homegrown former international standouts like Marvin Oliver, Elijah Manners and Brent Sam—would not have envisaged a goalless affair.
Although, judging from a conversation between an elderly gentleman and his much younger ally, they rightly expected intrigue.
"Oh gosh look who the referee for the game is," said Papi with a laugh, as a stone-face McPhie led the officials on to the field of play.
"We could see about three red cards today," the youngster replied.
McPhie, who is possibly one of the strictest referees on the local circuit, only showed a solitary red card today—and it came just seconds after Tigana, a substitute, was cautioned for taking Garcia's legs.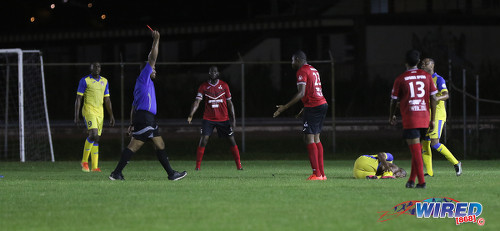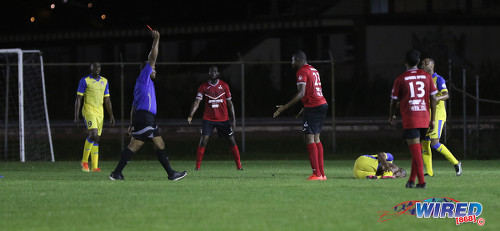 Judging from the comments by the home crowd in Bourg, there were more than a few patrons who would jump at the chance to take McPhie's legs from under him as well.
Shiva Boys had their own disagreements with the officials as attacker Tyrell "Sexyman" Baptiste's appeal for a penalty went unanswered in the 21st minute, after he crumpled in a heap inside the opposing box. The referee waved play on and gave no card for simulation either.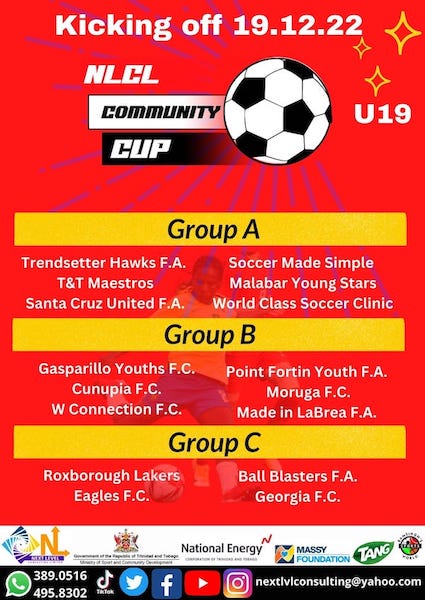 By then, the cross-talk from spectators was arguably feistier than the action on the field of play, as Shiva opted for a patient approach when trying to hurdle the Bourg wall.
The "Penal Princes" looked most dangerous when Garcia linked up with Tyrel "Pappy" Emmanuel in the midfield and Mason decided to take his rangy legs for a stroll.
"We got the assurance that we could play him seeing that we were supposed to play on Saturday [9 September] and not the Friday. We asked [the league] and they said go ahead and now they have done that," said Ryan, as he tried to explain why Shiva played Mason in their first SSFL game.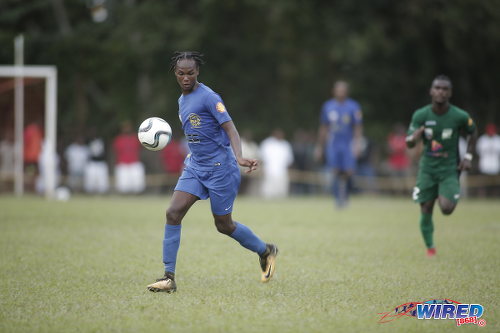 San Juan North's very own 'Selecta Avery' tried to encourage the home team with the pulsating sounds of dancehall and soca music before kickoff and at halftime. However, Mason and Garcia were the ones who showed off their dancing shoes while Pappy—and not Papi—was not too far behind.
In the 41st minute, the determined Garcia sent a dangerous right-footed effort over the bar after some neat footwork outside the area, while Mason almost engineered a superb team goal with Pappy and speedy forward Quinn Rodney in first half stoppage time.
"Look how Shiva number ten [Garcia] dictating the game," said one frustrated supporter. "What the jail I seeing here?!"
The talented Garcia, who is the younger brother of "Soca Warriors" and AZ Alkmaar winger Levi Garcia, was certainly one of the brighter sparks on the pitch, as he tried to control the game with his numerous body feints and sharp passing.
However, San Juan did not win last year's National Intercol title by guess, and coach Jerry Moe's team is built from the back with stout, no-nonsense defending. Thomas is the leader of that San Juan defence and the youngster was often the player who made a key interception in the final third or put his body on the line to shield Byer's goal.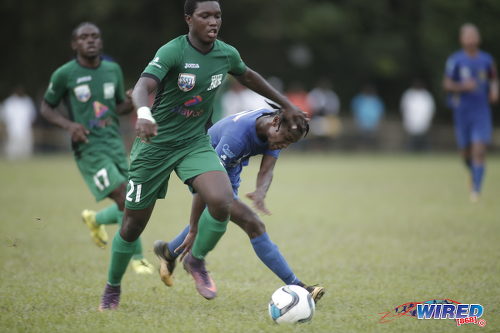 Not everything Thomas did was conventional though, and the burly central defender left something extra on Garcia in the 49th minute, just as the playmaker was showing the Bourg crowd his clean pair of heels down the right flank. Thomas, who walked away with a smirk, made it clear that he would not be joining anybody's dance class.
Shiva's Yohannes Richardson was in a serious mood at the other end, as the lanky defender—who is also capable of playing in midfield—had an almighty battle with the heavily-strapped San Juan captain and forward Renaldo Boyce.
Last year, the stocky Boyce memorably scored four goals against Trinity College Moka to take Bourg into the National Intercol Final. Today though, Boyce and his exciting attacking teammate Brandon Semper had to feed on scraps.
"Semper is not really an out and out striker," coach Jerry Moe told Wired868. "But because of the role we are asking Boyce to do in dropping back and helping the defence it's taking away from some of Boyce's openings."
The dynamic San Juan duo nearly got a pivotal goal in the 64th minute, as Boyce bullied a Shiva defender off the ball down the right flank, only for Semper—who already has a League high seven goals this season—to misdirect Boyce's sharp cross.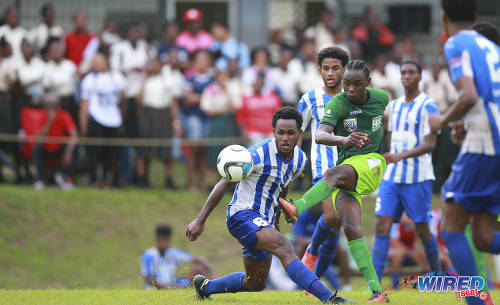 With five draws from their first six encounters, Moe admitted his charges have thrown away points in the latter stages of games. However, he was pleased with the organisation and grit his team put forward today.
"It was a very tough game and the both teams really stepped up," said Moe. "We know that Shiva Boys have a lot of quality in their team and we didn't take them for granted in the preparations[…] So we hope to build on [today's performance] and do a little better in the second half of games."
Byer certainly ensured that Moe and his technical staff have a good building block for their trip to Signal Hill on Saturday, with a mammoth save in the 85th minute after Mason nonchalantly faked a San Juan defender out of the Bourg compound.
Ryan assured Wired868 that Shiva Boys were not too perturbed by the result.
"We will be good man. We don't like to draw or lose as you would see with most teams," Ryan said. "We are fighting and we will take it in stride."
Three points lost off the field of play, two dropped points away in San Juan. Ryan will hope to hatch a plan to buck that trend when they next take the field against Fatima College at Mucurapo Road on Saturday.
(Teams)
San Juan North (4-4-1-1): 1.Shawndell Byer (GK); 16.Obadele Dickson, 7.Josiah Beard, 21.Kyle Thomas, 17.Kareem John; 20.Isaiah Chase (18.Tigana O'Brien 61 [red card 75]), 3.Elair Brewster (15.Jordan Britto 90+1), 22.Nathaniel Perouse (14.Darian Warner 74), 2.Tyrell Cameron; 6.Brandon Semper; 9.Renaldo Boyce (captain).
Unused Substitutes: 30.Emmanuel Clarke (GK); 12.Kirk David, 19.Sherwin Williams, 24.Nicholas Romany.
Coach: Jerry Moe
Shiva Boys HC (4-3-3): 22.Denzil Smith (GK); 32.Ronald Charles (16.Simeon De Bourgh 76), 19.Yohannes Richardson, 3.Jabari Graham (5.Anderson Peters 78), 14.Matthew Beal; 10.Judah Garcia (captain), 6.Tyrel Emmanuel, 15.Kierron Mason; 9.Tyrel Baptiste, 8.Jude Phillip (21.Aaron Rodney 86), 7.Quinn Rodney.
Unused Substitutes: 24.De-Jon Blondell (GK), 17.Ronaldo Edwards, 23.Jeremy Williams, 33.Ryan Davis.
Coach: Hayden Ryan
Referee: Rashby McPhie
Wired868 Man-of-the-Match: Kyle Thomas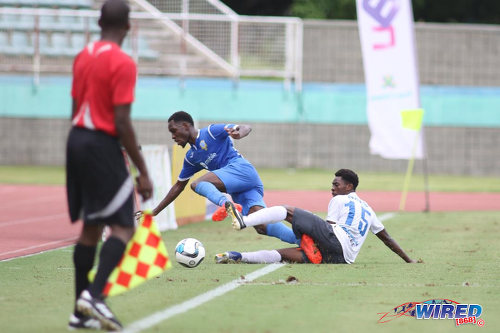 SSFL Premier Division results
(Wednesday 27 September)
Presentation College 1 (Jordan Riley 2 pen), Naparima College 2 (Judah St Louis 4, 38) at Mannie Ramjohn Stadium;
San Juan North 0, Shiva Boys HC 0 at Bourg Mulatresse.
St Benedict's College 1 (Kyjlan Sampson), Signal Hill 2 (Akiel Holdford 18, Akil Frank 46) at Barrackpore;
Fatima College 1 (Stephon Marcano 50), Trinity Moka 0 at Fatima;
St Mary's College 1 (Michelle Poon-Angeron 30), Carapichaima East 3 (Josiah King 35, Daniel Pascall 43, Elijah King 83) at St Mary's;
Trinity East 3 (Nickel Orr 69, Kaley Kiel 78, Sergio Bustamante 86), QRC 1 (Tishad Selvon 66) at Trincity;
St Anthony's College 8 (Tyrese Bailey 15, 29, 38 pen, 65, Che Benny 12, Haile Beckles 47, Jodel Brown 79, 82), Speyside High 0 at Westmoorings;
St Augustine Secondary 3 (Akeem Hosten, Alan Hogan, Anthony Samuel), Fyzabad Secondary 1 (Sharkeel Louison 47) at St Augustine.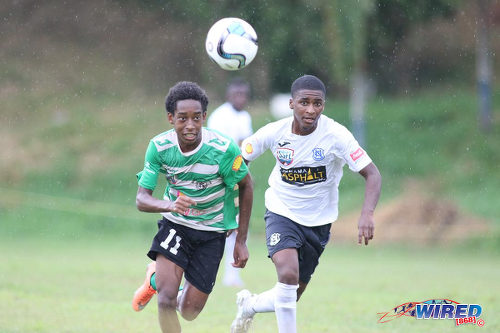 Upcoming fixtures
(Saturday 30 September)
QRC v St Anthony's College, 3.40pm, QRC;
Fatima College v Shiva Boys HC, 3.40pm, Fatima;
Carapichaima East v St Benedict's College, 3.40pm, Carapichaima;
Trinity Moka v Trinity East, 3.40pm, Moka;
Naparima College v St Mary's College, 3.40pm, Lewis Street;
Fyzabad Secondary v Presentation College, 3.40pm, Fyzabad;
St Augustine Secondary v Speyside High, 3.40pm, St Augustine;
Signal Hill v San Juan North, 3.40pm, Signal Hill.
SSFL Standings
(Played-Won-Drew-Lost-Goals For-Goals Against-Points)
Shiva Boys HC     6-4-1-1-14-4–13
Presentation        6-4-1-1-14-6-13
Naparima             6-4-1-1-13-7-13
Fatima                  6-4-0-2-6-4–12
St Anthony's        5-3-1-1-16-6-10
Trinity East           6-3-1-2-11-6-10
St Augustine        5-3-1-1-11-7-10
Carapichaima E   6-3-1-2-10-8-10
Fyzabad Sec        5-3-0-2-7-7-9
San Juan N          6-1-5-0-13-6-8
St Mary's             5-1-2-2-9-13-5
Signal Hill            6-1-1-4-5-10-4
QRC                     6-1-1-4-5-13-4
Trinity Moka        6-1-0-5-4-17-3
Speyside High     6-1-0-5-3–19–3
St Benedict's       6-0-2-4-6-14-2