Secondary Schools Football League (SSFL) champions Shiva Boys Hindu College showed Naparima who were the real bosses on the opening day of 2017  Premier Division action at the Ato Boldon Stadium, Couva with a late 2-1 win this evening.
With an almost identical roster to their 2016 championship winning team, Shiva Boys needed the 83rd minute intervention of new recruit, Jude Phillip, to beat their southern rivals in what turned out to an exciting and tense finish.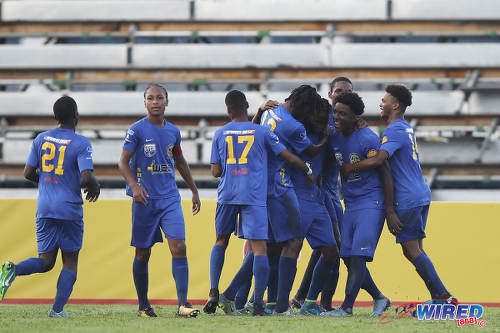 The defending champs Shiva Boys held the lead for the majority of the game through a Junior "Barry" Asson strike but were made to work for the win late on in a game where Naparima lacked the final polish to truly sparkle on the night.
Shiva Boys head coach Hayden Ryan commended his troops at the final whistle and toasted their resilience.
"What we saw was a team that played for a whole 90 minutes," Hayden Ryan told Wired868. "They were ahead for most of the game and then, when [Naparima] equalised, they didn't let their heads drop. They raised their heads and played for the whole game and got the win."

The Ato Boldon surface wasn't always the easiest for the two SSFL juggernauts but it proved considerably less tricky to manoeuvre around than in the opening encounter.
In the earlier kick off, Carapichaima East Secondary overcame a waterlogged field and a wasteful Fatima College to record a solid 2-0 victory on their return to the SSFL Premiership Division.
With a flooded field and a technical area and cycling track that resembled a pond, the first 15 minutes of the game could have been mistaken for a synchronised swimming performance by both teams.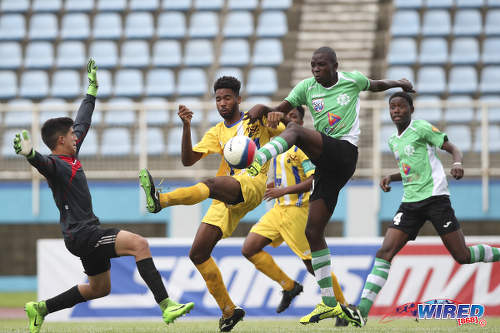 Keeping ones footing was a skill that few mastered but for the Bourne supremacy shown by Carapichaima ace forward Theophilus Bourne.
Bourne immediately put the three-man Fatima defence on its heels in an enterprising opening for the Central based team. And, with his lanky lieutenant, Daniel Pascal also able to keep his feet on the ground, Bourne began to probe and forced Fatima into panicked defending.
And, in the 27th minute, Fatima custodian Jacob Camacho was hung out to dry by his defence as "Caps" defender Symron Wiseman sent Kevon Williams free down the left channel. Williams wriggled away from one opponent before calmly placing below Camacho for the opening goal of the SSFL 2017 season.
Fatima and National Under-20 midfielder Stephon Marcano tried to inspire his team's recovery but saw his dangerous deliveries repeatedly wasted while he was denied from distance by Caps custodian Aaron Best.
Fatima head coach Wayne Sheppard sent on the National Under-15 duo of Justin Araujo-Wilson and Zachary Welch to help him out but both looked short on confidence—perhaps expectedly as they recently returned from a disastrous CONCACAF Championship in which they conceded 21 goals and scored one in four matches.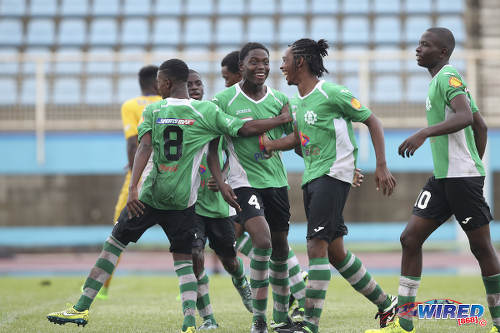 Bourne had no such insecurities and Fatima's right flank players might need counselling as they were battered for the entire game with the Caps attacker leading the charge.
In the 55 minute, Bourne glided beyond Fatima right wing back Luke Boucaud—for what seemed like the umpteenth time—and jinxed his way around the sprawled out Camacho with assured precision, only for his teammate, Pascal, to muff his pass.
A few moments later, Bourne coaxed the right finish from teammate Elijah King, as the latter produced a volley into the bottom corner after another mazy dribble and lobbed cross by the former player. It capped a tidy 2-0 win for Caps.
In the showpiece match-up between perennial title contenders, Naparima charged at the Shiva Boys defenders like bats out of hell and could have taken the lead immediately after kick off but for alert defender by Jabari Graham, which halted an enterprising run and shot from"Naps" attacker Nikel Rawlin.
The defending champs were struggling to deal with Naps' pace and aggression and would have been relieved to see opposing midfielder Jarod Pantor's shot cross against the crossbar, after an excellent cross by National Under-20 utility player Rushawn Murphy—a former Malick Secondary schoolboy and Pro League player with St Ann's Rangers and Club Sando.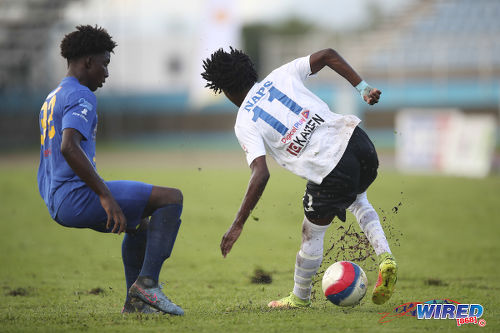 However, Shiva Boys kept their composure and responded when it mattered off a corner kick. Inexplicably, the Naparima defence left opposing striker Junior "Barry" Asson free in the six yard box and the SSFL 2016 silver boot winner made no mistake in the 14th minute.
Shiva Boys began to strut with captain and conductor-in-chief, Judah Garcia, commanding central midfield while Naps, for all their energy, lacked the creativity provided last season by lynchin Justin Sadoo.
This evening, Eve turned to another precocious talent, Mark Ramdeen, and towering forward Isa Bramble—a second half substitute—to stage a recovery.
The two threatened sporadically but it was Murphy who proved to be difference maker. Brought in to replace last season's top scorer Isaiah Lee at the tip of the Naparima attack, he restored parity for "Naps" in the 77th minute with a curling free-kick that the opposing keeper, De-Jon Blondell, should have done better with.
Blondel got his two fists to the ball, only for it to slice off his gloves and nestle into the back of the net. Game on!
Then came the sucker punch. Ryan sent on SSFL 2016 MVP Tyrel "Pappy" Emmanuel to turn the tide and his influence was felt as soon as he crossed the by-line.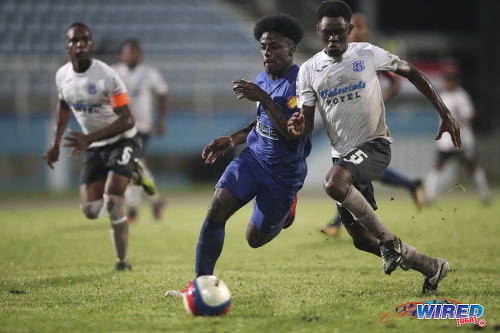 Immediately, Shiva Boys began to assert themselves again on the ball and, with 83 minutes on the clock, Phillip—who captained Pleasantville Secondary last season—came up with the winner after sliding in to convert a cross-cum-shot from teammate Tyrell "Sexyman" Baptiste.
Last season, Phillip and Pleasantville were relegated after a "Sexyman" goal in their penultimate game of the season. Today, Phillip leapt into Baptiste's arms to celebrate with his new teammates amidst a chorus cheers from the large crowd of Shiva Boys supporters.
Phillip was welcomed in his new home too.
If you don't believe me, ask the jubilant fans who caught Phillip's shirt as he ripped it off while pounding his chest in celebration.
First move goes to Shiva Boys.
(Teams)
Carapichaima East (4-4-1-1): 1.Aaron Best (GK); 2.Colin Wheeler, 4.Brandon St Clair, 5.Andre St Clair, 3.Symron Wiseman; 9.Kevon Williams, 17.Macaheil Alexander, 20.Elijah King (11.Kellon Burnett), 6.Joshua King; 10.Daniel Pascal; 8.Theophilus Bourne.
Unused Substitutes: 7.Yohance Brereton, 23.Aaron St Clair, 21.Israel Moore, 13. Daneil St Clair, 16.Iiju James.
Coach: Randolph Boyce
Fatima (3-5-2): 1.Jacob Camacho (GK); 19.Lleyton Augustine, 8.Isaiah Lamont, 3.Joshua Evans; 14.Luke Boucaud, 21.Luke Gooding (13.Zachary Welch), 10.Andrew Abraham, 18.Kaylon Taylor (11.Justin Araujo-Wilson) 4.Joshua Araujo-Wilson (C), 9.Mikhail McComie (20.Jean-Heim Mc Fee), 7.Stephon Marcano
Unused Substitutes: 38.Jabari Dennis, 15.Elisha Taylor, 2.Christopher Serrant, 5.Jordan Romany.
Coach: Wayne Sheppard
Man of the Match: Theophilus Bourne (Carapichaima East)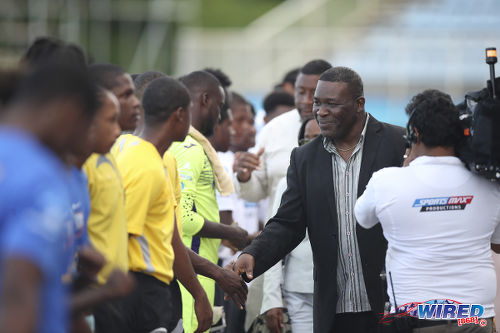 Shiva Boys (4-1-4-1): 24.De-Jon Blondell (GK); 32. Ronald Charles, 19.Yohannes Richardson, 12.Jabari Graham, 14.Matthew Beal; 21.Aaron Rodney (6. Tyrel Emmanuel); 17.Ronaldo Edwards (15.Kierron Mason), 10.Judah Garcia, 8.Jude Phillip, 7.Quinn Rodney; 11.Junior Asson (9.Tyrel Baptiste).
Unused Substitutions: 22.Denzil Smith (GK), 16.Simeon De Bourgh, 33.Ryan Davis, 18.Muquasie Alexander.
Coach: Hayden Ryan
Naparima (4-3-2-1): 30.Enrique Changiah (GK); 15.Shadeon Arthur, 5.Rondell Payne (C), 2.Tyrique Andrews, 19.Andre Raymond (7.Isa Bramble); 6.Judah St Louis (8.Kodel Frontin), 13.Jeron Pantor; 16.Decklan Marcelle, 18.Ronaldo Mc Intosh, 11.Nikel Rawlins (10.Mark Ramdeen); 9.Rushawn Murphy.
Unused Substitutions: 1.Levi Fernandez (GK), 3.Akil Johnson, 17.Shoaib Khan, 26.Seon Shippley.
Coach: Angus Eve
Man of the Match: Judah Garcia (Shiva Boys)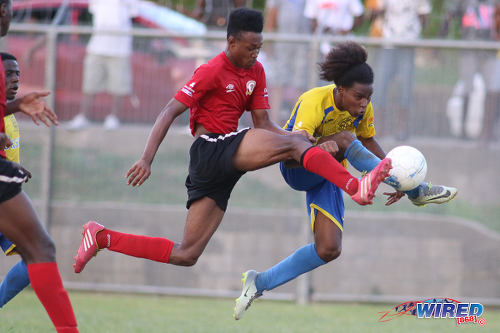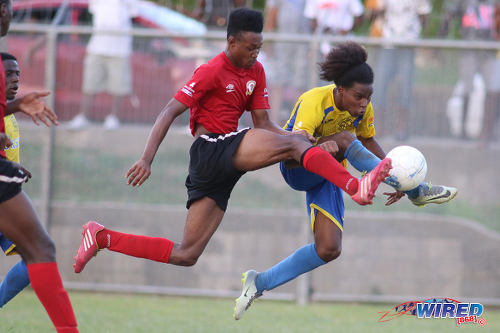 SSFL 2017 results
(Friday 8 September)
Carapichaima East 2 (Kevon Williams 27, Elijah King 59), Fatima College 0 at Ato Boldon Stadium;
Shiva Boys HC 2 (Junior Asson 14, Jude Phillip 83), Naparima College 1 (Rushawn Murphy 77) at Ato Boldon Stadium.
Upcoming fixtures
(Saturday 9 September)
St Benedict's College v St Anthony's College, 3.40pm, Barrackpore;
Speyside High v QRC, 3.40pm, Speyside;
St Mary's College v St Augustine Sec, 3.40pm, St Mary's;
Fyzabad Secondary v Trinity College Moka, 3.40pm, Fyzabad;
Trinity College East v Signal Hill, 3.40pm, Trincity;
Presentation College v San Juan North, 3.40pm, Guaracara Park.