"They are too disrespectful in terms of how they treat and pay their players," veteran Trinidad and Tobago international and Central FC full-back Carlos Edwards told Wired868. "And when they do pay, it is as if you have to beg for your own money. When you make a commitment and it comes time to produce and you're not producing, we have a problem.
"Just deal with me straight up; and, if you can't do that, it doesn't make sense I give 100 percent."
Those are likely to be Edwards' parting words as a Pro League player, as the former England Premier League and World Cup 2006 winger appears set to leave Trinidad and return to Britain.
Edwards should have been at the Hasely Crawford Stadium last night, as Central faced Árabe Unido in Concacaf League Round of 16 action. However, he boycotted the match in protest of the club's management.
In the post-game news conference after Central's 2-1 loss, the "Couva Sharks" assistant coach Stern John said Edwards was given time-off to attend to his ailing mother, Elizabeth.

"Carlos is away because he had some problems with his mom," said John, who played alongside Edwards at the 2006 World Cup. "His mom wasn't well so we gave him some time out to look after his mom."
It was, Edwards explained, only a fraction of the story—and a conveniently selected part at that.
Edwards' mother was unwell and was taken to the hospital as a precaution before being discharged after 24 hours. But that had little to do with his absence on Thursday night or his pending departure for Britain.
"I have a good relationship with Stern and Stern understands," said Edwards. "But then Stern is just a coach [and] it is not his club. But when it comes to certain individuals…"
Central's majority shareholder and managing director is another former 2006 World Cup player and ex-Sport Minister, Brent Sancho. Wired868 tried unsuccessfully to reach Sancho and operations director Kevin Harrison for comment.
At present, Edwards is owed just one month's salary at Central, which is a distinct improvement from his time with Ma Pau Stars. But he explained why he felt disrespected by Sancho at the Sharks.
"I am one of the most easy-going people and I know the [financial] problems in the League," said Edwards. "If you come and reason with me, I will understand. But don't tell me something and then don't do it and be all macho about it too.
"[…] If I tell you I will pay you on Tuesday, then when Tuesday comes you will be looking for me to pay you, not so? But when the day comes, you don't hear anything and you still have to turn around, then what is going on?
"And then for him to tell me: 'study the football, we will study that'. Well, if that is how you are moving with me, we will have a problem."
Edwards' concerns with the operations at Central are hardly unique. Last year, Shaka Hislop condemned Sancho's treatment of former club captain Marvin Oliver, who was sacked and then slandered by the Sharks.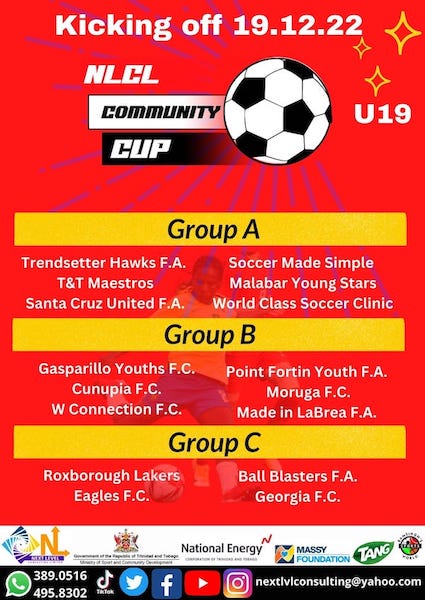 And Sancho was forced to flee the training ground on another occasion when defender Andre Ettienne tried to confront him over unpaid salaries.
Former Central attackers Marcus Joseph and Willis Plaza and coach Terry Fenwick also left under acrimonious circumstances while the high-profile departures from the club that won a record three Pro League titles in as many seasons include Jan-Michael Williams, Leston Paul, Darren Mitchell, Kevon Villaroel and Rundell Winchester.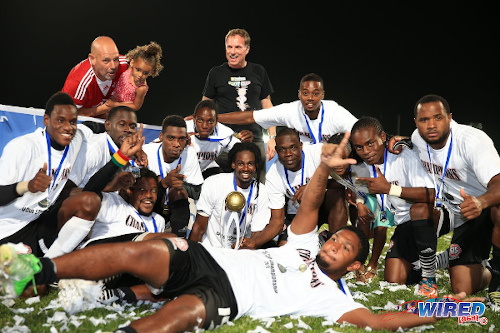 In September 2015, the Trinidad and Tobago Football Association (TTFA) initiated a probe against Sancho and Harrison for: their conduct with regard to the transfers of Central FC forward Winchester, the signing of then 16-year-old winger Levi Garcia and the alleged misappropriation of CONCACAF funds and non-payment of bonuses to Central players.
However, the TTFA action stalled under current president David John-Williams, who took over at the helm of the football body in December 2015.
Ironically, Sancho and Harrison were founding members of the now defunct Football Players Association of Trinidad and Tobago (FPATT) alongside interim president, Hislop.
Edwards, a former England Premier League player with Sunderland, said the Pro League desperately needs an operational players' body, which he feels will be just as beneficial to the clubs and the standard of the competition as it would be to the players themselves.
He suggested that local players face mental anguish from the non-payment or late payment of salaries—often delivered piecemeal—constantly changing training and match schedules and club owners who are not in tune with the needs of employees.
"I am not studying myself alone," said Edwards. "Yes, I have four kids, a wife and a mortgage to pay but I really feel for the kids—some of whom have to travel from as far as Point [Fortin] to train all over the place—and don't know when their next salary is coming.
"I can be greedy and tell Sancho I only care about my money but I always fought for the players as well."
Edwards' imminent departure marks a bitter-sweet end to his short-lived return home last year alongside former international teammate Jason Scotland, who once represented Wigan Athletic in the England Premiership as well as Dundee United and Hamilton Academical in the Scottish Premier League.
"I think it's about time, coming home to give back something [and help] put the Pro League back on the map," Edwards told the TT Pro League in September 2016, "to help the younger guys try to emulate what I've experienced throughout my career.
"That's one of the main reasons why I'm actually back home here."
Edwards and Scotland opted to sign for Ma Pau Stars under then coach Ross Russell, who once played alongside the pair at Defence Force. But, off the field, it was a nightmare.
The two agreed deals with Bankers Insurance to meet their salaries at Stars, which went smoothly for the first two months. But then the payments stopped. When Scotland enquired about the status quo  with Bankers Insurance CEO Vance Gabriel, they were told that their deal was actually a fourth party one.
Bizarrely, Scotland and Edwards were playing for Stars with their salaries meant to come through Bankers Insurance from a contractor they had never heard of before. They were not paid again for the duration of their six-month spell at the club.
Things appeared to take a turn for the better when National Youth Team co-ordinator Russell Latapy, another 2006 World Cup teammate, called the duo to work as assistant coaches for the Under-15 and Under-17 Teams.
"Russell called me and put something towards us about how he wanted to start afresh with the younger boys and create a system leading them straight up to the National Senior Team," said Edwards. "It sounded like a good plan."
Scotland has his UEFA 'B' coaching license while Edwards said he is a few courses away from getting his 'B' license as well. Both men jumped at the opportunity.
After around two dozen training sessions without pay or a contract from the TTFA, Edwards and Scotland called time on their short tenure as international youth coaches, though.
"We started based on word of mouth from Russell and we coached for about six and seven weeks," said Edwards. "Jason asked Russell about payment and Russell [said] he would see what he could do. By then, I smelled the rat but Jason was so passionate about the coaching side of things that he really wanted to stick it out.
"But there is only so much we could do, so we gradually pulled ourselves away."
Scotland had tired of the Trinidad football scene by then and, soon after the Pro League season ended, he returned to Britain.
Whereas the TTFA failed to offer him a job—and the local football body subsequently hired W Connection coaches Stuart Charles-Fevrier, Leonson Lewis and Clyde Leon to run its Elite Youth Development programme—Hamilton Academical manager Martin Canning hired Scotland as an assistant coach last month.
Canning told the Scotland Daily Record that he is using 'Scottie' to work the club's attacking players and he said the former Malick schoolboy is off to a good start.
"I phoned him in the summer, met him for a coffee and asked if he would be interested [and] he jumped at the chance," Canning told the Record. "Initially we were looking just to get him in once or twice a week to work with the strikers, but that has progressed to him helping with the Under-20s and doing striker work [there] as well.
"It's good for him. He's really keen and eager to help and hopefully, with his knowledge and the level he has played at, he can benefit the guys."
Edwards, who started his professional career alongside Scotland and current Soca Warriors head coach Dennis Lawrence at Defence Force, hopes to follow the lead of his former teammates.
"I want to coach," said the 39-year-old Edwards, who is still a member of the current Trinidad and Tobago international player pool. "That is one of the reasons I want to head back to England to finish up my UEFA 'B' license. I need my final assessment to finish."
Edwards, who has 97 full international caps with four goals, said he will discuss his Warriors future with Lawrence soon. He still hopes to help out for Trinidad and Tobago's four vital upcoming 2018 World Cup qualifiers in September and October. However, his Central contract could potentially stop him from playing at even Conference level in Britain—unless Sancho releases him.
Edwards said his return to "Red, White and Black" colours was the one silver lining from his time back home. He played four times under former coach Tom Saintfiet before managing an additional five caps—including three in World Cup qualifiers—under Lawrence.
It ended a three-year spell in the international wilderness for Edwards who was not used by coach Stephen Hart after the 2013 Gold Cup, barring a friendly in November of that year that was supposed to be a farewell affair for Chris Birchall and Edwards.
"It feels real good to be back [on the international stage]," said Edwards. "I am vexed when Dennis puts me on the bench sometimes. [Chuckles] But I am not a 25-year-old anymore and I know he has to manage [my energy levels].
"It feels so good to be back representing my country and I will try my best to help the team for the next four games if selected."
However, Edwards suggested that even the lure of international football could not compensate for his unhappiness at Central.
"If I have to stop for the betterment of myself and my family, then I will have to do that," Edwards told Wired868. "Anyone can tell you that when I train, I train at a 100 percent. I don't say I am 39 so I will take a stroll across the park; I train hard!
"But if people are disrespecting me, then why should I?"
The veteran suggested that the Pro League administration was not doing enough for players or the reputation of the competition either and urged the administrators to lift their standards.
"A lot of people seem to be looking at a players' association as a confrontational thing but that is not the case," he said. "A players' association would help advise on a lot of things that would be for the betterment of everyone. In all my years as a player, this is the first time I have been in a league where there are no fixed fixtures and sometimes you will get a text telling you about a game just hours before the game.
"I think the advertising of the League is the biggest downfall because the few fans we have don't even know when games are… There is great potential but people need to put more thought into it and be honest."
Edwards insisted that there were no hard feelings with Sancho or Central. He just knows that that environment is not for him.
"I plan to take my family back to England," he said. "I thought at one stage I could come and settle back in Trinidad but it is too much… I cannot handle the dishonesty, and the lack of communication is too much.
"I now see why people say we are not First World; (it's) because we don't do things properly and with pride. I have no problem with Sancho but the communication side of it is an issue for me.
"Be straight with me and (it'll be) smooth sailing."
For now, it appears that Edwards, a former Chaconia Medal (Gold) recipient with the 2006 World Cup team, will be sailing straight out of the struggling Pro League.