Eight years after the RSSR Football Academy was born on 27 March, 1999, Marvin "Mr King" Lewis sang "Borderline." In a rendition which earned him second place at that year's Young Kings Calypso competition, Lewis—son of the late "King Austin"—highlighted the walls being erected between neighbouring communities by the rampant crime and violence in the country.
"Say too much borderline, man," ran the 2007 hit, "and man fraid to walk down in ah next man vicinity."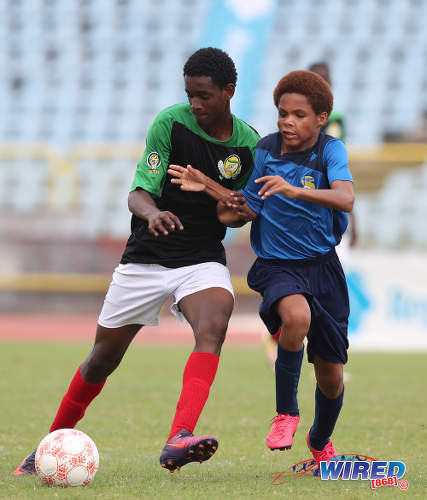 It had particular relevance to the Behind the Bridge communities in Port-of-Spain South and Laventille West which represent RSSR's major catchment area. A decade later, thanks to RSSR, some things have changed—small, modest changes, say the club's principals, but changes nonetheless.
Take a dozen guesses and you'd probably still not come close to working out how RSSR, which won the NFA Knockout Trophy last year, got its name.
The John John club, co-founded by Ruthvin "Spanner" Charles and Dexter Harris, was named after four former Trinidad and Tobago internationals. The four selected to be so honoured were at that time the most capped players from in and around the East Port-of-Spain area: Reynold George, Sammy Llewellyn, Selris Figaro and Russell Tesheira.

"First, because we were John John-based, we would have thought about honouring our player, Reynold George, who was bred, grew up and still lives in John John," Charles told Wired868. "Over the years, we had realised that players from what was called 'Behind the Bridge' [were not being duly recognized] so the only option for us was to promote our own."
It was George, a former national captain with over 80 caps, who suggested that Llewellyn, Figaro and Tesheira should also be recognised because they had also made a name for themselves at the national level. And so the name R-S-S-R was shaped and attached to the fledgling club.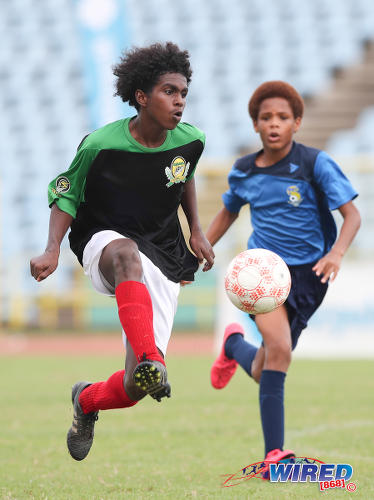 Choosing the motto "Discipline + Dedication = Development," Charles and Harris opted not to enter RSSR in tournaments in the early years. Both men were adamant that the main goal of the club at that time should be to help its young members develop into well-rounded individuals. Thus, club activities included football, field trips and a homework centre which offered remedial classes.
Harris explained that he and his colleague were not unaware of the negative influence of crime on the community and they "wanted a future for our children, something where we could bring youths together in a positive way."
"We saw football as the main avenue to achieve what we wanted," continued the man who has been the club's head coach right from the outset, "as most of them had the ability to play football and so forth and we decided to start this programme."
By 2002, the part to be played by football was clear enough for the club's vision statement to say that it aimed to "transform amateur footballers into both marketable and professional footballers during a three-year period."
And the RSSR principals finally threw their hats into the competitive ring.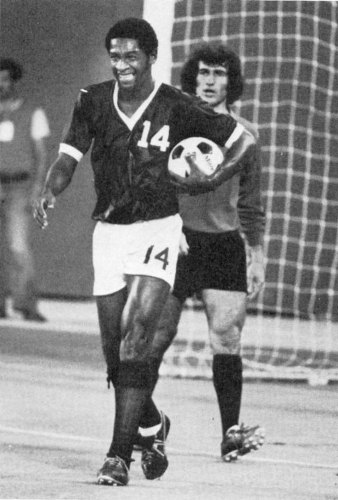 At that time, the club and the programme had the Beetham Gardens Recreation Ground as their base and that remained unchanged for years. But upgrading work has recently commenced on the Beetham facilities and the training base has now shifted to the Aranjuez Savannah.
Club Chairman Charles feels that, since its launch, RSSR has moved steadily up in the world; they are no longer just an academy, their senior team now competing in the Northern Football Association's (NFA) top division. The club has tasted success in various youth tournaments, inclusive of the Barbados Cup Youth International Tournament which their Under-15s won in 2006, and they have also hosted a Russell Latapy One Day Youth Invitational Tournament.
More recently, the RSSR Under-15 team finished second to FC Santa Rosa in the just concluded 2017 edition of the Republic Bank National Youth League (RBNYL) while the senior team beat Alcons in a historic NFA Knockout final at the Queen's Park Savannah last year.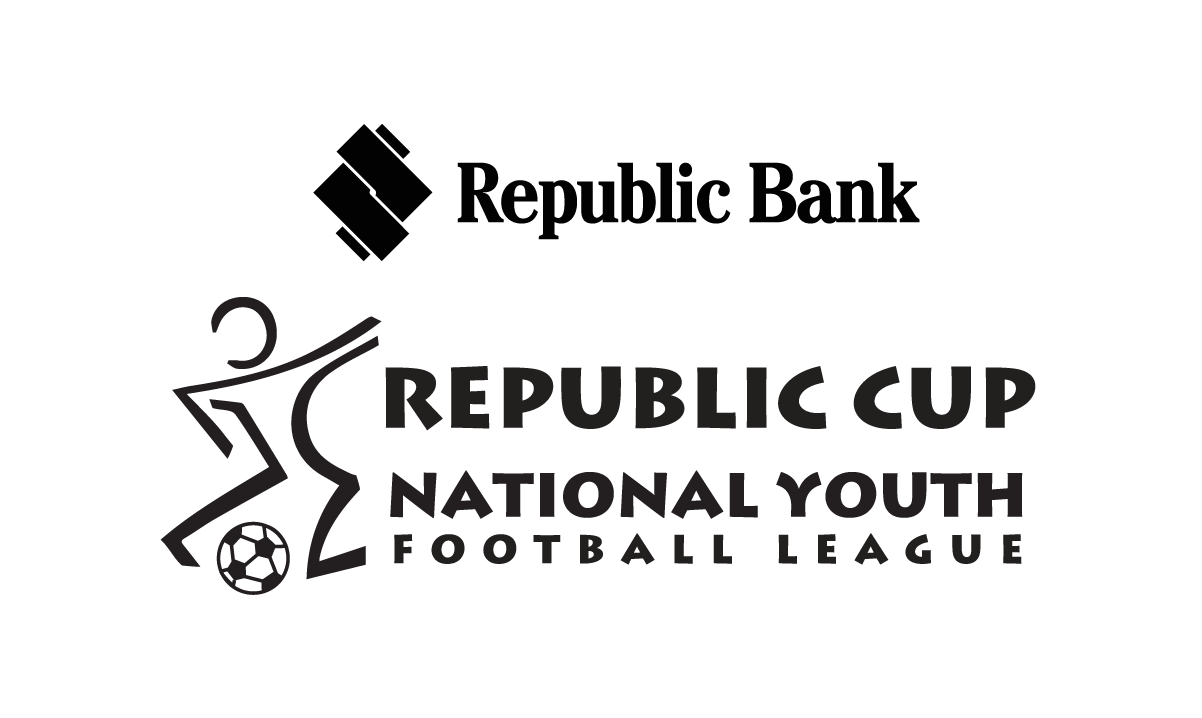 The club is fortunate to have had a couple of esteemed names in local football actively associated with it as both Figaro and former national midfielder Travis Mulraine have had coaching roles in the past while George, still looking fiddle-fit in his 60s, continues to function up to this day as a coach. And the club's 'Player of the Year' Challenge Trophy bears the name of former Strike Squad midfielder and one-time acting national coach Hutson "Barber" Charles.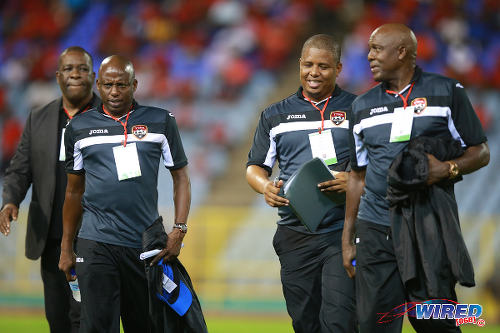 Additionally, the club has produced Mongolia-based central defender Akil Pompey (son of Charles) and former national youth player Jeremiah Goddard while current Trinidad and Tobago internationals Aikim Andrews and Ataullah Guerra once turned out for the RSSR Academy.
Anxious not to give the wrong impression, Harris explained that the now high-profile professional had only represented the club in one tournament thanks to the intervention of his now deceased brother, Mark Guerra.
The RSSR coach, who is a T&TEC employee, shared with Wired868 the story of how he came to spot the young Andrews.
"We were training a day and, after dropping some smaller ones to their homes in the Beetham Gardens, we saw him behind a gate kicking a ball," Harris said. "And I said this youth man has a really good bullet. He may have been about four or five at the time. I talked to the manager and we went by his parents and they started sending him out."
According to Harris, a few years later, San Juan Jabloteh came knocking for Andrews, who, now 21, represents Toronto FC II in the United Soccer League (USL) and has a total of four caps for this country's senior team.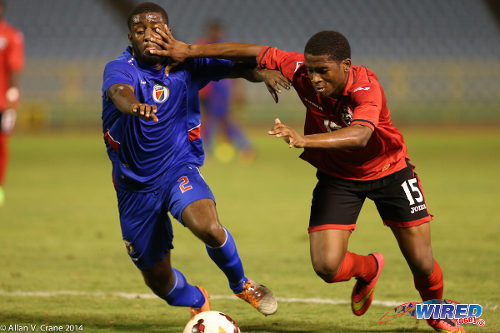 So the positives are there and, with last year's NFA Cup triumph now on their books, it would be fair to say that things may be beginning to look up for RSSR. However, as several of their members pointed out, rampant crime and gang warfare are still huge disincentives which adversely affect the club's steady progress.
"Today, we are expecting players who are from Sea Lots to be coming here," Harris told Wired 868 last Sunday, "which they normally will not do."
'Here' is Plaisance Quarry Rd where, along with "Spanner," he is soaking in the atmosphere of the third annual John John Day.
"They would have done that when they were small," Harris adds. "As we say, children don't really war. But you see when they turn 15 and 16, that's when the issues start."
"Over the last five to six years," Charles chimes in, "we realised that because of the environment we come from the borderlines have become greater. There is now more tension between Beetham and John John and Sea Lots and John John."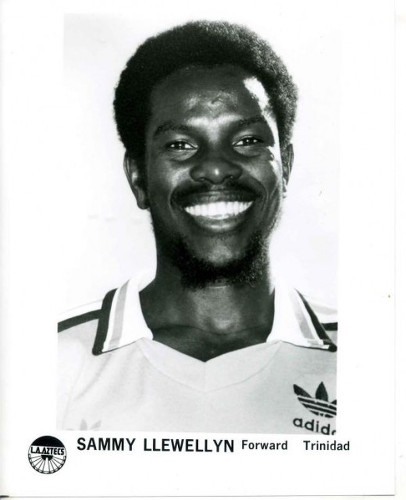 Every dozen metres the group walks, the lanky Charles is greeted loudly by his "Spanner" nickname half a dozen times.  This community is clearly as proud of him as he is of them, especially of the fact that his club boasts players who hail from the many of the stigmatized districts, John John, Beetham Gardens, Sea Lots, Morvant and San Juan.
"But football is a kinda gateway for us," Harris notes, "knowing that we could go into any one of these communities at any time and get a free pass because they know when we come in an area we come to look for some youth to play football or it's something football-related."
RSSR skipper Anthony George and attacker Hakim Gulston, who have both been with the club since its inception, were full of praise for the work done by Charles and Harris over the years, agreed with their assessments and shared their general satisfaction and optimism. Gulston, scorer of the goal that beat Alcons in the NFA Knockout final, stressed that the adults of tomorrow were the ones who have the ability to change the paradigm.
"For it to change, they have to start with the younger ones and try to unify them," Gulston said. "The big fellahs now, they can't change because they already have a certain mindset."
"You have to get the youths and carry them on Beetham Gardens," he continued, "carry them on Sea Lots and let them interact with one another. Long time you could have gone anywhere but now you can't even walk down in the [Central] Market properly."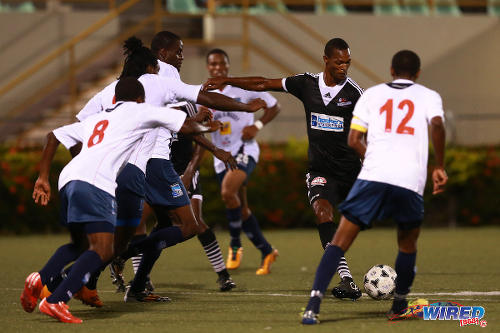 Neither player could see himself playing with another club, so great is the love they feel for RSSR and John John. And both insist that they want to be around when the club attains its goal of promotion to the Trinidad and Tobago Super League (TTSL).
George's mood became sombre as he recounted how his schoolmates and coach at Barataria Junior Secondary had laughed when he announced that he played for RSSR. Now, he says, he wants his boyhood club to become a household name like Jabloteh.
And others are stepping up to carry the club forward and bring it closer to achieving its goal. Two of them, Saeed Pompey Charles and Mamade Guerra, are just 14-year-olds but they are expected to turn out for RSSR's senior team this year.
According to "Spanner," everyone in the club is hopeful that National Under-15 coach Russell Latapy will take another look at Guerra, who is Ataullah's nephew, before the start of the CONCACAF Under-15 Championships next month. RSSR is in dire need of much greater exposure on any national stage.
Why? According to George, finance is definitely needed to keep the core of the RSSR squad together.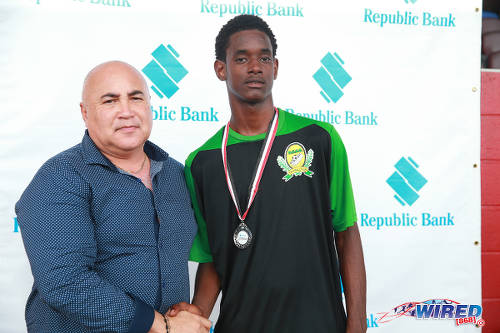 "I'd say [the vision] isn't working as it's supposed to because of the lack of finance," he told Wired868. "To have a club in these kinda communities, you need a good sponsor and we don't have that. So that's why we are having this problem with players right now."
The club has received precious little external support over the years. Both Charles and Harris noted that neither the MPs nor the businesses in the area have shown any real interest in the club's progress, certainly not the kind of interest that translates into dollars and cents. Club members and members of the community, they point out, have made healthy contributions to the club's finances over the years but much of the funding has had to come out of their pockets.
Still, they are hopeful that their growing on-the-field success will bring external assistance. With Gulston continuing to bang in the goals and with good, young players like Pompey Charles and Guerra coming through the pipeline, corporate sponsors will, it is their hope, see the good work the club has been doing over the years and come on board.
If this happens, the RSSR principals believe that they will be able to begin the renovation work which their dilapidated club house on Picton Road in Laventille so desperately needs.
But if it does not happen tomorrow or next week, RSSR players and staff members will soldier on, determined to triumph over adversity and eventually to succeed despite everyday hardship.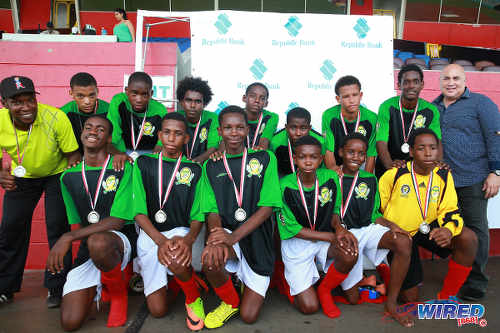 After all, Charles and Harris and company know that borderlines are walls and that, pushed over on its side, a wall becomes a bridge.
And nothing, they say, will stop them from trying to build bridges Behind the Bridge.