In answer to the summons of National Senior Team coach Dennis Lawrence, out of the wilderness comes Keon Daniel, who last represented Trinidad and Tobago at the CONCACAF Gold Cup in 2013.
Addressing the media before taking his team through their paces at the Larry Gomes Stadium yesterday, Lawrence explained his decision to call up the enigmatic talent this way: "Every player that has a Trinidad and Tobago passport is available for selection in my view."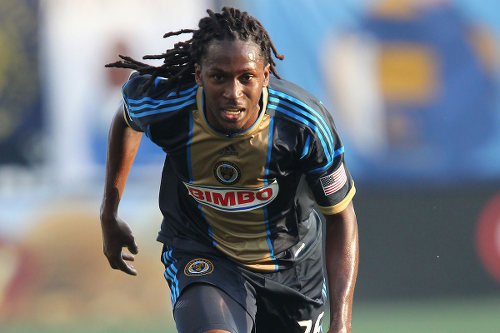 The 30-year-old Daniel, the former Philadelphia Union man who has a total of 59 caps for his country, has had stints with Polish clubs Miedz Legnica and Flota Swinoujscie since his last game in national colours. And Lawrence who, since succeeding Belgian Tom Saintfiet as head coach earlier this year, has demonstrated a willingness to eschew the orthodox, did not hesitate to invite Daniel to the training camp after the player's agent informed him that he was currently in the country on vacation.
"Keon has been in Poland for the last three years and he's been playing a number of different positions," Lawrence explained. "If Keon shows me this week that he's capable and ready, then he's going to be like any other player fighting for a place to go on the plane to Ecuador."
On 8 June, the Warriors played a 3-4-2-1 system away to the US in World Cup qualification and then, five days later, Lawrence fielded seven Pro League players away to Costa Rica. Selecting Daniel for Ecuador would hardly be a shock.
Daniel's last goal in red, white and black came against El Salvador in the Gold Cup in 2013, a tournament which Trinidad and Tobago missed out on this year. In contrast, all five of the Warriors' opponents in the CONCACAF Hex are still involved in this year's edition of the annual tournament, which is now in the quarter-final stage.
"It would have been a great benefit for us to go in the Gold Cup," conceded the former Swansea and Wrexham player, trying hard not to focus too much on the empty half of the glass, "I think it would have added value to our preparations."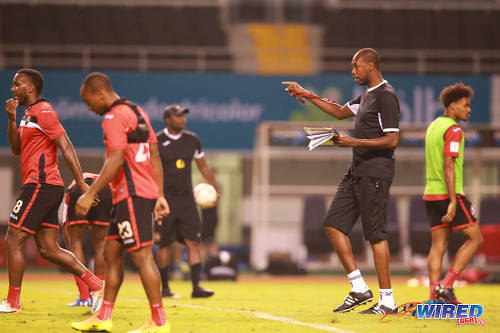 "But the benefit I have taken out of it," he makes a quick switch to the full half, "is that at least the players are actively playing in the Pro League and we have managed to acquire this friendly against Ecuador, which is very good of the TTFA…"
To supplement the provisional squad of mainly locally-based Pro League players, Lawrence has invited three overseas-based players, in Jomal Williams, who is yet to arrive from Mexico, Carlyle Mitchell and Willis Plaza. And he stressed that, with at least one more friendly coming, with luck, in August, only hard work is going to help bridge the gap between the locals and the overseas-based players.
"It's going to be a very difficult game because everybody knows Ecuador is a top team in the South American continent […]. But it's going to be a great test for the boys. We need this sort of exposure so I'm delighted."
Two players who will be striving to show Lawrence their worth over the course of the next week are W Connection's Isaiah Hudson and FC Santa Rosa's Keron Clarke. The attacking duo, at the opposite ends of the spectrum when it comes to their careers, received surprise call-ups to the provisional squad.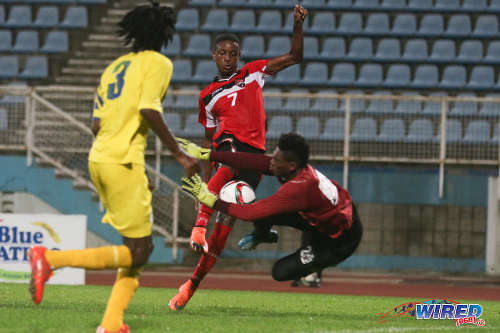 Hudson is 16 years old and represented this country at Under-17 and Under-20 level within the last year. At 31, almost twice the teenager's age, Clarke has had a journeyman career with stints at WASA FC and Maloney FC in the lower leagues.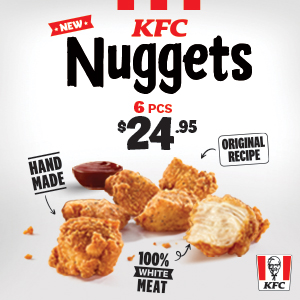 But both men will have at least one thing in common: an aspiration first to earn a place in the squad for the Ecuador friendly and then to seal it for what lies beyond.
"I'm off to a flyer right now," Clarke said to the Trinidad and Tobago Super League (TTSL) media after getting his national call-up. "The goals are coming and hopefully the form will overflow into the national team stint."
Lawrence is well aware of the challenges involved in making the jump from the lower leagues to the international level but he is also acutely aware of one valuable quality the TTSL sharpshooter possesses.
"I have been going to the Super League and one thing I know about the boy for sure is that he can finish and he's a natural goal-scorer," Lawrence said. "I've got a lot of questions in my head in terms of physicality […] but then I thought to myself the only way I can answer these questions is through the Ecuador friendly."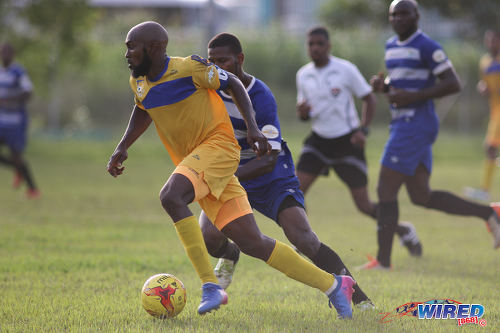 The robust and hard-working Clarke has scored seven goals in the TTSL One season so far, second only to Guaya's Carlon "Judgement" Hughes, who leads the scoring charts with eight. And the door may well be open, Lawrence let it be known, for "Judgement" and other TTSL in the local leagues.
"I've got a concept that if you are good enough—in most cases the League is the league the best players are in—and we do find rare ones that play in another level so it's an open door for all players."
The statement is certain to provide encouragement to several TTSL players but Lawrence also threw a bone at the younger players, noting that Hudson's inclusion was part of a wider nurturing process for players who come through the youth ranks.
"What I have assessed since being in the job is that the Under-20 players who played in the CONCACAF tournament under coach Brian Williams have been inactive since we didn't qualify," Lawrence revealed. "The idea is to integrate the players who are below the age of 23 closer to the senior team […] so that when the time comes and they are ready to be involved in the senior team, they will have a better concept of what we want to do."
And actions speaking as loudly as words, included in the group that trained today were, apart from Hudson, his former National Under-20 teammates Taryk Sampson and Shane Sandy as well as goalkeeper Jabari Brice.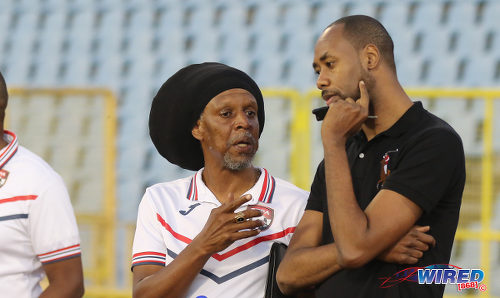 Hudson and Daniel have both had disciplinary issues at junior and senior level respectively. So what does Lawrence have to say on that?
"What I would say is that whatever has happened to Keon and Isaiah has not happened with me," he responded. "I think everybody knows my policy: we need to respect each other and we need to maintain our discipline throughout…"
And the issue of discipline led in a straight line to versatile flanker Cordell Cato, who has been a vital part of the World Cup campaign so far. He started in all four qualifiers in the Hex before crossing the disciplinary line and being released from the team camp prior to the qualifier against the US on 8 June. Lawrence admitted that he has not spoken to the Carenage speedster since that incident.
If Cato is not in Lawrence's plans for the immediate future, players like Sean De Silva, who is heading back home after trials in Europe, Nathan Lewis, who featured in the last two games, Tyrone Charles and Williams (J) are likely to be the ones battling for a spot on the right flank in the crucial qualifiers against Honduras and Panama on 1 and 5 September respectively.
Unless Lawrence pulls some other surprise(s) out of the hat before then.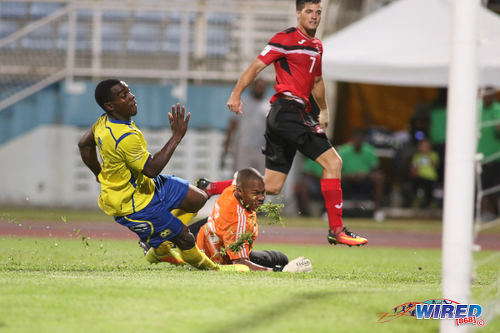 Provisional squad for Ecuador
Goalkeepers: Marvin Phillip (Point Fortin Civic), Andre Marchan (Defence Force), Jabari Brice (San Juan Jabloteh);
Defenders: Carlos Edwards (Central FC), Alvin Jones (W Connection), Curtis Gonzales (Defence Force), Taryk Sampson (Central FC), Shane Sandy (MIC IT St Ann's Rangers), Maurice Ford (W Connection), Carlyle Mitchell (East Bengal FC—India), Akeem Benjamin (San Juan Jabloteh), Triston Hodge (W Connection), Kevon Villaroel (North East Stars);
Midfielders: Nathaniel Garcia (Central FC), Leston Paul (North East Stars), Hughtun Hector (W Connection), Jared London (Club Sando);
Attacking midfielders: Nathan Lewis (San Juan Jabloteh), Tyrone Charles (Club Sando), Hashim Arcia (Defence Force), Keon Daniel (Unattached), Sean De Silva (Central FC), Isaiah Hudson (W Connection), Jomal Williams (Murciélagos FC—Mexico);
Forwards: Keron Clarke (FC Santa Rosa), Rundell Winchester (North East Stars), Willis Plaza (East Bengal FC—India).