Queen's Park Cricket Club (QPCC), Central FC and FC Santa Rosa strode off as the big winners as the 2017 edition of the Republic Bank National Youth League (RBNYL) came to an exciting end at the Hasely Crawford Stadium in Port of Spain yesterday.
The well organised QPCC team edged out San Juan Jabloteh on kicks from the penalty mark in the Under-11 division while Central topped Santa Rosa in a pulsating seven-goal thriller in the Under-13 division. However, the youngsters from "Rosa Nation" ensured that they did not leave Port of Spain empty-handed, as they defeated RSSR 2-0 to lift the Under-15 title before the watchful eyes of club president Keith Look Loy.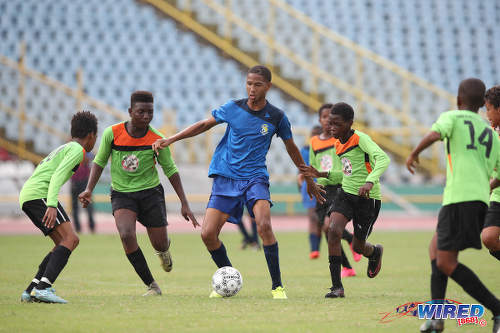 Santa Rosa were seeking a National double heading into yesterday's proceedings. And during the prize giving ceremony, Look Loy joked that he still was not fully satisfied. However, the Santa Rosa president and their appreciative fans would have been content deep inside.
Rosa's win over RSSR brought the curtains down on the RBNYL's final day, and they did the most opportune thing by beating the Marlon Phillip-led team in regulation time. RSSR's previous two games were clinically finished off from the penalty mark. However, yesterday, Rosa offered their opponents no such chances at the lottery, as they put in a steely defensive performance to blank RSSR 2-nil.
Rosa coach Jovan Rochford, who once captained the "Big Cannons" in the Super League, was thrilled by his team's feat and equally proud to win a title in his debut coaching season.

"Goals win games but defence wins championships," Rochford, a former central defender, told Wired868.
Rosa got decisive goals by Malachai Daniel and Jevon Benjamin. However, the defensive work done by Rochford's charges was equally as important as his team did their best to limit the space afforded to the likes of Mamade Guerra and Saeed Pompey Charles.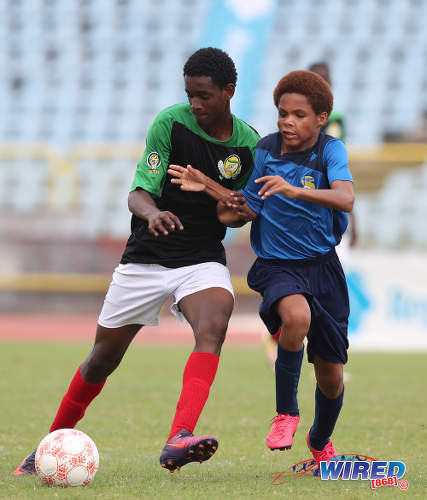 Guerra, who is the nephew of enigmatic Soca Warriors playmaker Ataullah Guerra, attracted the close attention of Rosa skipper Andrew Pereira. And Rochford felt that marking assignment went a long way in helping his team to victory.
Guerra, whose playing style is glaringly similar to that of his uncle's, still managed to show glimpses of his ability in his link up play with Pompey. However, RSSR—named after four former national players in Russell Tesheira, Sammy Llewellyn, Selris Figaro and Reynold George—did little to trouble Josh David in the Rosa goal, despite getting presentable chances.
Rosa were more clinical in their execution, and Daniel's 33rd minute strike from close range, coupled with Benjamin's speculative long range lob in the 56th minute sealed the contest. Perhaps, Wired868 should not refer to the latter goal as 'speculative', as Benjamin did the equivalent in the semifinal against Police FC when he audaciously lobbed the custodian from miles out on the right flank.
It may take a while for Benjamin and his teammates to get off that high.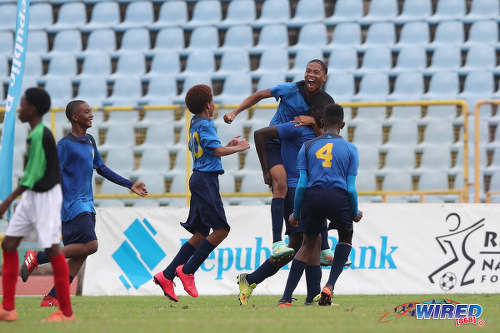 The Under-13 Rosa team probably wishes they could have sustained their lofty heights for a longer period in their finale against Central, as they saw a 3-1 first half lead drastically turn into a 4-3 defeat by full-time.
Rosa's Under-13 coach Justin De Freitas gave striker Ja-Shawn Thomas the highest of praises after their semifinal win on 26 June, and the towering youngster lived up to the billing as he scored a hat-trick in the space of ten minutes in the first half.
Central coach Sheldon De Freitas also had a lethal weapon up his sleeves though, and the diminutive Abdul-Quddoos Hypolite put in a virtuoso performance to help his team to a thrilling comeback victory.
The tricky youngster neatly opened the scoring in the 17th minute after receiving a through pass from Ocean Lindsay. However, Hypolite's best was yet to come.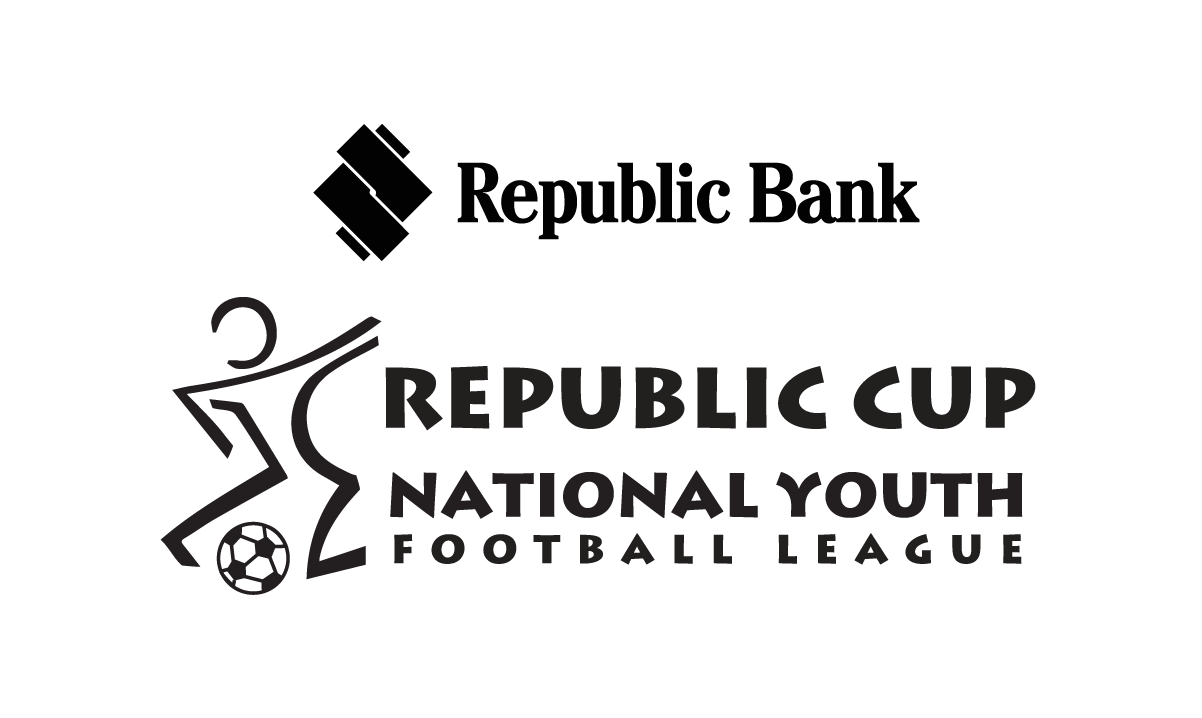 With his team already down 3-1 and one minute left before the end of the first half, Hypolite sent a gem of a free kick into the top left corner which left goalkeeper Joshau Charlerie clutching at straws. Hypolite then displayed a celebration to match his fine finish as he did a somersault near the sideline.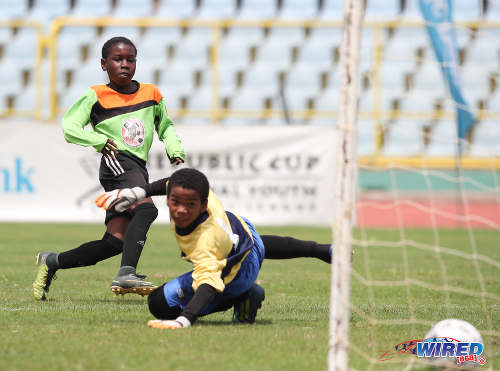 Maybe Warriors skipper Kenwyne Jones needs to watch his place in the 'flipping' business.
In the second half, the lanky Thomas cut a very lonely figure up top as his teammates were pegged back deeper and deeper. De Freitas previously told Wired868 that Thomas did not need a partner up front due to his pace and strength; however the Santa Rosa coach surely did not foresee such drastic isolation for his striker.
Charlerie was a very busy man in the second half and the Big Cannons custodian made a few key saves before Central levelled the scores at three apiece in the 54th minute with a close range finish from Lindsay.
The young "Sharks" were circling their prey who desperately tried to keep them at bay. And in the penultimate minute of the match, Central delivered the fatal bite as Du'Shaun Augustus' left-footed shot proved too hot for Charlerie to handle; cue the pandemonium.
De Freitas (S), who urged his players to stick to their neat, passing game when things got sticky in the finale, heaped tons of praises on his young lads. The Central coach stated that most of his players come from at-risk communities in and around Laventille. And he called on Trinidad and Tobago to pay attention to the gems originating from these areas.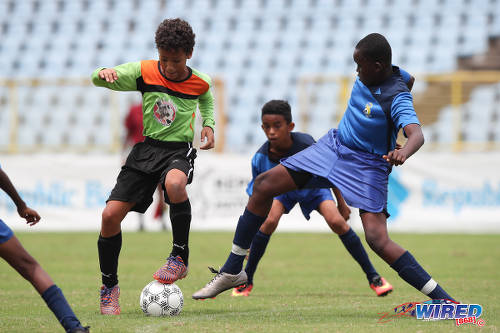 Talking about gems, the Under-11s weren't to be left out as they put on a fantastic show in their finale. It's admirable to see the type of football which both QPCC and Jabloteh play at the Under-11 level. And although the "Parkites" needed a shootout to win, they always looked to be the team with the best playing style.
"You know why they getting more possession?" Jabloteh coach Dave Weekes asked his team. "Because y'all eh putting down the ball to play."
Despite having their style cramped by the solid QPCC outfit, Jabloteh held a 2-1 second half lead thanks to a double by skipper and defender Lindell Sween. However, the Parkites levelled in the 39th minute of the 50-minute game as substitute Steven Griffith buried a right side cross from the tricky Malik Addley.
At the end of regulation time, Sween was almost inconsolable in the team huddle as his frustrations got the better of him. Maybe the Under-11 MVP knew what was coming next though, as QPCC went perfect from the spot to capture the Under-11 title.
Luke Correia was the man to put the icing on the cake for the boys from Tragarete Road, as he slotted his effort past the wonderfully-named Ability Hazel to clinch the shootout 5-4.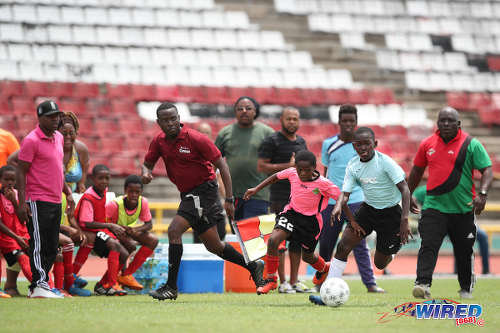 QPCC coach Anthony Selby, who would be in line to win the award for the RBNYL's calmest coach, was relieved his lads took it all the way.
"I have not slept for a week. I feel really, really proud for them," Selby told Wired868. "It doesn't surprise me that they did this because they deserve it. They are like a bunch of friends and a family and they support each other.
"I've had these boys since they were six and seven years old. And it's always been about playing football and [steady] development […] The main thing is that the boys enjoy it. I don't put any pressure on them. I don't tell them a particular way to play."
Selby, who is set to take his QPCC team to the Disney Cup International tournament next week, wants to see more done to uplift the standard of playing surfaces across the country.
"The Savannah is obviously the grassroots for players to play," said Selby, a British citizen who has settled in Trinidad after marrying a local girl. "If the ministries can get involved and develop the fields a little bit more, we might get up to this kind of standard here [at the Hasely Crawford Stadium]. I think it just needs a little bit more investment from the ministries in grassroots football."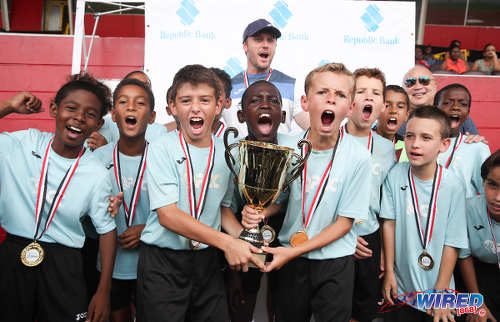 The QPCC youngsters will face Panamanian and American opposition when they head to the Disney Cup next week, and Selby will hope his charges show cohesion and efficiency on foreign turf too.
RBNYL Results
Saturday 1 July
(All games played at the Hasely Crawford Stadium)
Under-11 Final
QPCC 2 (Mikey Chaves 25, Steven Griffith 39), San Juan Jabloteh 2 (Lindell Sween 8, 30)
*—QPCC won 5-4 on kicks from the penalty spot;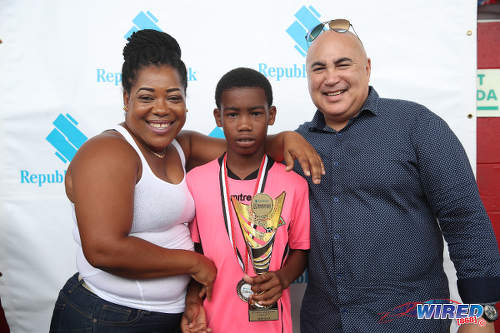 Under-13 Final
FC Santa Rosa 3 (Ja-Shawn Thomas 21 pen, 28, 31), Central FC 4 (Abdul-Qudoos Hypolite 17, 34, Ocean Lindsay 54, Du'Shaun Augustus 69);
Under-15 Final
RSSR 0, FC Santa Rosa 2 (Malachai Daniel 33, Jevon Benjamin 56);
MVPs
Under-11: Lindell Sween (San Juan Jabloteh)
Under-13: Abdul-Quddoos Hypolite (Central FC)
Under-15: Mamade Guerra (RSSR)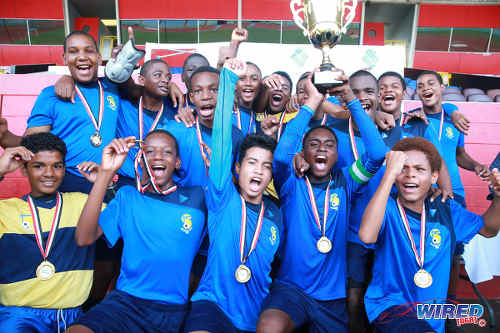 Prize Structure
Under-11s:
First Place: $4,000 Second Place: $2,500 Third Place: $1,500.
Under-13s:
First Place: $5,000 Second Place: $3,000 Third Place: $2,000.
Under-15s:
First Place: $6,000; Second Place: $4,000; Third Place: $3,000.