"Hey, I ent send you out there to beat you know!" Trendsetter Hawks technical director Anthony "Dada" Wickham admonished young winger Zion Harley.
Harley blushed and lowered his head slightly by means of apology.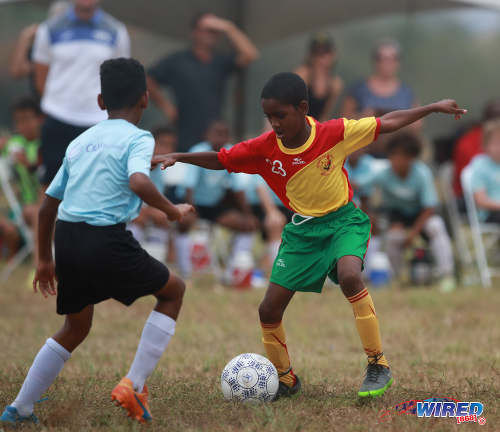 An attack was on but Harley couldn't resist slowing down to dribble just one more QPCC FA player. And it proved to be one defender too many, as he conceded the ball and Hawks lost their initiative.
But these things are par for the course in the Under-11 age group.
Their ages and lapses in concentration notwithstanding, Hawks vs QPCC was a blockbuster contest and certainly the match of the day at the Queen's Park Savannah in Port of Spain on Saturday 13 May 2017.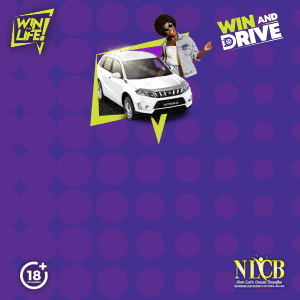 Neither team had lost a match up to that point in the Republic Bank National Youth League (RBNYL) competition. And it stayed that way at the final whistle, after an enthralling goalless draw.
"It was a good result," said QPCC coach Anthony Selby, with a look of relief. "We were under a bit of pressure at times."
The key moment came late in the second half, as the skilful Harley lured an opposing defender into a swipe and a penalty. However, Hawks captain and central defender Russell Francois blasted overbar.
QPCC did not produce a big offensive moment to match. But defender Jayden Williams' long ranged shooting from open play and set pieces were a real source of concern for Hawks.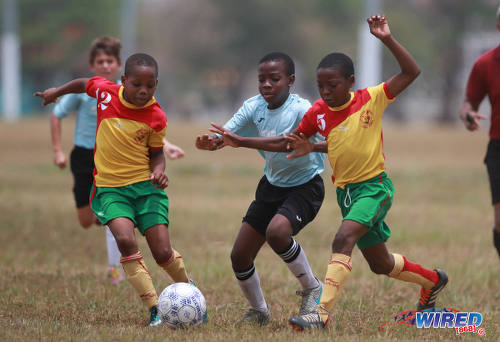 And diminutive playmaker Michael Chaves threatened to steal the show at times with some neat close control in the centre of the "Parkites" midfield.
It is hard to look past either team as the main contenders to top the zone in that division. Both marry a sound collective approach with individual ability although, last weekend, it was arguably the Hawks' little diamonds that shone brightest as right winger Keefe Edwards thrilled with his dribbling ability and forward Antonio Sealey frequently stretched the opposing defence.
On a nearby field in the Under-13 division, two teams faced each other with markedly different ambitions.
The Harvard Sports Club were yet to win a match this season but had somehow found themselves ahead by a solitary goal against Eastern United. However, their head coach, Martin Lewis, had some unusual challenges to deal with as he tried to help his team hang on.
"Michael, I coaching you eh! You have to listen to me! Nobody else!"
Unconvinced that his not-so-subtle persuasion had done the trick, Lewis walked around the length of the field to have a chat with his player from close quarters.
"Just imagine we're leading 1-0 and I'm supposed to be defending my goal," he muttered, to everyone and no one in particular, "but he's telling me how his father telling him to go upfront?! You see what I'm dealing with here?!"
Harvard held on for the slender win. But not without at least one more lap around the field by their frustrated coach.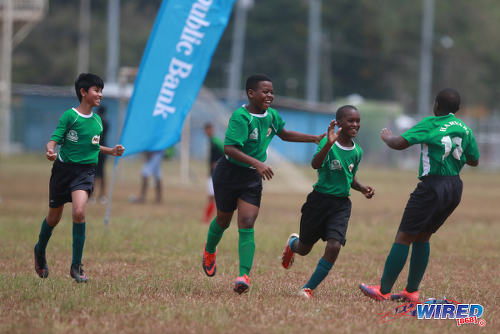 "We leading 1-0 and he trying to dribble out the back?!" he moaned, with a loud steups.
In the Under-15 division, no amount of coaching instruction or parental guidance could make up for the obvious gap in ability between Hawks and Laventille United. And when Hawks winger Jude-Anthony Johnson celebrated the opening goal, just minutes into the contest, by scooping the ball up from the back of the net and sprinting to the half-line…
Well, you kinda sensed that Laventille were in for a rough afternoon.
"Until the bigger boys come, this is who we have to play with," Laventille coach Cedric Hazlewood told his troops at halftime, in a speech so solemnly delivered and received that it might have been at a funeral.
Hawks were already leading by six goals to one at that point.
"This is about exposure," said Hazlewood. "So let we go out there and show them we can play too. Let's try to score some goals too and show them."
The final scoreline, which read 11-1, suggested that it was not the most successful halftime speech you would have heard.
But at least Laventille heads never dropped while their lone goal was memorable in its own way.
The Hawks Under-15 team, incidentally, did not walk with a goalkeeper. Or, to be more accurate, they couldn't find one to register.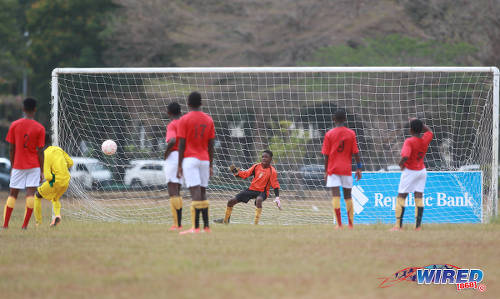 For a club that produced talented outfield players like World Cup 2006 midfielder Densill "Bleeder" Theobald, iconic former Caribbean Cup champion and playmaker Kerwin "Hardest" Jemmott and current Soca Warriors players Jomal Williams and Mekeil Williams, it seems that they are still some distance from producing a future Jan-Michael Williams.
Their converted custodian Jaheim Morris conceded a penalty in a rare moment of activity and Laventille goalkeeper Josiah Coy trotted the length of the field to beat him with a cheeky kick, straight down the middle, from the penalty spot.
It was only a side story though. The central figures of the Under-15 contest were the unstoppable pair of marauding left back Emmanuel "Django" Thomas and left winger Johnson who repeatedly tore through the right side of the Laventille defence like a gushing tap through a strainer.
Hawks striker Malachi Celestine had so many scoring chances that he could have scored in the double figures himself—and probably should have.
"Don't get carried away eh, Malachi," Hawks coach Theophilus Boyce warned the young striker. "Keep doing the same things we did in practice…"
The Hawks Under-15 team, which is also coached by former Trinidad and Tobago international midfielder Travis Mulraine, must have some razor sharp practice sessions.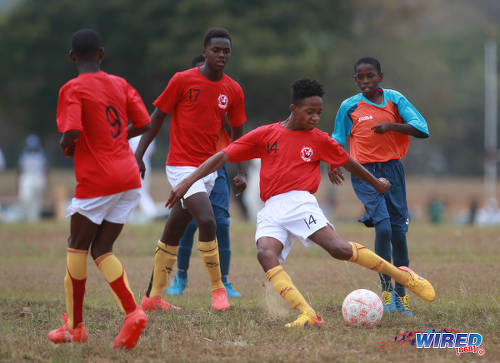 Republic Bank National National Youth League
North Zone (Queen's Park Savannah)
13 May 2017
(Under-11)
QPCC "B"  0, Football Factory 1;
QPCC "A" 0, Trendsetter Hawks "A" 0;
Trendsetter Hawks "B" 1, Central FC 0;
Santa Cruz FA 3, Harvard 2;
(Under-13)
QPCC "A" 5, QPCC "B" 1;
Harvard 1, Eastern United 0;
Santa Cruz 3, RSSR 0;
(Under-15)
Belmont Secondary 1, North Coast Academy 0;
QPCC 3, RSSR 0;
Trendsetter Hawks 11, Laventille United 1;
Carenage 3, Football Factory 3.