The goals continued to flow on the second weekend of the 2017 Republic Bank National Youth League (RBNYL) at Constantine Park in Tunapuna. The young footballers in the East lit up the Macoya ground, Pinto United SC providing most of the early entertainment.
Like last weekend at the Queen's Park Savannah, it was another day of scorching weather but a constant—and welcome!—breeze from the east kept the temperature tolerable enough to allow the youngsters to produce some audacious goals, especially in the Under-11 division.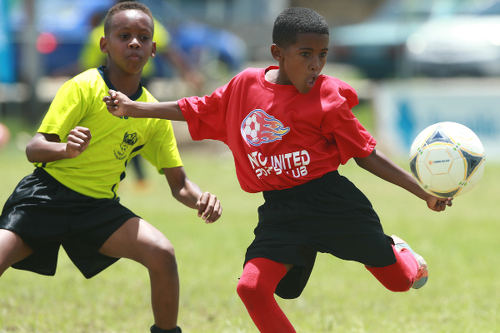 The morning contest between San Juan Jabloteh and Febeau Government Primary School was a case in point. In the close encounter, Jahmarley Castellano bent his left-footer enough to score from a right side free kick while Janesaua Ferguson, "Messi" to his peers, scored directly from a corner. The wind was a factor in both goals but that made them more rather less spectacular.
Although Ferguson's corner was worthy of the highlight reel at La Masia, it only served to halve the deficit, Jabloteh having raced into an early 2-0 lead. Raheem Mohan had finished from close range in the sixth minute, after which Castellano's free kick doubled his team's lead.
The real hero of the encounter, though was Stephon Langaigne, Febeau's keeper who made a string of impressive saves frustrating Castellano in particular no end in the second half. Jabloteh held firm however and snatched the 2-1 win.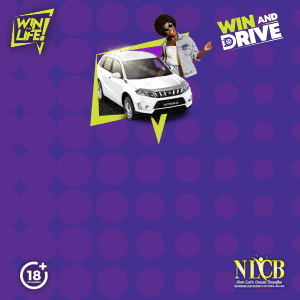 There was as much action on the side-lines as on the pitch, sometimes more. Parents and other supporters were often just as involved, sometimes more, than the team coaches. Keen as the competition was, the spirit remained good-natured and healthy throughout,
More than once or twice, assistant referees found themselves forced to remonstrate with encroaching supporters.
"Hard luck there, linesman," was a frequently heard apology.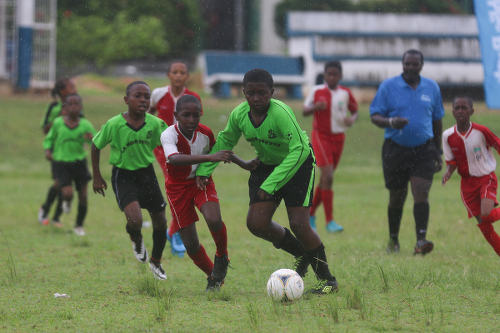 Apart from their effect on the temperature, the windy conditions enhanced the "picong" that came from the sidelines and from the bench. When, for example, Pinto United's Deisean Plaza attempted a long-range, right-side free kick and hooked the shot hopelessly wide, one parent—maybe Plaza's—had a ready explanation.
"Coach," she offered, "is de breeze!" It provoked a loud chorus of approval and laughter.
Of course, the players and supporters of Plaza's side could afford to laugh. At that point, he had already bagged a first-half hat-trick, Pinto United eventually running out 5-2 winners over Adrenaline in the thriller.
Plaza started the goal-fest as early as the fourth minute and found the back of the net a second time in the sixth minute. He completed his treble in the 21st minute before Jeremiah Charles added a fourth just before the half.
The Adrenaline coach may have given his players a stern talking to at the half and they emerged in the second half looking as if they really wanted to get back into the match. After only eight minutes, Kendall Castle bent his right-footed free kick over the wall to cut the deficit to three. It remained that way for just three minutes when Pinto's Kyle Moreno produced a firm right-footer to beat the keeper.
Castle scored another free kick seconds before the whistle. Forward Lu Ann Craig was felled—for the umpteenth time—by take-no-prisoners defender Jeylon Etienne.
"Find out if dat girl does beat him up in school!" someone on the bench joked.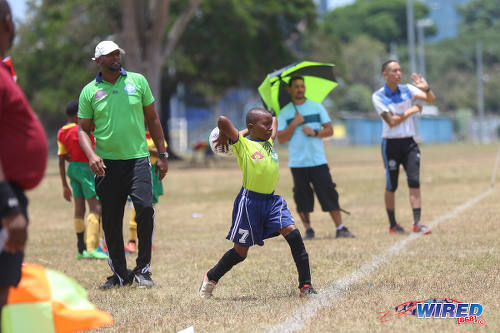 Castle stepped up and lifted his dead ball over the wall. It seemed to be straight at the goalie but it ended up nestling in the bottom of the net. Too little, too late for the gritty Adrenaline.
In the curtain-closer of the Under-11 division, Defence Force—who were represented by SKHY FC—downed Malabar Young Stars 2-0 thanks to a brace from Tau Lamsee, who caught the eye with an assured performance at the front of the attack. The forward nudged a header past the keeper 10 minutes in and then scored three minutes after the break with a confident finish after he collected a pass from midfield.
After both items, the precocious forward went wheeling away to celebrate in front of cheering parents and supporters his index finger glued to his lips. Maybe we'll see him on a stage on of these days.
The SKHY/Defence Force outfit dominated their Malabar counterparts throughout but, breeze notwithstanding, Constantine Park was more of an oven in the early afternoon. It showed in the growing number of obviously tired legs near the end.
There were goals in the other divisions as well. Trincity Nationals announced themselves in the U-13 division with a 5-0 drubbing of Adrenaline FA, thanks to a hat-trick from Jovon Gomes. In the following match, Malabar Young Stars bettered Trincity's performance with a 6-0 rout over Maracas United, with Joshua Ashing adding a hat-trick of his own.
Among the Under 15's, Defence Force cruised to a comfortable win over Tunapuna Titans, with goals from Brandon Shallow, Justyn Seabrun and Justyn McIntosh.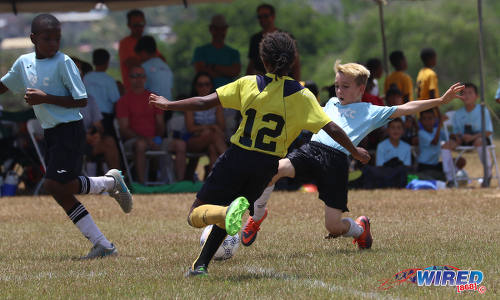 2017 Republic Bank National Youth League scores
(Saturday 30 April)
East Zone at Constantine Park, Macoya
(Under-11)
Cunupia Extreme 2 (Tarique Abdulla 17, Isaiah Isaac 38), Trincity Nationals 2 (Khaleem Prince 21, 25);
Pinto United SC 5 (Deisean Plaza 4, 6, 21, Jeremiah Charles 22, Kyle Moreno 36), Adrenaline U-11 2 (Kendall Castle 33, 50);
San Juan Jabloteh U-11 2 (Raheem Mohan 6, Jahmarley Castellano 8), Febeau Government Primary School U-11 1 (Janesaua Ferguson 11);
Malabar Young Stars 0, Defence Force U-11 2 (Tau Lamsee 11, 28).
(Under-13)
Santa Rosa FC 0, Cunupia Extreme 1 (Emmanuel Hunte 7);
Trincity Nationals 5 (Jaden Stewart 4, Jovon Gomes 8, 14, 23, Nathaniel Wilson 18), Adrenaline FA 0;
Malabar Young Stars 6 (Joshua Ashing 1, 2, 29, Joshua Shade 7, Anthony Wells 17, Syon Prospere 20), Maracas United 0;
(Under-15)
Defence Force 3 (Brandon Shallow 16, Justyn Seabrun 20, Justyn McIntosh 31), Tunapuna Titans 0;
Cunupia Extreme 1 (Zion Smith 80), Santa Rosa FC 2 (Ja-Shawn Thomas 14, 51).