San Juan Jabloteh coach Keith Jeffrey is targeting a three goal win over Guadeloupean outfit, Club Sportif Moulien, on Friday night as his Trinidad and Tobago Pro League team intend to make light work of their group opponents in St Vincent.
Jabloteh began their first foray in a competitive international tournament for close to a decade with a resounding 9-0 win over St Maarten team, Flames United, yesterday. And Jeffrey hopes to dish out another beating tomorrow in what is likely to be the decisive group fixture.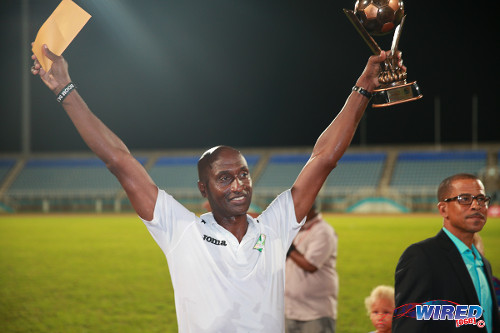 Moulien, who are a regular participant at this level, whipped host team System 3 Sport Academy 4-0 in the closing fixture of Wednesday's double header.
"For the 45 minutes I watched them play, they dropped deep and countered," Jeffrey told Wired868. "They have a strong six footer who stays up on his own and they play directly into him and race up to join him.
"My job is to counter that and I am looking to come out 3-0 winners. They beat the home team 4-0, so tomorrow is a virtual final. Going into the last game [once Jabloteh defeat Moulien], I will give some other players a chance to experience the Caribbean Cup."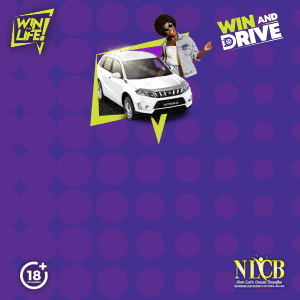 Jeffrey hinted that he will keep the nucleus of the starting team which thrashed Flames yesterday.
Jabloteh started with a workmanlike midfield trio of captain Damian Williams, Elijah Manners and Keithy Simpson complimented by a mobile front three of Nathan Lewis, Jairo Lombardo and Vernon Mills. Williams, Simpson and central defender Adrian Reid are Jamaicans while Mills is Guyanese and Lombardo is Panamanian.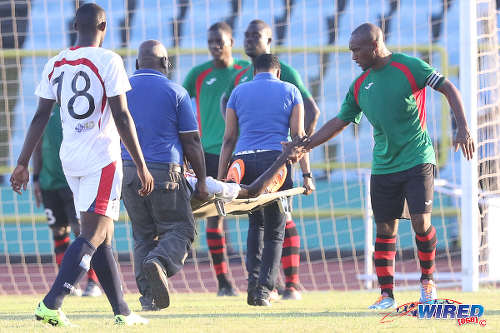 Jeffrey had little complaints about his front five yesterday as they banged in four first half goals and added five more after the break.
Nathan Lewis, who was obliged to skip Trinidad and Tobago's friendly outing against Barbados to compete for his club, scored a hattrick as did Simpson. Lombardo also got his name on the score summary while forward Jamal Gay and winger Tyrone Charles came off the bench to chip in a goal each.
"We didn't have a clue about the opposition [before kick off] but we didn't take long to settle," said Jeffrey. "It was comfortable win and 9-0 could have been 15-0. I would look at [Flames as] the calibre of a Super League team."
The Jabloteh coach said he tried to pick a squad to suit the ground conditions in St Vincent.
"It is a small ground that is tough to play on," said Jeffrey. "The Barataria Recreation Ground is like Wembley compared to to that surface. But if it is bad for us then it is bad for them too. I won't complain because it is a caribbean thing, so you can't get away from it.
"We picked guys who could win the ball and play on the counter with quick transition."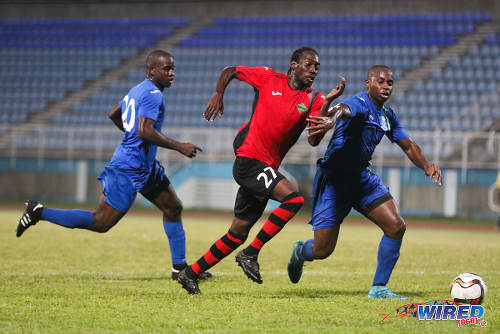 Jabloteh will try to repeat the trick against a Moulien outfit that lost 5-1 to W Connection last year in Caribbean Club action at the Ato Boldon Stadium in Couva.
Only the group winner advances to the final round, which will be hosted by Pro League champions Central FC in Trinidad. The three teams in the Caribbean will represent the region in the CONCACAF Champions League.
(Team)
San Juan Jabloteh (4-3-3): 1.Javon Sample (GK), 18.Jevon Morris, 24.Adrian Reid, 6.Akeem Benjamin, 12.Kion Joseph; 11.Damian Williams (captain), 5.Elijah Manners, 9.Keithy Simpson (10.Tyrone Charles 65); 27.Nathan Lewis, 16.Jairo Lombardo (Kadeem Corbin 75), 14.Vernon Mills (7.Jamal Gay 65).
Coach: Keith Jeffrey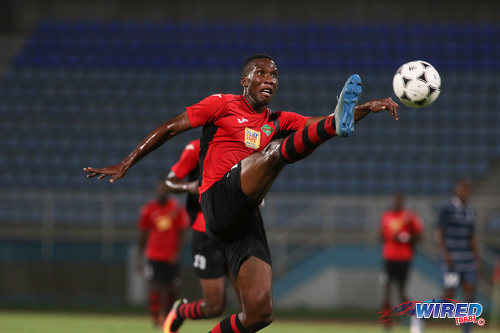 Caribbean Club Championships
(Wednesday 8 March)
San Juan Jabloteh 9 (Keithy Simpson 11, 51, 60, Nathan Lewis 21, 40, 44, Jairo Lombardo 57, Tyrone Charles 72, Jamal Gay 81), Flames United 0 in St Vincent;
Club Sportif Moulien 4, System 3 Sport Academy 0 in St Vincent.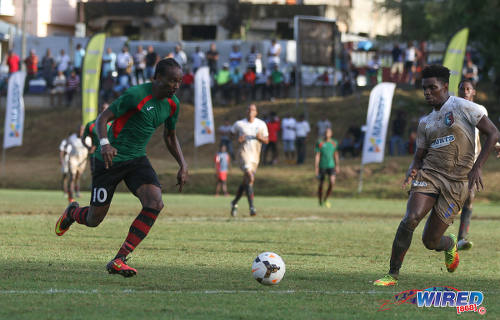 Upcoming fixtures
(Friday 10 March)
San Juan Jabloteh vs Club Sportif Moulien in St Vincent;
System 3 Sport Academy vs Flames United in St Vincent;
(Sunday 12 March)
Club Sportif Moulien vs Flames United in St Vincent;
System 3 Sport Academy v San Juan Jabloteh in St Vincent.