A youthful W Connection FC team put last week's subpar start to the inaugural Trindad and Tobago Premier Football League (TTPFL) 1 season behind them, as they got a well-earned 2-1 victory over Police FC at the St James Barracks yesterday evening.
Connection, who looked like a bunch of misfits in a 2-0 loss to rivals Central FC in last Friday's TTPFL curtain-raiser, looked rejuvenated and full of vigour in police quarters last night. And the southern outfit's intensity gave Police FC coach Richard Hood and his troops more than they could handle in the end.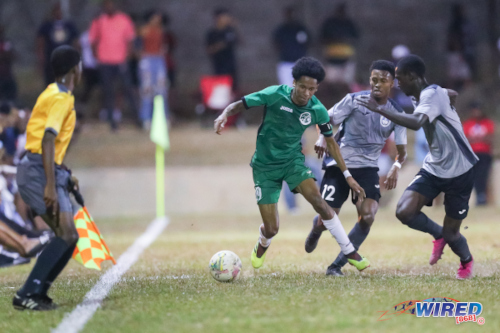 In a team which features St Benedict's College defender Nesean Alexander and QRC midfielder Nathan Quashie, it was the elder statesman, Neil Benjamin Jr, who sealed the three points with a sweet left-footed finish past Police captain Adrian Foncette in the 82nd minute.
Now 28, Benjamin Jr—once touted as Connection's next "golden boy" as he torched opposing defences with his blistering pace—is set to be something of a mentor within coach Brian Williams' "Savonetta Boys".
"I could say that the front line, barring [captain] Jordan Riley, was more Under-19 boys," Williams told Wired868. "We tried to carry the speed of the game. Then you saw seasoned players like Neil Benjamin Jr and Alfred Russell put some stability in the team.

"The main objective was to kinda increase the way we played. We felt that we played too slow, so we wanted to increase that intensity."
With an industrious Jahmalee Barclay leading the front line, and the busy pair of Quashie and Isaiah Hudson biting in the midfield, the Savonetta Boys were intent on causing some legal disturbances on Police's home turf.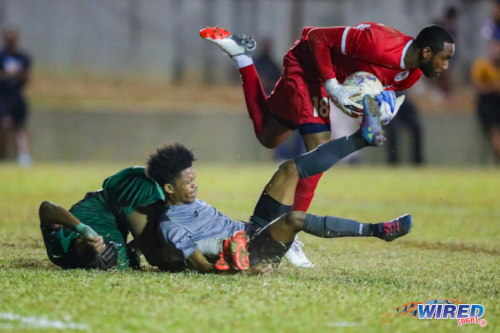 And after just seven minutes, Hood and Police knew they were in a game when Hudson slid the ball past a despairing Foncette from close range, after a poor giveaway in the defensive third by Police holding midfielder Simeon Bailey.
"No team is coming to allow you to win—maybe it's a bit of complacency on our part," Hood said. "I don't think we prepared for the level of intensity they came with in the first half. As I told them, [Connection] were overworking us in the middle of the field and that doesn't happen to Police. We need to fix that!"
Williams' young Connection outfit certainly didn't resemble the unit that allowed veteran Central FC playmaker Keron "Ballpest" Cummings the freedom of the Mahaica Sport Complex last week.
"When we looked at our first game we felt we lacked intensity and we needed to play a little more compact," Williams said. "This is what we had to work on over the last few days. We were trying to raise our intensity and be a little more compact.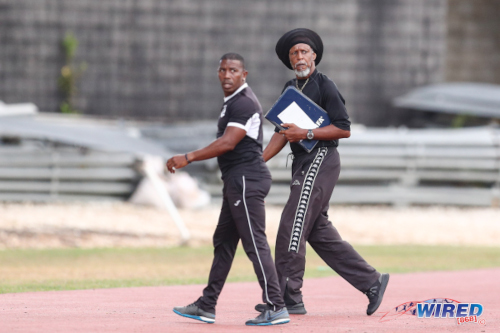 "Connection is more of a rebuilding team. We started work with these players on the 7th of February, so we're still searching for the right mix and chemistry with these players."
In the 12th minute, centre back Dwight Pope played his role to a tee as he retreated brilliantly to clear off the line after opposing playmaker Jabari Mitchell rounded goalkeeper Shakeem Darius and looked set to level the scores.
Mitchell, who is often the engine room in the Police midfield, would definitely want that opportunity back.
Let's just say soca artiste Olatunji Yearwood would not have been best pleased by the finish.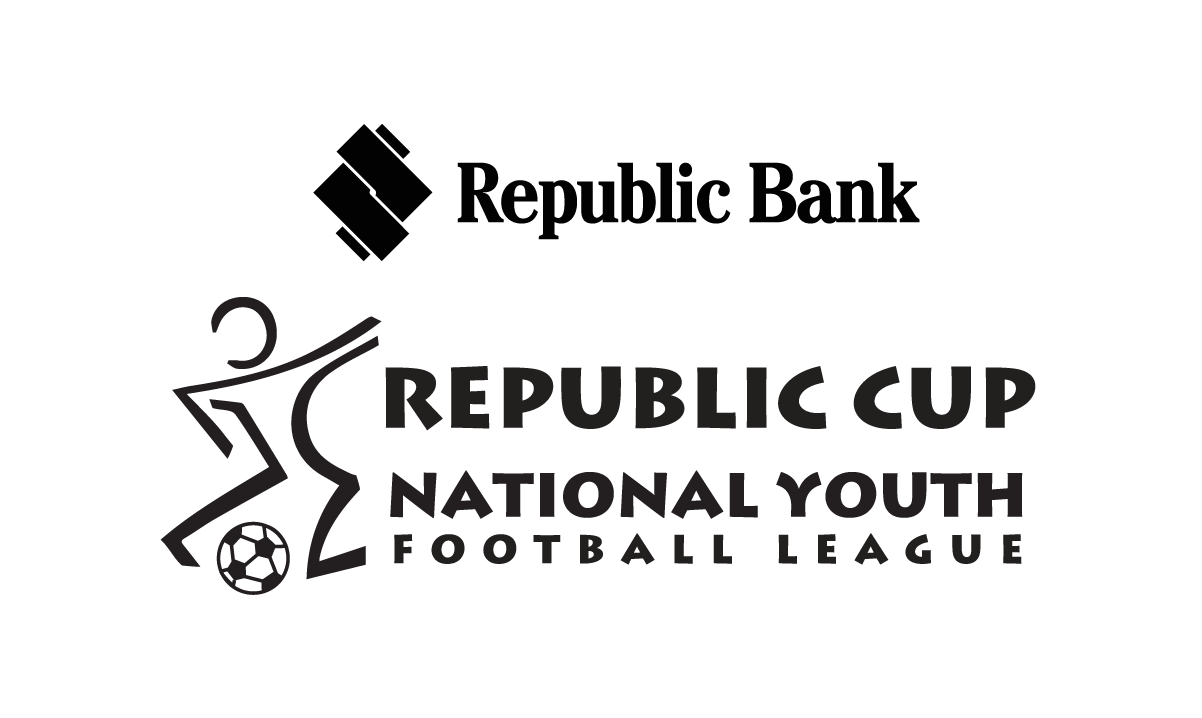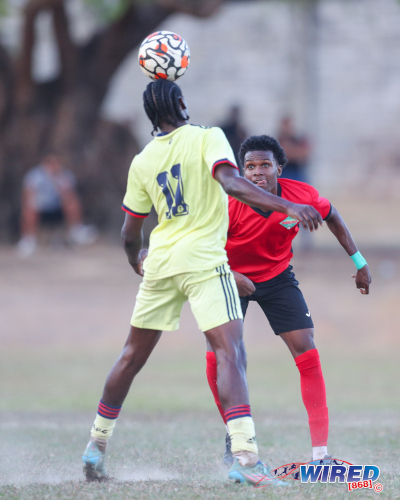 "We lacked conviction really, particularly in the final third," said Hood. "There were also some silly defensive errors at the back which we certainly have to correct. I was a bit disappointed in those two areas.
"For the most part, I thought that the movement of the ball was good. It's just that we lacked conviction in the final third."
Darius wasn't protesting about Police's rustiness in front of goal, and his blushes were spared in the 22nd minute when he fumbled a low free kick by left back Jevauhn "Blues" Thomas.
Seven minutes later, the Connection goalkeeper had his defenders to thank once again as a goalbound shot by veteran utility player Elijah Belgrave was blocked in a mad scramble.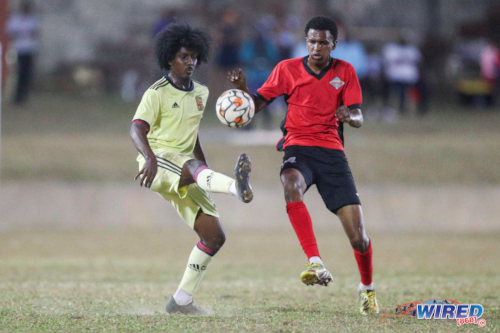 Darius earned his own plaudits, just before the end of the first half, as he managed to keep out a dipping, long range effort from lanky Police midfielder Samuel Delice.
"You're coming into your first and game and you're telling yourself that you're coming up against an inferior opponent and you don't have to work as hard," Hood said, of his players' presumed approach to the encounter. "It's a perennial problem with Police and we have to keep talking to them about that. Every game we have to go out there and do the work."
Connection made a bright start to the second half with Barclay and fellow attacker Daniel Jones both having stabs at goal. However, Hood's rollicking halftime message appeared to have paid dividends when the Lawmen leveled the contest.
It was quite cheeky though.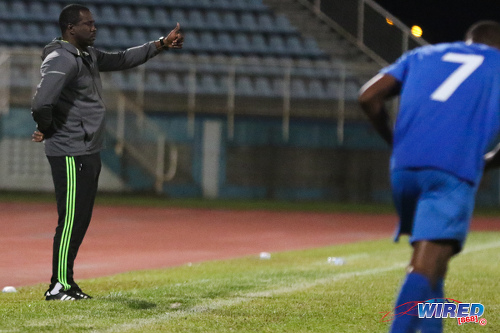 Police won a free kick just outside the area, and before Darius could bark orders to his defenders, Kareem Freitas was wheeling away in celebration after the clinical execution of a quick and clever set piece by Mitchell.
All square at the Barracks!
"We see sometimes when the ball goes dead that good players stay alive," Williams said. "Police did a rapid free kick and caught us off guard. Likewise in the first game, we conceded a goal just after the break.
"It's also a learning process for the boys. Obviously, as the coach I was a little concerned. But, we're hoping that the youngsters would continue to learn and improve. Players are going to be exposed to these kinda things in a football game."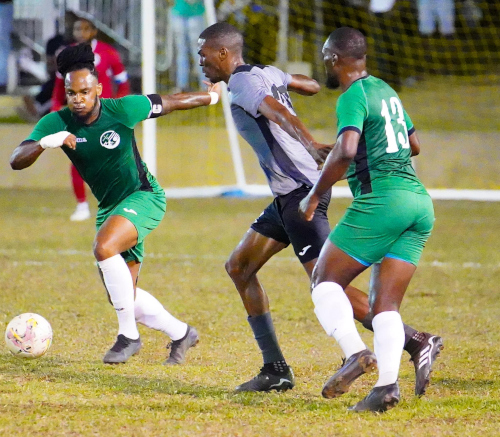 Although he was pleased as punch with his team's bounce-back performance after last week's loss to Central, Williams wasn't getting ahead of himself. He suggested that Connection would be aiming for a top half finish in this TTPFL campaign.
"We are trying to be realistic—people were surprised that we're even in competition," Williams said. "We want to do well but realistically we want to be in the top half of the table by the team the League is over."
On the flip side, Hood and the Lawmen have altogether different aspirations, as the Police coach's sights are set on qualification for Concacaf competition.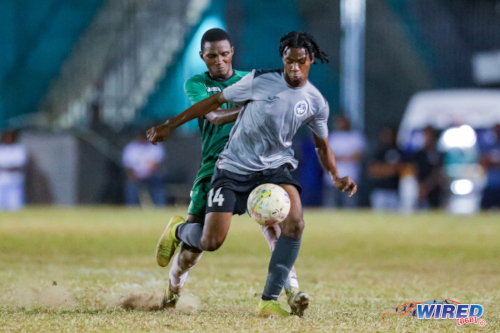 "Our goal certainly is to qualify to play Concacaf [football]," Hood insisted. "We wanted to start on the front foot and get out front and stay out front. We have to rebound from this performance and hopefully we are capable of doing that."[…] I think we have a very strong, deep team and I think we are capable of winning this tournament."
Hood would have to sort out their defensive shortcomings in quick order, as Police's next assignment is AC Port of Spain, who thumped Defence Force 3-0 at the Larry Gomes Stadium last Saturday.
In the first meeting of yesterday's TTPFL double-header, Cunupia FC got a 2-0 win over San Juan Jabloteh, with midfielders Jaimol Layne and Rhondel Gibson scoring contrasting goals either side of halftime.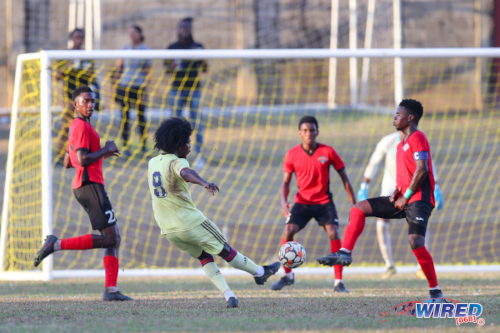 In a game where the young Jabloteh team huffed and puffed and threatened to blow the Cunupia house down, it was Layne who absolutely blew the "San Juan Kings" away with a rocket of a blast in first half stoppage time.
Jabloteh custodian Jesse Peters saved a penalty in last week's game against Prison Service FC, but he had no prayer yesterday—as Layne's 23-yard hit swerved and dipped just under the bar.
Jabloteh, who have Trinidad and Tobago Under-17 attacker Lindell Sween within their ranks, were very lively for most of the 90 minutes but lacked that cutting edge in the attacking third.
Sween kissed an audacious free kick effort off the post from a tight angle in the 68th minute, only for Gibson to put the game to bed with a fortuitous effort three minutes later.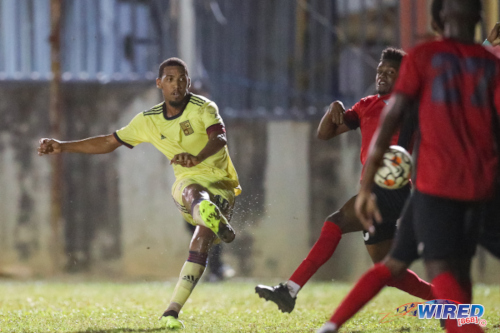 In a melee in the Jabloteh area, a shot from Cunupia substitute Jade Allman appeared to strike Gibson on the arm, with the latter being the immediate beneficiary as he punched home a powerful shot from close range.
According to stats provided by the Fifa+ App, Cunupia managed two shots on target and were duly rewarded with two goals.
An enthusiastic Jabloteh team will have better TTPFL days. But coach Marvin Gordon will definitely have to put in those extra hours on finishing drills.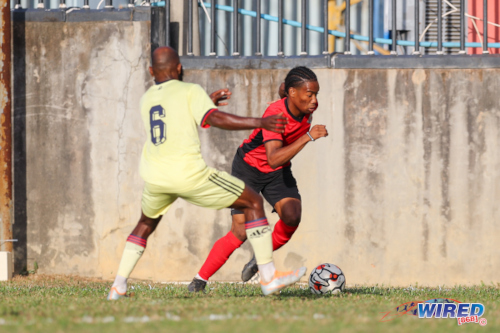 (Teams)
Cunupia FC (4-2-3-1): 1.Jon-Pierre David (GK); 6.Stephen Julien, 5.Raheem Harvey, 18.Kadeem Graham (captain) (19.Kylon Gay 30 [4.Carl Spencer 82]), 3.Shane King; 9.Jaimol Layne, 8.Xae Pierre De Fou (22.Jade Allman); 7.Saneekie Burton, 10.Rhondel Gibson, 11.Miquel Williams; 14.Leroy Whyle (12.Luke Boucaud 61).
Unused substitutes: 2.Brandel Timothy, 17.Kyle Bartholomew.
Coach: Michael De Four
San Juan Jabloteh (4-2-3-1): 1.Jesse Peters (GK); 20.Jelani Peters, 21.Jabari Henry, 6.Josiah Baird, 27.Derron John; 10.Jercole Pierre (14.Dwight Jordan 62), 5.Nical Stephens (captain) (19.Jarique Williams 62); 7.Tervis Byron, 22.Dantaye Gilbert, 9.Shawndell Augustus (18.Kerry Headley 69); 11.Lindell Sween.
Unused substitutes: 3.Dario Campaine, 8.Jadel-Josiah Carter, 29.Elijah Seechan, 30.Dillon King.
Coach: Marvin Gordon
Referee: Andrew Samuel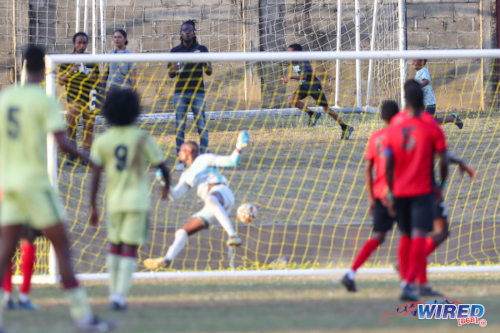 Police FC (4-2-3-1): 18.Adrian Foncette (captain) (GK); 28.Isaiah Edwards, 3.Rakim Cabie, 20.Elijah Belgrave, 27.Jevauhn Thomas; 23.Samuel Delice, 6.Simeon Bailey; 29.Kadeem Hutchinson (14.Jayden Moore 81), 7.Jabari Mitchell, 12.Tyrese Bailey; 10.Kareem Freitas.
Unused substitutes: 1.Raheem Lee (GK), 4.Kadeem Boyce, 8.Kurdell Brathwaite, 24.Xavier Wheeler, 26.Marcus Chandool, 31.Kern Roberts.
Coach: Richard Hood
W Connection FC (4-1-4-1): 18.Shakeem Darius (GK); 6.Nesean Alexander, 24.Ronald Charles, 19.Dwight Pope, 3.Marvin Waldrop; 32.Tevin De Boulet; 99.Jordan Riley (captain) (13.Russel Alfred 76), 10.Isaiah Hudson (26.Nicholas Dyett 69), 8.Nathan Quashie, 29.Daniel Jones (7.Neil Benjamin Jr 69); 9.Jahmalee Barclay.
Unused substitutes: 1.Zeronn Collymore (GK), 2.Joash Baird, 27.Daquon Foster, 36.Craig Wilson.
Coach: Brian Williams
Referee: Nikolai Nyron
Wired868 Man of the Match: Isaiah Hudson (W Connection)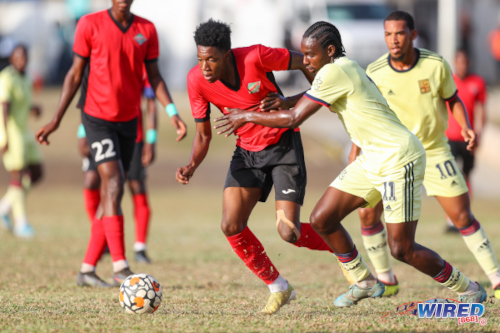 TTPFL Results
(Friday 17 March)
Cunupia FC 2 (Jaimol Layne 45+1, Rhondel Gibson 71), San Juan Jabloteh 0 at St James Barracks;
Police FC 1 (Kareem Freitas 49), W Connection FC 2 (Isaiah Hudson 7, Neil Benjamin Jr 82) at St James Barracks;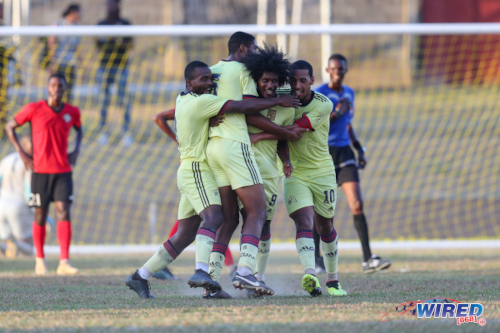 Upcoming fixtures
(Sat 18 Mar)
Prison Service vs Point Fortin Civic, 5pm, Arima Velodrome,
Central FC vs Morvant Caledonia Utd, 7.30pm, Arima Velodrome,
(Sun 19 Mar)
Club Sando vs AC Port of Spain, 4pm, Larry Gomes Stadium.