Defence Force striker Devorn "Droggy" Jorsling brought the 2016/17 season to a close with a typically precise swing of his left boot last night, as the Army/Coast Guard combination held off Pro League champions, Central FC, on penalties to retain their Digicel Pro Bowl title.
After a dramatic 90 minutes of regulation time, which yielded a 2-2 scoreline, the soldiers proved to be flawless marksmen, as they converted all five spot kicks to win 5-2 via kicks from the penalty mark.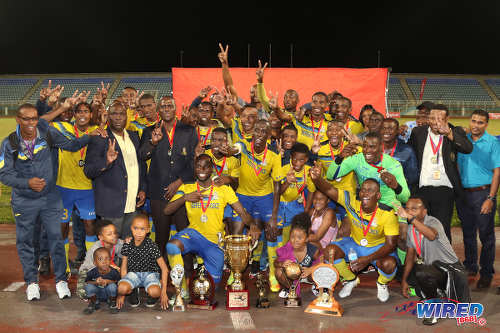 God knows what was running through the minds of the match officials by then.
Twice, Defence Force took the lead during normal time. And, twice, referee Crystal Sobers pointed to the penalty spot to give Central a chance to pull level. Then, in the last minute, she allowed a lunging finish by substitute Kishun Seecharan that the Defence Force players were convinced went in off his arm.
Not even securing the Pro Bowl trophy or the wild celebrations that followed could erase Defence Force coach Marvin Gordon's distaste for the refereeing performance last night.

"I don't usually talk about referees but I must make special mention of the officiating [last night]," the usually mild-manned Gordon told Wired868. "I thought it was piss poor. People are always talking about raising the standard of local football. But in order for the standard to raise, the officials must also raise their game.
"It was clear that the officials were only seeing it one way."
If Sobers found herself on the same page with the "Couva Sharks" tonight, she might have been the only one.
Central made history this season with an unprecedented third successive Pro League trophy. But there were also distracting public spats with former national coach Tom Saintfiet and Sport Minister Darryl Smith.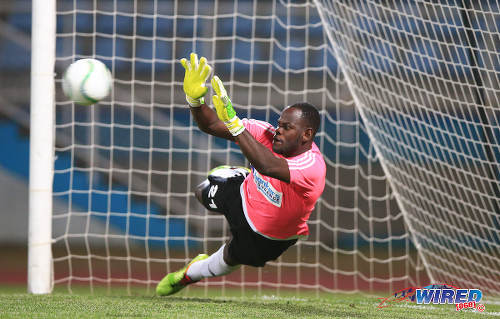 And coach Dale Saunders could surely have done without a withering attack on his goalkeeper and stalwart, Jan-Michael Williams, on the eve of the Pro Bowl final by none other than Trinidad and Tobago football icon Russell Latapy.
Arguably, Williams could blame his own club for throwing him into the spotlight, as their press release quoted the Soca Warriors star as criticising Smith's perceived failure to recognise their achievements.
Yet, Latapy's response—bizarrely published on the official website of the Trinidad and Tobago Football Association (TTFA) and distributed to the media by its press officer—seemed discourteous to a player who represented the "Red, Black and White" for the better part of 15 years, was twice named among CONCACAF's top goalkeepers in the past four years and put his life on the line in his last international outing when he was concussed against Honduras.
And, by the time the Central players strode across the white line for kick off, it might have seemed as though they were taking on half the country as soldiers came out in their hundreds to roar on the "Teteron Boys."
Within six minutes, Defence Force gave their supporters something to get excited about too, as a deep Marvin Jones free kick was expertly headed into the far corner by a criminally unmarked Justin Garcia.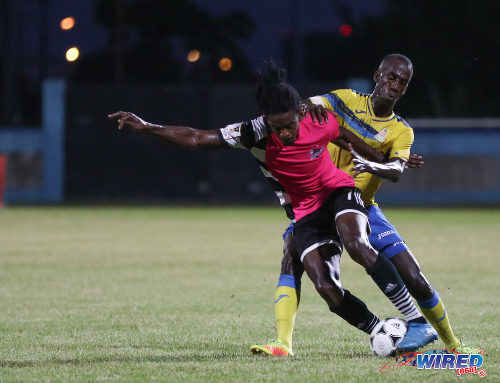 Williams, not for the first time this week, was left totally exposed.
Defence Force nearly doubled the lead, three minutes later, off a second Jones free kick from the same area. But, this time, striker Jamille Boatswain did not make clean contact with his swivelled header.
Paradoxically, although Defence Force led on the scoreboard, Central seemed to be doing better on the field of play for much of the first half.
Coach Saunders, who is never short of a trick, sent his team out in a diamond-shaped 4-4-2 system that saw Keron Cummings push high up the centre like a "false 9" while forwards Rundell Winchester and Yohan Peltier played wide enough to be inverted wingers. In essence, it was a 4-3-3 with two and a half centre forwards.
To counter their opponents, Defence Force kept their back four narrow to squeeze the Central forward line. But, undoubtedly, the movement of Central midfielders Jason Marcano and captain Darren Mitchell were pulling the opposing midfield out of shape. And it took an alert save from Defence Force custodian Sheldon Clarke to keep the scores level at the interval, after a Mitchell drive deflected fortuitously into Winchester's path.
For all of Central's tactical wit, the most brilliant individual player on the field was in a Defence Force jersey. Hashim Arcia, at his best, is so good at finding space in tight areas that he could probably stretch his legs inside of a goldfish bowl.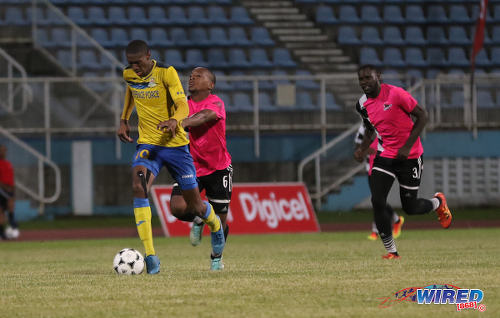 And the danger bells were ringing for Saunders when, in the 48th minute, Arcia comprehensively outfoxed Keion Goodridge and tore through the Central defence—with Paul hanging on to his shirt the whole way—before blasting just over bar.
Saunders sacrificed Cummings within seconds as Kaydion Gabriel went on at right back while defender Keston George was pushed into midfield to babysit the lanky Defence Force conductor.
It was not the first time this season that Cummings was seen as an expendable luxury for Central, which might raised questions as to his selection on Dennis Lawrence's training squad to face Panama and Mexico.
But then nobody can even remember the last sighting of Defence Force goalkeeper Andre Marchan who is recovering from a thigh injury and has long since ceded his place in the team to Sheldon Clarke. Lawrence picked Marchan and snubbed Clarke.
But, back to the game, Central were suddenly thrown a lifeline in the 56th minute when Mitchell tumbled over while chasing a long ball from defender Julius James.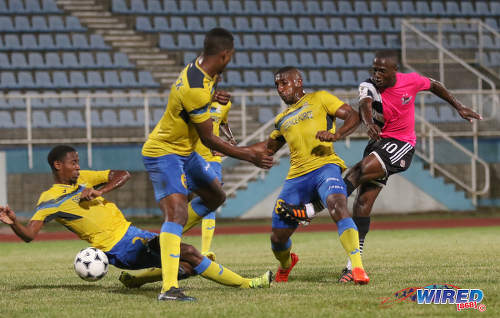 Defender Curtis "Boyo" Gonzales might have a case for being the victim rather than the offender as the two players got entangled. Sobers, on the advice of referee's assistant Caleb Wales, pointed to the spot.
"For the first penalty, she was seeing the play and didn't call," Gordon moaned, "and the linesman ran in and called the penalty…"
Paul could not care less, as he crawled to the ball before arrowing his effort into the left corner to equalise.
Central had a chance to go ahead in the 67th minute, as Paul arrived unmarked in the penalty area but failed to cushion a left side cross on his thigh.
Worse, rather than sprint back to his station, Paul remained in the opposing penalty area consoling himself. And, by the time he had trotted back to his half of the field, Defence Force players were already celebrating their go-ahead goal.
Boatswain was the finisher on this occasion as, for once, he held off imperious Central defender Julius James and prodded the ball to Arcia. And, when Arcia delivered a return pass, Boatswain had time and space to squeeze his shot past Williams and into the far corner.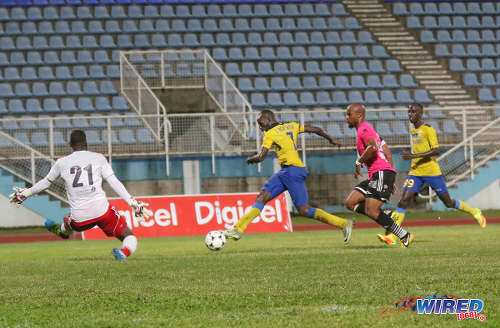 It was his seventh goal from his last five appearances and he whipped off his shirt to celebrate.
Life could hardly be better for the frontman who started the season with whipping boys Point Fortin Civic but, within a month and a half of his switch to Defence Force, is already contesting finals and preparing for his first Soca Warriors call-up.
"Since last season, I've really looked at [Boatswain] because I saw he was scoring goals and his team wasn't playing well, which has to say something about his quality," said Gordon. "But what really made me push the button was when we beat [Point Fortin Civic] 7-2 last December and he came off the bench and scored two against us.
"There and then, I decided I had to get him."
But Defence Force came back down to earth again with a thud after another shriek of Sobers' whistle in the 72nd minute. Peltier's cross appeared to hit the arm of opposing defender Rodell Elcock and the referee awarded Central their second penalty.
It was another debatable call, although not necessarily the wrong one. Elcock's arms were not in the air—but then they were not exactly at his side either. Again, Defence Force players argued in vain.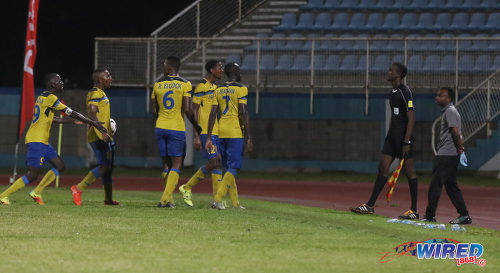 Paul swaggered up to the spot once more and, this time, went for the spectacular as he chipped the ball over the comprehensively beaten Clarke. But his attempted Panenka came back off the bar and the score remained 2-1 to the Regiment.
Gonzales nearly got a revenge of sorts, three minutes later, when—with enough space to be pick where he wanted to clear the ball—he sent the sphere hurtling towards Wales' head.
And, like West Indies cricket Brian Lara facing Australian pace demon Brett Lee, the referee's assistant displayed tremendous reflexes to avoid being decapitated.
Gonzales would probably claim his dangerous volleyed clearance was accidental. But Brigadier Rodney Smart, who watched the match from the covered stands, would be well advised to arrange a spot of anger counselling for the utility player—just to be on the safe side.
It was ironic then that, with just seconds left in the contest, Wales found himself surrounded by pleading soldiers after another spot of controversy. On this occasion, it was a non-call by the officials.
Mitchell drove the ball towards the far post and diving Central substitute Kishun Seecharan diverted it across the goal line for a last gasp equaliser. The Defence Force players insisted that Seecharan had used his hand.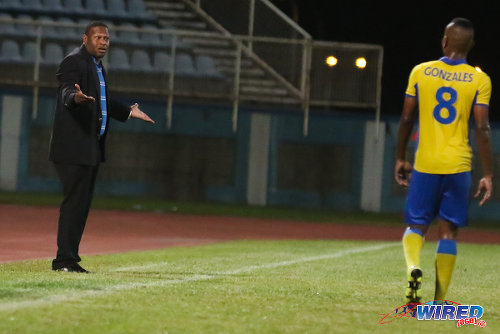 "My players were convinced that it was a hand ball," said Gordon. "Unlike the second penalty she gave against us. Not a single Central player appealed for a hands that time and she pointed to the spot…"
In the midst of the confusion and recriminations, Gordon slipped Jorsling on to the field as Defence Force's final substitute. And, despite the team's new-found reliance on Arcia's artistry and Boatswain's exuberance, it was Jorsling's familiar left foot that gave the Teteron Boys their second title of the season.
They converted five from five penalties, as Arcia, Gonzales, the Garcias—Justin and Jamali—and, finally, Jorsling all scored while Mitchell hit the outside of the post with Central's first kick.
"The players worked real hard to get the result tonight and it is a great feeling," said Gordon, who also led Defence Force to the First Citizens Cup. "It was a difficult one for us. We finished sixth in the league but to win the two major knock out titles was a major effort. Defence Force haven't won two trophies in one season since I began coaching with Ross [Russell] in 2009."
One gets the feeling that Defence Force will be a handful for the upcoming 2017 season, which is due to start in roughly two months. Central have been warned.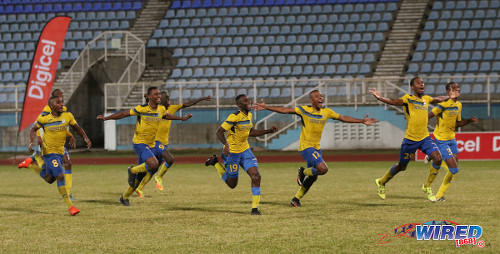 (Teams)
Defence Force (4-1-4-1): 25.Sheldon Clarke (GK); 6.Rodell Elcock, 17.Curtis Gonzales, 26.Justin Garcia, 21.Akile Edwards (3.Jamali Garcia 62); 8.Christopher Durity; 13.Marvin Jones (9.Devorn Jorsling 90), 99.Jerwyn Balthazar, 10.Hashim Arcia, 23.Kerry Joseph (19.Thurlani George 65); 7.Jamille Boatswain.
Unused substitutes: 20.Levi Serries, 22.Anthony Charles, 32.Jameel Cooper, 94.Keron Fox,
Coach: Marvin Gordon
Central FC (4-3-1-2): 21.Jan-Michael Williams (GK); 5.Keston George, 33.Julius James, 3.Keion Goodridge, 24.Kevon Villaroel; 6.Leston Paul, 11.Darren Mitchell (captain), 7.Jason Marcano; 10.Keron Cummings (15.Kaydion Gabriel 52); 77.Rundell Winchester (12.Kishun Seecharan 82), 17.Johan Peltier (8.Sean De Silva 75).
Unused substitutes: 30.Akel Clarke (GK), 18.Rhondel Gibson, 29.Jabari Carasquero, 45.Tyrik John,
Coach: Dale Saunders
Referee: Crystal Sobers
Wired868 Man of the Match: Hashim Arcia (Defence Force)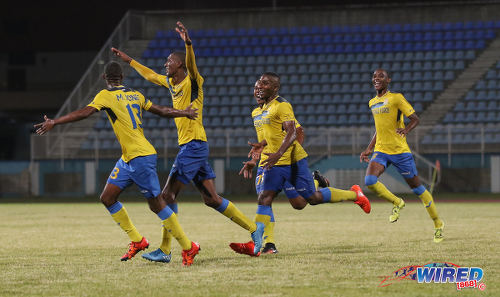 Digicel Pro Bowl final
(Sunday 19 February)
Defence Force 2 (Justin Garcia 6, Jamille Boatswain), Central FC 2 (Leston Paul 67 pen, Kishun Seecharan 89) at Ato Boldon Stadium, Couva.
Official Pro Bowl prize giving
Best Forward: Jamille Boatswain (Defence Force)
Best Midfielder: Chris Durity (Defence Force)
Best Defender: Curtis Gonzales (Defence Force)
Best Goalkeeper Sheldon Clarke (Defence Force)
Best Coach: Marvin Gordon (Defence Force)