Central FC moved within touching distance of the history books this evening in a Pro League contest that owed much to two penalty shouts—one that was ignored and the other given.
It might seem bizarre to single out the referee in a game that produced such a lopsided scoreline. Yet, the match official, Crystal Sobers, did not cover herself in glory and two decisions in particular certainly contributed to the final outcome.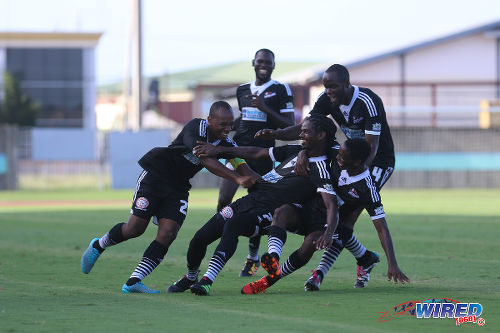 The "Couva Sharks" were leading by a solitary goal when, in the 53rd minute, Rangers captain Devon Modeste flicked the ball around opposing central defender Keion Goodridge and tried to skip over the fallen player to retrieve it.
Goodridge was still moving on the ground—like a fish out of water—and Modeste went down in an entanglement of legs.
The Rangers attacker was clearly going after the ball and, deliberately or not, was impeded by Goodridge.

Fifteen minutes later, Central captain Darren Mitchell chased a long ball into the opposing box and tumbled over while backing into Rangers defender Samuel Delice. Sobers rubbed salt into Rangers' wounds by pointing to the spot and Delice's aggressive response earned him a red card.
Two goals and a player down, Ranger capitulated and the Sharks cashed in by banging home four goals in the closing 25 minutes for a comprehensive victory.
The result pushed Central to 44 points—one more than second placed DIRECTV W Connection—with just one match remaining in the regular season.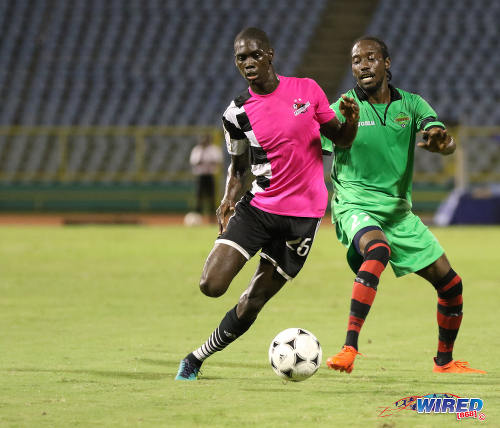 No team has ever managed three successive Pro League titles. But if Central defeat San Juan Jabloteh next week, they will become the first.
The jury is out as regards what to make of the Sharks' 2016/17 effort though. Six of Central's 18-man squad today did not start the season with the club but were brought in to cover for departing players like Marcus Joseph, Andre Ettienne and Kadeem Corbin.
At the rate Central are haemorrhaging players, a cynic might speculate that managing director Brent Sancho is preparing to do a runner from the top flight competition. And one can only hope that he shares around the cash winnings first.
Regardless, it has been a remarkable run from the club that was born just five years ago. There have been five coaches during that period: Englishman Graham Rix got them started while the combination of his compatriot Terry Fenwick and Serbian Zoran Vranes steered them to their first titles. Ross Russell was the first local to hold the reins and his spell in charge was brief and barren.
But in the current boss, Dale Saunders, Sharks seem to have unearthed a coaching gem.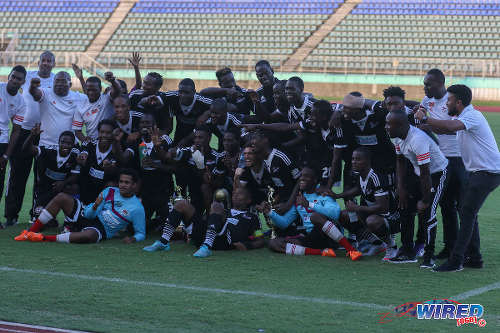 There are no frills in Saunders' often direct tactical approach and, a tigerish, combative midfielder in his heyday, the coach appears more likely to snap at his own player than throw an arm around his shoulder.
Yet, there is no doubting the club's success under his watch, despite the chaos of regular clashes between management and players and the recent exodus of star names.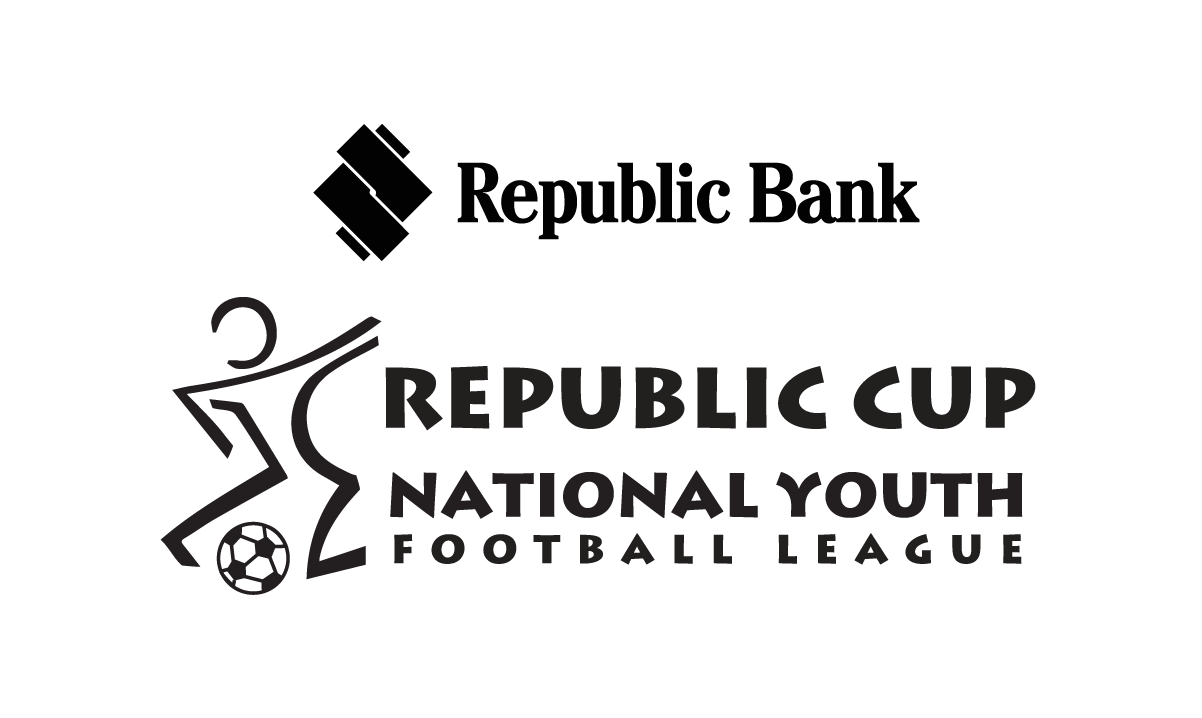 His opposite number today, Rangers coach Anthony "Prowler" Streete, has his own problems.
It must seem like an eternity since Streete had the likes of Kerwin "Hardest" Jemmott, Lyndon "Chubby" Andrews and Nigel Pierre in his dressing room. These days, he has to make do with a mixture of journeymen, teenagers and schoolboys. And the job was especially difficult without pacey flanker Jomoul Francous and the National Under-20 Team quartet of Rushawn Murphy, Micah Lansiquot, Kathon St Hillaire and Josh Toussaint.
Central FC winger Kishun Seecharan, one of several mid-season acquisitions by the Sharks, opened the scoring with a crisp shot in the 12th minute and Rangers were always going to find it difficult to get back on level terms with virtually their entire attacking contingent missing.
Yet, Central were having trouble pulling away and the scores might have been levelled, five minutes before the interval, as a deflected Delice effort smacked the outside of the post.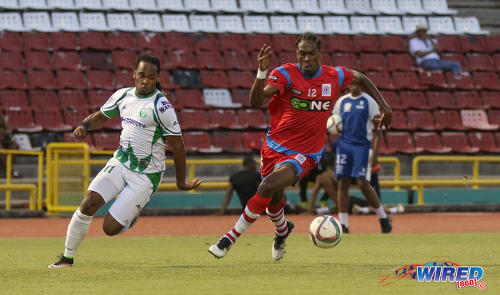 Streete made some dramatic halftime changes as Delice was moved from upfront to central defence while Modeste was taken off the left flank and asked to spearhead the attack.
Sobers' interpretation of two episodes inside either penalty area ultimately determined the success of Streete's changes.
First Sobers, who was one of 11 local referees awarded FIFA badges earlier this month, waved play on as Modeste was tripped in the penalty area by Goodridge. Then, in the 68th minutw, she gifted Central a penalty for a far less plausible incident between Mitchell and Delice.
The Rangers player reacted by scooping up the ball and volleying it in the direction of the official. It is uncertain whether Delice was trying to hit Sobers and, thankfully, he didn't.
With the height and pace of his volley, he might have decapitated the referee. And Sobers was lenient to show him a second yellow card rather than a straight red.
Central were up two goals by then, as Seecharan scored a lovely solo effort on a counter attack in the 62nd minute, following a Jason Marcano flick.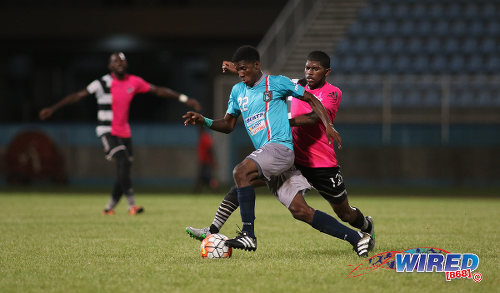 Seecharan took the penalty kick in an attempt to secure his first top flight hattrick but skied his effort.
No matter, as Rangers were toast. Streete dropped midfield anchor Jameel Antoine into central defence to compensate for Delice's departure, which offered Central a 3v2 advantage in central midfield.
And Leston Paul tore Rangers to shreds with an assortment of passes that cut through the opposing backline like a hot knife through butter.
If anything, Rangers were lucky not concede double figures in the final 30 minutes—in fact, goalkeeper Cleon John had a lot to do with that scant consolation.
Every time Streete's team lost possession, Paul flashed his boot and the ball flew into a channel for Mitchell, Seecharan, Marcano or substitute Johan Peltier to chase. And the game turned into a shooting gallery.
Marcano scored with a controlled volley in the 75th minute while striker-cum-full back Jem Gordon mustered a cheeky near post finish, three minutes later. And Mitchell got a double from close range in the 80th and 93rd minutes.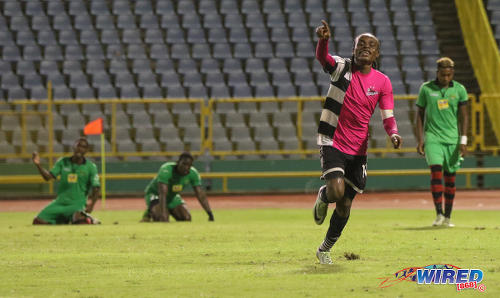 Sensing the mood, Saunders sent on Tyrik John, the son of assistant coach and Trinidad and Tobago's all-time scoring leader Stern John, for the final 15 minutes.
The young John did have his chances as he shot just wide from the edge of the area in the 84th minute and then totally the missed the ball from close range in stoppage time. But he did not get his maiden Pro League goal.
Everything else went Central's way, though, as they pulled within 90 minutes of Pro League history.
San Juan Jabloteh are unlikely to be as vulnerable next week, though.
(Teams)
Central FC (4-2-3-1): 21.Jan-Michael Williams (GK); 26.Jem Gordon (15.Kaydion Gabriel 81), 5.Julius James, 3.Keion Goodridge, 24.Kevon Villaroel; 5.Keston George, 6.Leston Paul; 8.Sean De Silva (17.Johan Peltier 74), 11.Darren Mitchell (captain), 12.Kishun Seecharan; 7.Jason Marcano (45.Tyrik John 76).
Unused substitutes: 30.Akel Clarke (GK), 18.Rhondel Gibson, 27.Derron John, 29.Jabari Carasquero.
Coach: Dale Saunders
St Ann's Rangers (4-1-4-1): 1.Cleon John (GK); 16.Richard Williams, 24.Jesse Williams, 28.Shakiyl Phillip, 7.Sedale McLean; 8.Jameel Antoine; 32.Marvin Lee (27.Che Benny 61), 33.Osaze Springer (11.Kazim Donald 69), 14. Kyle Bartholomew, 10.Devon Modeste; 12.Samuel Delice.
Unused substitutes: 22.Christopher Biggette (GK), 30.Lester Durham.
Coach: Anthony Streete
Referee: Crystal Sobers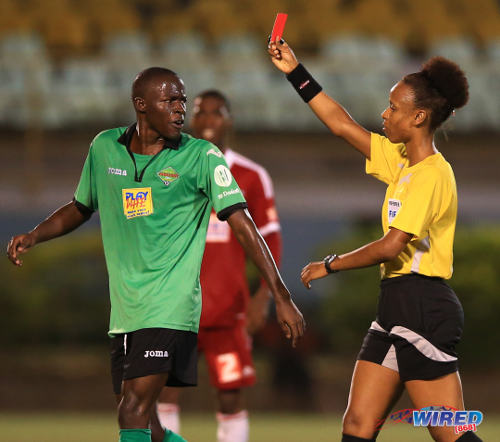 Pro League results
(Friday 27 January)
Club Sando 3 (Kevon Piper 23, Akeem Roach 25, 65), Point Fortin Civic 2 (Nicholas Thomas OG 34, Darnell Hospedales 45) at Ato Boldon Stadium;
W Connection 1 (Hughtun Hector 56), San Juan Jabloteh 0 at Ato Boldon Stadium;
(Saturday 28 January)
St Ann's Rangers 0, Central FC 6 (Kishun Seecharan 12, 62, Jason Marcano 75, Jem Gordon 78, Darren Mitchell 80, 90+3) at Larry Gomes Stadium;
Police FC 3 (Jameel Perry 36, 71, OG 43), Defence Force 1 (Jamille Boatswain 73) at Mannie Ramjohn Stadium;
(Sunday 29 January)
Morvant Caledonia Utd 0, Ma Pau Stars 2 (Jason Scotland 25, OG 38) at Larry Gomes Stadium;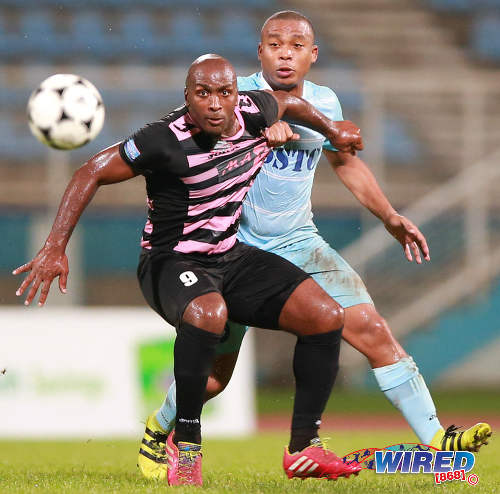 Upcoming fixtures
(Friday 3 February)
St Ann's Rangers v Club Sando, 6pm, Ato Boldon Stadium;
Police FC v Morvant Caledonia Utd, 8pm, Ato Boldon Stadium;
(Saturday 4 February)
Point Fortin Civic v Defence Force, 5pm, Mahaica Oval;
(Sunday 5 February)
San Juan Jabloteh v Central FC, 3.30pm, Ato Boldon Stadium;
Ma Pau Stars v W Connection, 3.30pm, Mannie Ramjohn Stadium;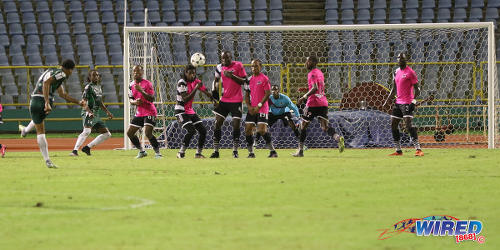 Standings (Tabulated as Won-Drawn-Lost-Goals For-Goals Against-Points)
Central FC            17-14-2-1-40-14-44
W Connection     17-14-1-2-48–13-43
S/Juan Jabloteh 17-9-2-6-32-22-29
Ma Pau Stars        16-7-4-5-31-27-25
Club Sando            17-7-3-7-30-31-24
Defence Force     17-6-2-9-24-30-20
Police FC                17-5-4-8-35-34-19
S/A Rangers        17-4-4-9-20-36-16
M'vt Caledonia  16-2-5-9-18-29-11
Point Fortin        17-1-3-13-17–59-6