The final day of the Secondary Schools Football League (SSFL) Premier Division season saw as many as six teams—East Mucurapo Secondary, San Juan North, QRC, Pleasantville Secondary, Fatima College and St Benedict's College—embroiled in a heated relegation battle at the foot of the table.
And remarkably, St Benedict's, who were dead last on the 15-team table before a ball was kicked on 'avoid the drop day', made a dramatic escape as they notched their third consecutive 1-0 win.
Talk about coming up big in the clutch.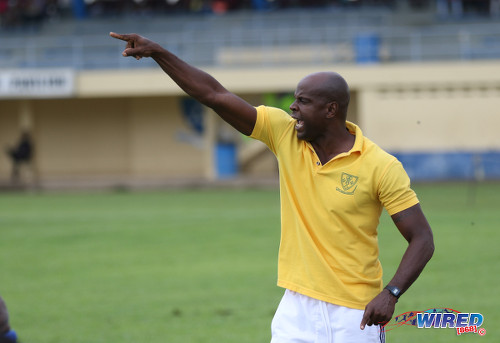 The Leonson Lewis-led Benedict's team had not won a game before their triumph at St Anthony's last Wednesday, but their incredible change of fortune propelled them from 15th to 11th just in the nick of time.
And the boys from La Romaine had their resident 'Superman' to thank too, as Dettori Boucher scored his third straight game winner. All three of Boucher's match winners, according to a SSFL match official, were free kicks.

One more free kick and Boucher may have a school wing named after him!
Others weren't so lucky though.
At QRC Grounds in St Clair, the "Royalians" could have done with some of Boucher's magic, as the then 12th placed team faced a very tall order against fourth-placed St Anthony's College. The "Westmoorings Tigers", who had lofty Premier Division aspirations at the beginning of the season, weren't about to be sympathetic to their struggling hosts as they fielded a strong team.
Coach Ronald Daniel's St Anthony's team, which is littered with national youth players, gave starts to National Under-17 players Tyrese Bailey and Che Benny.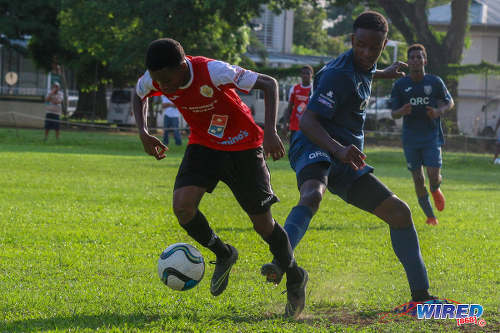 The Royalians boasted of some fine talent of their own, as National Under-17 skipper John-Paul Rochford started on the right side of midfield. But it would be a long day for the precariously placed hosts and their diminutive playmaker.
Visiting skipper Jules Lee fired the first warning shot when he bent a long range free kick off the bar in the fifth minute; and it was just the beginning.
The visitors, who are the highest scoring team in the Premier Division, quickly imposed themselves on the game as the likes of Lee and Benny constantly sought out the speedy duo of Bailey and forward Haile Beckles.
On his day, Bailey is an absolute menace on the wings, and he was unlucky not to have been awarded a penalty in the 15th minute, as left back T'Shad Selvon appeared to clip his heels in the area.
Rochford and attacker Darius Dickson looked likeliest to make something happen for QRC, but the hosts looked out of ideas once the latter vacated his position in the opponent's penalty area.
In the 40th minute, QRC skipper Anfernee Stokes had the chance to give his team the perfect halftime remedy as he picked up the scraps from a Rochford corner. However, his right-footed effort was blazed wide of St Anthony's goalkeeper Oba Augustine's goal.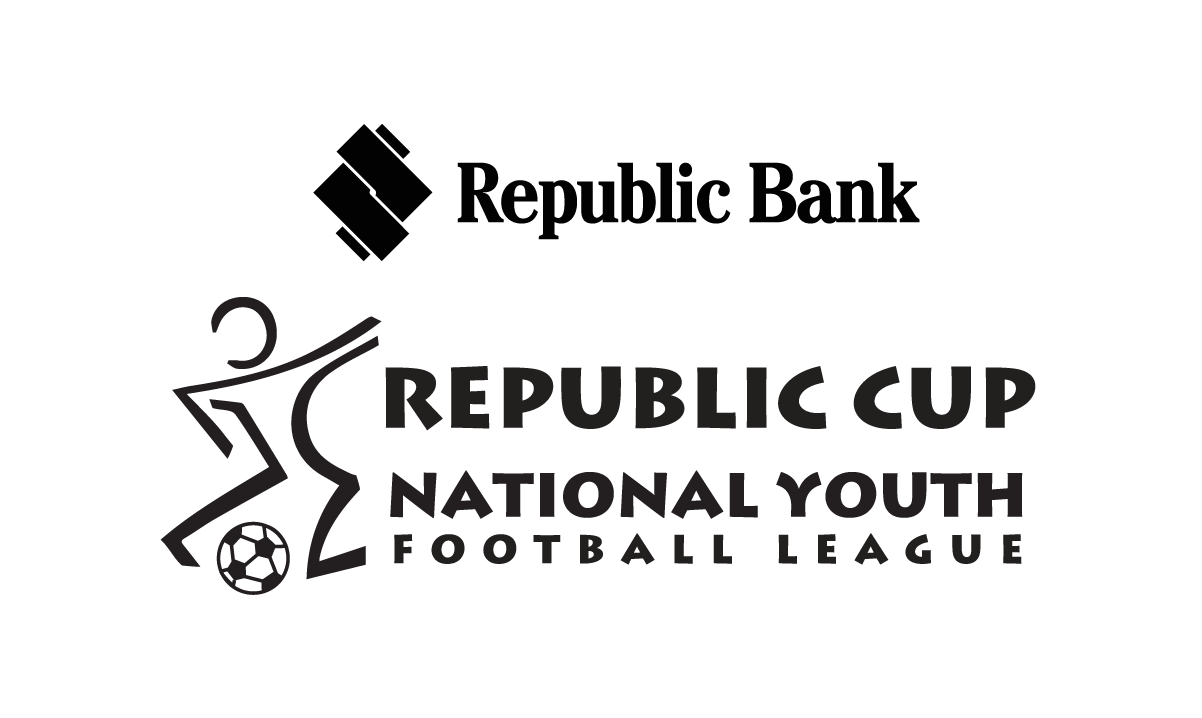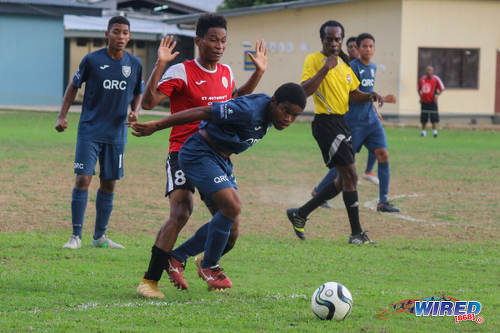 Four minutes later, Beckles also failed to give his team the right potion as he somehow managed to head wide after a devilish delivery by defender Derron John.
But Benny was the man with the answer, and it came from his educated left boot.
In first half stoppage time, Benny gave the home supporters their first 'feel-sick' of the afternoon, as he bent a vicious free kick into the top corner from the edge of the area. The infringement occurred when QRC custodian Kern Thomas carelessly strolled out of the area with the ball still in his hands. And Benny's hit was unforgiving.
In order to survive the drop to the Championship Division, the hosts really had to hit the ground running in the second period. But in truth, they did the total opposite.
Rochford was adjudged to have handled a cross in the area, five minutes after the restart, and John nonchalantly stepped up to tuck the ensuing penalty away. The Tigers defender seems to have a knack for the bottom left corner but opposing goalkeepers haven't sorted it out just yet.
The visitors were firmly in control now, and they would have gone up 3-0 in the 57th minute if not for a splendid goal line clearance by Selvon, which denied a Beckles volley.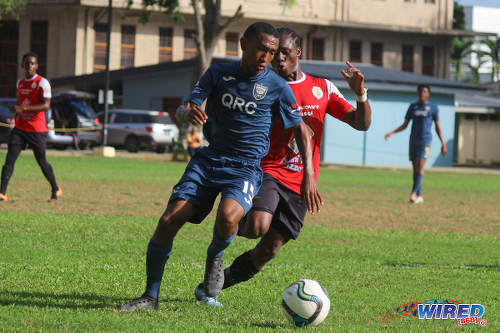 The QRC band revved up the trumpets in hope of inspiring their team. But the rhythm seemed to work for the Tigers instead.
In the 67th minute, Augustine showed how much he fed off the pulsating sounds, as he made a brave save from point-blank range to stop a right-footed effort by Shomari Healy after Rochford had a shot charged down.
The writing was on the wall for the hosts, as eking out a result looked far-fetched. And substitute Yevan Rajpaul made the print even bolder in the 75th minute, as he slotted home a rebound after some neat play by fellow sub Jakeem McNeil.
And, to put the final nail in the coffin, the teasing Bailey squeezed a shot past Thomas in the third minute of second half stoppage time to cap off a clinical performance by the Tigers.
At Fatima grounds, the hosts went through the relegation door with all guns blazing as they were just nicked on the line by Premier Division winners Shiva Boys Hindu College. The 2016 champions walked away 4-2 winners, but their last two items were scored in added on time by hitman Junior Asson.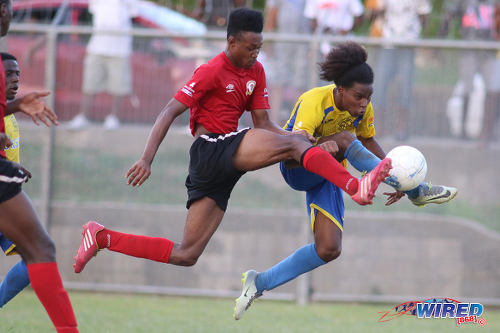 The determined Asson bagged a hat-trick, which took his season's tally to 11. The last of the striker's three goals was especially pleasing as he unleashed a rocket into the jep nest from 30+plus yards.
Unfortunately for the Fatima fateful, who saw their team take a 2-1 lead through Justin Araujo-Wilson in the second half, Assoon's rocket rocket went right through their hearts and plummeted them into the SSFL Championship Division.
In the Championship, Fatima will meet a familiar foe in QRC, and only one of the North Zone schools will have the chance to gain promotion from the Championship next year.
Hold on, it's going to be a bumpy ride.
(Teams)
St Anthony's College (4-3-3): 22.Oba Augustine (GK); 23.Sowande Prieto (2.Shakir Clapham 79), 9.Nkosi Salandy, 27.Derron John, 18.Ronaldo Jacob; 4.Che Benny (20.Yevan Rajpaul 68), 8.Jules Lee (captain), 13.Shem Clauzel; 10.Tyrese Bailey, 17.Krishon Alexander (19.Jakeem McNeil 59), 11.Haile Beckles.
Unused Substitutes: 26.Elijah Shade (GK), 5.Marc Robertson, 14.Nicaya Mahon, 25.Quinn Frederick.
Coach: Ronald Daniel
QRC (4-2-3-1): 1.Kern Thomas (GK); 16.Mickel Walkes, 4.Anfernee Stokes (captain), 5.Tevin Lessey, 2.T'Shad Selvon; 6.Keyshawn Villafana, 18.Shomari Healy; 15.John-Paul Rochford, 21.Ronaldo Robertson (11.Miguel Williams 66), 7.Tyrese Pierre (13.Rickson Hill 66); 10.Darius Dickson (12.Jabari Mickell 55).
Unused Substitutes: 22.Saif Farrag (GK), 3.Darlon Guppy, 9.Shemar De Gannes, 31.Malik Farrier.
Coach: Dexter Gill
Referee: Sheldon Gomes
Man of the Match: Derron John (St Anthony's College)
SSFL Premier Division Results
(Wednesday 26 October)
Signal Hill 1 (Akil Frank 87 pen), San Juan North 0 at Signal Hill;
QRC 0, St Anthony's College 4 (Che Benny 41, Derron John 51 [p], Yevan Rajpaul 71, Tyrese Bailey 90+3) at QRC;
East Mucurapo 2 (Jesse Williams 39, 67), Fyzabad Secondary 1 (Alleric Williams 56) at Moka;
St Augustine 0, Naparima College 1 (Renaldo McIntosh 4) at St Augustine;
Pleasantville 0, Presentation San F'do 3 (James Alex Lee Yaw 50, Jared Gordon 54, 81) at Pleasantville;
St Benedict's College 1 (Dettori Boucher 28), Trinity College Moka 0 at Mahaica, P/Fortin;
Fatima College 2 (Justin Araujo-Wilson 64, 67), Shiva Boys HC 4 (Yohannes Richardson 45 pen, Junior Asson 70, 90+1, 90+3) at Fatima;
St Mary's College are on a Bye.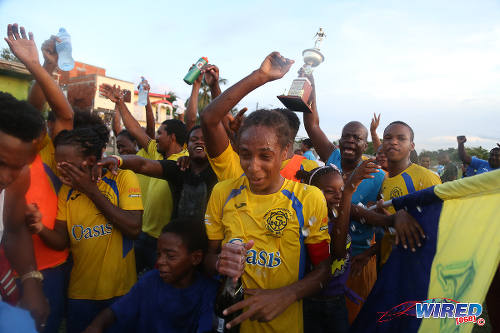 SSFL Premier Division standings
(Tabulated as Played-Won-Drew-Lost-Goals For-Goals Against-Points)
Shiva Boys HC    14-12-1-1-35-12-37
Presentation SF 14-10-2-2-32-11-32
Naparima             14-10-2-2-27-12-32
St Anthony's       14-9-1-4-38-21-28
Signal Hill            14-6-2-6-16-13-20
St Augustine       14-5-5-4-15-12-20
Fyzabad Sec        14-6-2-6-26-25-20
St Mary's              14-5-5-4-15-25-20
Trinity Moka      14-5-3-6-7-17-18
East Mucurapo  14-4-3-7-13-19-15
St Benedict's       14-3-3-8-7-21-12
San Juan North 14-3-2-9-21-24-11
QRC                        14-2-4-8-8-20-10
Pleasantville      14-2-4-8-12-27-10
Fatima College  14-2-3-9-15-27-9