St Mary's College continued their mid-season renaissance yesterday as they put a notable dent in the title defence of reigning SSFL Premier Division champions, Naparima College, after a 1-1 draw in an entertaining contest at Serpentine Road.
Naparima sharp shooter Isaiah Lee plundered his ninth goal from as many matches. But it wasn't enough to get three points for 'Naps' as the Saints kept marching on with a thunderous Tyrese Spicer equaliser, which preserved their six match unbeaten streak.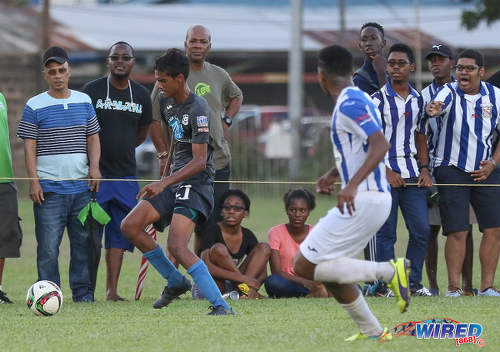 Naparima slipped one place to third with 19 points while St Mary's stay fifth with 16.
Elsewhere, Shiva Boys went five points clear at the top of the table, as a Quinn Rodney double helped them to a 3-1 win over St Anthony's College 3-1 in Penal. It was the third consecutive loss for the "Westmoorings Tigers", who have now slipped to fourth place and nine points adrift of the leaders.
The Lions of Presentation College are on the Shiva Boys' heels as a Nion Lammy hattrick saw them trounce a woeful Fyzabad Secondary team 6-0 to move to second place with 22 points, three shy of the current leaders.

Fyzabad, who parted company with head coach and ex-Soca Warriors utility player Anthony Rougier last week, have lost sight of their early season form and now sit just two points above the relegation zone.
The SSFL's bottom three schools will fall through the trapdoor at the end of the season and, yesterday, three of the last four teams registered much-needed victories in their quest for survival.
Queen's Royal College recorded only their second win of the season, as they won 2-0 away to a forlorn St Benedict's College. While a Saleem Henry penalty kicked helped Trinity College (Moka) scrape a 1-0 win over Signal Hill Secondary and East Mucurapo edged Fatima College 1-0 in the Mucurapo Road derby.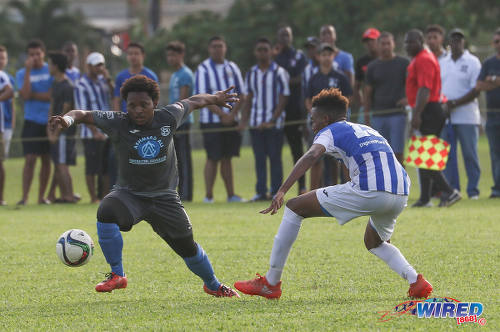 Trinity Moka and East Mucurapo now have 10 points each while QRC have nine. In contrast, the Leonson Lewis-coached St Benedict's team have just two points and seven losses from their nine games so far this season. It seems almost a formality that they will be plying their trade in the SSFL Championship Division next season.
Fatima are in trouble now too, as they are in 14th place in the 15 team table with eight points after their debt loss while Pleasantville Secondary are 13th with nine points after their 1-0 loss to St Augustin Secondary yesterday.
St Mary's coach Ryan Shim might sympathise. CIC were second from bottom after the first four rounds of matches. Yesterday, they locked horns with two-time defending champions, Naparima, and were worth their share of the spoils by the end.
"This is fantastic. It's quite a turnaround thus far but the season isn't over and we have to keep focused on the job at hand," Shim told Wired868. "We've had key players who were injured earlier in the season [..] come back in and [light] a fire under us, especially in an attacking sense.
"And we also worked hard on the defensive organisation and that has helped us quite a bit."
One such addition was Trey La Motte, a lanky striker has three goals already to his name since his late inclusion—and a passing resemblance to England League Championship top scorer Tammy Abraham, who is on on loan from Chelsea to Bristol City.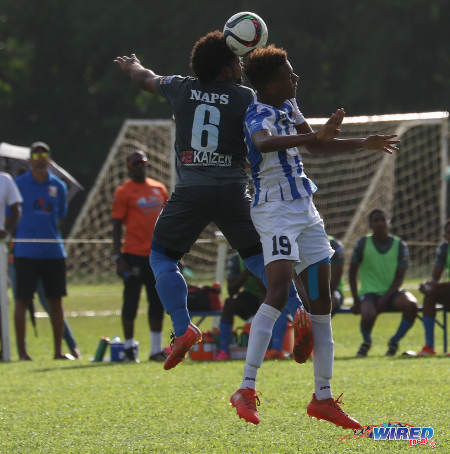 La Motte provided the perfect foil for St Mary's midfield playmaker, Daniel Conocchiari, and pivots, Matthaeus Granger and Justin Keith, who snapped at the heels of visiting southerners and forced uncharacteristic errors.
Only Naps defender Jeron Pantor, previously of St Benedict's College, seemed up to his usual quality, as he shored up the backline in the absence of defensive partner, Rodell Payne, who is with the Trinidad National Under 20 Team on a training camp in Panama
"That is centre back from centre back land!" shouted one observer, at Pantor's composed showing.
Naparima did not stay on the back foot, though. Champions, as they say, always find a way. And that they did in the 42nd minute through Lee's familiar frame.
The former St Augustine player rose unmarked in the box to head home from a Judah St Louis free kick, after criminal defending from St Mary's meant Lee's only competition for the ball came from his teammates.
Lee and his strike partner Akinola Gregory really came into their own in the second half and it took some superb interventions from St Mary's defender Nathan Harte and goalkeeper Jordan Bidaisee to deny them.
Then, in the 63rd minute, St Mary's found their answer at the other end, as Spicer took the match by the scruff of the neck.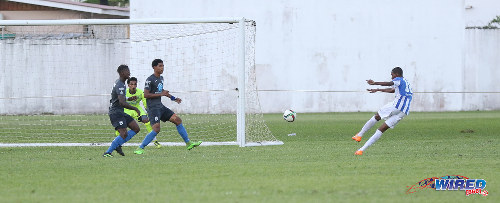 A ball was floated across from the left flank and there stood Spicer, unmarked as time stood still. The ball bounced and he opened his shoulders, arched his body and unleashed a venomous left footed volley into the top far corner.
Naparima goalkeeper Levi Fernandez didn't have a prayer.
And it might have been worse, as a lobbed La Motte pass appeared to strike the hand of shaky Naps and T&T Under-17 defender Tyrike Andrews. Saints fans were in uproar but referee Nigel Ramah was unmoved.
Eve, who was without attacker Mark Ramdeen due to illness along with National Under-20 players Shane Sandy and Payne, said his charges were tired from their midweek exertions in a 3-1 win over Pleasantville.
He credited St Mary's for their fight in the contest too.
"We played on Thursday in the mud and because of that, I gave them the day off yesterday," said Eve. "I think because of that, they were a bit sluggish. Maybe I should have come in and tried to get the lactic acids of out them [with a recovery sessions].
"I thought that was the difference in the game today. St Mary's had a little bit more fight than us to get to the ball…
"It is a big blow [and] we really wanted to win the game today but we didn't lose. We are away from home. You saw the environment…"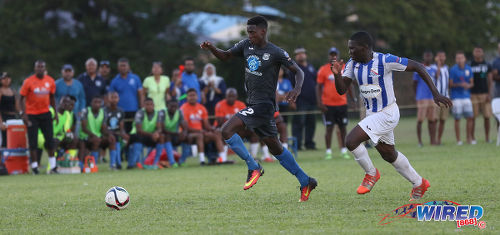 Eve did suggest, though, that some of the referee's decisions yesterday "were not quite right" and, as Naps prepared to face St Anthony's in Westmoorings next weekend, he claimed that he was more afraid of north zone referees than anything else and pleaded for referees from "neutral zones" for SSFL matches.
There was no bias in the scoreline at St Clair though, as St Mary's supporters celebrated a hard-fought point gained.
(Teams)
St Mary's College (4-2-3-1): 29.Jordan Bidaisee (GK); 17.Samuel Affonso, 15.Nathan Harte, 6.Emilio Saunders, 3.Joshua Joseph; 8.Matthaeus Granger (captain) (26.Michel Poon-Angeron), 24.Justin Keith (4.Howard Sabga); 10.Daniel Conocchiari, 9.Aaron Skeene (11.Gabriel Nanton), 16.Tyrese Spicer; 19.Trey La Motte.
Unused substitutes: 1.Gordon Sabga (GK), 2.Nathaniel Williams, 18.Tyler Kirton, 20.Justin Brooks.
Coach: Ryan Shim
Naparima College (4-2-3-1): 1.Levi Fernandez (GK); 4.Aalon Minors, 2.Tyrike Andrews, 13.Jeron Pantor, 3.Khris Stroud; 6.Judah St Louis, 21.Justin Sadoo; 7.Akinola Gregory (captain) (9.Shobal Celestin), 23.Renaldo Francois (8.Nikel Rawlins), 19.Andre Raymond (18.Ronaldo Mc Intosh); 12.Isaiah Lee .
Unused substitutes: 30.Enrique Changiah (GK), 15.Shadeon Arthur, 16.Declan Marcelle, 20.Kodel Frontin.
Coach: Angus Eve
Referee: Nigel Ramah
Man of the Match: Nathan Harte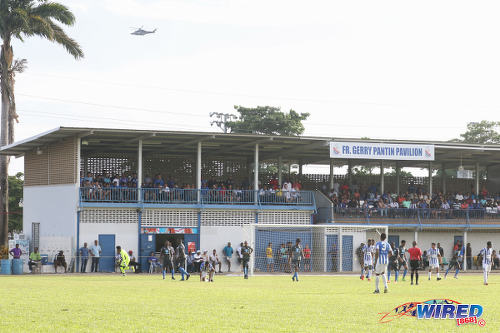 SSFL Premier Division results
(Saturday 8 October)
Trinity College Moka 1 (Saleem Henry pen), Signal Hill 0 at Moka;
Shiva Boys HC 3 (Quinn Rodney 16, 87, Ronaldo Edwards 38), St Anthony's College 1 (Derron John 45) at Penal;
Fatima College 0, East Mucurapo 1 (Tarik Martin 1) at Mucurapo Road;
Presentation San F'do 6 (James Alex Lee Yaw 1, Jordan Riley 6, Nion Lammy 20, 51, 53, Terrell Williams 60), Fyzabad Secondary 0 at Mannie Ramjohn Stadium,
St Benedict's College 0, QRC 2 (Shomari Healy 4, 62) at Mannie Ramjohn Stadium;
Pleasantville 0, St Augustine 1 (Anthony Samuel 72) at Pleasantville;
St Mary's College 1 (Tyrese Spicer 63), Naparima College 1 (Isaiah Lee 42) at Serpentine Road;
San Juan North are on a Bye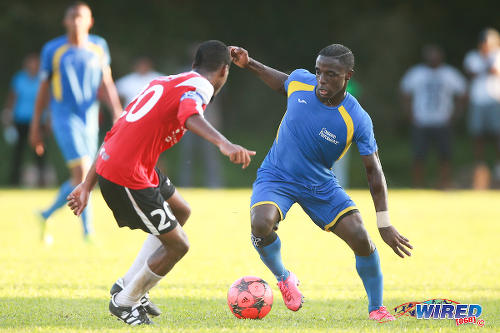 Upcoming fixtures
(Wednesday 12 October) [All games kick off at 3:30pm]
East Mucurapo vs QRC at Mucurapo Road;
Trinity College Moka vs Presentation San F'do at Moka;
St Augustine vs San Juan North at St Augustine;
Signal Hill vs St Mary's College at Signal Hill;
Naparima College vs St Benedict's College at Lewis Street, San F'do;
St Anthony's College vs Pleasantville at Westmoorings;
Fyzabad Secondary vs Fatima College at Fyzabad;
Shiva Boys HC are on a Bye.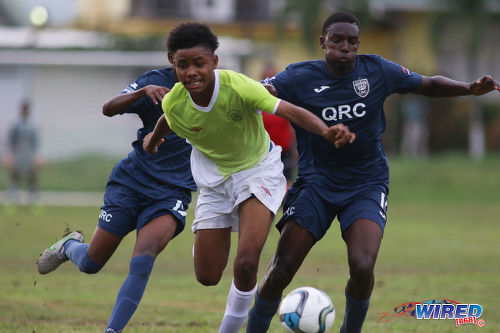 SSFL Premier Division standings
(Tabulated as Played-Won-Drew-Lost-Goals For-Goals Against-Points)
Shiva Boys HC  10-8-1-1-20-9-25
Presentation SF 10-7-1-2-18-9-22
Naparima           9-6-2-1-17-8-19
St Anthony's      9-5-1-3-22-15-16
St Mary's           10-4-4-2-12-12-16
St Augustine      10-3-5-2-10-9-14
San Juan North 9-3-2-4-16-14-11
Signal Hill          9-3-2-4-10-10-11
Fyzabad Sec      10-3-2-5-16-19-11
East Mucurapo 9-3-1-5-11-13-10
Trinity Moka     9-3-1-5-4–15-10
QRC                       9-2-3-4-7-8-9
Pleasantville      9-2-3-4-10-15-9
Fatima College  9-2-2-5-11-15-8
St Benedict's      9-0-2-7-4-16-2