"We play good defence and we break," Naparima College coach Angus Eve told Wired868. "I am [like Manchester United coach] Jose Mourinho [in that sense]. I love Jose Mourinho."
Presumably, Eve was referencing the young dynamic Mourinho who tamed the England Premier League with stubborn defence, incisive counter attacks and decisive finishing. And there was something in that comparison too.
In the SSFL Premier League's big southern derby, which was also a top of the table clash, Naparima College laid down the law with a 2-0 win over Presentation College (San Fernando) in front of a large, raucous crowd at the former school's Lewis Street playing field.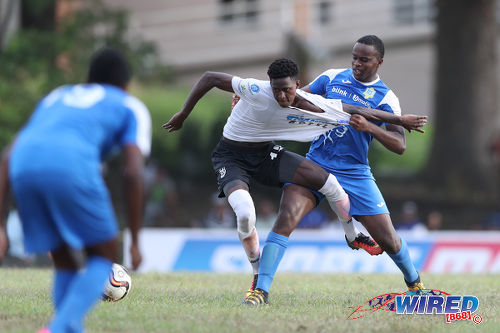 The score summary was magisterial. But, in truth, the balance of play was not so straightforward.
If it were a school dance, Presentation spent half the night asking the pretty girl about her favourite subjects, what was her sign and how she planned to spend her weekend. Naparima cut to the chase with a killer line instead and—boom!—they were prancing on the dance floor.
Presentation coach Shawn Cooper was crestfallen.
"We knew that if we didn't defeat Naparima it is virtually impossible for anybody else [to do it]," said Cooper, whose team started the afternoon on top of the league. "I think it would be [up to] St Anthony's now. This is the downside in the one round [of competition]. Whenever you lose once against them, your title race is virtually over."
Right on cue, St Anthony's College stormed to the top of the Premier Division—albeit on goal difference—as they romped to a 5-0 demolition of Trinity College Moka at Westmoorings in their third game in five days.
St Anthony's and Naparima were joined on 16 points by Shiva Boys Hindu College, who eked out a 2-1 win away to Fyzabad Secondary, while Presentation slipped to fourth with 15 points. Presentation and Shiva Boys have both played seven games already this season while the former two schools played six.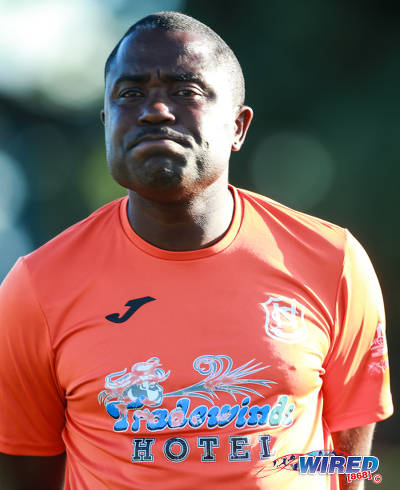 There was a surprise addition to the top half of the table as St Mary's College held St Augustine Secondary 1-1 to move to sixth place. St Augustine are 12th with just a three point cushion from the relegation zone.
San Juan North climbed to fifth with a 4-0 whipping over St Benedict's College, who are now dead last in the 15-team table with just two points to show from seven outings this season.
East Mucurapo Secondary skipped two places to 13th spot with a 3-1 win over ninth placed Pleasantville at Mucurapo Road while QRC dropped to 14th after a 2-1 home defeat against 11th place Fatima College.
The bottom three schools will be relegated.
At Lewis Street, the two San Fernando-based outfits had loftier ambitions, even if Naparima—the SSFL's only title winning school since the Premier Division was launched in 2014—were playing coy.
"Well, you know we are the underdogs," said Eve. "We've lost a lot of players so this is a rebuilding team."
In truth, Naparima still had 11 players from the 18-man squad that clinched their second successive Premier Division title last year while all 14 players used by Eve today tasted top flight schoolboy football last term.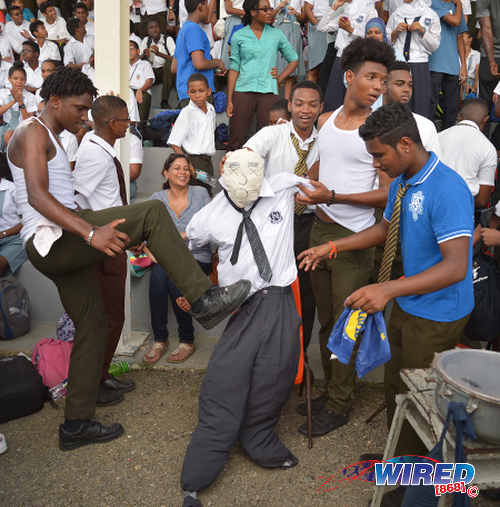 But then 'Naps' have made playing dead to catch corbeau alive into an art form.
For the first hour, Presentation stroked the ball around with poise and looked especially menacing down the right flank with the duo of full back Mylz Barrington and 15-year-old flanker Jordan Riley.
Yet, even as the crosses rained in, there was rarely any sense that the Rondell Payne-marshalled Naparima backline would crack.
In contrast, Presentation could not quite cover their own soft spot.
"I think in the first half, we controlled the majority of the game and we had the majority of the scoring opportunities," said Cooper. "But in the second half, I think we gave up the midfield and they had more time to play and the game was more open. And we had some problems in our left back position where [Darnell Hospedales] was trying to play too cute.
"We spoke to him about it at halftime but he continued to do it and we paid."
Both Naparima goals came in the space behind Hospedales. First, forward Isaiah Lee played a clever ball into the path of right flanker Justin Sadoo, who banged home an angled drive from inside the opposing penalty area.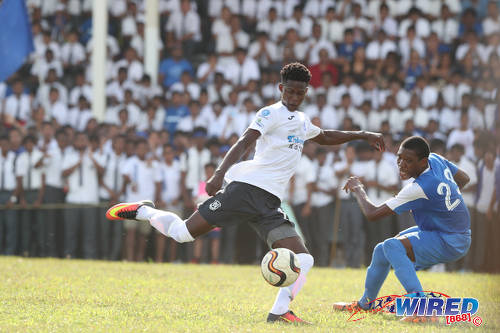 Then, in the 78th minute, Naps skipper Shane Sandy waltzed in off the same flank and slipped a pass behind the defence for Lee, who lifted the ball superbly into the far corner.
If Payne's leadership at the back defined Naparima's resolute style, Lee—a versatile, level headed attacker—was the guy holding the knife and biding his time on top.
His strike against Presentation was his seventh goal already this season. Not bad for a player who, according to Eve, was a left back at St Augustine Secondary last year.
"I saw him when he was playing for North East Stars in the Youth [Pro] League and he was scoring a lot of goals," said Eve. "I couldn't even remember him playing against us last season, although he scored on us from left back…
"He is a Didier Drogba type of player. He can hold up the ball with multiple people on him. And, as you see, he is a tremendous finisher."
At the other end, Cooper might have cursed his own bad luck, as he shuffled his pack in a vain attempt to maximise his team's individual talent.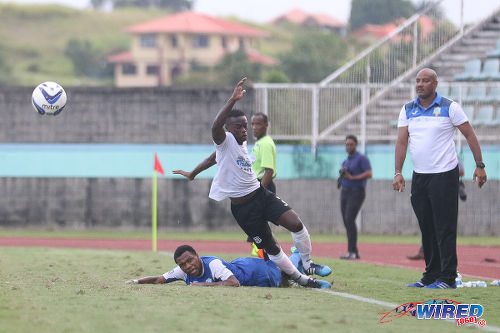 Tricky left winger Jarelle Steadman, also 15, had a slight groin strain and began the game on the bench. So Cooper used his regular centre forward, Jarod Gordon, on the left flank while Trinidad and Tobago National Under-17 attacker Nion Lammy got his first outing of the season on top.
But Gordon looked as lively as a corpse while Lammy seemed claustrophobic inside Naparima's tight back four.
And, when the Presentation's lone incisive attacker, Riley, picked up a slight knock, the visitors were in trouble. Although it was not immediately apparent.
Cooper's right flank was flying in the first half. His left was static at best. And, early in the second half, he switched Riley and Gordon.
"Gordon is a right footer and Jordan had gotten a knock," said Cooper, as he explained the tactical adjustment, "and we wanted to [continue to] work on the [Naparima] left back."
It was an offensive move designed to maintain pressure on Naparima left back Kris Stroud by encouraging the sluggish Gordon to attack on his stronger foot. But then the road to hell is paved with good intentions.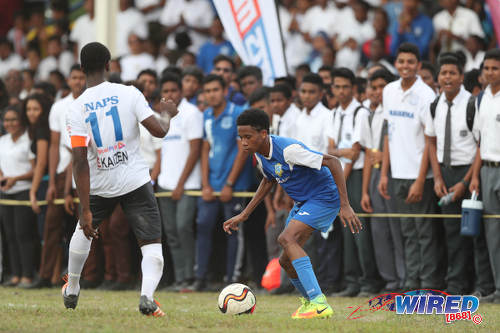 Instead, Gordon struggled and the momentum down the right flank was lost while Hospedales could probably have done with a fully fit partner to help him out. And, as Presentation experimented with their wing combinations, Lee took full advantage of the awkward orientation session.
There was another issue in central midfield that might have concerned the watching Trinidad and Tobago National Under-20 Team coach, Brian Williams.
Tall and blessed with a good passing range and powerful shot, Presentation captain and playmaker Kareem "Enzo" Riley—a national youth player for at least three years—was purring in the first half.
But, once his team fell behind, Enzo never looked like taking the game at the scruff of its neck—admittedly not an easy task against street fighters like Naparima's midfield pairing of Judah St Louis and Sandy.
"[We did] nothing special for [Kareem Riley]," said Eve. "I don't think he is a tremendous player. He can't dribble the ball [and] I think he is basic.
"He has a good shot from the outside but I think once you nullify those things he can't play."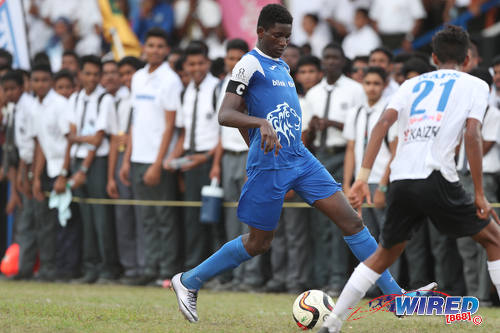 It seemed a slightly harsh assessment, at least because it ignored his organisational qualities, and Riley (K) has plenty of time to prove otherwise—although not this season, as the National Under-20 Team leaves this weekend for a pre-Caribbean Cup training camp in Panama. But one cannot help but feel concerned at the teenager's apparent unwillingness to take responsibility for his team's success at times.
Presentation were trailing by a single goal when Terrell Williams won a free kick for the visitors, just outside Naparima's penalty area.
Riley, despite having a reputation from set pieces, allowed Williams to take it and the latter's shot went straight into the wall.
"Riley, that is your range!" the perplexed Cooper screamed at his captain, from the sidelines. "That is your range!"
Enzo looked sheepish while Williams put a hand up to apologise for somehow overruling his captain.
Two minutes later, Lee doubled Naparima's advantage.
"Pres go home! Pre go home!" the home supporters sang mischievously.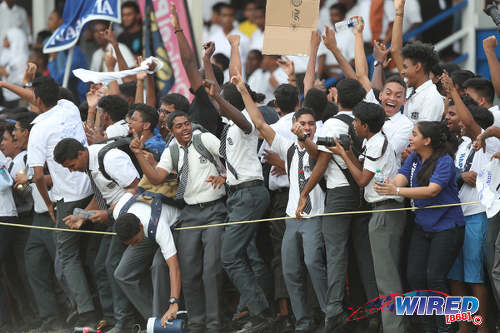 Cooper paid tribute to Eve's "underdogs".
"I think they have a balanced team," said Cooper. "They have a good attacking trio upfront with a lot of experience. In the back, they have Payne and Sandy in front of him.
"So they have strengths coming through the core of their team and a decent keeper who doesn't get much to do because their backline is rigid. That is what you need when you are going to win a title."
Not that Eve is admitting Naparima are title favourites just yet.
How is it, Wired868 asked, that a supposedly weakened team still cannot find space in their first XI for an attacker as talented as former Shiva Boys winger Mark Ramdeen?
"I don't play players just because they have name," said Eve. "They have to prove themselves… He has to learn the way my team plays. The last team he played for [play] a lot of individual football… We play a team game.
"We are very resolute in the back, we are tough to beat in the midfield and then we let the front players express themselves."
Thus far, it has been a successful cocktail. But Eve's assertion set the tone nicely for Naparima's next outing on Saturday, as they host Shiva Boys and the free spirited talents of Tyrel "Pappy" Emmanuel, Quinn Rodney, Ronaldo Edwards and Judah Garcia.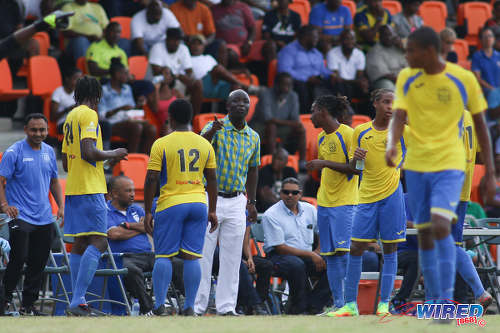 Shiva Boys coach Hayden Ryan will know Eve's modus operandi by now. Whether he can stop it is another story.
(Teams)
Naparima College (4-2-1-3): 1.Levi Fernandez (GK); 4.Aalon Minors, 5.Rondell Payne, 13.Jeron Pantor, 3.Khris Stroud; 11.Shane Sandy (captain), 6.Judah St Louis; 9.Shobal Celestin (23.Renaldo Francois 46); 21.Justin Sadoo (17.Mark Ramdeen 85), 18.Isaiah Lee, 7.Akinola Gregory (18.Ronaldo McIntosh 75).
Unused substitutes: 30.Enrique Changiah (GK), 2.Tyrique Andrews, 8.Nikel Rawlins, 20.Kodel Frontin.
Coach: Angus Eve
Presentation College (4-2-3-1): 28.Jabari Gray (GK); 16.Mylz Barrington, 2.Shirwin Noel, 6.Matthew Joseph, 12.Darnell Hosepedales; 23.Kori Cupid, 8.Terrell Williams (15.Aleem Barclay 79); 11.Jordan Riley (19.Jarelle Steadman 81), 10.Kareem Riley, 13.Jarod Gordon (9.Nathaniel Dyer 81); 7.Nion Lammy.
Unused substitutes: 1.Ishmael Salaam (GK), 5.James Lee Yaw, 14.Omari Baird, 27.Juaval Roberts,
Coach: Shawn Cooper
Referee: Gyasi McDonald
Man of the Match: Isaiah Lee (Naparima)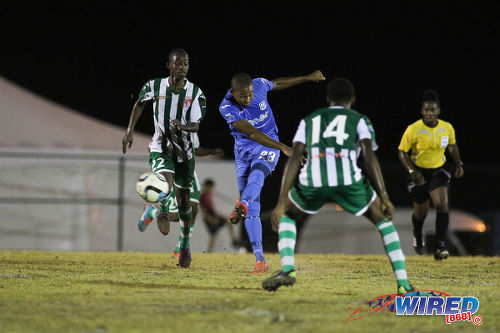 SSFL Premier Division results
(Wednesday 28 September)
San Juan North 4 (Jerome Cyrus 1, Kerdell Sween 2, Tyrell Cameron 5, Miguel Garraway 83), St Benedict's College 0 at Bourg Mulatresse;
St Anthony's College 5 (Kathon St Hillaire 18, Haile Beckles 27, 28, Che Benny 33, Tyrese Bailey 82 pen), Trinity College Moka 0 at Westmoorings;
QRC 1 (Miguel Williams 71), Fatima College 2 (Jahreed Murray 3, Stephon Marcano 61) at QRC;
Fyzabad Secondary 1 (Jabari Graham OG), Shiva Boys HC 2 (Yohannes Richardson 30 pen, Shaquille Williams 90) at Fyzabad;
East Mucurapo 3 (Micah Lansiquot 44, 61, Jessie Williams 81), Pleasantville Secondary 1 (Anfernee Joefield 70) at Fatima College ground;
Naparima College 2 (Justin Sadoo 61, Isaiah Lee 79), Presentation San F'do 0 at Lewis St, San F'do;
St Augustine Secondary 1 (Zion Holder 90), St Mary's College 1 (Trey Lamotte 48) at St Augustine;
Signal Hill are on a bye.
Upcoming SSFL fixtures
(Saturday 1 October) [All kick offs at 3:40pm]
St Anthony's College vs Signal Hill at Westmoorings;
San Juan North vs Fatima College at San Juan;
Fyzabad Secondary vs Trinity College Moka at Fyzabad;
QRC vs Pleasantville Secondary at QRC;
Naparima College vs Shiva Boys HC at Lewis St, San F'do;
East Mucurapo vs St Mary's College at Fatima College grounds;
St Augustine vs Presentation San F'do at St Augustine.
St Benedict's College are on a Bye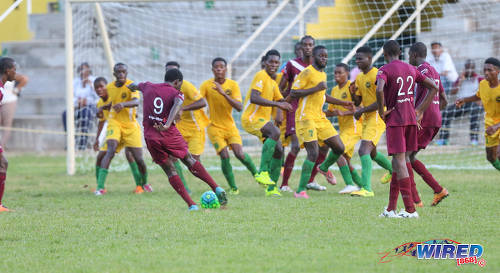 SSFL Premier Division standings
(Tabulated as Played-Won-Drew-Lost-Goals For-Goals Against-Points)
St Anthony's        6-5-1-0-16-5-16
Naparima             6-5-1-0-12-4-16
Shiva Boys HC    7-5-1-1-14-7-16
Presentation SF  7-5-0-2-9-7-15
San Juan North  7-3-1-3-13-10-10
St Mary's               7-2-3-2-8-10-9
Signal Hill            6-2-2-2-6-5-8
Fyzabad Sec         7-2-2-3-12-12-8
Pleasantville        6-2-2-2-8-10-8
Trinity Moka       7-2-1-4-3-11-7
Fatima College   6-2-1-3-9-10-7
St Augustine       7-1-4-2-7-9-7
East Mucurapo  6-1-1-4-7-10-4
QRC                        6-0-2-4-2-6-2
St Benedict's      7-0-2-5-3-12-2