The Trinidad and Tobago Football Association (TTFA) today unveiled Russell "Little Magician" Latapy as the new head coach of the Men's National Under-17 Football Team at a press conference at the Ato Boldon Stadium in Couva.
The Little Magician, who mesmerized adoring Trinbagonians for the better part of two decades, is expected to sign a two-year contract with the TTFA and, perhaps more importantly, he and his technical staff will be paid.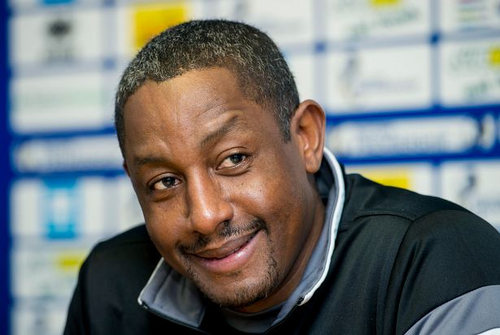 Latapy is still owed monies by the TTFA for stints he had with the senior men's team as assistant coach and head coach between 2009 and 2011. But for now, it appears that Latapy and the TTFA are ready to chart a new way forward.
TTFA president, David John-Williams addressed Latapy and the media:
Russell, despite all you have been through with the TTFA, our discussions have been fruitful. I want to thank you again, not only for applying… you came out on top in the interview… [but also] you did accept the offer.

This new coaching staff will be paid. They are going to sign contracts and I am confident that the new coaching staff will be paid. This coaching staff is not an exception, this is a new dispensation.
According to John-Williams, the new Under-17 coaching staff will be the only national youth staff receiving payment. The two Under-20 coaches have been seconded from their jobs, he explained. The TTFA, short on funding got coaches Brian Williams and Kerry Jamieson from their Petrotrin and Defence Force jobs respectively.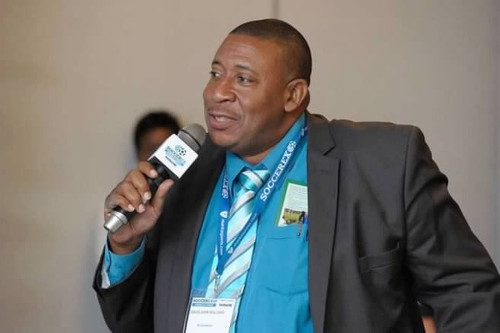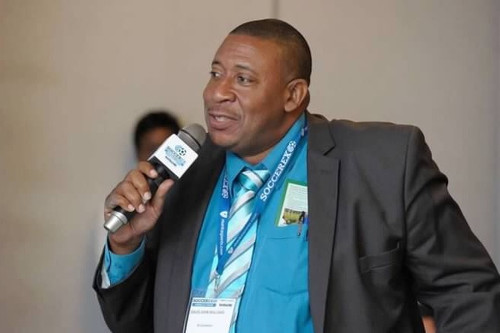 Ironically, the erstwhile Under-17 coach, Ken Elie, previously told Wired868 that he had not seen a paycheck while he was at the helm of the young squad, and on 19 June he told his technical staff he would only return to training when he got some correspondence from the TTFA on his contractual situation.
Elie then claimed that he was relieved of his duties during a phone conversation with team manager Alexandrine Elliott-Procope the following month. However, today, John-Williams told the press that he has not yet seen any contractual document relating to Elie.
"We don't have any particular arrangement with the previous administration as it relates to Ken Elie. I have seen no documentation or anything of the sort," said John-Williams.
Wired868 asked the TTFA president if the former Under-17 coach was working voluntarily.
"Well, I will have to assume so. He said that he has a letter of appointment. I haven't seen that, he hasn't presented it to the TTFA and that's what I have to move on," said John-Williams.
Latapy's technical staff includes former national player Reynold Carrington as an assistant coach, Nigel Neverson as goalkeeper coach and Otis Hislop as team physiotherapist. The duo of Kyle Small and Duane Richardson, both of whom acted as interim coaches in the absence of a head coach, will only be retained for the Caribbean Football Union (CFU) tournament which runs from 16 to 25 September.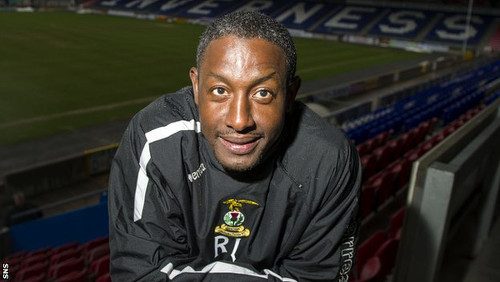 "The tournament is about a month away, I want to go on the public record to thank the staff that had been working with the team voluntarily for about a year now," John-Williams said. "And it's indeed an honour for me to thank you for the support you have given to the national programme."
Latapy's first official training session will be held at the Hasely Crawford Stadium on Monday, and the man who had a lively cameo in the twilight of his career at the FIFA 2006 World Cup is eager to impart his knowledge on the next generation of footballers.
"This is a perfect opportunity for the Association and myself in working with the younger players and passing on some of the tricks of the trade in professional football and international football that I've gained over the years," said Latapy.
I had an opportunity to look at the players and it stresses the feeling that I have that we've always had very talented young players in this country. One of the problems we've had in the past is these young players [are not] getting guidance from an early age. I am here with the Association to try and provide the guidance and opportunity for some of these young players to move forward in football and have a career in football.
One of the youngsters hoping to soak up every iota of knowledge from Latapy is playmaker and Under-17 captain John-Paul Rochford, whose older brother Jean-Luc Rochford represented Trinidad and Tobago at two previous youth World Cups.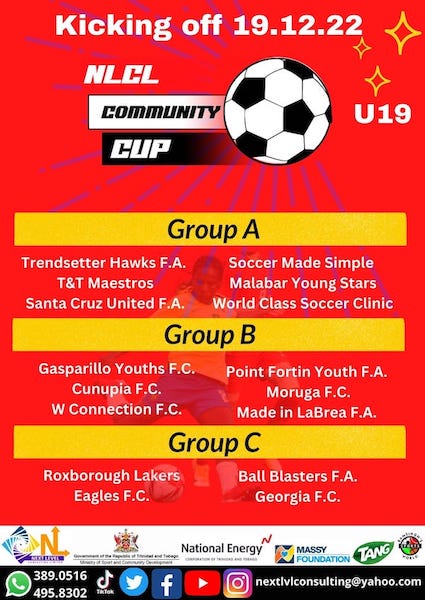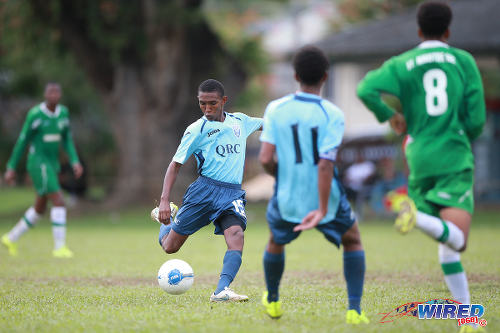 The Under-17 team will not be the only group of youngsters benefitting from the Little Magician's tricks. John-Williams explained that as a UEFA Pro Licence-holder Latapy  can also help develop coaching courses and the TTFA mean to make use of this in other youth programmes with a special interest in training at the  grassroots level.
"I just want to add that Russell will go beyond the Under-17 coach as we will have him as a staff coach in the youth program, so we can move along especially in the grassroots program," said John-Williams. "He said he is also willing to undertake coaching courses within the schools and so on as part of the initiative of the TTFA because we know Russell has a UEFA Pro Licence."
Latapy's appointment as a staff coach in the youth program means that he would be able to transition to other youth teams after the impending Under-17 campaign, if the TTFA so desires.
"We have now settled down as an administration in terms of the football side of what we want to do with the development program," said the TTFA president. "And I'm sure Russell, and the technical director and technical committee and of course coach Hart will be able to chart the way forward for Trinidad and Tobago football."
The TTFA also supposedly found its way back in FIFA's good books, as John-Williams disclosed that FIFA will resume its Financial Assistance Programme (FAP) funding to the local football body after the subvention was frozen under the Raymond Tim Kee-led TTFA administration last year.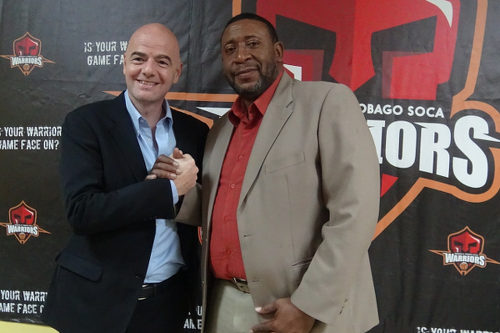 John-Williams feels the TTFA is heading in the right direction. "We have just been recently passed with our members for our financial statements for 2014 and 2015. And, might I add, audited financial statements."
Young John-Paul Rochford is enthusiastic about his coach and takes his responsibilities seriously:
I myself am very excited to work with him because when I was younger I would hear his name all over the news, radio, I admired him as a player. He played on the national senior team at our age and I myself would love to have that experience… Yes, there is a lot of pressure because I am the one the coaches chose to lead the team into the tournament.
The full Men's Under-17 technical staff is as follows: Russell Latapy (Head Coach), Reynold Carrington (Assistant Coach), Kyle Small (Assistant Coach), Duane Richardson (Assistant Coach), Nigel Neverson (Goalkeeper Coach), Otis Hislop (Physiotherapist), Alexandrine Elliott-Procope (Manager), Devin Elcock (Equipment Manager).