Twenty-year-old Trinidad and Tobago rising star Machel Cedenio broke a national 400 metre record last night that was set, four years before he was born, by Ian Morris at the Barcelona 1992 Olympic Games.
But it was not enough to get him on the podium after an extraordinary race in which 24-year-old South Africa sprinter Wayde Van Niekerk not only won gold but smashed Michael Johnson's 17-year world record and made a phenomenal athlete like Grenada's Kirani James look as though he was running in quicksand.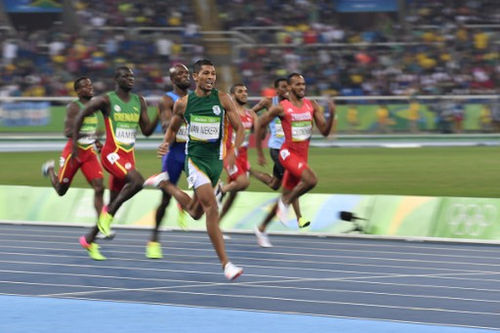 Forget the drug testers, somebody should check for wheels below Van Niekerk's running shoes!
The South African wonder boy had to share the spotlight with Jamaican living legend Usain Bolt, as the charismatic man-mountain also created history by being the first sprinter ever to win three 100 metre gold medals.
His compatriot, Shelly-Ann Fraser-Pryce, could have beat him to that distinction but finished behind another Jamaican, Elaine Thompson, in the women's 100 metre final on Saturday.
No doubt, American Justin Gatlin, a former drug cheat who is about as popular as Zika in Rio, hoped to spoil Bolt's moment. And, for about 80 metres, Gatlin looked like spoiling a wonderful tale—like that annoying pop-up ad offering male enhancement drugs.
But Bolt was not to be distracted, as he went up a gear in thrilling fashion. And, in the end, Gatlin did well to hang on to silver as nashy Canadian Andre De Grasse appeared to be running in the Jamaican's slipstream.
Mr Live Wire is assuming that De Grasse paid taxi fare for his short drop on the way to that bronze. Incidentally, De Grasse is part-Caribbean himself. His mother, Beverley De Grasse, was a sprinter at secondary school level in Trinidad and Tobago before she moved to Canada at 26 while his father, Alex Waithe, moved from Barbados to Canada as a teenager.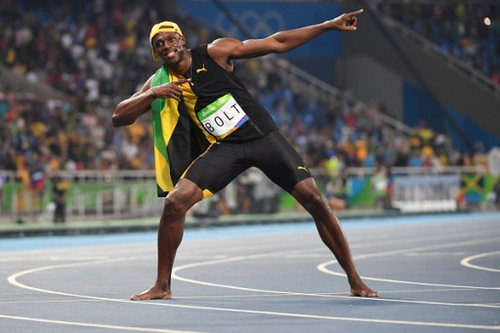 So far, Bolt, Thompson and bronze medalist Fraser-Pryce are Jamaica's only medalists in Rio. And if one needed any more proof that Jamaica's presence has not quite been synonymous with irreproachable excellence at this Olympics, look no further than ESPN commentator and former Olympic silver medalist, Grace Jackson.
Jackson's commentary—which threw up pearls like "Kim Collins got there on merit" and "I can assure you that these competitors will be trying their best"—was such a meaningless mishmash of empty words that if she said "my esteemed and wonderful leader, Kamla" she would be a dead ringer for MP Suruj Rambachan.
In contrast, the Trinidad and Tobago Olympic Committee's (TTOC) insightful chef de Mission, Dr Ian Hypolite, was such an unqualified success in the studio that ex-football star Shaka Hislop—another accomplished analyst—better hope ESPN is willing to pay for more than one Trinidad and Tobago accent when the next athletic championships comes around.
Of course, the TTOC's affairs must be running very smoothly indeed for Hypolite to have so much free time away from whatever it is that chef de Missions are supposed to do at major tournaments.
But Mr Live Wire won't look a gift horse in the mouth at a tournament in which the two island republic has so far struggled to match previous glories.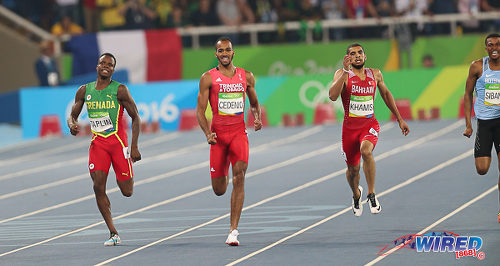 In Cedenio, we have a reason to get excited about Tokyo 2020, though.
The Trini's upright running style is reminiscent of that great American, Johnson, and he offered up another wonderful cocktail of power, athleticism and timing last night.
The problem is there is a kid now capable of—gulp!—putting even Michael Johnson in the shade.
Van Niekerk probably didn't realise that he shared the track with reigning Olympic champion, James, and former World Championships gold medalist LaShawn Merritt until after he crossed the finish line.
The boy from Cape Town—and there is probably a 'S' on that cape—was only really competing with the clock. And time wasn't the only thing that was flying in Rio.
Van Niekerk is the first athlete to ever run 100m in under 10 seconds, the 200m in under 20 seconds and the 400m under 44 seconds. But he will not have a 200 metre showdown with Bolt, as he is not registered to run.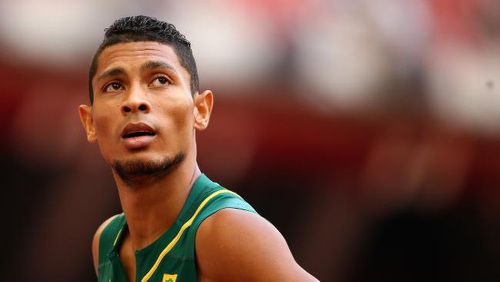 Bolt's best time in the 200 metre event is 19.19 while Van Niekerk has never gone faster than 19.94. So the Jamaican probably would not have been too worried about completing his double anyway. But, at this rate, it will be the South African—rather than Bolt's teammate and declared successor, Yohan Blake—who will become the new face of track after the great Jamaican's expected retirement.
Much has been said of Gatlin's tainted past as a drug cheat. But Cedenio was also denied a medal last night by a former dope boy.
Merritt, who finished third in the 400 metre final, tested positive for an anabolic steroid twice in 2009 and once in 2010. The American received a 21-month ban but managed to avoid the maximum penalty after he claimed to have unwittingly taken the substance while using an over-the-counter penis enlargement product.
"I hope my sponsors, family, friends and the sport itself will forgive me for making such a foolish, immature and egotistical mistake. Any penalty that I may receive for my action will not overshadow the embarrassment and humiliation that I feel inside."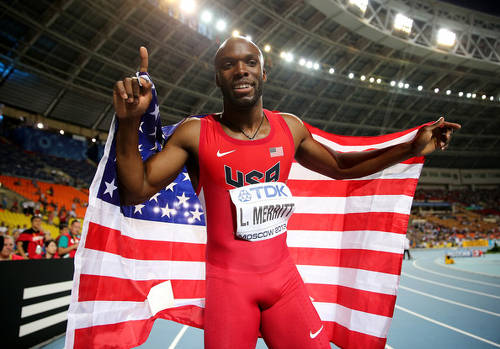 The relevant authorities probably listened to a muscular young Afro-American male claiming to be embarrassed by the size of his cookalooks and said: "Okay, we will let you go on account of originality, willingness to drastically narrow your chances of scoring with the opposite sex and, at the same time, making us old white men feel better about ourselves."
Machel boi, a bronze medal ent worth that nah.
Trinidad and Tobago's 2016 Olympic campaign continues today with action in the women's 200 metre and 400 metre hurdle events and the men's 110 metre and 400 metre hurdles.
Young prince Jehue Gordon, the 2013 World Championships gold medalist, competes first from 9.30am.
After emphatic showings from "Lightening Bolt" and the "Capetown Crusader", a positive performance from "Flash Gordon" is bound to cheer up a nation of couch surfers.