Much like their rivals Central FC had done 24 hours earlier, DIRECTV W Connection failed to make a positive start to their 2016/17 Scotiabank CONCACAF Champions League campaign as they succumbed to a 4-2 defeat to Pumas UNAM at the Ato Boldon Stadium in Couva last night.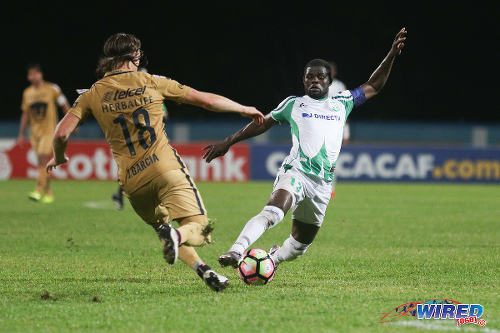 Both Couva clubs must now take the long and hard road if they want Champions League success as they will have to find a way to top their three-team groups despite faltering on home soil.
Connection, who are now without the services of the dynamic attacking duo of Jomal Williams and Shahdon Winchester, both of whom were transferred to Mexican second division team Murciélagos FC, gave a Champions League debut to 16 year-old Naparima College attacker Isaiah Hudson.
On Tuesday, 15 year-old Vancouver Whitecaps attacker Alphonso Davies offered a bright cameo off the bench against Central, and maybe Savonetta Boys coach Stuart Charles-Fevrier was expecting Hudson to have the same sort of impact from the start.
But it would not be a dream night for Hudson or his teammates, as the Mexicans looked at home for much of the contest and never gave the hosts a sniff of the lead. Pumas custodian Alfredo Saldivar certainly wasn't shy in showing his comfort in the Couva setting as he positioned himself in a sweeping role almost immediately after the first whistle.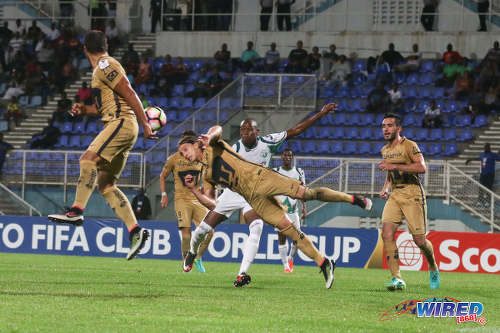 Saldivar and his Pumas team were soon rejoicing as defender Luis Quintana conjured up an expert volley to give the visitors the lead after only ten minutes. Pumas' first goal came from a corner kick which Connection failed to clear.
A bit of miscommunication saw Gerard Williams head a cross ball straight out of goalkeeper Julani Archibald's grasp. It wouldn't be the last mix up that the pair would have.
"We made some silly errors both offensively and defensively and we missed some clear-cut goal scoring opportunities," Charles-Fevrier said at the post game conference. "And we conceded at least two soft goals out of the four."
Pumas' early goal helped them to settle in quickly and they started to move the ball around smoothly on the slick Ato Boldon outfield. Connection aided the visitors' cause too as they dropped off inside their own half and invited the visitors to play through and around them.
"I thought as well that we could have pressed a little more, the legs weren't there," Charles-Fevrier said.
When Connection did nick the ball away in their defensive third, the transition into attack was far from perfect as there were few sharp, off-the-ball runs being made. This led to over-hit long passes or solo runs from deep areas. Connection defenders Kurt Frederick and Jelani Peters both had valiant solo efforts in the first half but Saldivar was not too disturbed between the uprights.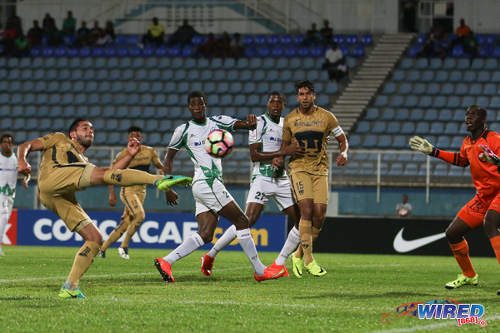 "They have a lot of intensity. They are home, they want to play [the ball on the ground] but my team didn't let them," Pumas coach Francisco Palencia said. "We put some really good pressure on them and we made them play long balls."
Despite not creating many clear cut chances in the first half, Connection found themselves back on level terms just before the halftime whistle as captain Hughtun Hector curled in a delightful free kick from 25 yards to beat the Pumas goalkeeper. Frederick served as a nuisance to the Pumas wall prior to the dead ball, and his skipper obliged with a sweet right-footer.
But the 2016 CFU runners-up were also on the receiving end of a gem, as wingback Josecarlos Van Rankin unleashed a 32-yard rocket to restore Pumas' lead in the 57th minute. Connection then had a glorious opportunity to draw level five minutes later, but speed merchant Neil Benjamin Jr shot straight at Saldivar in a one-on-one opportunity mere seconds after entering the field of play.
"I would say we created at least five goal scoring opportunities. Those we missed were too simple, we should have at least scored two out of the three we missed," Charles-Fevrier said. "And those were critical moments of the game."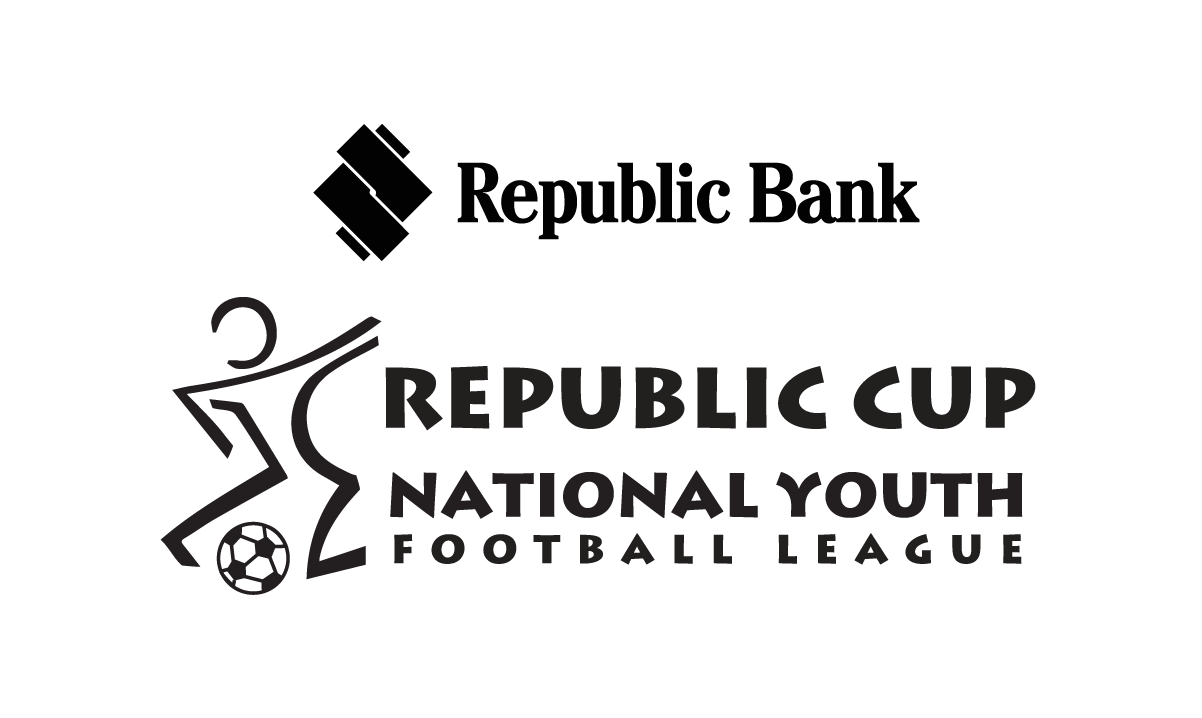 The Connection coach was left cursing his luck in the 73rd minute as Alfonso Nieto put Pumas up by a 3-1 margin after a swift break down the left flank by wing back Orlando Pineda. Stand-in right-back Anselm Jackson, who was deputizing for the suspended Alvin Jones was the culpable man on this occasion as he allowed Pineda to waltz past him in the penalty area.
Connection continued to shoot themselves in the foot on the offensive end too as substitutes Jamal Charles and Benjamin Jr missed presentable opportunities within five minutes of Nieto's item.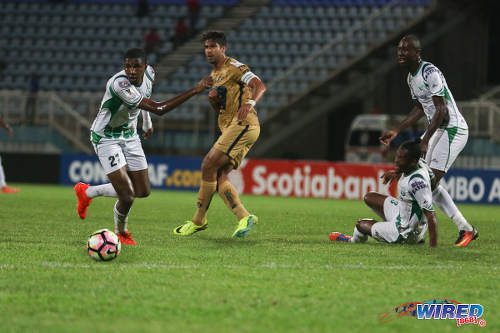 A well-taken 84th minute goal by Jamal Charles turned out to be a consolation as the Connection rearguard produced a comical piece of work to gift Omar Islas with a goal deep into stoppage time. Again Pumas raided down the left flank, but the Savonetta Boys seemed to have things under control when Islas scuffed his effort. However, Williams slipped when he was about to clear and the fallen Archibald was hapless as he watched the ball slowly trickle over the goal line.
The majority of the 1,000-plus crowd headed for the exits in disbelief and Charles-Fevrier was not inclined to see the comical side of things; he was quite distraught that his team came away from the encounter pointless. And he did not play the "We're in preseason" card either. In fact, he saw way beyond the 4-2 loss.
"For me we cannot have any excuses. We lost. Yes we are not in season but it's not an excuse," Charles-Fevrier said. "We knew that long time, we have to do our jobs. Tonight, we did not do our jobs. I don't think anybody who watched the game could say that the team played badly, but in the critical moments we failed. And that cost us the game."
Charles-Fevrier then touched on some of burning issues affecting the growth of professional football in Trinidad and Tobago.
I'm hearing calls to go back to amateur football, and in my opinion, anytime we go back to amateur football we might as well kiss football goodbye because there's no room for amateurism in modern sport, everything is professional. We have to try and find a way to maintain professional football in the country.

Our players still lack that professionalism… individual and collectively. We lost this game today and part of it was because they [the Pumas] were more professional: that attitude, that application, in terms of how they do things. It's not that they are better, there is a difference. They are more efficient.

We have to find a way to make them realize that they're professionals because I don't think they see themselves as professionals as I would like… they feel to be a professional they have to go to England or Germany… Even if the salary they are getting is the same, once they are in England they feel they are professionals. It's not about the money, it's psychological. And that is the problem.
Charles-Fevrier and his team will have three weeks to regroup as Connection's next game will be on August 25 against 2015 Honduran Apertura champions Hoduras Progreso at the same Couva venue. The St Lucian coach will certainly be looking for a happier ending when the Hondurans come knocking.
(Teams)
DIRECTV W Connection (4-2-3-1): 18.Julani Archibald (GK); 12.Anselm Jackson (43.Shirvone Malik St Prix 77), 25.Daneil Cyrus, 27.Jelani Peters, 2.Kurt Frederick; 3.Gerard Williams, 8.Briel Thomas; 32.Isaiah Hudson (11.Neil Benjamin Jr 62), 13.Hughtun Hector (captain), 10.Dimitrie Apai; 14.Andre Toussaint (20.Jamal Charles 63).
Unused Substitutes: 1.Terrence Lewis (GK), 4.Maurice Ford, 23.Kevon Goddard, 35.Jesus Perez.
Coach: Stuart Charles-Fevrier
Pumas UNAM (4-3-3): 13.Alfredo Saldivar (GK); 2.Josecarlos Van Rankin, 19.Luis Quintana, 18.Jose Antonio Garcia, 12.Orlando Pineda; 23.Alfonso Nieto (29.Alan Acosta 78), 6 Kevin Escamilla, 14.Jorge Escamilla (24.Diego Barron 58); 27.Amar Islas 15.Eduardo Herrera (captain) (28.Andres Iniestra 71), 17.Jesus Gallardo.
Unused Substitutes: 22.Bernabe Magana (GK), 25.David Martinez, 26.Alan Mozo, 30.L Felipe Campos.
Coach: Francisco Palencia
Referee: Adrian Andrew Skeete (Barbados)
CONCACAF Champions League Results
(Wednesday 3 August 2016, Ato Boldon Stadium)
DIRECTV W Connection 2 (Hughtun Hector 44, Jamal Charles 84)
Pumas UNAM 4 (Luis Quintana 10, Josecarlos Van Rankin 57, Alfonso Nieto 73, Omar Islas 90+5)
(Tuesday 2 August, Ato Boldon Stadium)
Central FC 0, Vancouver Whitecaps 1 (Cristian Techera 34)