Call Crown Trace FC: "The Alphabet Boys." The Chaguanas-based outfit made a memorable debut in the East Zone Under-16 Division yesterday afternoon, as they 'walked thru' with a 3-0 win over FC Santa Rosa in Republic Bank National Youth League (NYL) action yesterday at the Constantine Park in Macoya.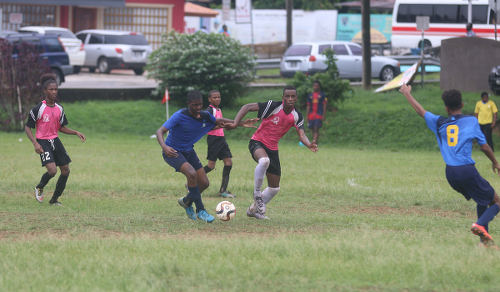 "There are limited under-16 teams in Central," Crown Trace coach Nicholas Griffith told Wired868, "so they pooled us with the East teams."
Maybe nobody in Central wanted to play them. Theirs was the crowning performance of an enthusiastic day's football in Macoya, as the zone's top teams began to lift their heads above the crowd in the truncated competition.
Santa Rosa might have a tough afternoon in the under-16 division. But, at Under-14 level, the little "Big Cannons" remained at the helm with an emphatic 5-1 win over Pinto United SC.
Mikel St Martin grabbed a double for Santa Rosa, who scored three goals in the final three minutes through Isaiah Richardson, Nathaniel James and Keyel James.

Richardson, who scored Santa Rosa's winner over Adrenaline FA last week, has scored in each of the two rounds for his club.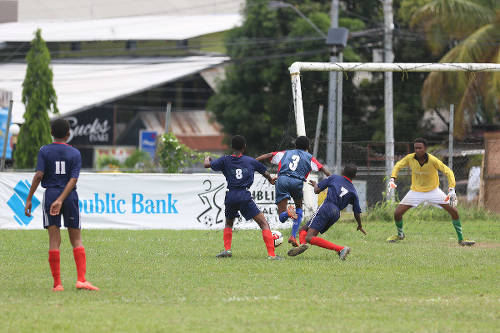 There was more heartache for Adrenaline yesterday against San Juan Jabloteh, as the boys from Bourg Mulatresse maintained their 100 percent record in this division.
Adrenaline were tardy and the Jabloteh starting team spent over 20 minutes in the drizzle, knocking the ball around, as they waited for their opponent.
Pint-sized attacker Kaihim Thomas avenged Jabloteh with the winner, three minutes before halftime, as he followed up on a firm shot from DeShaun Strong, which was parried by Adrenaline goalkeeper Daniel Warner.
It was enough to keep Jabloteh ahead of Santa Rosa on goal difference, after two games. Although, with Jaheim Marshall humming in central midfielder, coach Anthony "Dada" Wickham's troops should surely have managed a more comfortable result.
In the Under-12 Division, Malabar Young Stars showed their promise, as they peppered the Pinto United goal before easing to a 3-0 win.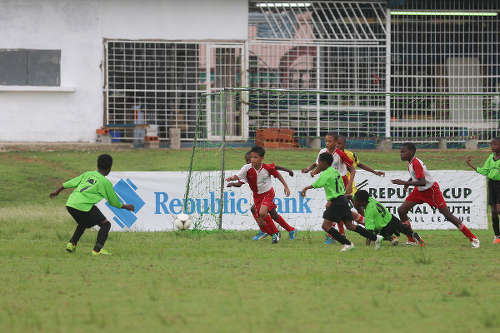 "We played our game in the second half," said Malabar YS coach Yunus Abdullah. "But the first half we were not looking good, even though we were up."
Tayshaun Cummings put Malabar ahead in the fifth minute. But it was not until the second half that they got an insurance item, courtesy of a crisp strike from the edge of the area by Ryan Castillo.
And Jemaul Ashing rounded off the score summary with a 37th minute strike in the 40-minute contest.
Spare a thought for chubby Pinto custodian Donnell Thomas, who was arguably the outstanding player on the field, and his brave defender, Sherwin John, who resisted the Malabar attack for as long as they could.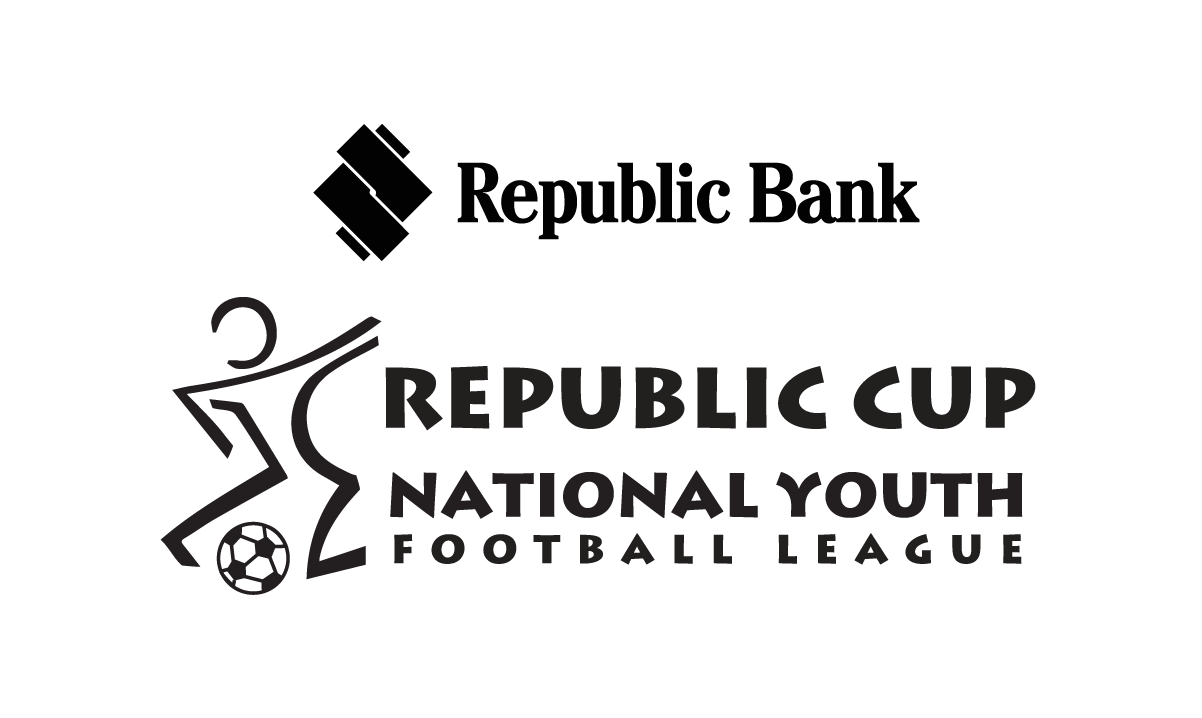 "This weekend it's like: Wow, I don't know what to say," said Pinto coach Dexter Hoyte. "The children just were not in their game. But it does happen. It does happen.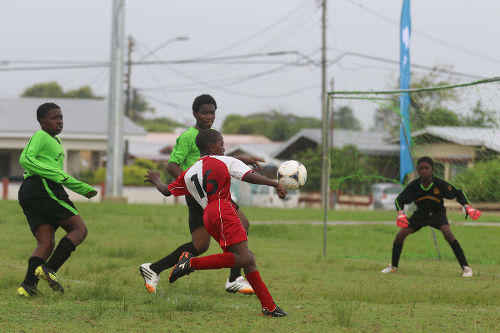 "I wasn't afraid of [Malabar]. We were supposed to beat them because we beat them in the under-13 [competition] in the Arima League…
"But I must say hats off to my keeper. Wow. He real save."
Abdullah took the Malabar Under-12s to the verge of a knockout spot last year. This season, with Ashing buzzing on the offensive end, he hopes his Young Stars have the quality to go a step further.
"We had a bit more experience," said Abdullah. "Our players are young but they have a lot of experience. This is our competition…
"[I want to get] out of the East Zone [and into the semifinal round] for the least. And hopefully take the title."
Crown Trace coach, Griffith, was happy to share his dream of a trophy too, albeit just one game into the season.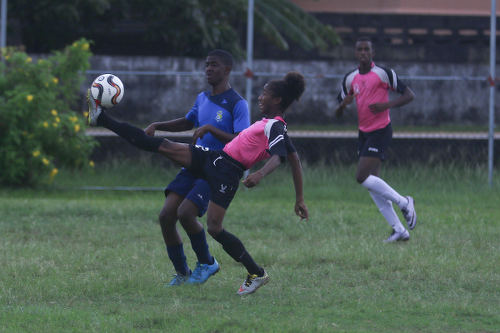 Their clash with Santa Rosa demonstrated decent ball movement and compactness from both sides. But Crown Trace, with Trinidad and Tobago National Under-17 attacker Jevaughn Humphrey always involved, had too much quality.
"I think we played good football," said Griffith, who shot to prominence two years ago when he won a FIFA award for social work. "They practised it but I didn't expect them to be so consistent. Because you know kids—you give them a plan and they tend to stray sometimes.
"But I think we played a better brand of football today and I was pleased with it, so we come away with the victory."
The towering Humphrey got around his opposing full back and crossed for Kemuel Hagley to dart in off the right flank to convert, in only the fifth minute. The young "Soca Warriors" midfielder then doubled Crown Trace's advantage, midway through the first half.
And, for all Santa Rosa's gusto, they could not claw their way back into the match.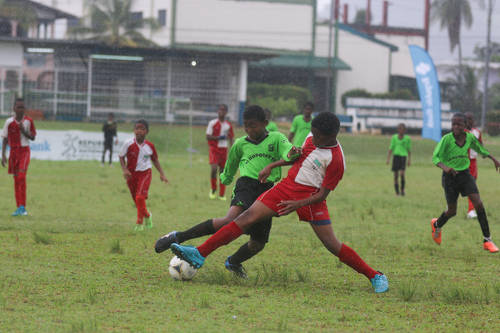 "The first goal was a little mistake," said Santa Rosa coach Moses Pierre. "We did much better in the second half but were just unable to score."
Humphrey was too much for Rosa, though, as he clipped the bar off another mazy dribble in the second half, before a strike by Crown Trace midfielder Johnathon Richards extinguished any hope their opponents may have had for a comeback.
"Usually in practice, we tell them to keep control of the ball," said Pierre. "Today wasn't like that. As it was a little wet, we were just hitting [the ball forward] and losing it…
"The development of the fellahs from where they were to where they are today is a big improvement. But competition is different to the development. We are trying our best."
Crown Trace are on the trail of higher honours. The Central Zone outfit has been training for three days a week since March, as they prepare for the Disney Cup International tournament in Orlando, Florida.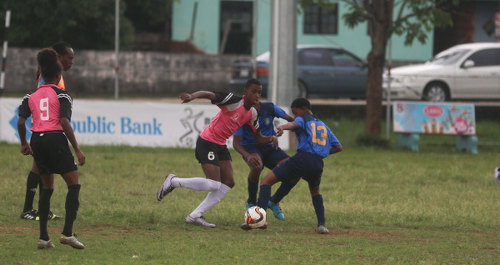 Griffith led Crown Trace to the Under-19 title last season, which was a maiden honour for a local club. They will participate in the Under-16 Division there this time.
"From March, we started training for the Orlando tournament," said Griffith. "They have been very passionately and consistently training three times a week."
The late start of the Republic Bank youth tournament means Crown Trace might be forced to choose between the two competitions at some stage. Naturally, the players are excited at the prospect of an overseas adventure.
"If we move on [to the knockout round], we might miss [Republic Bank games]," said Griffith. "I don't know if Mr [Richard] Piper might give us some leniency as we are a defending Disney champion."
Griffith laughed as he said it. Yesterday's performance was enough to put any coach in a good mood.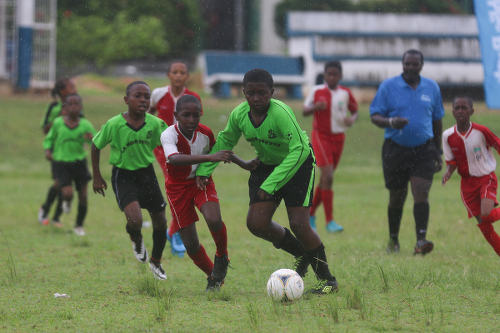 Republic Bank National Youth League
Saturday June 11
(East Zone Under-12)
San Juan Jabloteh 1 (Tyrell Stapleton 25), La Horquetta XF 1 (Jadon Clarke 35);
Malabar Young Stars 3 (Tayshaun Cummings 5, Ryan Castillo 33, Jemaul Ashing 37), Pinto United SC 0;
Trincity Nationals 1 (Jovonn Gomes 9), Adrenaline FA 1 (Raul Garcia 29);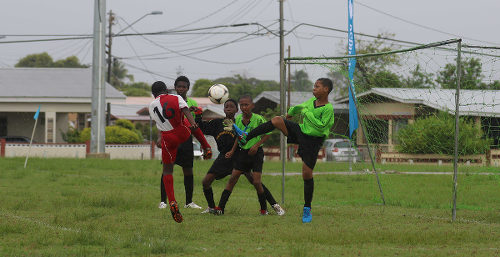 (East Zone Under-14)
FC Santa Rosa 5 (Mikel St Martin 11, 45, Isaiah Richardson 38, Nathaniel James 50, Keyel James 50), Pinto United SC 1 (Anthony Samuel 34);
Adrenaline FA 0, San Juan Jabloteh 1 (Kaihim Thomas 17);
(East Zone Under-16)
Crown Trace 3 (Kemuel Hagley 5, Jevaughn Humphrey 19, Johnathon Richards 48), FC Santa Rosa 0;
Malabar Young Stars 4 (Jorel Grant 8, Jahmali Clarke 22, Brandon Bobb 37, Aliston Lewis 47), Mafeking United FC 0.