International hockey returned to Trinidad and Tobago yesterday after a five year hiatus, as the Women's 2016 Junior Pan American Championship flicked off at the National Hockey Centre in Tacarigua.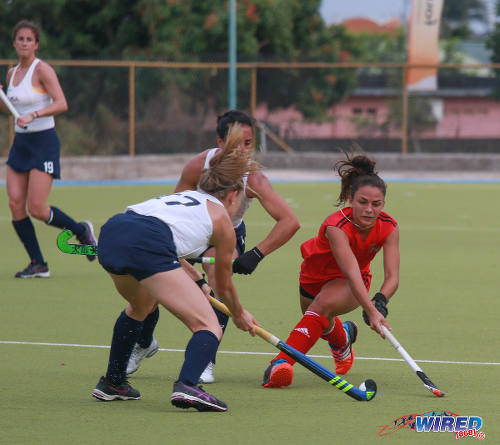 It was a mixed day for local hockey enthusiasts though, as United States attacker Gabrielle Major grabbed a hattrick in a 10-0 mauling of the Trinidad and Tobago Women's National Under-21 Team.
The good news is it is unlikely to be that tough again for the local "Stickwomen."
"Realistically, I am looking at a fifth or sixth place (finish)," team administrator Cindy Martin-Faustin told Wired868. "I think we have a good chance against Mexico and we can fight up with Uruguay and Canada. I think we should be successful if we meet Barbados (in the next round) as well."
The United States women's programme is ranked seventh in the world while Canada and Mexico, who are also in Group B with Trinidad and Tobago, are 19th and 34th respectively.

The host nation are ranked 30th in the world by the Federation of International Hockey (FIH) while, as always, the Pan American favourites are the FIH's second ranked team, Argentina, who lead Group A.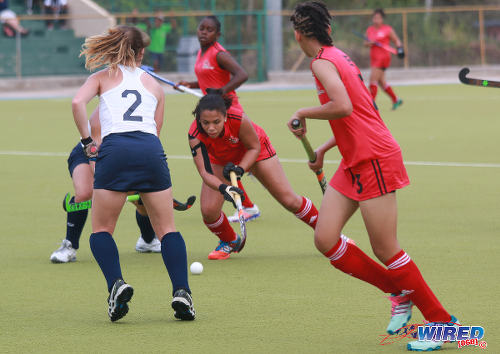 The rankings are just a rough guide, though, as most of the Trinidad and Tobago team only made their competitive international debuts yesterday.
Martin-Faustin said the team started preparing about nine months ago. Finances are a traditional issue for national hockey teams, though, and tours are extremely rare.
So coach Brian Garcia, a former England-based player, made do with games against local teams up until the last fortnight.
"We didn't do any international warm up games," said Martin-Faustin. "But we played against the (Trinidad and Tobago) Under-21 men's team, the national women and some President's XI teams. Chile came early and we got a few games against them too."
The 2016 Pan American Under-21 tournament is seen as a rallying cry for the local sport and a means of exposing hockey to the wider Trinidad and Tobago public.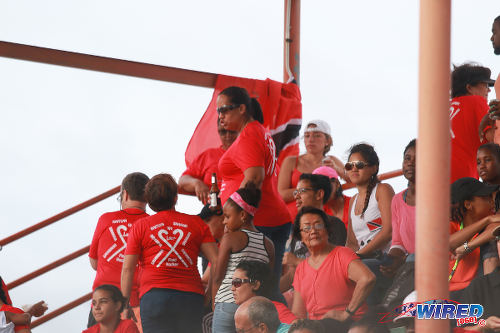 The competition, according to Martin-Faustin, cost roughly TT$1 million to host. The Ministry of Sport contributed TT$400,000 and there was assistance too from the TDC while the rest came from the private sector and, in particular, bMobile, Maxx Gear, Blue Waters, Nescafe and First Citizens Bank.
There were just over 200 patrons at the Tacarigua venue yesterday and the Trinidad and Tobago Hockey Board (TTHB) hopes for even more supporters on the weekend.
"This is one way to bring hockey here and expose our younger players (to international competition)," said Martin-Faustin, "and also give the girls the chance to play international hockey in front of the local public.
"Hockey is not a major sport in Trinidad but, for every team here, it is a major sport where they are from. In fact, our entire country's population is probably the size of the hockey fraternity in Argentina."
Argentina opened the competition with a 3-0 win over South American rivals, Uruguay, while Chile spanked Barbados 7-0 and Canada ran away 4-0 winners against Mexico. It meant that the hosts received the most uncharitable treatment of Day One.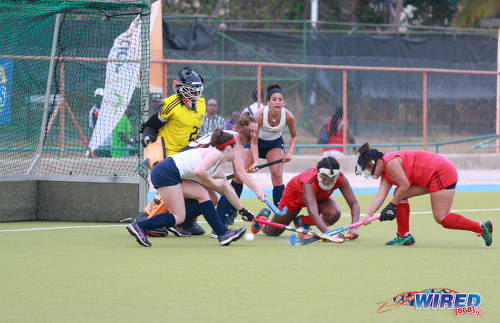 Major made sure of that with a display of ruthless finishing in Tacarigua.
Trinidad and Tobago started brightly enough and matched the energy levels of their North American guests for the opening 12 minutes. But, once skilful ball handler Julianna Tornetta put the US ahead, the ladies in red lost their way and got their first harsh lesson in international sport.
Major spearheaded the invasion with a hattrick while Erin Matson got a double and there were four other US scorers.
"You could see the heads dropping but it is their first game," said Martin-Faustin. "They will come back out fighting. They know what is expected of them from the board and the rest of Trinidad and Tobago."
Even amidst the fierce whipping, there was a diamond in the rough for the hosts in the form national captain Kayla Brathwaite.
She wears number 10, plays central midfield and dribbles opponents two at a time. What's not to like?
The Americans were forced to use systematic fouling to curb Brathwaite's menace while Matson was shown a green card, midway through the second half, for chopping down the Trinidad and Tobago skipper in full flight.
Otherwise, Brathwaite's midfield collaborator, Brianna Govia, did not look out of place while—when not rattled by an intense US press—there were signs of quality from the likes of Kristin Abreu, Stephanie Whiteman, Felicia King and Saarah and Samantha Olton.
Martin-Faustin vowed that coach Garcia and sport psychologist Amanda Johnson—who was made available to the squad by the Sport Ministry—will have the junior women ready for action by Saturday when they face Barbados at 4 pm.
"Sometimes the hardest thing can be to debut on your home soil," she said. "You have all your friends and so on to impress and the social media can be very wicked. But the coach and manager will have them psyched and we should be ready for the game on Saturday.
"The fans who come out will see a very hard, fighting team. They will see young girls fighting for their country with their heart and soul."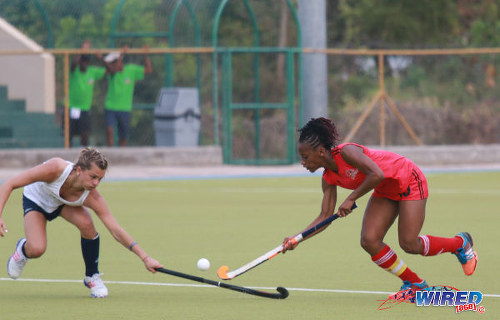 And, of course, there should be more silky stickplay from Brathwaite to appreciate.
(Team)
Trinidad and Tobago: 1.Kayla-Marie Escayg (GK), 2.Stephanie Smith (GK), 3.Chelsea Dey, 4.Shaniah de Freitas, 5.Kristin Abreu, 6.Cyan Lue Sue, 7.Felicia King, 8.Brianna Govia, 10.Kayla Brathwaite (captain), 11.Stephanie Whiteman, 13.Lisa Benjamin, 14.Daniella Martin, 17.Jessica Lee, 18.Amanda Tang Nian, 19.Samantha Olton, 20.Kherdine Gonzales, 23.Savannah de Freitas, 25.Saarah Olton.
Coach: Brian Garcia
2016 Women's Junior Pan American Championship
(Thursday March 31)
United States 10 (Gabrielle Major 14, 28 pen cor, 67, Erin Matson 15, 65 pen cor, Julianna Tornetta 13, Nicole Woods 29, Tara Vittese 43, Ashley Hoffman 48, Lauren Moyer 57), Trinidad and Tobago 0, Group B;
Canada 4, Mexico 0, Group B;
Argentina 3, Uruguay 0, Group A;
Chile 7, Barbados 0, Group A;
Upcoming fixtures
(Saturday April 2)
Uruguay v Barbados, 10 am, Group A;
Argentina v Chile, 12 pm, Group A;
Canada v United States, 2 pm, Group B;
Trinidad and Tobago v Mexico, 4 pm, Group B;
(Sunday April 3)
Argentina v Barbados, 10 am, Group A;
Uruguay v Chile, 12 pm, Group A;
United States v Mexico, 2 pm, Group B;
Trinidad and Tobago v Canada, 4 pm, Group B.