Trinidad and Tobago Football Association (TTFA) president David John-Williams has allegedly broken his campaign promise to stakeholders of the local game and opened up his office to disrepute, after a string of emails suggest that he continues to conduct business at local Pro League club, DIRECTV W Connection, despite a clear conflict of interest.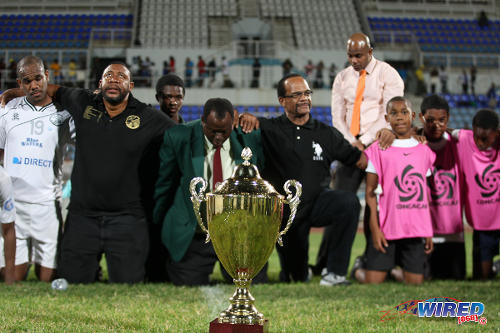 And, arguably worse, John-Williams is accused of neglecting his legal responsibility as an employer to former Trinidad and Tobago National Under-17 and Under-20 Team player Dwight Quintero, whose right leg is in a cast at present.
Quintero was injured at a W Connection training session on 2 February 2016 and was taken to the hospital on the same evening by a relative.
Three days later, Dr Sergiy Adonin, a specialist orthopaedic surgeon from the Fracture & Orthopaedic Clinic in St Clair, advised that the talented 22 year old striker needed an urgent operation due to "severe ligamentous injury to the right ankle."
The cost of the operation and medical care was given as TT$48,700.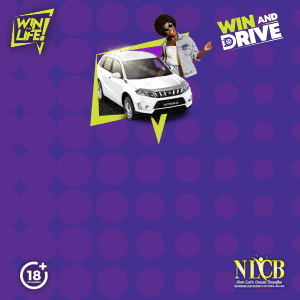 Remarkably, it took Connection 10 days, according to Quintero's attorney, Fulton Wilson, aunt, Nathalie Fournillier-Reyes and an email trail made available to Wired868, to even acknowledge the player's well-being.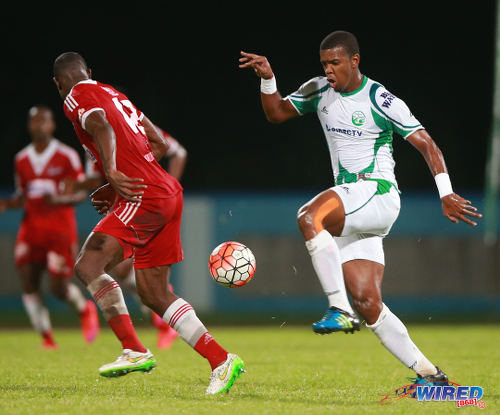 At Connection's request, Quintero's diagnosis was confirmed by Dr Terence Babwah, who is a TTFA employee and served as a FIFA medical officer at the Brazil 2014 World Cup.
Yet, five weeks later, W Connection are still refusing to pay—a position that was communicated via an email sent by the account of none other than John Williams himself.
Wilson said he operated in good faith throughout with the Pro League club and is baffled by Connection's discourtesy and negligence.
"They have not fulfilled their contract with their player and it is harder to take because we would think they would want the player to recover as fast as possible," Wilson told Wired868. "We sent an estimate (for the operation) to W Connection and David John-Williams indicated that he didn't like how it was done. And he gave the impression that he would have used his resources to see that it would be done in a public health institution.
"But since then we have heard no word from him at all and the player is languishing as a result. The player cannot afford to pay a private institution (for the operation) with the small salary he gets."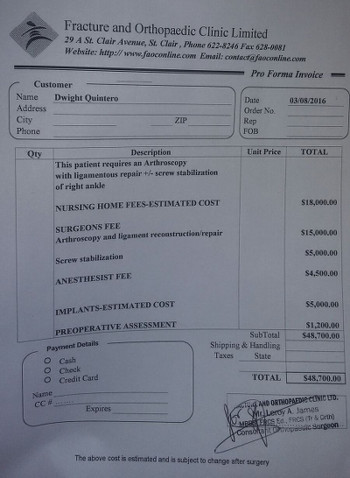 Wilson claimed that Connection's behaviour is endangering his client's health and ability to earn a livelihood from the sport.
"If you sustain an injury and it isn't treated in time, you may or may not be as you ought to be after that," said Wilson. "So that is a major concern. But I am just baffled by the lack of communication from the club."
John-Williams' role in the affair has not been lost on Quintero's representative either.
The former W Connection owner vowed to step away from the club, once elected TTFA president, when he campaigned for the top administrative post in the local game last October.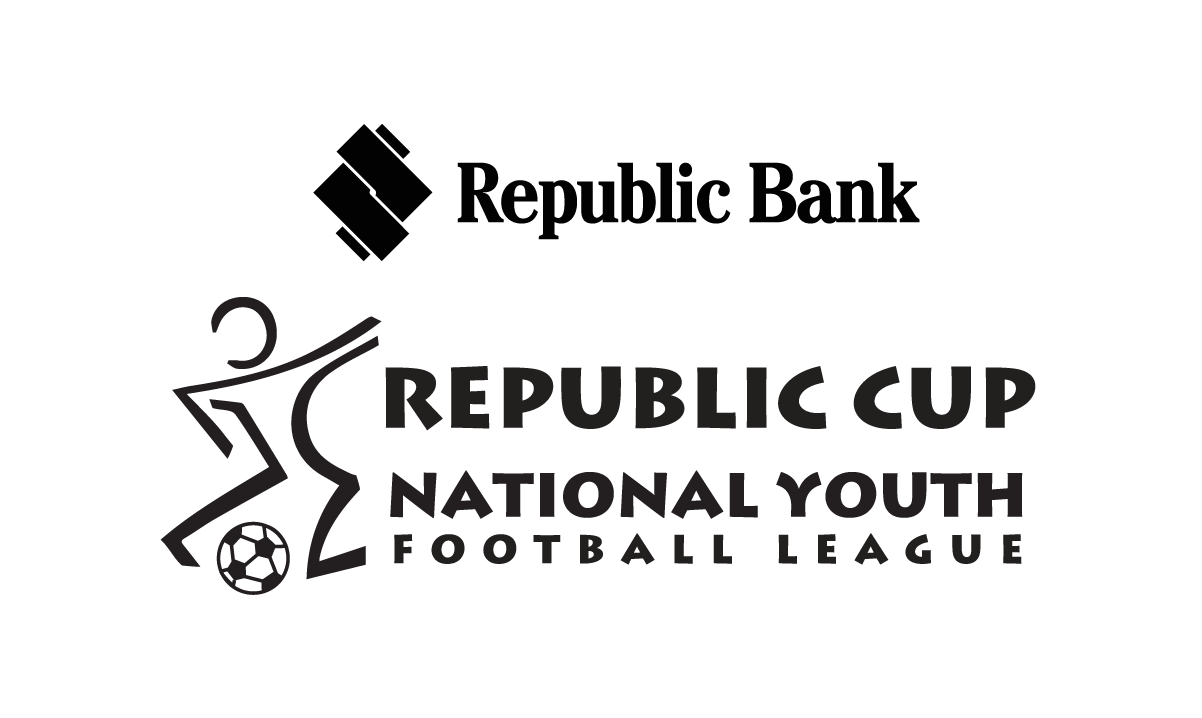 And, after his election on 29 November 2015, John-Williams appeared to keep his word, as he announced that his daughter, Renee John-Williams, would inherit his portfolio.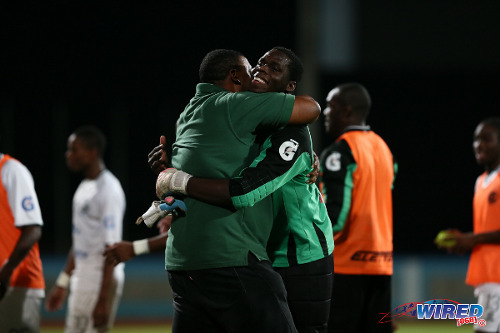 However, although much of the TTFA president's term so far has been marred by clashes with the "Soca Warriors", technical director Kendall Walkes, former Women's National Team coach Randy Waldrum and even Caribbean Football Union (CFU) president Gordon Derrick, John-Williams apparently still found time for W Connection business.
And John Williams did not endear himself to Quintero's representatives either, after, in an email on 8 March 2016, he refused to pay for Quintero's urgent operation due to "grey areas" that he wanted clarified.
Ironically, 15 days later, John-Williams is apparently yet to clarify the grey areas he referred to and Quintero's aunt, Fournillier-Reyes, is concerned that the TTFA president is simply trying to avoid his responsibility.
"I think it is gross negligence on the club's behalf," Fournillier-Reyes told Wired868. "We have gotten no respect at all and it is six weeks and counting. Dwight cannot walk on his right foot and he has to keep it elevated and there is some swelling still.
"I am really disturbed that an established organisation can treat someone in their employ like that. And to think that that man is the president of Trinidad and Tobago's football…"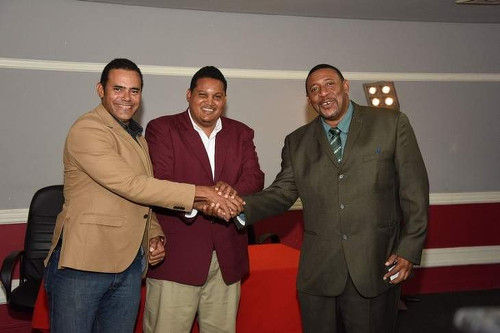 Wired868 asked John-Williams why Connection was not footing Quintero's medical bills. And why he, as TTFA president, was representing the club on the matter.
He refused to answer both questions.
"I will speak on that in the fullness of time," said John-Williams. "I will speak on that and the (TTFA technical director) Kendall Walkes matter in the fullness of time."
Clause eight of Quintero's contract with W Connection states: "Any incapacity or sickness shall be reported by the Player to the Club immediately and the Club shall keep a record of any incapacity.
"The Player shall submit promptly to such medical and dental examinations as the Club may reasonably require and shall undergo, at no expense to himself such treatment as may be prescribed by the medical or dental advisers of the Club in order to restore the Player to fitness.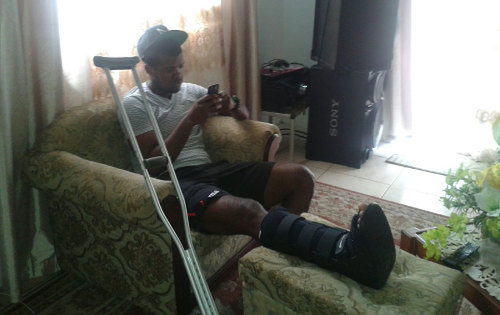 "The Club shall arrange promptly such prescribed treatment and shall ensure that such treatment is undertaken and completed without expense to the player notwithstanding that this Agreement expires after such treatment has been prescribed."
The standoff between both parties over clause eight, potentially exposes the office of the TTFA president to the nightmare scenario that worried stakeholders when Williams announced his intention to succeed Raymond Tim Kee at the helm of the local game.
In an interview with Wired868, which was published on 26 November 2015, John-Williams vowed to win over skeptics by his actions.
"Nothing I say to the public, whether I resign as W Connection president and CEO or promise them faithfully that there will be no conflict of interest," said John Williams, "Trinidad and Tobago will not believe me. (But) if I am elected and I operate faithfully, they will believe me. That is the only way.
"History will absolve me."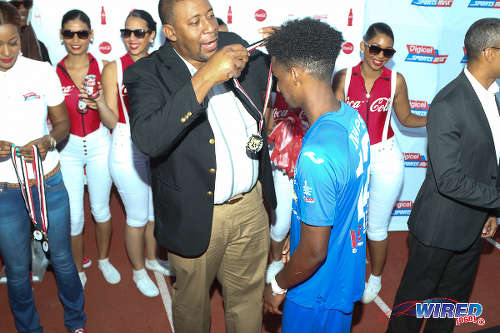 Less than three months after that statement, John Williams' sincerity is already open to debate as Quintero—one of the few Pro League players with legal representation—tries to have his contract with Connection honoured.
According to the terms of the player's contract, he must first take his grievance to the Connection board.
If dissatisfied with the board's verdict, Quintero can then appeal to the Pro League. Connection are shareholders of that football body while John Williams appointed Pro League CEO Dexter Skeene as head of the TTFA's Technical Committee.
Should Quintero not feel that he received justice from the Pro League, he must then appeal to the TTFA. And John Williams is responsible for appointing the Appeals Committee that will hear the case against himself.
If Quintero remains aggrieved, he may then appeal to the FIFA Player Status Committee.
Less than a week before Quintero sustained his ankle injury, John Williams hosted new FIFA president, Gianni Infantino, in a private meeting in Trinidad and subsequently offered a public endorsement of the Swiss/Italian lawyer for his new post.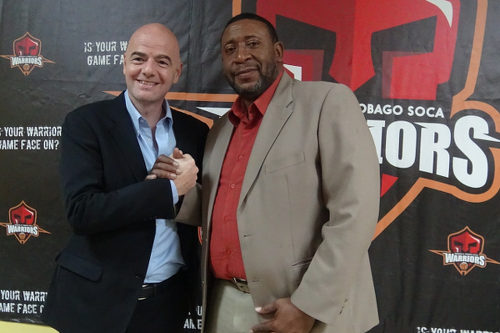 It is only when Quintero has exhausted those legal options—which come with legal fees at every hurdle—can he turn to the Court of Arbitration for Sport and/or the local courts, in a worst case scenario.
At present, Quintero's relatives, who include his father, Dereck Quintero, mother, Lesley Ann Quintero, and aunts, Tamara Fournillier and Fournillier-Reyes, have already spent in excess of TT$4,000 on medical fees and are planning fund raisers to get the TT$47,000 needed for his operation. Aunt Tamara is a nurse at the Port of Spain General Hospital.
For Quintero, the past 12 months have been the toughest of his career to date.
The striker was one of seven players—along with Jibiri McDavid, Alvin Jones, Maurice Ford, Dario Holmes, Triston Hodge and Nathaniel Garcia—who were selected to represent Trinidad and Tobago for the Rio 2016 Olympic qualifying series, only to be omitted due to visa issues exacerbated by cock ups from team manager David Muhammad.
The weakened "Soca Warriors" Under-23 Team were subsequently eliminated after just one game, following a 5-3 loss to St Vincent and the Grenadines.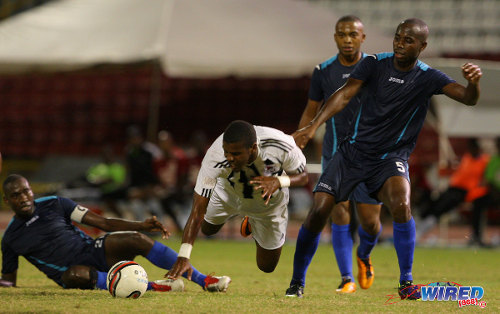 Quintero, who was then a Central FC employee, then missed his club's maiden Caribbean Club Championship title, after suffering an x-rated tackle in a Pro Bowl semifinal fixture with Police FC, which left him with three stitches over his shinbone.
Once recovered, Quintero opted to skip the Toronto 2015 Pan American Games and headed instead to Turkey for trials with local agent Dion Sosa, in what turned out to be an exciting but chaotic and ultimately unsuccessful tour.
He returned to a contractual dispute with Central, which, handled by Wilson, led to his move to their bitter Couva rivals, W Connection, on a free transfer.
Connection beat Central to the first two cups of the 2015/16 season—the First Citizens and Toyota Classic Cups—and Quintero played a role in both triumphs.
But disaster struck at a training session on February 2, as Quintero dribbled past a Panamanian trialist at the club.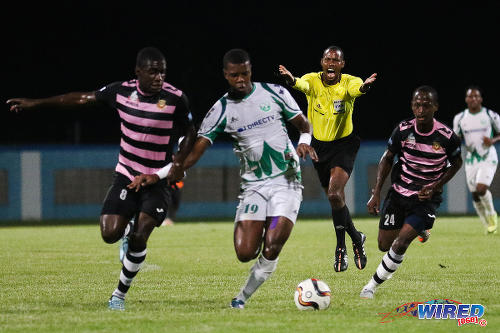 "We were doing a 1 v 1 drill and I got past the defender," Quintero told Wired868, "and, when I was going to shoot, I got tackled from behind and I could feel my ankle twist.
"When that happened, I got instant swelling and I stopped training."
Connection were in camp at the time, so Quintero retired to his hotel room with an ice pack.
"We had a double session that day and, for the evening session, I still couldn't train," said Quintero. "Coach (Stuart Charles-Fevrier) said if it it didn't get better, he would send me to get an X-ray the next day. I told coach that I spoke to my aunt and she works in the hospital and that I iced my foot for the whole day and I wasn't getting any relief.
"So I told him my cousin was coming to take me to the hospital. And he said no problem and when I got it done to contact him."
So, Connection left Quintero's healthcare in the hands of the player's relatives.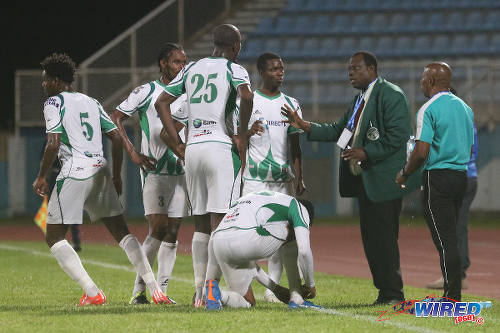 Editor's Note: See Wired868 on Friday March 25 for Part Two of Dwight Quintero vs David John-Williams/W Connection, as we examine emails exchanged between all parties including the TTFA president.