Defence Force FC clinched their first CNG National Super League title yesterday, as they pummelled cellar-placed Stokely Vale FC 8-2 in an enthralling clash at the Marvin Lee Stadium in Macoya.
The result meant that the Army/Coast Guard combination finished one point ahead of defending champions, Guaya United, who defeated La Horquetta Sporting Academy 3-1 at the Larry Gomes Stadium training field in Malabar.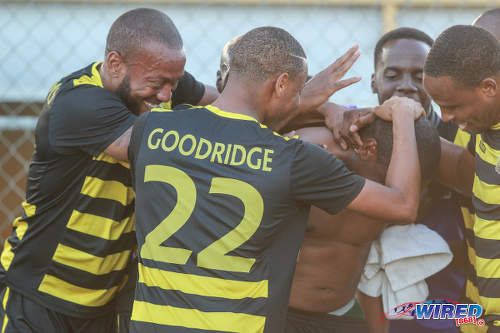 It was a disastrous final day return for La Horquetta, who joined Stokely Vale through the trap door and into the NSL Championship Division below.
La Horquetta and Stokely Vale will be replaced by Queen's Park Cricket Club (QPCC) next season, as the Premiership goes from 15 to 14 teams.
Yesterday's highlight, though, was a strong finish by the "Teteron Boys."
Stokely Vale, one of three Tobago teams in the Premiership this season, won just three Super League games over the course of the season and conceded 65 goals from 27 matches before duelling the lethal Army team this evening. But, despite traveling with only 13 players, the already relegated team gave Army a hell of a fight. Well, in the first half at least.
The scores were tied at one apiece after 45 minutes, and Vale even held a lead for 60 seconds or so. That was until former Pro League standout Josimar Belgrave's predatory 37th minute strike cancelled out an early Khrishawn Joseph penalty for the visitors.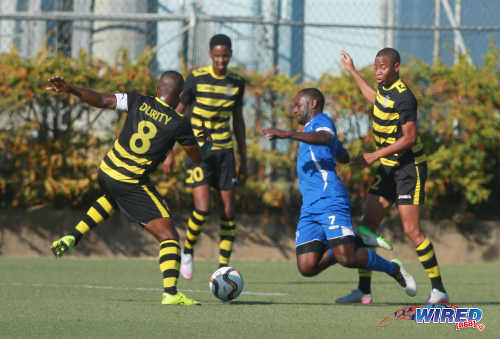 Things went downhill for Vale at a rapid rate in the second half, as the Tobago club found themselves down 3-1 just four minutes after the resumption. Belgrave notched a second, while his attacking partner Michael Edwards tapped in an item.
Belgrave eventually completed his beaver trick—taking his tally to 31 Premiership goals—while Edwards helped himself to a hat-trick, as the duo ran a riot in the Stokely Vale penalty area.
The raw talent and grit of the Vale team was there for all to see. But the Premiership's bottom club were unable to sustain their efforts for long enough periods.
While Belgrave and Edwards were playing a mas in Macoya, second-place Guaya were occupied with a serious battle of their own in Malabar.
The Mayaro-based club was slated to play their final league game within the confines of the Larry Gomes Stadium but, due to a fixture clash with a Pro League contest featuring San Juan Jabloteh and North East Stars, the "Green Army" were made to face the relegation-threatened La Horquetta outfit on the stadium's training field instead.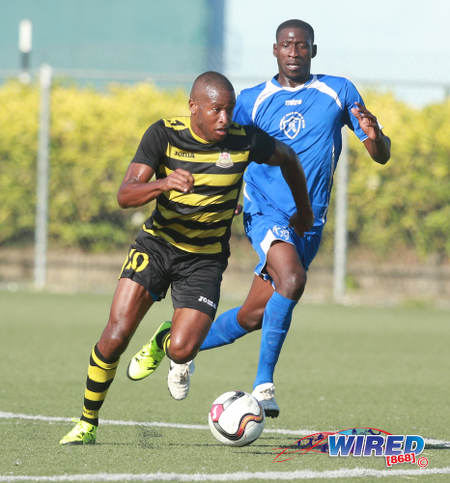 The supporters for the National Super League clubs, who easily outnumbered the Pro League patrons on the day, were understandably upset with the slight.
Guaya, who trailed Army by one point going into the final match day, did their part to keep their title quest alive, as they overcame a youthful but talented La Horquetta team.
But there was no catching the Defence Force.
"I have to compliment the team that consists of management, staff and the players on the victory," Defence Force coach Kelshall Alexander told Wired868, after his team's title clinching win. "It has nothing to do with me personally and it's the collective work of a cohesive unit, which worked tirelessly to achieve this goal."
Travis Winchester, Vale's skipper and their best player on the day, momentarily brought the Army within his team's reach, as his second half item brought the deficit down to a single goal in the 53rd minute.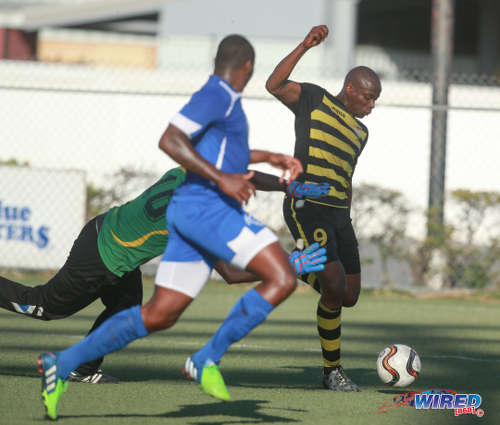 But Belgrave and Edwards were up to the challenge, as they scored a goal each in quick succession to stretch Army's lead from 3-2 to 5-2 by the 69th minute.
And, with the soldiers brimming in confidence, there was no way back for Stokely Vale.
Vale lost 5-3 to Guaya on Thursday in another goal-fest. But Alexander's battalion was not satisfied with five goals.
"The game plan (for this game) was the same," Alexander said. "I tried to instil that in the guys that every game is like a final and we took nothing for granted."
Alexander believed the title was really in Guayaguayare on January 7 when the Teteron Boys defeated Guaya in a bruising encounter in the latter's backyard.
"It was very tight throughout but I think the turning point came when we played Guaya on their home turf and beat them 3-2," said Alexander. "During the season, it was tight between us and Guaya but the football was all the better for it.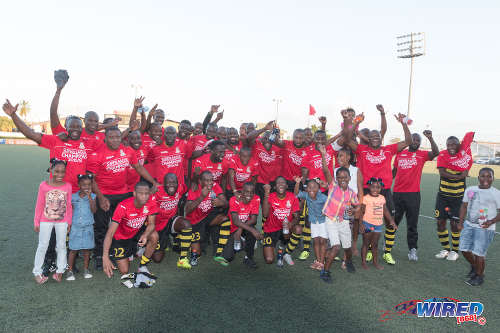 "The intensity and competitiveness came to the fore. But I think the better team prevailed and won the Premiership."
The Army added three more goals in the final 20 minutes to finish with a jaw-dropping eight goals.
And they saved the best for last too as substitute Christon Baptiste got supporters off their seats and cheering in the 83rd minute, as he sent his marker skipping in the air with a couple of feints, before arrowing an angled left-footed shot past Vale goalkeeper Shawn Job from inside the area.
"It's a great triumph for us and it's the first time we are winning the Super League," said Alexander. "Last year, we came second and this season we set out to accomplish this task and overcome all the obstacles that were in our way."
(Teams)
Defence Force (4-2-3-1): 1.Kevin Graham (GK); 5.Marlon Laidlow, 6.Kevon Blackman, 14.Dwight Scott, 20.Tevin Balfor; 19.Dexter Pacheco, 8.Christopher Durity (captain) (3.Keston Williams 74); 7.Jahvon Neptune (23.Christon Baptiste 46), 10.Josimar Belgrave, 22.Jamaal Goodridge; 9.Michael Edwards (11.Ronald St Louis 74).
Unused Substitutes: 12.Lorenzo King, 16.Dexter Thornhill, 26.Keston Williams, 29.Sherlon Wheeler.
Coach: Kelshall Alexander
Stokely Vale FC (5-3-2): 10.Shawn Job (GK); 29.Lashawn Roberts, 2.Jevon Williams, 13.Omarr Charles, 26.Calvin Chapman, 27.Kevin Thomas (4.Anthony Cooper 57); 11.Trevonne James, 7.Travis Winchester (captain), 15.Khrishawn Joseph; 18.Jamaine Walters (28.Jeyriel Stephen 76), 21.Brian Hinds.
Coach: James Campbell
Referee: Larry Lalchan
Man of the Match: Josimar Belgrave (Defence Force)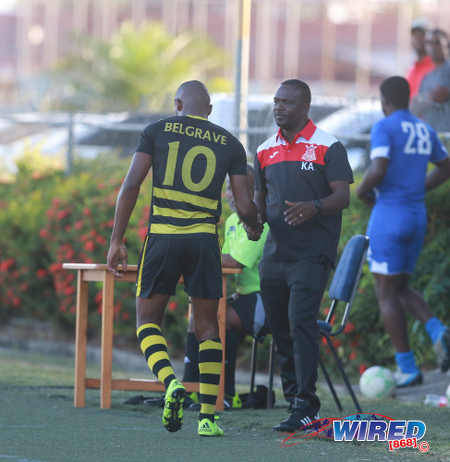 NSL Premiership Division results
(Sunday February 21)
Police FC 3 (Kareem Perry 28, 37, 64), Petrotrin Palo Seco 2 (Brent Garcia 59, Own goal 65), Palo Seco Velodrome;
WASA FC 2 (Kirth Hutchinson 60, Gary Glasgow 65), Tobago Phoenix FC 1976 0, WASA Grounds, St Joseph;
Real Maracas 3 (Aaron Peters 69, Marvin Manswell 88, 90), FC Santa Rosa 2 (Keston Henry 26, Jean-Paul Aqui-Blanc 56), Maracas Rec Ground;
Siparia Spurs 3 (Andy London 61, 87, Daniel Garcia 80), Club Sando Moruga 1 (Shakell Louison 29), Petrotrin Ground, Fyzabad;
La Horquetta SA 1 (Keston Jones 16), Guaya United 3 (Kheelon Ferrier 11, Earlon Thomas 52, Carlon Hughes 78), Larry Gomes Stadium training field;
Bethel United 1 (Densyl James 24), Matura ReUnited 1 (Kerrin Vincent 6), Montgomery Rec Ground;
Defence Force 8 (Josimar Belgrave 37, 49, 69, 80, Michael Edwards 46, 63, 72, Christon Baptiste 83), Stokely Vale 2 (Krishawn Joseph 36, Travis Winchester 53), Marvin Lee Stadium.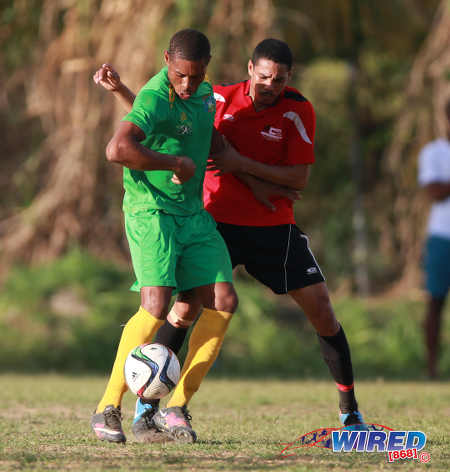 Premiership's Top Ten Scorers
31—Josimar Belgrave (Defence Force);
25—Carlon Hughes (Guaya United);
23—Michael Edwards (Defence Force), Ryan Stewart (Guaya United);
22—Andy London (Siparia Spurs);
19—Juma Clarence (Marabella Family Crisis Centre);
14—Nigel John (Club Sando Moruga), Onasi Forde (Tobago FC Phoenix 1976);
13—Jason Boodram (Police FC);
12—Chris Collins (Siparia Spurs).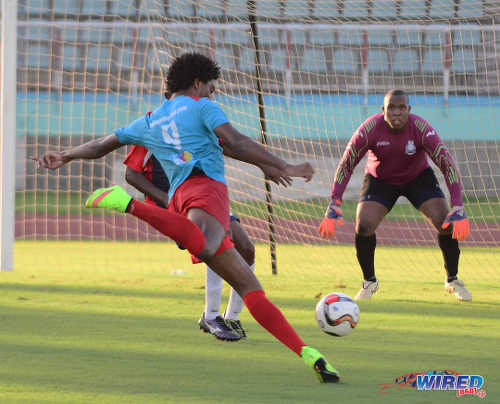 NSL Premiership Division Standings  
(Tabulated as Played-Won-Drew-Goals For-Goals Against-Points)
Defence Force                 28-21-3-4-76-33-66
Guaya United                  28-21-2-5-77-43-65
Tobago FC Phoenix      28-15-5-8-51-36-50
Matura ReUnited          28-13-7-8-48-49-46
Siparia Spurs                  28-12-9-7-61-57-45
FC Santa Rosa               28-11-7-10-46-40-40
WASA FC                          28-12-4-12-41-33-40
Marabella Family CC  28-10-9-9-58-54-39
Police FC                           28-11-5-12-57-49-38
Club Sando Moruga     28-11-5-12-48-52-38
Petrotrin Palo Seco       28-7-6-15-47-58-27
Real Maracas FC            28-8-3-17-37-55-27
Bethel United                   28-7-4-17-35-55-25
La Horquetta SA             28-6-5-17-46-73-24
Stokely Vale FC                28-3-8-17-30-73-17