"Keep going fellahs!" Matura ReUnited coach Devon Bobb shouted yesterday evening, as his players tried to find a way past a resolute Petrotrin Palo Seco backline. "It will come!"
Matura residents have every right to feel cocky about their football team these days, as ReUnited stretched their unbeaten run to nine games in the CNG National Super League (NSL) Premiership division with a 3-2 win over Palo Seco at the Matura Recreation Ground on Mendoza Road.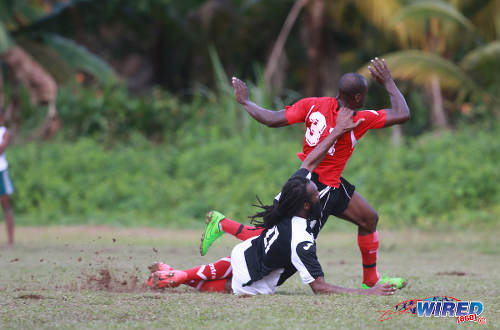 The Palo Seco team had trouble finding the ground and, in the end, they might have wondered if the long road trip from south west to north east Trinidad was worth it.
"We got lost twice," said Palo Seco coach Dexter Cyrus, whose team had to rush off the maxi and on to the playing field. "It is a difficult ground to find… We didn't warm up properly and I think that contributed to how we started the game."
Still, Palo Seco might have gotten something from the game, as both teams were locked at two goals apiece in the closing ten minutes of the game.

Then came the dramatic non-substitution that dramatically altered the fate of the game.
Last week, an angry exchange of words between Stokely Vale players and technical staff contributed to a lopsided 6-1 defeat away to Real Maracas FC.
Yesterday, creative tension between Bobb and team manager Dwain Henry had the opposite effect on Matura's fortunes.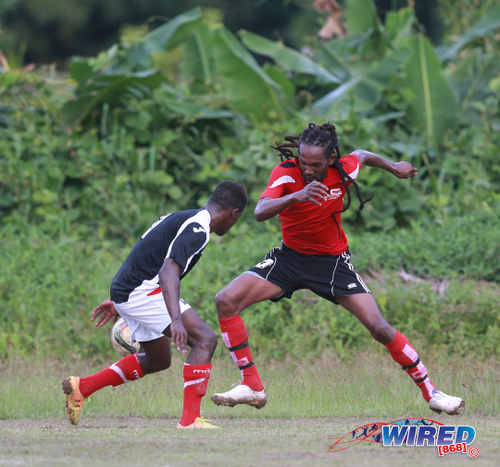 The Matura coach won the stand-off with his manager but then lost the argument. More importantly, it led to three points for ReUnited.
"It was all nice man," said a beaming Bobb, when reminded of the episode. "It was all nice."
It must have been an awesome anecdote at a bar in Matura last night. But more of that later.
At the other end, Petrotrin Palo Seco were lost in more ways than one. Before kick off, Cyrus' men were at 11th spot in the 15 team table—the bottom two clubs will be relegated to the Championship Division—while they have haemorrhaged players to the point that they travelled to Matura with just one substitute.
Seven of Palo Seco's travelling squad came from three families—Marvin and Kervin Mark are brothers, Arnold, Xavier and Tyrell Seales and Cyrus' younger brother, Kader Vargas, played upfront—while a fourth, teenager Isaiah Garcia, skipped school and is likely to produce a sick note at Shiva Boys Hindu College today.
"Garcia has not been well for the last couple of days," said Cyrus, which was not glaringly obvious from the schoolboy's energetic 90 minute display.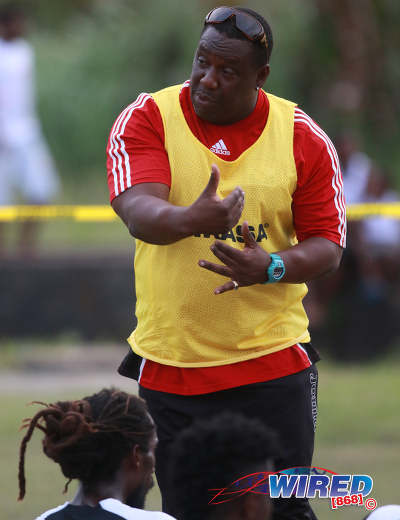 Star players Sylvester Teesdale and Willian Garcia did not show as they failed to get time off from employers,  T&TEC, while captain and assistant coach Romauld Aguilera, who is a casual worker on the oilfields, decided that he could not afford to miss a day's work.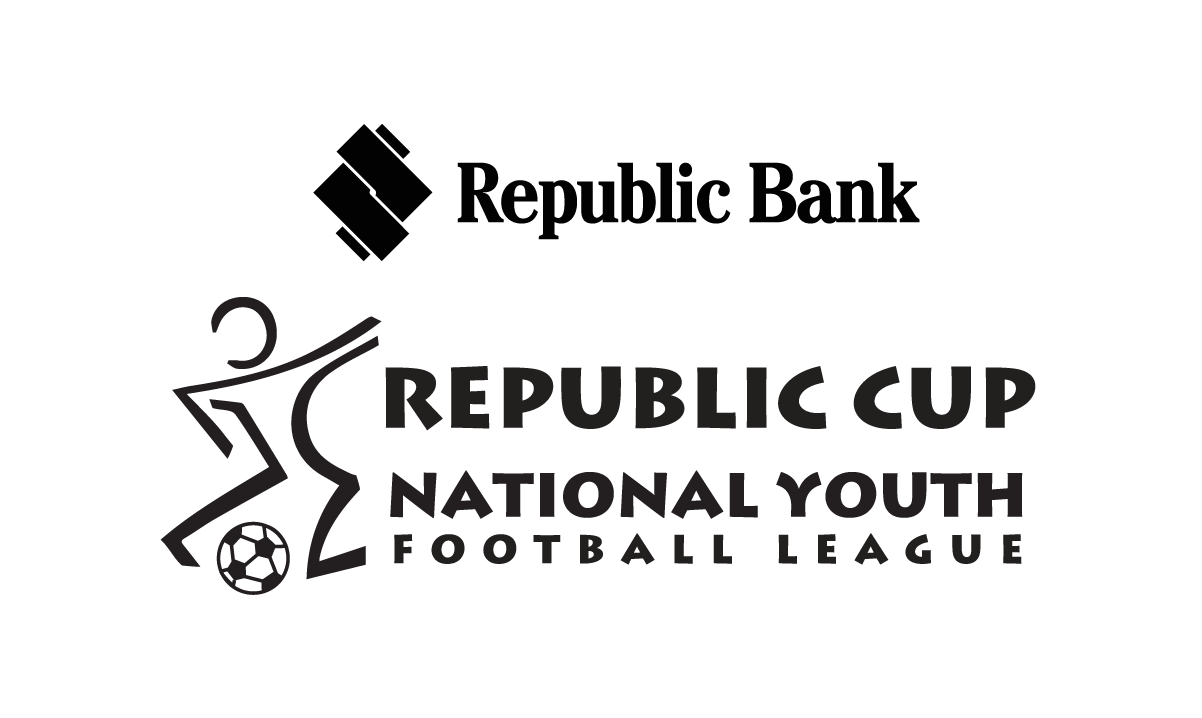 "Our players haven't been paid for the past five months," said Cyrus, who was a former Trinidad and Tobago international striker and United Petrotrin stand-out. "It is already hard enough to manage players between the Christmas to Carnival period. But, on top of that fact, they have nothing to look forward to in their pockets at the end of the month.
"We will try to finish the season and start over. But I have already lost eight players since the start of the season and, if something doesn't happen, I think more players will go to other teams…
"Petrotrin is treating Petrotrin Palo Seco football team like an outside child. I don't understand why Petrotrin can't take care of Petrotrin (Palo Seco)."
At the other end, Matura ReUnited, who are in their first season in the National Super League, never had a sponsor to begin with. But Bobb hopes that their superb form can attract not only financial support but the attention of the national media and even Trinidad and Tobago National Senior Team coach Stephen Hart.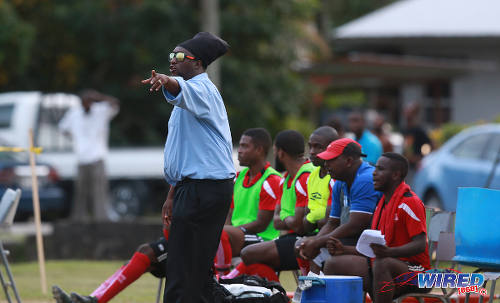 Yesterday's triumph meant Matura remained fourth and unbeaten in the league since a 5-3 loss to east coast rivals, Guaya United, last September. Matura ReUnited is the NSL's only team that is unbeaten at home this season—not counting leaders, Defence Force, who do not have a home ground.
"My ambition is to achieve a top five finish and get a couple players of mine for Hart to look at," Bobb told Wired868. "My goalkeeper (Glenroy Samuel) and (Dorian) Robinson and so on. I would like them to get the opportunity to represent us as a country team on the national stage…
"And let it be known we are unsponsored!"
Glenroy Samuel's name stood out on the team sheets yesterday. The 25-year-old former San Juan Secondary schoolboy represented Trinidad and Tobago at the 2007 Under-17 and 2009 Under-20 World Cups in the Korea Republic and Egypt respectively.
He also represented Caledonia AIA at the CONCACAF Champions League level before a dubious goal conceded against Comunicaciones, just a day before his first senior national team call-up from Stephen Hart, derailed his career.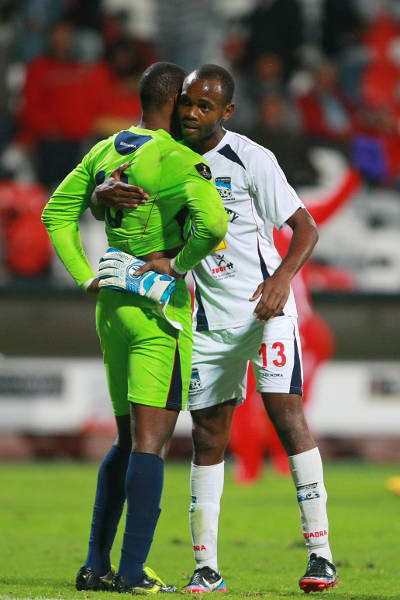 In second half stoppage time, Samuel appeared to kick the ground as he sent a spot kick straight to Paulo Suarez—the elder brother of Uruguay and Barcelona star, Luis Suarez—and, as the goalkeeper rolled on the ground holding his ankle, Suarez tapped into an unprotected net to secure a 3-0 win for the Guatemalan team.
And the flutter of overseas betting activity on the result prompted FIFA to investigate the match for possible match-fixing.
Samuel, just 23 years old at the time, was found not guilty. But Caledonia released him soon after, Hart never requested his services again and his Pro League days were numbered.
Arguably, Samuel might have made a bizarre defence of his reputation yesterday, as he showed that his sometimes erratic goalkeeping was not only a gift for the bookies.
"It was unfortunate with my keeper Glenroy (yesterday)," said Bobb, a former lower league striker of note with Economy Striker. "But keepers have bad days and he has been excellent for me this season…"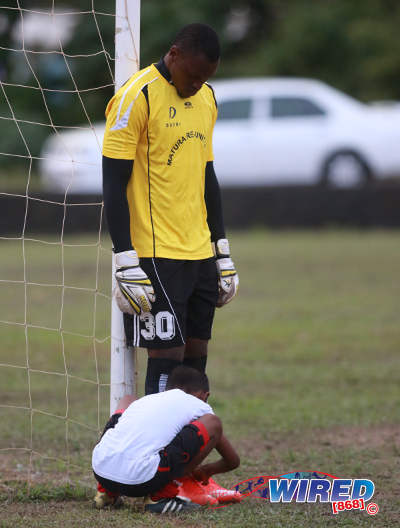 Samuel was not the only goalkeeper who had a rough time yesterday.
Matura striker Kerin Vincent could not believe his luck when his speculative left footer from the edge of the opposing penalty box beat the static Palo Seco custodian Arnold Seales for the game's opening goal in the 13th minute.
"The keeper sell out he-self there man," a gleeful Bobb told his substitutes bench. "Hit it on either side of him and you will score."
But the Matura bench was silent, three minutes later, when Samuel made a worse error, as he palmed a side-footed Cebastian Bailey free kick into his own net.
Still, Matura, with young Zavion "Dragon" Navarro, a loan signing from Pro League team North East Stars, humming in central midfield, ex-Joe Public attacker Dorian Robinson threatening on top and wingers Shirvan "Bulbie" Charles and Joel "Mari" Hoyte bamboozling down either flank, were in control.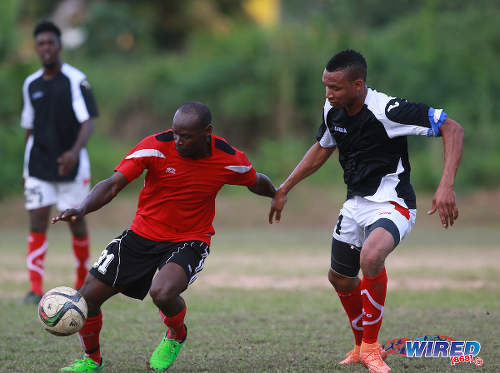 And there was little surprise when Charles restored the host team's advantage.
Charles, a man who sprints and stops as suddenly as a self-absorbed 'PH' taxi driver, outfoxed Palo Seco right back Marvin Mark and arrowed a low shot into the far corner in the 24th minute.
Once more, Mayaro's jubilation was short lived.
Six minutes later, Matura right back Stephen Bobb, the coach's cousin, made an innocuous back pass to his goalkeeper. And, under no pressure, Samuel decided to go for a first time clearance but swung and missed, as the ball rolled into the corner for an equaliser.
Cruelly, it would be credited as an own goal by the defender.
Palo Seco had a toe hold and they finished the half strongly with winger Kervin Mark and Kader Vargas looking particularly useful.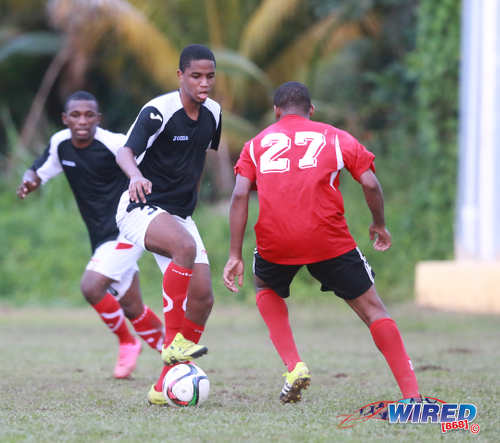 Matura were back on the ball in the second half. But Cyrus responded to Charles' threat by moving his "sick" left back, Garcia, to the opposite flank to keep an eye on him.
Bailey had taken control of Palo Seco's backline and Hoyte looked dead on his feet.
The minutes ticked away with little sign of a decisive goal.
In the 81st minute, Matura substitute Shivon Charles approached the fourth official to be introduced to the match.
Henry, the team manager, wrote the card to have the midfielder replace Vincent. But Bobb changed his mind.
"Take off Bulbie," Bobb told Henry. "Let us play with three on top (to go) for the goal."
"Take off Bulbie boy? asked the unconvinced team manager.
"But the man ent do nothing for a while," Bobb retorted. "He just give away the ball again."
'Bulbie' looked dead on his feet and was now constantly running into traffic. After several lost battles with young Garcia, he conceded the left flank and moved to the right wing instead. But his performance had not improved.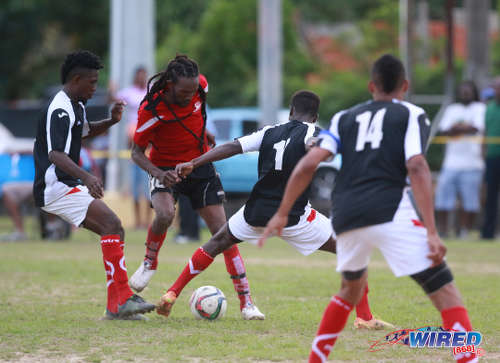 Henry started to write the card to have Shivon replace his cousin, Shervin. But he just couldn't bring himself to replace his team's best player with the game on the line.
"Coach, check me a minute nah," said the Matura manager.
And, with two points at stake and the minutes ticking away, Bobb and Henry tried to win each other over about the best tactical move for Matura ReUnited.
"Come on man, we under pressure," Matura physio Roger Ryan moaned. "Allyuh decide fast!"
As Henry walked over to the fourth official to finally make the change, after three minutes of discussions, Matura took a quick thrown down the left flank and, after passes from Vincent and Robinson, Bulbie stepped inside his full back to smash a left footer at goal, which Seales got a hand to but could not keep out.
"I thought it was a soft goal," said Cyrus. "The goalkeeper got his hands to it and he should have tried to push it out instead of trying to hold.
"But Matura never gave up. They fought to the last and came out with the three points."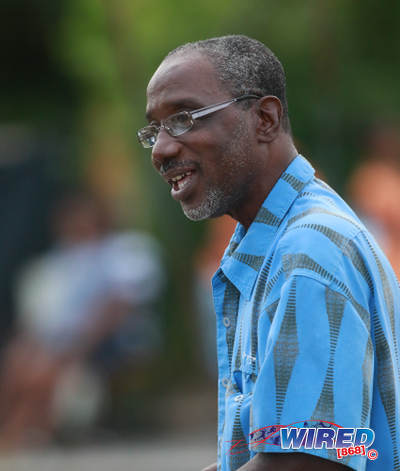 Matura football fans had already turned their attention to their east coast derby with Guaya, who they will host at the Mendoza Road Recreation Ground on January 24.
"That is the battle of the east coast," said Bobb. "Two of us represent the Eastern Counties. In the first leg, we were defeated 5-3 (when) they had home court advantage.
"So we will be looking to make our home court advantage count."
Until then, Bobb and Henry will probably assail football supporters with the substitution that was and wasn't that kept Matura ahead of FC Santa Rosa in fourth spot.
The fourth official had been instructed to remove Bulbie at the next opportunity when the 30-year-old dreadlocked winger struck the game winner—thanks to the extra time that Henry won for him.
As a gesture, Bobb stopped the winger from taking off his captain's armband to hand to a teammate and ordered him to keep it.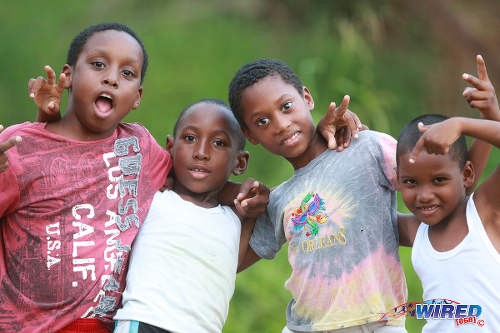 Matura is a happy place these days when the football is rolling.
(Teams)
Petrotrin Palo Seco (4-4-2): 22.Arnold Seales (GK); 13.Marvin Mark, 27.Wayne Huyghue, 14.Cebastian Bailey, 11.Isaiah Garcia; 19.Shakuile Williams, 17.Samuel John, 23.Xavier Seales, 20.Kervin Mark; 7.Kader Vargas, 9.Tyrell Seales.
Unused substitutes: 50.Garvin Collymore (GK).
Coach: Dexter Cyrus
Matura ReUnited (4-4-2): 30.Glenroy Samuel (GK); 4.Stephen Bobb, 2.Deon Capriata, 21.Timothy John, 6.Andron Casanova; 11.Joel Hoyte (18.Keran Figuera 67), 13.Keish Charles (12.Kitwana Abosi 45), 27.Zavion Navarro, 10.Shervin Charles (captain) (5.Shivon Charles 84); 31.Dorian Robinson, 9.Kerin Vincent.
Unused substitutes: 19.Keeda Woods, 28.Jason Beckles.
Coach: Devon Bobb
Referee: Roger Smith
Man of the Match: Shervin Charles (Matura ReUnited)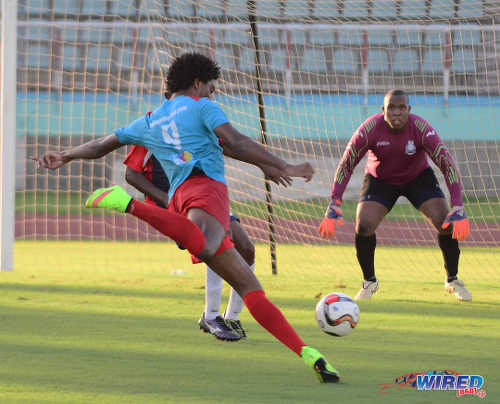 CNG National Super League results
(Thursday January 14)
Matura ReUnited 3 (Kerin Vincent 13, Shervin Charles 24, 84), Petrotrin Palo Seco 2 (Cebastian Bailey 17, Stephen Bobb 30 OG) at Matura Recreation Ground;
Club Sando Moruga 2 (Maurice Dick 5, Kareem Gill 9), Marabella Family CC 3 (Keston Grant 1, Kurlan Khan 32, Juma Clarence 42) at Grand Chemin Recreation Ground;
FC Santa Rosa 4 (Gary Bart 35, Keston Henry 66, 71, 83), La Horquetta SA 0 at Marvin Lee Stadium;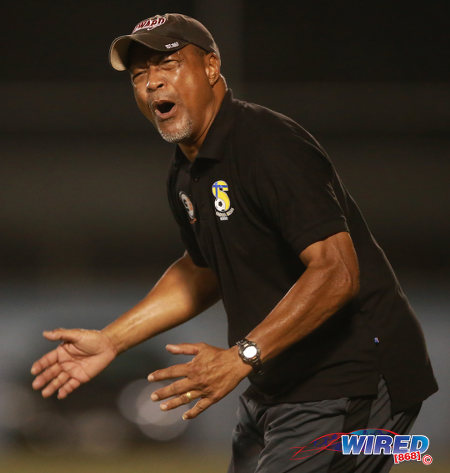 Upcoming NSL fixtures
(Sunday January 17)
Defence Force v Tobago FC Phoenix, 4 pm, Ato Boldon Stadium;
Marabella Family CC v Bethel Utd, 4 pm, Mannie Ramjohn Stadium;
Club Sando Moruga v Police FC, 4 pm, Grand Chemin Recreation Ground;
Matura ReUnited v Real Maracas, 4 pm, Matura Recreation Ground;
WASA FC v La Horquetta SA, 4 pm, WASA, St Joseph;
Stokely Vale FC v Siparia Spurs, 5 pm, Plymouth Recreation Ground;
FC Santa Rosa v Petrotrin Palo Seco, 5 pm, Marvin Lee Stadium.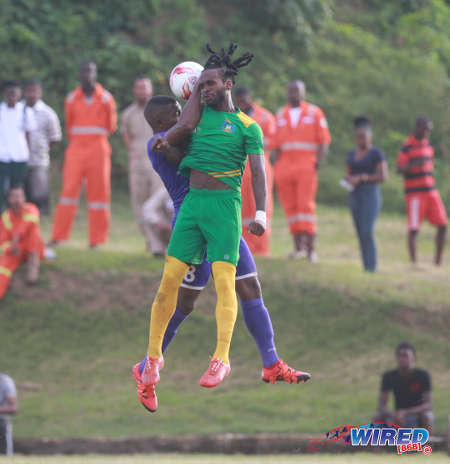 NSL Standings (Played-Won-Drawn-Lost-Goals For-Goals Against-Points)
Defence Force  24-17-3-4-55-28-54
Guaya United  23-17-2-4-63-36-53
T'go Phoenix   24-14-5-6-48-30-46
Matura ReUtd 23-12-5-6-44-39-41
Santa Rosa       25-11-6-8-43-34-39
Police FC          24-10-5-9-52-39-35
WASA FC         23-10-4-9-35-25-34
Siparia Spurs   23-9-7-7-52-54-34
Marabella         25-8-9-8-52-50-33
Sando/Moruga 24-8-5-11-41-47-29
Petrotrin P/S    23-7-5-11-43-48-26
Bethel United   23-6-2-15-29-46-20
La Horquetta   23-5-4-14-37-64-19
Real Maracas   23-5-3-15-29-48-18
Stokely Vale      24-3-6-15-23-58-15