You don't earn a reputation as one of the most feared batsmen in the manic-paced 20/20 cricket arena by measured and judicious stroke play. And when the people writing your cheques see it fit to name their enterprise the "Big Bash", a sorta adventurous, free-spirited nature is implied.
Boy did Chris Gayle ever read the conditions wrong when an attractive Channel Ten reporter, Mel McLaughlin, came walking over for a brief interview with the Melbourne Renegades and West Indies cricket star.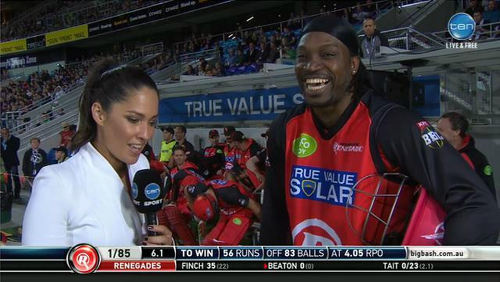 "Your eyes are beautiful, hopefully we can win this game," Gayle told McLaughlin, "and then we can have a drink after as well. Don't blush, baby."
It was hard to tell whether Gayle—who is 36 years old going on 15—was channelling his inner-Tiger or bootlegging Austin Powers. Either way, his swipe outside the off stump hit only air.
"I'm not blushing," McLaughlin retorted.
And she really meant it.
It was as sad as seeing a three-year-old child try to tie his own shoelaces. Or watching Jack Warner try to pronounce: "electricity." Or "extradition."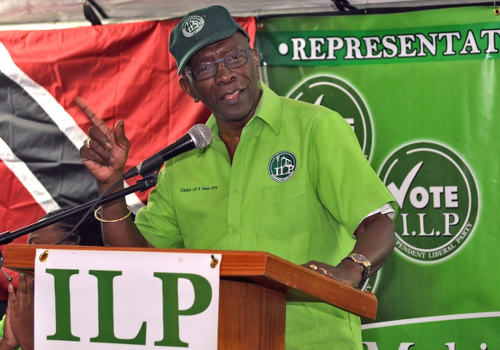 Anthony Everard, the head of the Big Bash League, described Gayle's comments as: "disrespectful and simply inappropriate."
Melbourne Renegades CEO Stuart Coventry vowed to discuss the matter with Gayle and Cricket Australia and warned that: "There's just no place for that sort of behaviour."
Everard pointedly noted that the Big Bash was: "all about its appeal to kids, families and females." Translation: we have no intention of messing with our ratings.
The Daily Mail, never one to miss an opportunity for moral outrage when it isn't spying on celebrities and rummaging through voice messages left with the families of kidnapped victims, referred to the West Indian's interview as: "sleazy."
And what does Mr Live Wire think?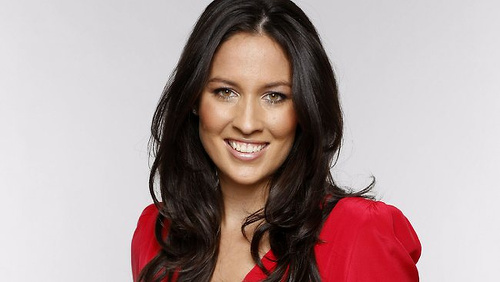 First, McLaughlin deserves the opportunity to get through her work day in peace without having to bat away unwanted advances. And she probably will once she crosses 50.
Second, the lightbulb that flashed over Gayle's head as he produced his pick-up line was clearly on dim voltage. But then it must be hard to tell whether you are truly funny, handsome and charming when your bank balance has seven digits.
Gayle, sorry pal, but you are less (Morris) Chestnut and more Forest (Whitaker). And that can limit your options in terms of the women who blush at your advances.
Third, Gayle did not insult, grope or intimidate McLaughlin. He was simply childish, cocky and stupid. So perhaps the penalty should match the crime.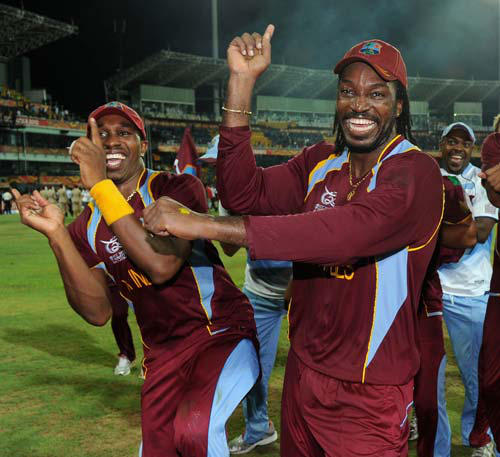 And, chances are when you have a microphone thrust at you as often as sport stars do, you will sometimes say some really stupid things.
Male reporter (in post-game press conference): "How long does it take you to get over the disappointment (of a loss)?"
Russian professional tennis star Maria Sharapova: "There is so much of good self-esteem when you speak. It is really nice… What was the question? I was just admiring your form."
Chances are that if McLaughlin wants to take a stance against sexism in the workplace, she would not have to look as far as the Caribbean.
Channel Ten's first response to Gayle was a slap on the back and, far from a private snicker, they shared the joke with the embarrassed television host and the rest of the world.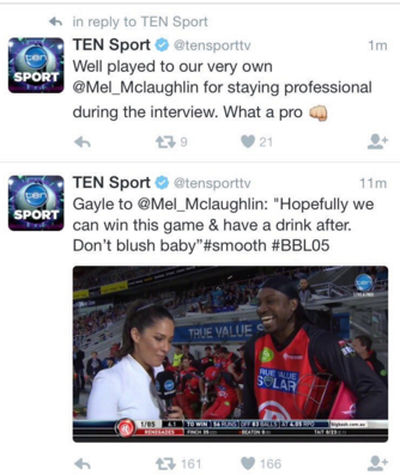 Channel Ten tweet: "Gayle to @Mel_Mclaughlin: 'Hopefully we can win this game & have a drink after. Don't blush baby' #smooth #BBLO5."
It took another 10 minutes before Channel Ten's social media manager recognised that maybe their employee wasn't there as "eye food", although the station still opted against rebuking the cricketer.
"Well played to our very own @Mel_Mclaughlin for staying professional during the interview. What a pro…"
Mr Live Wire does not want to cast aspersions but he has noticed over the years that, apart from the odd ex-world champion, female sport reporters at television stations tend to be strikingly attractive and generally blonde.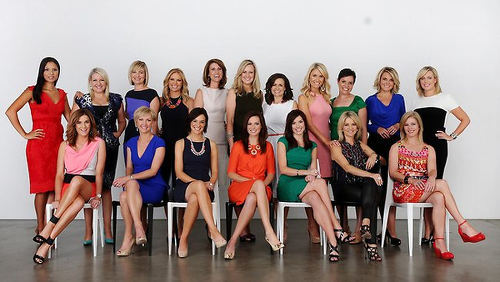 It is as though Tiger Woods hires them himself.
Whereas male reporters…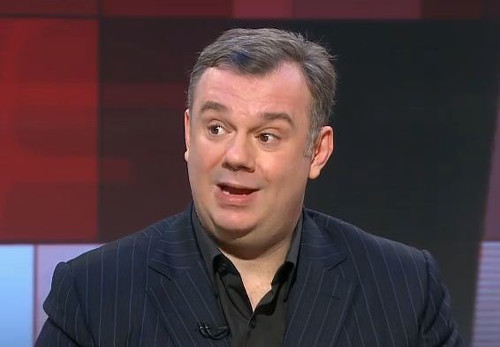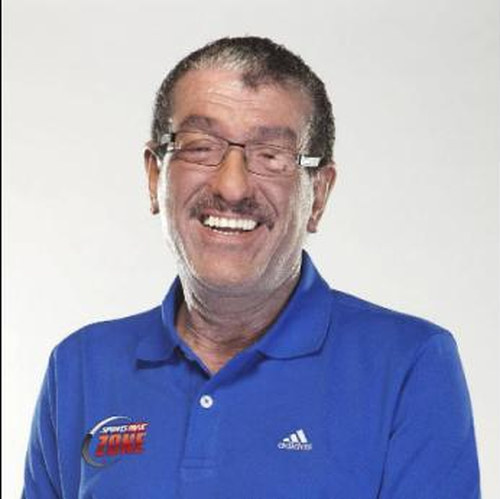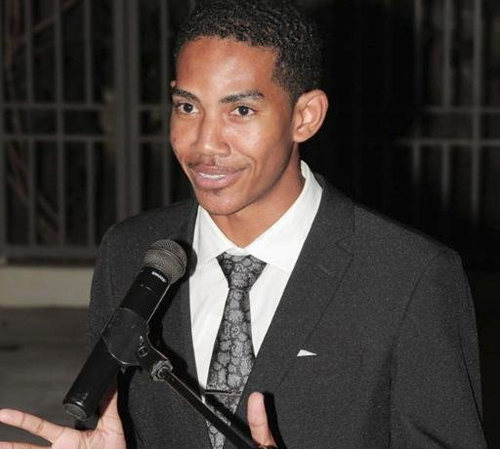 With all due respect to the gentlemen pictured above—who Mr Live Wire has the pleasure of all knowing professionally—none would probably reduce Serena Williams to a lustful, incoherent mess during a television interview. And, thankfully, we do not generally expect our male reporters to possess such powers.
The elephant in the room when it comes to the hiring of female reporters, so to speak, is a fox.
Which is not to say Gayle doesn't deserve to be castigated for failing to read the wicket.
Sadly, poor Chris seems to be a relic from a bygone era who has struggled to come to grips with the 21st century and simply stands out like a sore thumb in progressive company.
Just like the West Indies cricket team.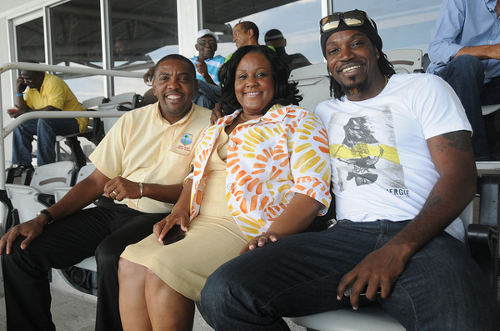 Editor's Note: Chris Gayle subsequently apologised for his "simple joke" that was "blown way out of proportion." Which sounded surprisingly close to Gayle saying: "you idiots just don't get it."
And Gayle was sweet enough to give his regrets to Mel McLaughlin with a sentence that included the word "if." Awww… His apologies are as bad as his pick-up lines. But at least he patronised us.
(Full Chris Gayle "apology")
"A lot of things have flared up from a simple comment, a joke, a simple joke on air and it seemed to went out of proportion.
"There wasn't anything at all meant to be disrespectful or offensive to Mel and if she felt that way I'm really sorry for that. 
"There wasn't any harm meant in that particular way to any particular person like that. 
"It was a simple joke, the game was going on. Entertainment, things get out of proportion but these things do happen.
"There wasn't any harm done, I'll leave it at that. I'm sorry for that, we'll have to move on."
Incidentally, former Australia World Cup and Everton footballer Tim Cahill and British television personality Piers Morgan both "get it" as evidenced by their tweets on the matter.