Naparima College clinched their seventh National Intercol title yesterday with a hard earned 2-0 win over fierce Northern rivals St Anthony's College at the Mannie Ramjohn Stadium in Marabella.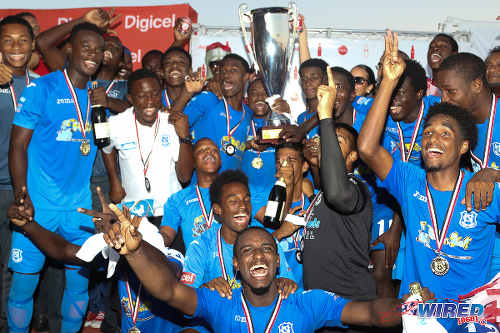 Naparima held on to an Intercol grudge inflicted over a decade ago by St Anthony's and, yesterday, Jarred Dass exacted some revenge for the 2002 team with the simplest of doubles with goals on either side of half time to settle the fixture that was beamed across the region live by SportsMax.
Dass, who has been a consistent performer on the offensive end for Naparima all season, opened the scoring in the 45th minute before adding the game clincher just three minutes after the resumption.
"Dass has played left back, centre midfield, attacking midfield and striker," Naparima coach Angus Eve told Wired868. "He is the total team player. He is the utility player in our team alongside Nicholas Thomas."
The double by the versatile Dass was a cruel blow for the "Westmoorings Tigers" who appeared to be coming into their own towards the end of the first period after a brisk Naparima start.

The two-time Premier Division champs could have been awarded a penalty in the 11th minute, as St Anthony's right back Brent Joel needlessly took out Naparima winger Akinola Gregory in the penalty area. But the referee's assistant ruled that the ball went over the by-line before the defender's wild tackle.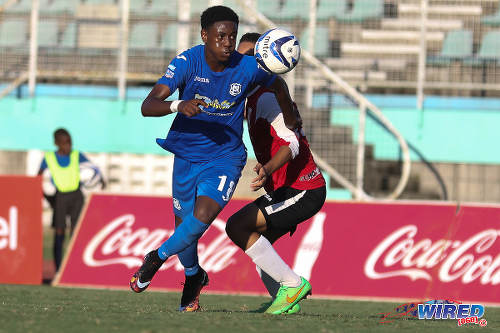 Coach Nigel Grosvenor's Tigers showed that they were not going to roll over and gift Naps the National double though. And their captain Simon Joseph spanked a free kick off Levi Fernandez's upright in the 15th minute before utility player Andrew Rullow and semifinal hero Haile Beckles combined to foul up what seemed to be a simple rebound.
"Haile got a chance where he just swung and kick," said Grosvenor. "And in an ordinary game he would have controlled it and just placed it in."
The long-serving St Anthony's coach got a bit more anxious, six minutes later, as 2014 Intercol winner Kathon St Hillaire bent a shot agonisingly wide of Fernandez's goal with the outside of his boot.
The Tigers were roaring but they had nothing to show for it.
Naparima's first clear-cut chance came in the 34th minute, as Gregory was played in by match winner Dass but St Anthony's goalkeeper Jabari Brice was quick to close down the speedy winger.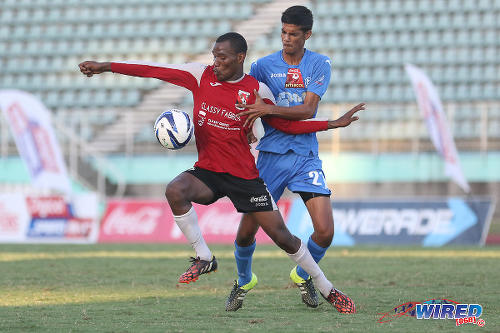 The end-to-end action continued as Fernandez made a splendid double save to thwart a long range effort by Shakeem Patrick and substitute Nkosi Salandy in the 40th minute.
All the while, Naparima's prolific 15 year-old striker, Isaiah Hudson, was being put under heavy duress by the rugged Rullow, as the Tigers were intent on limiting the lanky striker's chances.
However, Rullow left Hudson in the 45th minute to pursue a long ball from a "Naps" defender and his school paid the ultimate price for it. Hudson collected the loose ball outside the opposing penalty area before playing a simple through pass to the eager Dass who placed a right footed shot past Brice.
Grosvenor regretted his players' failure to take their first half chances.
"If we had scored one or two goals during our bright spell in the first half it would have been a different story," said Grosvenor, "but after throwing away so much, the other team comes and scores."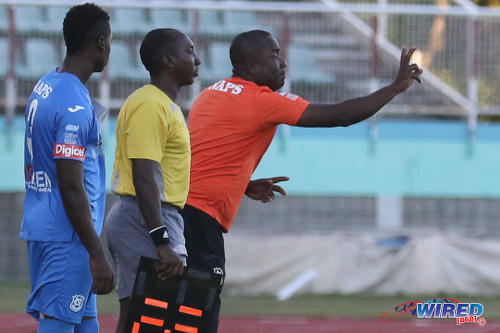 At the other end, Eve was grateful that the Tigers did not pounce during their purple patch.
"I think the fact that they didn't score in the first was very key for us," said Eve. "They had the better chances in the first half and I thought that, once they didn't take their chances and we went in 0-0, the second half would have been totally different."
Eve got way more than he bargained for as his team went two-up just after the resumption due to a very shaky restart by St Anthony's.
After Joseph nearly gifted a goal to Gregory with a lackadaisical pass out of the back, mere seconds into the second half, the St Anthony's defence dozed off once more in the 48th minute.
A regulation cross by Shane Sandy from the right flank was allowed to drop in the penalty area and fell to the predatory Dass. And the Naps player made no mistake as he gleefully tapped the ball past a hapless Brice.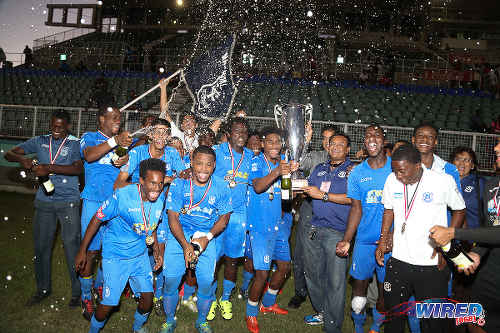 Grosvenor described Naps' second goal as a "head-dropper."
St Hillaire looked the only real threat to Naparima's Intercol title quest from thereon and the ex-Mucurapo East student opened up Fernandez's goal after slickly cutting inside defender Thomas in the 56th minute. But his weak left footed shot was corralled by Fernandez.
The wily attacker then escaped the attention of Thomas in the 76th minute, only to see his fierce right footed shot punched away by the goalkeeper.
"Plaudits must go to our goalkeeper who I thought was our best player in the first half and he kept us in the game," a buoyant Eve told Wired868.
Hudson and Naparima's industrious skipper Michael Basdeo both had chances to increase the cushion in the dying moments but they both blazed overbar on the counter attack.
But Dass had already done the business for Naps.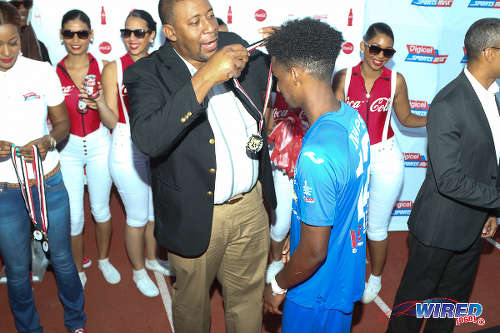 "I must give credit to coach Grosvenor and his boys," said Eve. "They came out and played a bit although they were still staunch in defence. I thought the game was nice game for the fans and I think everybody here today enjoyed the game and that was the advertisement I wanted for the league.
"I'm also elated for the guys because some of them are leaving school, so it's something good to have on their resume as they go forward."
While Eve was triumphant, Grosvenor reflected on what could have been.
"The injury that Jediael Harewood suffered against Carapichaima really hurt us," said Grosvenor, "because we had to put a strong forward in Patrick at left-back and Haile (Beckles) started up top. Due to Harewood's injury we had to make changes that weakened our attack a bit as we really prefer Haile coming off the bench.
"It is not easy playing out here for the first time at that age and to play at a high level all the time."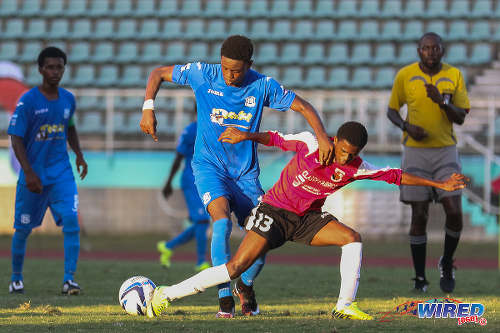 Grosvenor was still proud of his young Tigers though.
"I really didn't think that we would reach as far as the national final so I must acknowledge the guys for their efforts."
But as the schoolboys from Lewis Street in San Fernando chant: North, South, East, West, Naparima is the best!
(Teams)
Naparima College (4-2-3-1): 22.Levi Fernandez (GK); 20.Rondell Payne, 16.Anderson Toussaint (3.Khris Stroud 84), 19.Stephon Smith, 4.Nicholas; 8.Miochael Basdeo (captain), 5.Kierron Mason (6.Judah St Louis 65); 12.Jarred Dass,11.Shane Sandy, 7.Akinola Gregory (21.Justin Sadoo 78); 18.Isaiah Hudson.
Unused Substitutes: 1.Darriel Kurjah (GK), 2.Tyrike Andrews, 9.Shobal Celestin, 10.Jeremiah Kesar.
Coach: Angus Eve
St Anthony's College (4-1-2-3): 1.Jabari Brice (GK); 20.Brent Joel, 15.Nicholas Moyou,18.Simon Joseph (captain), 9.Shakeem Patrick; 19.Andrew Rullow; 8.Jules Lee (13.Shem Clauzel 70), 14.Nicaya Mahon; 7.Kathon St Hillaire, 4.Haile Beckles (10.Kwesi Allen 76), 2.Tyrese Bailey (21.Nkosi Salandy 38).
Unused Substitutes: 22.Oba Augustine (GK), 5.Jodel Brown, 6.Kheisa Granger, 16.Gyasi Moore.
Coach: Nigel Grosvenor
Referee: Gyasi McDonald
Man of the Match: Jarred Dass (Naparima College)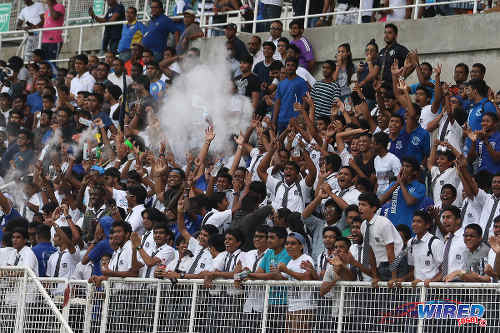 Coca Cola 2015 National Intercol Final
(Monday 30 November)
Naparima College 2 (Jarred Dass 45, 48), St Anthony's College 0 at the Mannie Ramjohn Stadium;