"Marabella is a good team," said FC Santa Rosa coach Keith Look Loy. "They have good ball players and even a player with (Under-20) World Cup experience. They humiliated us 6-2 in the first game of the season, so we needed a win to get close to them and move up the table.
"And we needed a measure of salvation for the club to reverse that humiliation."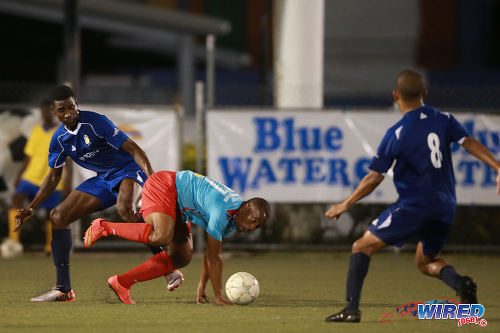 Yesterday evening, Rashad Griffith was FC Santa Rosa's redeemer at the Marvin Lee Stadium, Macoya, as the Arima-based team eked out a 1-0 win over Marabella Family Crisis Centre, who travelled without their star player, 17-year-old attacker Levi Garcia.
Garcia, who will officially join Dutch Eredivisie club, AZ Alkmaar, on his 18th birthday on November 20, pulled out of the match with a sore ankle, after he supposedly suffered some rough treatment against Police FC on the weekend.
Marabella coach Terrence Boissiere spoke of Garcia's impending exit like a new era for the CNG National Super League Premiership Division club.

"I would say this is life without Levi Garcia," said Boissiere, as his players licked their wounds. "I'm glad it happened now because we have to prepare for that, as he is leaving on the 20th. I think we got the chances today but we didn't make use of them."
Twenty-six year old ex-2009 Under-20 World Cup striker Juma Clarence probably missed the Garcia effect more than most and he might have nightmares about a wasted second half penalty kick.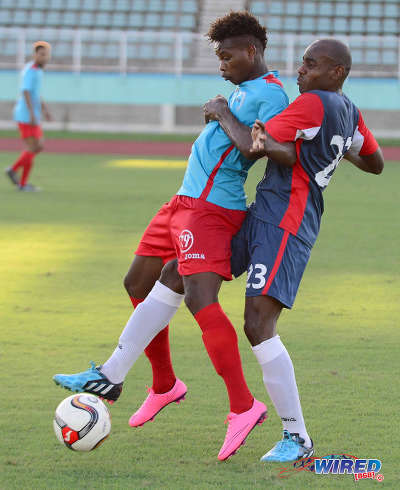 Look Loy conceded that his job was a bit easier yesterday without Garcia, although he pointed out that Santa Rosa was missing the more extravagantly named "Zico."
"Keston 'Zico' Henry was absent with an injury, so we didn't have his creative juices in midfield and we had to rely on hard graft," said Look Loy. "Levi is a tremendous player and one of their key players. Yes, it helped (that he was not there) but this is football and you still have to go out and find a way to win."
With Look Loy screaming instructions from the sidelines, Santa Rosa set out to frustrate the Marabella outfit, which was in third position and eight points off the top of the standings at kick off.
"We knew how they played," said Look Loy. "We knew we had to hassle them and not let them play and that is what contributed to our goal."
There was no hint of danger when Marabella stopper Brandon Neptune ran on to a loose Santa Rosa pass in his own penalty area in the 40th minute. Neptune could have cleared but opted to screen the ball out of play instead.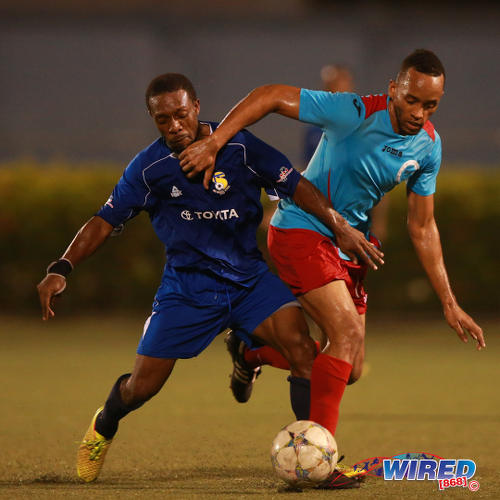 And Griffith surprised him with his spunk and ambition, as he nipped in to win possession before rounding Marabella custodian Rondell Renwick to score.
As if one suicidal error was not enough, Marabella winger Kurlan Khan presented Santa Rosa with another gift in first half stoppage time, albeit a violent one.
Khan had already outpaced Rosa midfielder Kashif Clarke and smartly cut across Clarke's running path to make it impossible for the latter player to win the ball by fair means.
And then, inexplicably, Khan flung an elbow back into the throat of the chasing Clarke. Referee Rashby McPhee showed no hesitation as he flashed the red card.
"Whenever you are away from home and you have people in the stands shouting and coming down on the referee and even the (opposing) bench," said Boissiere, "they put the referee under pressure. I don't think it was that colour card."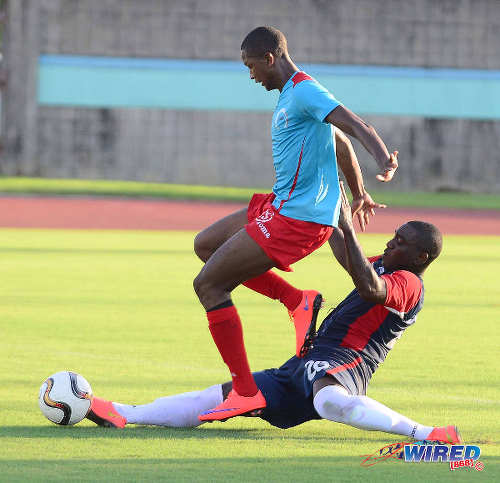 Look Loy, unsurprisingly, disagreed.
"It was absolutely a red card," said Look Loy. "He threw an elbow and hit him in the throat and stopped his breathing for a second or two."
Marabella might have lost another player for a similar infringement in the second half, as captain Ghmyo Harper struck Rosa midfielder Jean-Paul Aqui-Blanc with a forearm.
But, in this case, Harper was trying to untangle himself from Aqui-Blanc and McPhee decided a yellow card was enough.
It was McPhee who tied himself in knots, 13 minutes into the second half, as he awarded Marabella a dubious penalty kick.
Harper crossed from the right flank and Rosa custodian Kitwana Manning carelessly dropped the ball before rushing to retrieve it. Somehow, Marabella attacker Dwayne Edwards ended up on the floor inside the Rosa penalty box and McPhee ruled foul play.
Clarence stepped up to take the penalty kick but failed to even hit the target.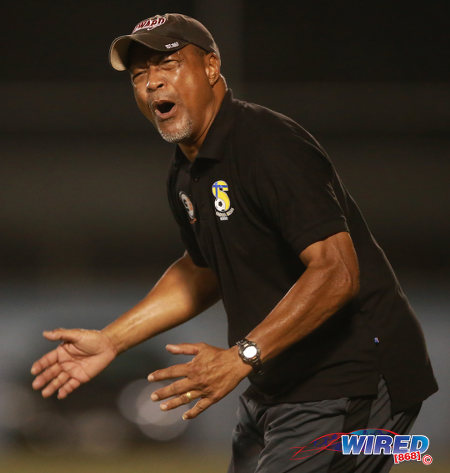 "We rode our luck today," said Look Loy. "Although I don't think it should have been a penalty in the first place."
Boissiere felt that the mental demands of leading the NSL team were weighing on a player who was once a regular for Pro League superpower, W Connection, played professionally in Turkey, has two Trinidad and Tobago National Senior Team caps and scored against Italy in the Egypt 2009 Under-20 World Cup.
"I think he was under tremendous pressure because no one is really coming up to scratch in terms of scoring goals," said Boissiere.
Look Loy suggested a flesh and blood reason for Clarence's quiet showing.
"Alfie (James) did a brilliant job on Clarence," Look Loy beamed about his central defender, "and kept him out of the game."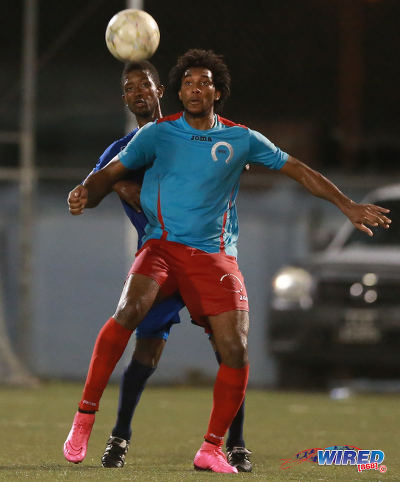 Against the run of play, Rosa had two chances to stretch their lead.
In the 78th minute, Rosa substitute Nicholas Armstrong, who replaced the injured Griffith, got to the byline and picked out an unmarked Gary Bart on the edge of the opposing six yard box. But Bart hit wide.
Then there was another horrible misjudgement from Neptune as he was caught in possession by Aqui-Blanc on the half-line and sprinted back to tackle the Rosa player from behind inside the penalty box. McPhee waved play on.
But, generally, the 10 men from Marabella bossed the game.
"Jovan, organise the team!" Look Loy shouted from the sidelines, at captain and central defender Jovan Rochford.
Rosa defended en masse and generally kept Marabella from their 18-yard box. But only just.
After Clarence's miss, Harper abandoned his right back role and became an auxiliary attacker. He too got a golden opportunity, midway in the second half, but watched on incredulously as his low shot deflected off Manning's trailing leg and went out for a corner kick.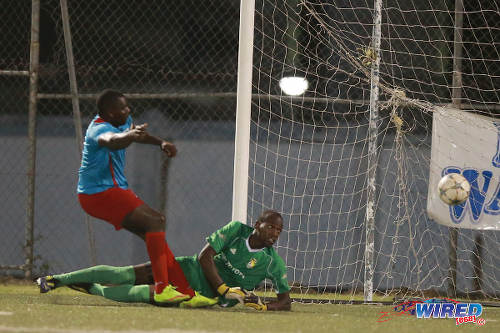 "All of you, understand the state of the game!" Look Loy shouted at his troops, as the seconds ticked away.
But it could have been all in vain, as Clarence got behind a free kick from 22 yards out in second half stoppage time.
This time, Clarence's shot hit the inside of the post and bounced back across the Rosa goal mouth and away to safety. The Marabella striker looked as though he had just swallowed a cup of spoilt milk.
"We had five clear cut chances and a missed penalty," said Boissiere, "and the only chance Santa Rosa got, they put it away. So it is a lesson for us going forward.
"But we are quietly confident that we will win the league… We know exactly what we need to do now.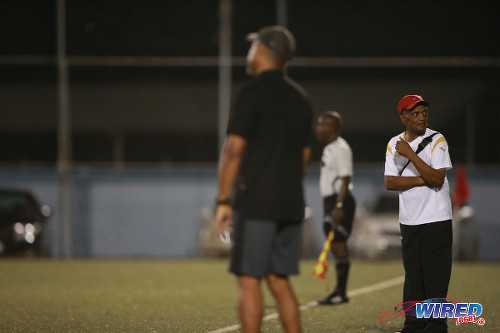 "This loss may take us down to sixth or seventh place (in the standings) but that is not the end of the world."
In fact, Marabella dropped to fifth place with Santa Rosa just one point behind in sixth.
"We needed that win," said Look Loy. "So we will take it how we get it."
It came with a side order of revenge.
(Teams)
FC Santa Rosa (4-2-3-1): 22.Kitwana Manning (GK); 24.Jesse Reyes, 13.Jovan Rochford (captain), 5.Alfie James, 3.Kerron Reid; 8.Shaka Pilgrim, 11.Durwin Ross; 19.Gary Bart (9.Desmond Baptiste 90), 6.Kashif Clarke, 21.Jean-Paul Aqui-Blanc; 7.Rashad Griffith (12.Nicholas Armstrong 49).
Unused substitutes: 30.Darren Shah (GK), 17.Kearn Noel, 18.Shaquille Antoine, 23.Claudius Howard, 27.Kedan Crosby.
Coach: Keith Look Loy
Marabella Family Crisis Centre (4-2-3-1): 23.Rondell Renwick (GK); 19.Ghmyo Harper (captain), 5.Brandon Neptune, 4.Emmanuel Adams, 7.Dwayne Edwards; 10.Kevin Moodie (20.Anderson Morrison 54), 49.Yohance Alexander; 70.Renefor Martin (17.Akida Boissiere 50), 15.Linsie Sherwood (77.Arvid Applewhite 80), 33.Kurlan Khan [Red card]; 9.Juma Clarence.
Unused substitutes: 1.Tevin Moore (GK), 13.Keston Grant, 18.Husani Thomas, 27.Akile Jeffery.
Coach: Terrence Boissiere
Referee: Rashby McPhee
Man of the Match: Ghmyo Harper (Marabella Family Crisis Centre)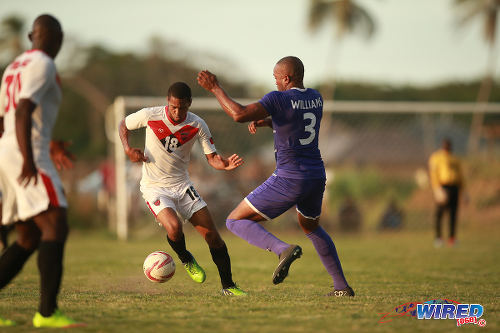 Premiership Division
(Thursday October 15)
FC Santa Rosa 1 (Rashad Griffith 40), Marabella Family CC 0 at Marvin Lee Stadium;
Club Sando Moruga 1 (Trevon Mitchell 85), Matura ReUnited 2 (Kerin Vincent 12, 15) at Grand Chemin Recreation Ground;
Bethel United 1 (Teejay Cadiz 79), Guaya United 2 (Ryan Stewart 58, Jody Allsop 89) at Montgomery Recreation Ground;
Tobago FC Phoenix 5 (Simon Nedd 26, Andel Brown 38, Stefano Wright 50, Shelton Williams 62, OG 87), Stokely Vale 1 (Krishawn Joseph 18) at Canaan Recreation Ground;
Petrotrin Palo Seco 3 (Wilian Garcia  33, Sylvester Teesdale 45, 83), Siparia Spurs 3 (Daniel Diaz 4, Chris Collins 76, Andy London 84) at Palo Seco Velodrome;
Police FC v WASA FC: abandoned due to waterlogged conditions at St James Barracks.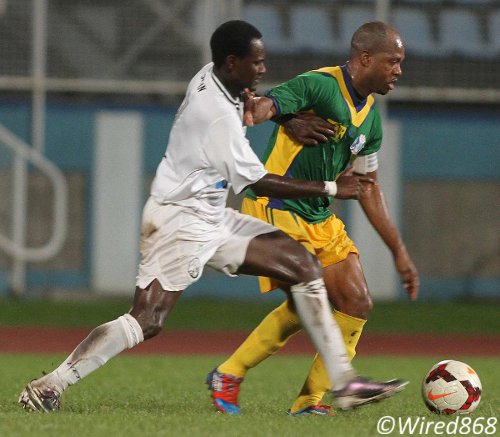 Standings (Tabulated as Played-Won-Drew-Lost-Goals For-Goals Against-Points)
Guaya United  15-11-1-3-39-23-34
Defence Force 14-10-1-3-30-16-31
FC Phoenix       15-8-3-4-28-21-27
Siparia Spurs   15-6-6-3-34-36-24
Marabella CC   15-6-5-4-34-28-23
Santa Rosa       15-6-4-5-27-23-22
Petrotrin P/S   15-6-4-5-30-29-22
Sando Moruga 15-5-5-5-25-26-20
Police FC            14-5-4-5-36-27-19
Matura ReUtd  15-5-4-6-23-31-19
WASA FC            14-5-3-6-17-14-18
Bethel Utd          15-5-1-9-21-28-16
La Horquetta    14-3-4-7-28-37-13
Real Maracas    14-3-3-8-19-25-12
Stokely Vale      15-0-4-11-10-37-4