"The result is a cruel one for the boys and the team," said St Mary's College coach Ryan Shim yesterday afternoon. "But I think at the end of the day we did not do enough to win and Naparima did."
The Secondary Schools Football League (SSFL) Premier Division is in its second year and it is clear that an established pattern exists: two school teams battle for 90 minutes and, at the final whistle, Naparima College wins.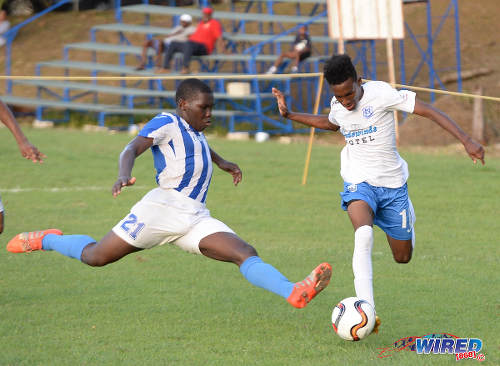 Yesterday, St Mary's College turned up at Lewis Street, San Fernando in their numbers and put in a valiant effort on a difficult playing surface. But it was not enough to grab even a solitary point.
Jarred Dass saw to that with his fourth goal from as many matches as Naparima snatched a late 2-1 triumph over their northern visitors.
"The performance wasn't like us," Naparima coach Angus Eve told Wired868. "We really didn't push the ball around as we are capable of doing. But, in saying that, St Mary's didn't produce any major chances, although the kid (Bryant Van Low) scored with a really good shot…

"And we were able to get the job done in the end."
The result saw Naparima stretch its perfect record to four straight wins while St Mary's surrendered its own run with a first loss this season.
Shiva Boys Hindu College, who downed Carapichaima East Secondary 2-0 yesterday, is the only team with a 100 percent record this season.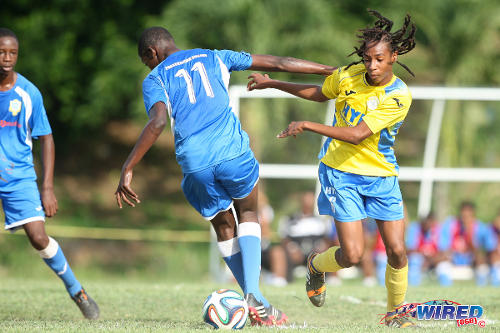 Worryingly for the challengers, three of Naparima's four victories came against teams in the top half of the table while the other conquered outfit, San Juan North Secondary, finished in the top four last year and has the potential to do so again.
Not that Shim is anywhere near ready to concede the title race.
"It is way too early to talk about titles," said Shim. "There is plenty football to be played and this league is a competitive one. The mere fact that we (pushed) Naps so close today doesn't mean they will go undefeated throughout the season.
"So we will wait and see what happens."
Both teams already showed signs of wear and tear yesterday.
The "Saints" started without the Premier Division's top scorer Ethan Shim, who scored four of their nine goals before kick off, as well as versatile attacker Aaron Skeene and combative midfielder Nathan Harte. Shim (E), incidentally, is the coach's son.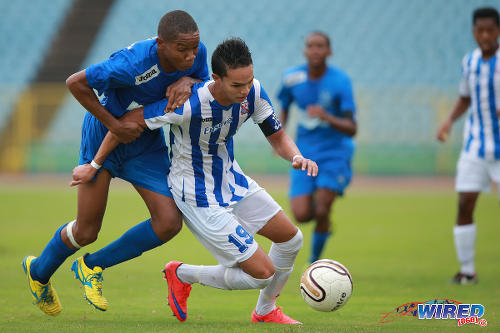 "We had three tough games in a row and, against Fatima, they just didn't look like themselves," said Shim. "So we decided to try to hold Naps and then bring them on in the second half against a tired defence. It almost worked but not quite."
'Naps' had a more straightforward reason for the absence of their captain and midfield organiser, Michael Basdeo.
"Basdeo is out with a hamstring injury," said Eve. "He would probably miss another three games."
Naps made light work of their absence in the early stages. Lanky midfielder Justin Sadoo deserved much of the credit for that.
As other players struggled with the uneven ground, "Soft Shoe" Sadoo strolled around the place as though he had cut and marked the field himself. His ability to quickly usher the ball into free pockets of space kept St Mary's chasing shadows for much of the first half.
"Sadoo is fantastic on the ball," said Eve. "In the game against San Juan, he was the best player on the park by far. He plays that number 10 role for us (and) he gets on the ball, moves (it) around and gives us a bit of calm (that would be missing) without our captain, Basdeo."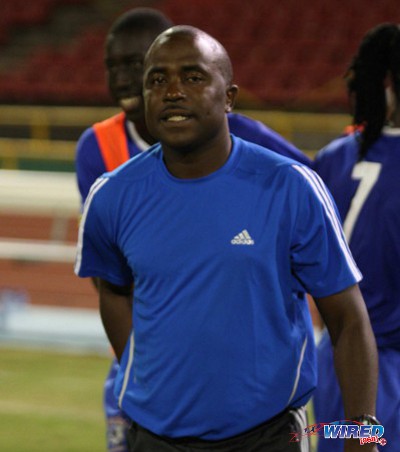 St Mary's goalkeeper Kristopher Donaldson managed at least two fine reflex saves—and Naparima poacher Jarred Dass produced at least as many misses—to keep both sides on level terms for much of the first half. But a goal for the hosts seemed inevitable.
Fittingly, Sadoo delivered the opening blow, as he stabbed home from close quarters in the 43rd minute, after CIC captain and defender Jerome Dempster-Babb, under pressure from Dass, failed to clear his lines.
Shim, predictably, introduced Shim (E) and Skeene at the resumption of the second half and Harte followed soon after in the 53rd minute.
St Mary's was galvanised as a result—and attacker Chinua Bernard certainly blossomed with the improvement in quality around him—but it was not quite enough to unsettle Naps. Or was it?
In the 75th minute, Naparima's stand-in captain, Stephon Smith, chopped Shim (E) down St Mary's left flank and the hosts failed to properly clear Daniel Conocchiari's subsequent free kick.
St Mary's midfielder Bryant Van Low caught the loose ball on the volley, which flew to the left of Naps custodian Levi Fernandez for the equaliser. The Saints' supporters screamed in the stands.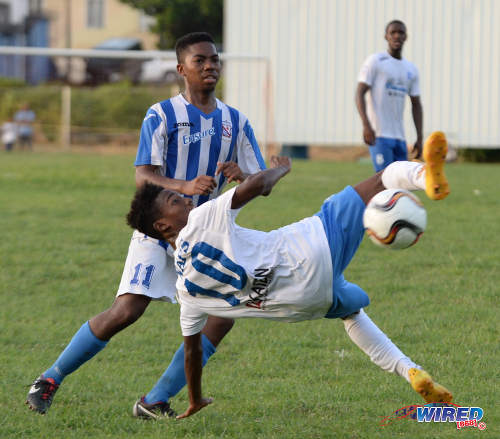 Two minutes later, the Frederick Street boys almost snatched the lead, as Bernard found Shim (E) on the right side of the Naparima penalty area and the latter player dragged his angled strike wide of the far post.
But, with Isaiah Hudson's injection of purpose from off the bench and Dass' movement, Naparima remained the more dangerous of the two teams. It did not seem to be Dass's day, though, as chance after chance passed him by.
"No, no, no," said Eve, when asked whether he considered withdrawing Dass. "He is the only one who is scoring for me."
Referee Cecile Hinds signalled for a minimum of five minutes extra time. The match was already in the fifth minute when Naparima won a free kick, some 40 yards out.
Mentally, St Mary's players might have already visualised themselves safely back on their bus with a share of the spoils.
"We came here happy to get a point," said Shim. "We know Naparima are champions elect and they are difficult to beat in their own backyard…"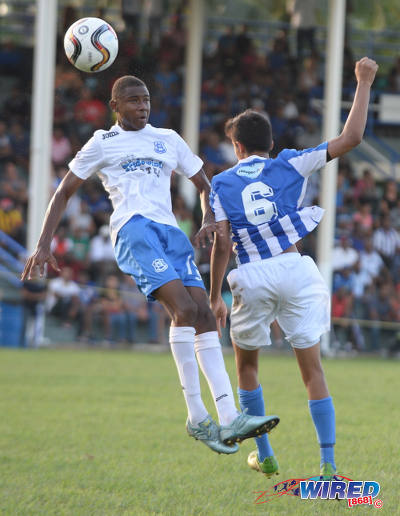 But, in the final kick of the game, the Saints could not hold on.
Hudson whipped the free kick into the box and Donaldson, who was otherwise spotless, did not get height or distance on his punched clearance. Naparima substitute Jeremiah Kesar flicked the ball back inside the area and, once more, the chance fell to Dass.
And Dass forgot to remember that he was having a woeful game upfront.
"Bang!"
The ball flew high to Donaldson's left and Naparima was celebrating another three-point haul.
"Every game we play is like a final," said Eve, "because everyone wants to beat the champion team. In order to be the champion, you have to beat the champion."
Last year, Naparima announced themselves with an emphatic 5-1 drubbing of then pacesetters St Anthony's College at Westmoorings. And Eve is anxious to make a similar statement this season.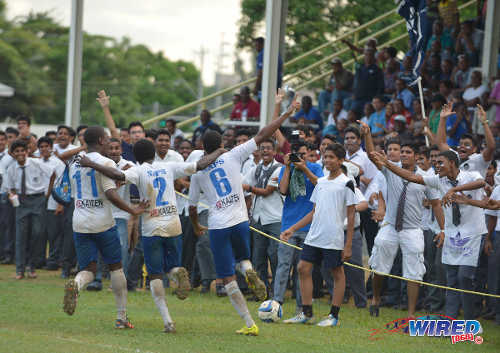 "We are still waiting for a 5-1 or something like that game last season when we trounced St Anthony's and went on from there," said Eve. "We haven't had that game yet."
As if Naparima's upcoming opponents did not have enough to worry about.
(Teams)
Naparima College (4-2-3-1): 22.Levi Fernandez (GK); 4.Nicholas Thomas, 16.Anderson Toussaint, 19.Stephon Smith, 20.Rondell Payne; 6.Judah St Louis, 11.Shane Sandy; 7.Akinola Gregory (18.Isaiah Hudson 46), 21.Justin Sadoo (13.Seon Shippley 81), 9.Shobal Celestine (10.Jeremiah Kesar); 12.Jarred Dass.
Unused substitutes: 1.Darriel Kurjah (GK), 2.Andrews Tyrike, 3.Khris Stroud, 14.Aalon Minors.
Coach: Angus Eve
St Mary's College (4-1-2-2-1): 1.Kristopher Donaldson (GK); 6.Samuel Affonso, 4.Jerome Dempster-Babb (captain), 3.Emilio Saunders, 23.Renaldo Noreiga (21.Nathan Harte 53); 7.Matthaeus Granger; 11.Bryant Van Low, 8.Daniel Conocchiari; 9.Chinua Bernard, 14.Jerrard Fraser (10.Aaron Skeene 46); 20.Tyler Kirton (19.Ethan Shim 46).
Unused substitutes: 25.Nicholas Ramdin (GK), 2.Rondel Coutain, 13.Nicholas Emmanuel, 22.Kyle Mowser.
Coach: Ryan Shim
Referee: Cecile Hinds
Man of the Match: Kristopher Donaldson (St Mary's College)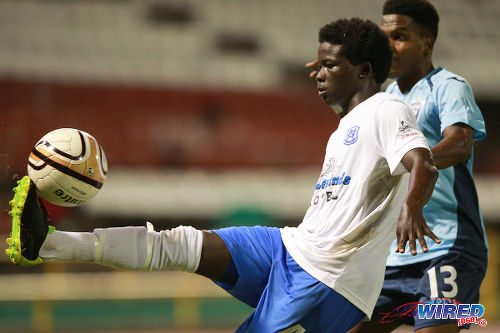 SSFL Premier Division results
(Saturday September 19)
Naparima College 2 (Justin Sadoo 43, Jarred Dass 90), St Mary's College 1 (Bryant Van Low 75) at Lewis Street, San Fernando;
Shiva Boys Hindu College 2 (Tyrell Baptiste 19, 71), Carapichaima East 0 at Carapichaima;
St Augustine Secondary 2, Presentation College (San Fernando) 3 (Nate Brooks, Kyle Moodie, Nion Lamy) at St Augustine;
Trinity College East 1, San Juan North 2 (Brent Sam 21, 31) at Trincity;
Fyzabad Secondary 5, Speyside High 3 at Fyzabad;
Fatima College 1, QRC 1 at Mucurapo Road;
St Anthony's College 3, Trinity College (Moka) 3 at Westmoorings.