There are unlikely to be many tougher venues than Bourg Mulatresse for visiting Secondary Schools Football League (SSFL) outfits this season.
In that context, the "Westmoorings Tigers" should be ecstatic by their first outing of the 2015 Premier Division competition as St Anthony's College edged hosts San Juan North Secondary 1-0, despite playing for half-hour with just 10 players.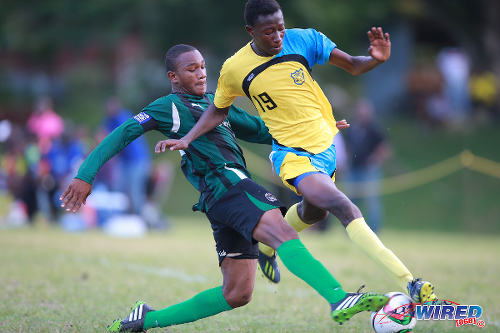 The pre-game chatter centred around six-foot-plus centre forward Brent Sam, who spent part of July in Turkey trying to land a professional contract only to then snub San Juan Jabloteh and the Pro League to return to schoolboys competition.
But it was another 19-year-old forward who stole the spotlight as Kwesi "Jep" Allen, last year's top scorer, started his new season doing what he does best: scoring goals.
In the 52nd minute, St Anthony's left back Raheem Borde arrowed a deep, diagonal cross into the opposing penalty area. Nine out of 10 times, San Juan defender Kyle Williams would have dealt with it easily. But this was the tenth time.

Williams stumbled, possibly deceived by the trajectory of the cross, and Allen struck.
Bang! The ball whistled past San Juan goalkeeper D'Andre Villaroel for the eventual game winner.
Arguably, a draw might have been a fairer result for the two teams who both played decent, patient football in patches but largely struggled on the slow and uneven pitch.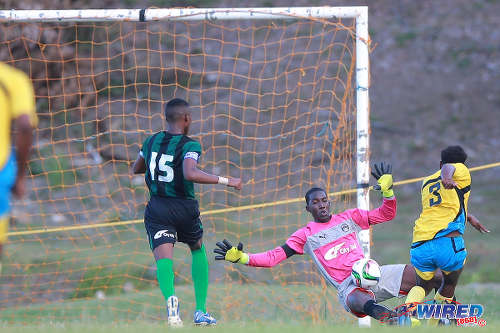 Once behind, though, San Juan players became increasingly dependent on long balls to their beanpole striker and the Tigers ensured he did not have it all his own way, as their own six foot attacker, Marcus Rullow, was stuck in central defence to keep an eye on him.
Between Rullow, captain Simon Joseph and holding midfielder Jules Lee, St Anthony's did just enough to contain the San Juan giant.
Whether Sam should have been there at all is another question. The talented forward already has two Pro League seasons under his belt and scored in both.
Each August, Jabloteh offers Sam a contract. On every occasion, he turns them down to play in the SSFL instead. And, every January, Sam returns to the Pro League for a half-season.
At 19, Sam is repeating Form Five now and maybe he really is in his last season now.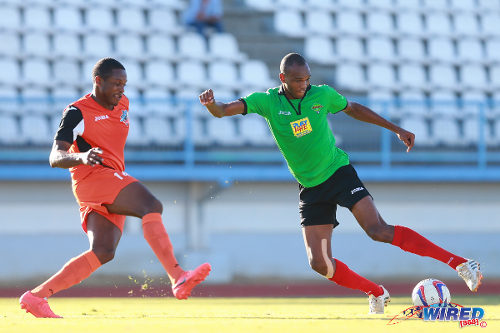 It did not get off to a good start. He did not lack for effort. But his movement was sluggish and far too easy for opposing defenders to pick up.
"Sam, you have to wake up eh!" former San Juan North teammate Josiah Trimmingham shouted from up on the mound.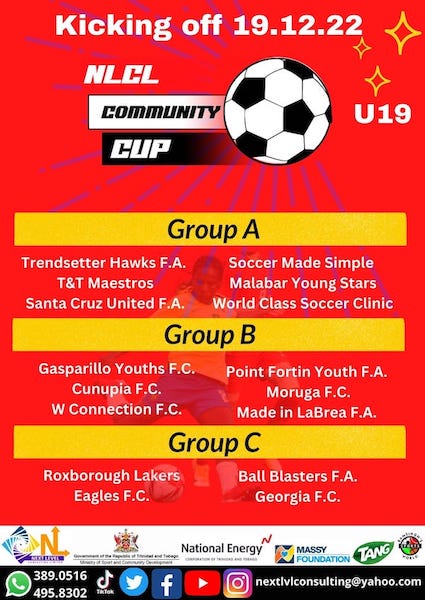 But the long balls just were not sticking for Sam as they used to while he seemed to fumble with the ball whenever he tried to accelerate away from a defender.
It must have been maddening for coach Jerry Moe since the host team looked an improvement from last season.
Last year, San Juan North scrapped and battled while waiting for Sam's quality to bail them out. Today, they seemed much more comfortable on the ball and never overawed against a St Anthony's XI that featured 10 players from the 2014 season.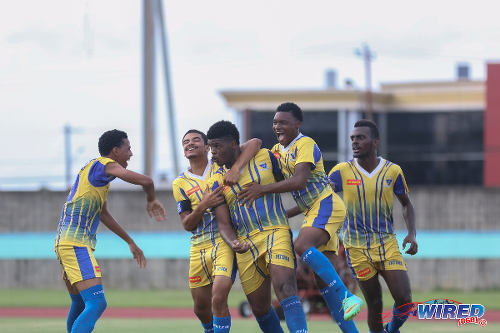 Unfortunately, San Juan's best chances fell to Sam's strike partner Joshua Leach and he missed the target with every one.
Seven minutes into the second half, Allen, another 19-year-old schoolboy, gave him an education in finishing as he pounced on a Williams error to put the Tigers ahead.
Referee Rashby McPhie ejected Lee in the 61st minute, after the midfielder earned his second caution for a needless tug on Leach near the half-line.
San Juan huffed and puffed. But, apart from a Sam flick on over the bar from a Brandon Semper long throw and another Leach miss, Moe's young men had nothing to show for it.
Almost certainly, Sam will be better next time and San Juan will pick up points. But today belonged to the Jep.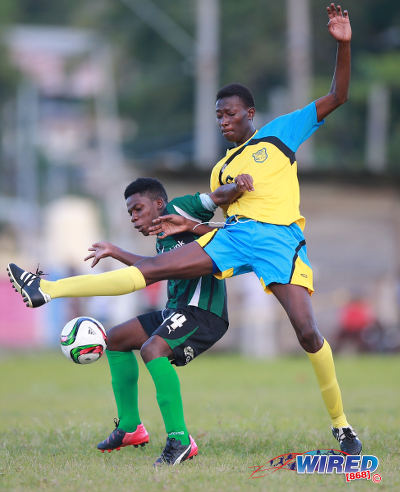 (Teams)
San Juan North (4-4-2): 1.D'Andre Villaroel (GK); 12.Warren Chase, 3.Kerdell Sween, 16.Kyle Williams, 6.Brandon Semper; 7.Oneel Jarvis, 5.Rhondel Gibson (20.Jerome Cyrus 90), 8.Marcus Rosales (14.Shrikel Diamond 62), 22.Jermelle Britto (11.Joshua Jerome 55); 19.Joshua Leach, 9.Brent Sam (captain).
Unused substitutes: 30.Lukman Brooks (GK), 15.Myles Oliver, 17.Kareem John, 24.Obadele Dickson.
Coach: Jerry Moe
St Anthony's College (4-1-4-1): 22.Oba Augustine (GK); 20.Brent Joel, 18.Simon Joseph (captain), 19.Andrew Rullow, 17.Raheem Borde; 8.Jules Lee; 11.Adriel Kerr (14.Nilaya Mahon 65), 13.Shem Clauzel, 9.Shakeem Patrick, 16.Gyasi Moore (4.Haile Beckles 60); 10.Kwesi Allen (12.Jediel Harewood 88).
Unused substitutes: 1.Jabari Brice (GK), 2.Tyrese Bailey, 5.Jodel Brown, 6.Khiesa Granger.
Coach: Nigel Grosvenor
Referee: Rashby McPhie
Man of the match: Kwesi Allen (St Anthony's College)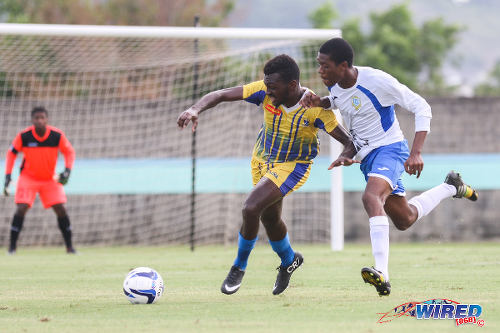 SSFL Premier Division results
(Thursday September 10)
San Juan North 0, St Anthony's College 1 (Kwesi Allen 52), San Juan;
Speyside High 2 (Kerry McDonald 45, 48), Carapichaima East 2 (Justin Joseph 31, Keston Vierre 89), Speyside;
Trinity College Moka 2 (Isaiah Marshall 22, Jameel Cunningham 77), St Benedict's College 3 (Jaron Panthor 47, 85, Kerwin Mitchell 60), Moka;
Presentation San F'do 4 (Nate Brooks 4, Nion Lamy 19, Kareem Riley 41, Moriah Griffith OG 88), Fatima College 3 (Andrew Abraham 24, Jonathan Casimire 53, Jahreed Murray 67), Mannie Ramjohn;
Shiva Boys HC 1 (Shaquille John 30), St Augustine 0, Penal;
Upcoming fixtures
(Saturday September 12)
St Benedict's College v San Juan North, 3.45 pm, Mahaica Oval, P/Fortin;
Carapichaima East v Fyzabad Secondary, 3.45 pm, Carapichaima;
St Anthony's College v St Mary's College, 3.45 pm, St Anthony's;
Fatima College v Shiva Boys HC, 3.45 pm, Fatima;
St Augustine v Speyside High, 3.45 pm, St Augustine;
Presentation San F'do v Naparima College, 3.45 pm, Mannie Ramjohn;
Trinity College East v QRC, 3.45 pm, Trincity.