Columnist Earl Best pens an open letter to current Guardian Sports Editor Valentino Singh, who initially led the campaign to have Austin Jack Warner brought to book for his November 19,1989 misdeeds and then turned around and tried to make Warner look good by authoring his two self-serving books: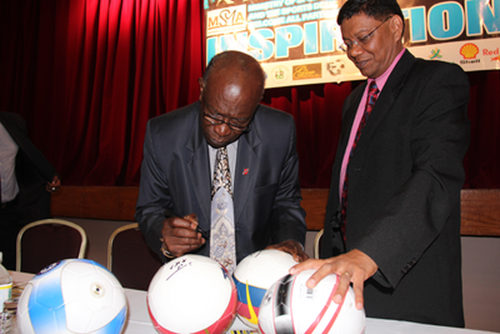 My brother, Valentino,
I want to begin by telling you that, every time I see former TTFA general secretary, special adviser and Voice of One Austin Jack Warner on my television set offering himself for public office, for public service, the bitter-sweet memories of that November almost 26 years ago now come flooding back. Like the blood on Pontius Pilate's hands, they just won't go away.
Tell me, Tino, you tink dat right?
You tink you should keep quiet while a Jack as crooked as Warner who do so much wickedness with people money should now be apparently cocksure he go get away scot-free, boasting about "15 years," laughing keek, keek, keek behind he hand?
You tink it right, Tino, dat you should keep quiet while a Jack as crooked as Warner who abandon he own two sons in deh time of need should be trying to sell heself as we potential saviour?
You tink it right, Tino, dat you should keep quiet while a Jack as crooked as Warner who lying about all kina ting, including taking one dollar as he salary while he was a minister, should be seriously arsking people to vote him back in the parliament?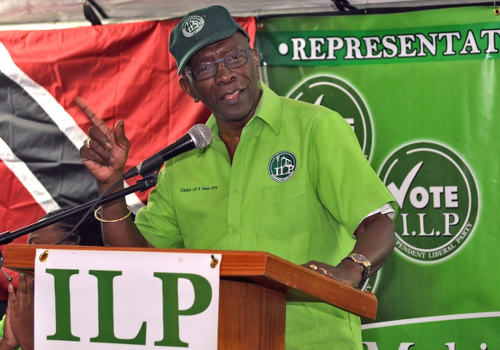 You really tink all dat right, brother?
Do you remember, Tino, how Jack told the whole country that if the TTFA had not been so deep in the red he would not have oversold tickets for that 1989 match that is now etched in our memories?
Some people, many people seem to have forgotten that. More than two decades after November 19, 1989, the TTFA is still stretching up to reach the bottom of the hole left in their coffers.
And as we saw just last month, they continue to run cap in hand to the Ministry and to react with invective and insults when no money is forthcoming.
You, Tino, are the best man to remind the country of all these things so that they will know just how trustworthy the ILP Leader is, just how much his word is worth. The country's future may depend to some extent on it.
Like with hurricanes, June was perhaps too soon. But can honest people realistically afford to wait until September 7 or after to take decisive action?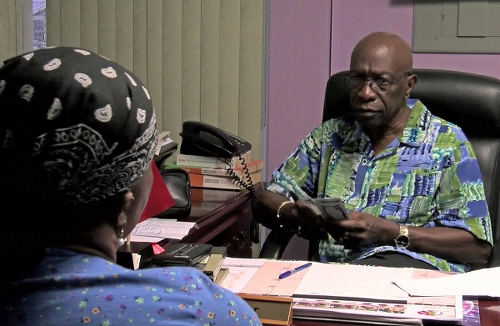 Tino, one of the rare good memories associated with that awful 1989 event is of you, self-appointed public prosecutor, championing the people's cause. But the pleasure soon ebbs, leaving only the pain caused by your eventual betrayal, your crossing over to Warner's side.
And I feel certain I'm not alone, am I, Gally?
Travel back the almost 26 years with me, Tino, to 1989.
Gally's "Strike Squad" starts slowly. But gathering momentum as the campaign wears on, they have been turning on the style in the last few weeks. Now, with just one game to go, they are poised for glory. One point. All the fellahs need is not to lose and we, T&T, a little 60 X 40 rock in the Atlantic Ocean, are among the big boys in Italy. One point!
And in the away game in California in May, we had managed to take one point off these jokey American upstarts…
Easy kai, isn't that so, Gally?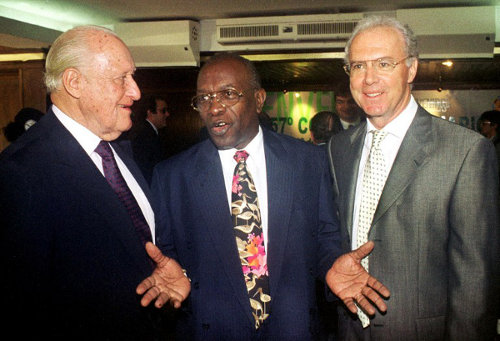 In the Guardian, you have been rallying the troops, giving it your all, throwing your full weight solidly behind the boys like every other red-white-and-black-blooded Trini. And I don't think that's because you are already seeing yourself in Rome, tiefing a chance to go and see the Vatican and the Pope and St Peter's Basilica the day the Strike Squad ent have no game.
No, I think, I know it's because in your mind's eye you're seeing the Red, White and Black flying high in the Italian breeze. Kaisoca soccer breaking down the place and Gally siddong satisfy on the sidelines, a big smile on he face.
I know you're hearing the National Anthem playing and T&Tian voices belting out, "This our native land, we pledge our lives to thee…" etc. in the San Siro. Ent?
And when match done and Michael Maurice record he first clean sheet because the opposition, Italy or Austria or Czechoslovakia or whoever, couldn't respond to the nasty little one Dwight Yorke stick een in deh tail, "Hey, hey, hey, check de danger, Latapy in ah yuh area" flooding over the crowd, 200 T&T-ians drinking Carib and puncheon and wining dong the place, disturbing the serenity of the Holy See with deh volume and deh raucousness…
All dat yuh seeing and hearing and yuh conveying yuh contagious passion to 100, 1,000, 10,000 fans in de Guardian pages. Twice that, ten times that although only about 40,000 get in the National Stadium, over 15,000 more than the place suppose to hold.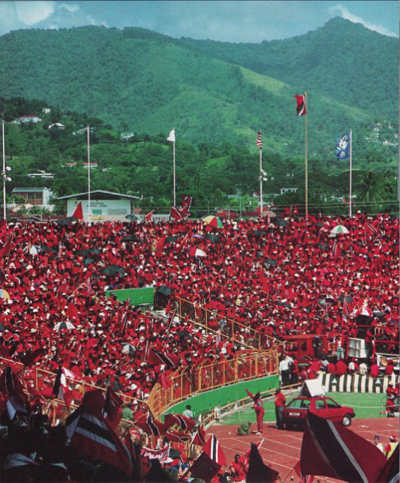 Tino, suppose Michael Maurice had stopped Paul Caligiuri's shot… Suppose Philbert Jones, fouled in the area just before the American goal, had stayed down and forced the referee to award the penalty… Suppose someone—Russell Latapy?—had then stepped up and caressed the ball into the vee… What do you tink would have happened?
Do you think anyone would have come out of that place alive?
You could imagine how much dead body we woulda be toting outta dat stadium dat evening? And who hand all that blood woulda be on, mine, yours or Jack own?
And fuh what? Fuh ah few dollars more? Jack Palance in a Clint Eastwood Italian western!
Tino, many people think Jack is a crook. I wrote recently right here in Wired868 that I know he no straighter than Lady Young Road. I shared a couple of my stories designed to remove all doubt about the extent of his crookery.
But you don't need my stories; for almost three years after 1989, you were the one telling the world the story, the truth about Judas, a man who sell out he own country fuh the modern-day equivalent of a few stinking pieces ah silver.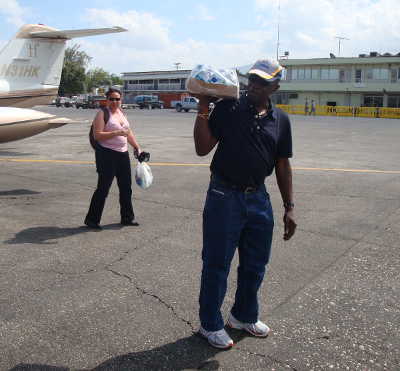 So, tell me, brother, make me understand. You must have realised that aligning yourself with that man is maligning yourself. You remember January 2010 and the earthquake in Haiti?
You read the Wired868 stories saying that Jack couldn't prove that he gave the Haitian Football Federation more than 5% of the US$750,000 he collected from FIFA and the Korean Football Association?
How can you continue to support by your silence that firetruck-salvaging sonofagun, that heartless, self-serving adminis-traitor (STET) who you know tief US$710,000 from the dirt-poor, earthquake-stricken Haitians?
And although your paper never reported the story with the same gusto as the others, I know you know about the eight years of runaround and BS the Soca Warriors endured before they eventually got the money Jack had promised them in 2006.
But not from Jack, Tino! Taxpayers' money. Kamla gave them taxpayers' money! Mine and yours! And Jack's pockets still fat with the filthy lucre from 2006.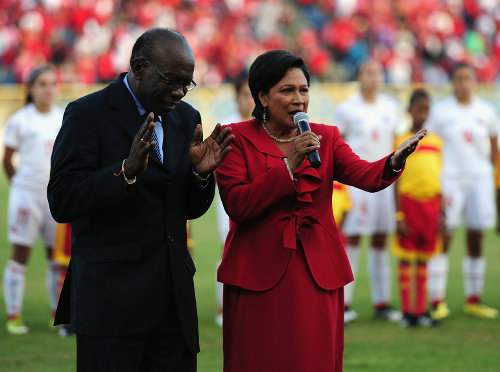 Tino, some people have forgiven Kamla. And some have forgiven Jack. Some have also forgiven you. But I know others who won't ever forgive, maybe even won't ever forget.
But I feel they might. I feel there is something that will make them forgive you.
You have to tell them, tell us, tell the world the truth, the whole truth and nothing but the truth about Jack. At least your part of it.
And you can do it right here on Wired868. Now is the perfect time.
Tino, check the records. When Jack see water more than flour, he does cross the floor… and cross back when flour less than water on that new side.
Ask Basdeo Panday. Or Ramesh Lawrence Maharaj. Ask former ILP chairman Robin Montano and former ILP Political Leader Lyndira Oudit. And maybe Anna Deonarine will have a thing or two to say on that score.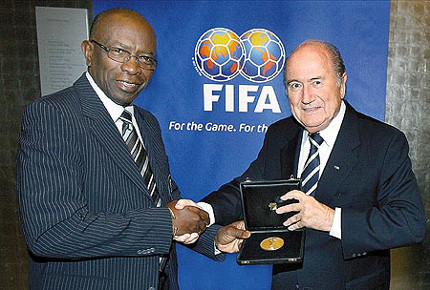 So who is you, Tino? If de priest could play, who is you? You ent folks too?
Cross back. Come back home, brother. After Books One and Two, leave the defence and come back home to the prosecution side, the people side.
Didn't you learn "Nunca un dos sin tres" in QRC? And I have a title for book number three already. It's the perfect sequel to Upwards Through the Night and From Zero to Hero.
If you want to make the Guardian and Radhica Sookraj look a little better retroactively, you can go with Inward Hunger and Outright Greed but I prefer From Hero to Midnight Robber – The Slippery Slope. 
But be warned: Don't expect Warner-type remuneration in the form of a wire transfer from Africa or Moscow or US dollars in a Qatari suitcase or a CFU brown paper bag.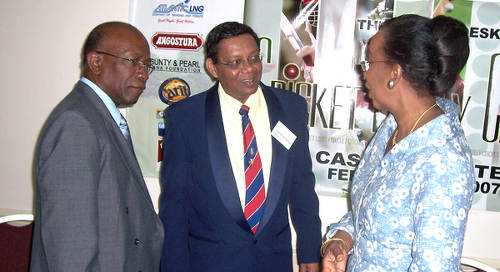 Telling the truth about Uncle Jack is not anti-Warner, it's pro bono work in the original sense of the word; you'll be doing this for country.
And, my brother, goodness knows that, after abandoning Christ and supporting Barabbas for so many years, you owe T&T one.