Petrotrin Oilers and CNGC Rush wrapped up week one of the Women's Premier League (WPL) last night with an intriguing one-all draw at the St James Barracks.
Trinidad and Tobago National Women's Team players Karyn Forbes and Mariah Shade both hit the back of the target during an action-packed first half in an affair that seemed to suggest a flurry of goals but, in the end, delivered just two.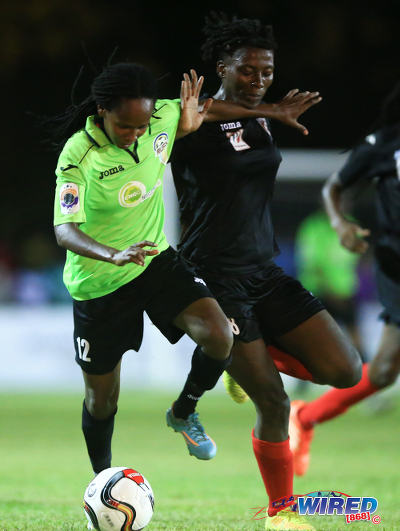 All eyes were on "Women Soca Warrior" star Ahkeela Mollon at kick off as the diminutive winger shook off the trauma of being caught in the crossfire of rival gangs in Longdenville, less than 24 hours earlier, to make her WPL debut.
Many fans might have turned up to see "Lady Latapy" showcase her talent. But it was another slender, clever attacker who threatened to steal the limelight.
Kayla Taylor is her name, and dribbling is her game. The tiny 2010 Under-17 World Cup striker, who turns 21 in November, used her trickery and speed to good effect in the first half, as she teamed up smartly with winger Shenelle Henry and US Striker Stephanie Bonilla to test the Rush defence.

The trio had things their way for much of the first half as the dancing, dazzling Taylor danced gave centre backs Nadia James and Rhea Belgrave a hard time. The diminutive attacker should have found the back of the net during her purple-patch in the first half but the ball just would not go in for her.
Twice, Taylor hit over bar with lobbed attempts as Rush goalkeeper Emily Marie Cota found herself stranded inside her own penalty area. And, when Taylor managed to get an effort on target in the 18th minute, an agile Cota was able to make an impressive low save.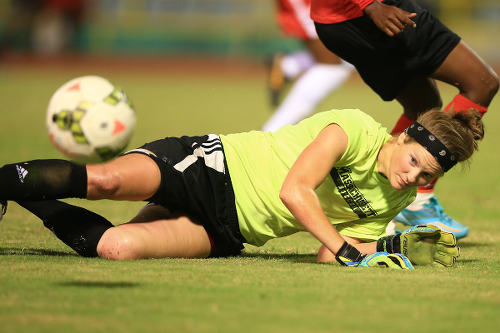 The Oilers were quicker to most of the loose balls in the midfield too as Victoria Swift and Naomie Guerra imposed themselves on their Rush counterparts.
Priscilla "Pri" Selau and Nubiluz Rangel were neat when in possession in the Rush midfield but they were hurried and hassled, outmuscled and overpowered by the feistier duo of Swift and Guerra.
"Two Venezuelan players only came in today and I put them in the starting eleven to see what they could do," Rush coach Marlon Charles told Wired868. "We had two of the Venezuelans playing in the middle but they were not holding their positions.
"Nobody was staying in the middle."
Pri, in fact, is Brazilian. But then the WPL's coaches have had less than a week to familiarise themselves with their players.
The Oilers early and persistent pressure finally paid off in the 28th minute as team captain, Forbes, showed great composure inside a crowded penalty area to arrow a right-footed shot into the bottom corner. It was nothing more than the young Oilers team deserved at that point.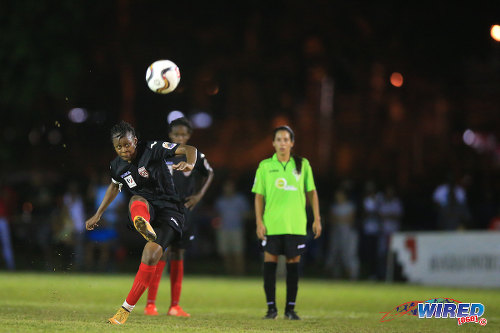 Mollon tried to fashion a quick response at the other end but her cross-cum-shot flashed harmlessly across the face of the goal. Rush striker Mariah Shade was more lethal in the 37th minute as she gleefully latched onto a loose ball inside the penalty area and applied a smart finessed effort past Oilers custodian Shalette Alexander.
Seemingly thriving on the beats and sounds of the Laventille Rhythm Section, the Rush unit had finally found some pep in their steps. And they looked much more settled going into the halftime interval although Swift did threaten with a close header off an accurate, floated Forbes corner.
The intensity and speed of the first half was not replicated after the interval and the slower tempo seemed to suit Rush. Mollon and midfielder Janine Francois saw more of the ball while Pri came into her own now and showed her quality in spurts.
Taylor was now a spectator on the opposite end and Swift and Guerra faded as the Oilers failed to find the fluidity and possession, which they had in the first half.
Mollon provided some scares from set-piece situations and opposing goalkeeper, Alexander, was fortunate to stop the former player's cheeky lobbed attempt in the 68th minute.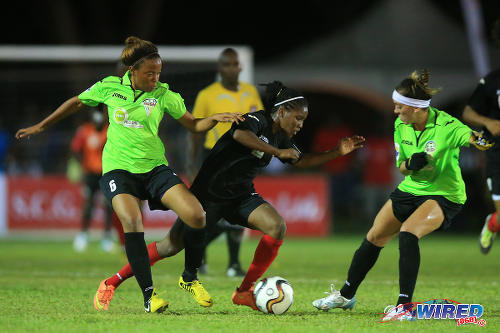 If a second half was goal was to come, then surely it would be from a Rush player and there were some oohs from the crowd as Shade linked up with striker Crisbelis Abraham before the latter shot into the side-nettings. But that was as close as they would get.
Abraham probably wished she could have that one back.
Oilers substitute Denecia Prince was a willing runner in the latter stages of the second half and managed a few speculative attempts that kept Cota on her toes. But Prince's teammates just did not have the legs to go with her.
The Oilers team looked quite content with a share of the spoils and in the end and that is exactly what they got.
"This is very good we came off the pitch with a point after our first game," said Oilers coach Arnold Murray. "We can't ask for better than that. We could've gotten three points but we thank God for what we have."
Murphy's opposite number, Charles, was also grateful for a point.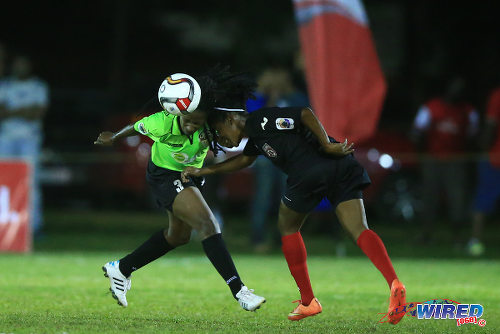 "I'm happy with the point considering the size of the ground," said Charles. "It's very difficult to play especially when you have players who are more flair players and love to move the ball around.
"We had that language barrier and we were struggling in the middle of the field in the first half. In the second half, we adjusted a little better.
"But at least we start off with a point because there are two teams that lost their opening games."
(Teams)
Rush (4-3-3): 18.Emily Marie Cota (GK); 5.Annalis Cummings, 4.Rhea Belgrave, 8.Nadia James, 3.Adeka Spence; 17.Nubiluz Rangel (6.Tamika Issac 63), 7.Pri, 11.Janine Francois; 12.Ahkeela Mollon (captain), 9.Crisbelis Abraham (14.Janelle McGee 81), 10.Mariah Shade.
Unused Substitutes: 21.Nicole Mitchell (GK), 2.Bruna Marchiowatti, 13.Afeisha Mohammed, 15.Joyce Mattos, 16.Sharice Arthur.
Coach: Marlon Charles
Oilers (4-4-1-1): 21.Shalette Alexander (GK); 14.Chevonne John, 5.Karyn Forbes (captain), 6.Khadisha Debesette, 18.Rinelle Findley; 13.Shenelle Henry, 8.Victoria Swift, 10.Naomie Guerra, 11.Khadidra Debesette (7.Denecia Prince 56); 12.Kayla Taylor, 9.Stephanie Bonilla (3.Shanelle Arjoon 52).
Unused Substitutes: 2.Tamara Johnson, 4.Tisha Burton, 20.Shanice Haynes, 22.Micah Aliester.
Coach: Arnold Murphy
Referee: Keilon Bacchus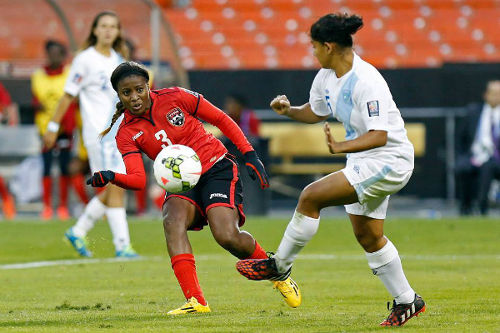 WPL results
(Wed Jun 24)
Rush 1 (Mariah Shade 37), Oilers 1 (Karyn Forbes 28)
Player of the match: Karyn Forbes (Oilers);
(Fri Jun 18)
Fuego 5 (Tasha St Louis 9, 29 pen, Saucedo 52, Jo-Marie Lewis 60, 62), Dragons 3 (Isabella Hayes 1, Lauryn Hutchinson 57 pen, Jessica Adams 70) at St James;
Player of the Match: Tasha St Louis (Fuego);
Angels 3 (Maylee Attin-Johnson 31, 40, Rafaela De Vargas 61), Wave 0 at St James;
Player of the Match: Maylee Attin-Johnson (Angels).