Wired868 breaks down the 2015 Caribbean Club Championship final with help from Central FC coach Terry Fenwick, captain Marvin Oliver and W Connection assistant coach Earl Jean:
"I'm absolutely delighted," said Central FC coach Terry Fenwick. "It is a fantastic feeling to come back in and have such a great run of games with nine consecutive wins. To be Caribbean champion is what every club wants in the region and it gives us a stepping stone for CONCACAF.
"And not just the players but me as a coach. I want to be noted for that."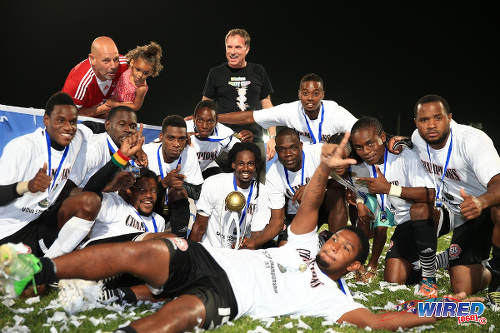 Central went into last night's final on the back of the 2014/15 Pro League title and the First Citizens Cup while a date against Caledonia AIA in the Pro Bowl final awaits this Friday. The "Couva Sharks" are built for now and half of their team will be free agents by month's end.
In contrast, Fevrier's young team is at the start of its building process.

However, the absence of both Central strikers Willis Plaza and Dwight Quintero and dependable right back Kaydion Gabriel, through a combination of injury and suspension, unbalanced the Sharks, who had just 16 players to choose from in the final.
Connection had their problems too.
"We had five players that we could not make a decision on until the last minute," said Connection assistant coach Earl Jean. "Mekeil (Williams) and Maurice (Ford) had knee injuries, Triston (Hodge) felt his hamstring, Hashim (Arcia) had a fever and Shahdon (Winchester) actually left camp yesterday because of a knock on his shin.
"At 3 pm, Shahdon called and said he would come and fight it and see… It wasn't normal preparation for us."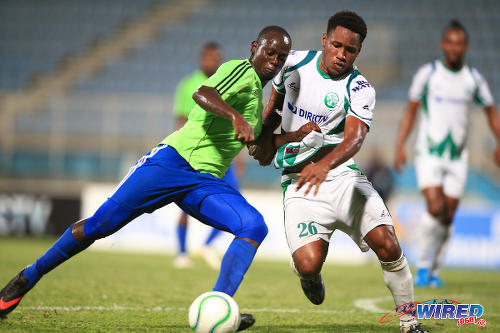 Two physically demanding Caribbean Cup semifinal affairs on Friday—and Central needed extra time and penalties to get past Haiti's Don Bosco FC—had taken its toll. Here, both camps took markedly different approaches.
Hodge was ruled out while Arcia came off the substitutes' bench. But captain Mekeil Williams, Maurice Ford and Shahdon Winchester all played from the start as Fevrier and Jean kept faith in their regular XI.
Fenwick had no choice with Gabriel, Plaza and Quintero. But he sprung a surprise in leaving out versatile midfielder Sean De Silva and, most jarringly, Central's best player, Ataulla Guerra.
"Ataulla is the franchise player for Central FC and the Trinidad and Tobago national side," Fenwick told Wired868, "but sometimes he gets that syndrome where he thinks he doesn't have to tackle (and) close down (opponents).
"He is our top player with his silky skills but then we end up playing a man less when we don't have the ball…
"(I think dropping Guerra) wakes everyone up and gets a reaction from the other players in the side. They recognise nobody is bigger than the team and I really felt we could win without them."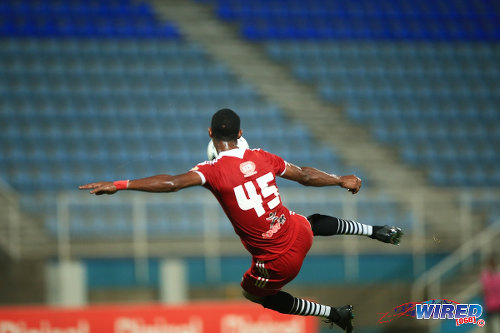 It was not a case of a straight swap either. Central started with Keion Goodridge, a muscular and inelegant left back, in central midfield along with forgotten man Jean-Luc Rochford, who made his first start under Fenwick.
Both played on either side of the 39-year-old Marvin Oliver while Jamal Jack, an aggressive but versatile defender, played his first game at centre forward.
Oliver, who wore the captain's armband, appeared to be invaluable in helping sell Fenwick's sometimes unorthodox approaches to his teammates.
"I wasn't surprised (at the starting line-up)," Oliver told Wired868. "It was something we did with Jabloteh already in terms of playing guys out of position when we needed players who were strong and fit or to outmuscle (our opponent).
"It was unorthodox but we had a game plan and we stuck to our plan."
Connection started conservatively due to the uncertainty regarding several first-team players. The "Savonetta Boys" clearly hoped to win the match in the second half.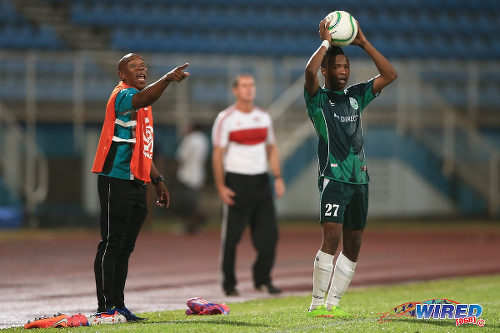 "Because of the injuries, we had to see how well we could hold up in the first half," said Jean. "We were playing a cautious game. We planned to stick to our game plan, which was to have more control and possession of the game.
"Then, we would have assessed at halftime."
Winchester had a good chance in the ninth minute as he flicked over bar from 10 yards after a left side cross. But that was against the run of play.
Central dominated much of the first 25 minutes and Goodridge and Rochford both got decent shooting opportunities—the former from inside the box.
It was not that the Sharks were playing slick, attractive football. But they were forcing errors in Connection's half of the field where Gerard Williams, Alvin Jones and Mekeil were harassed constantly.
"I always feel if you get on top of Gerard Williams and swamp him, you can break Connection down," said Fenwick. "I think he is a good competitor but I don't think he is a good footballer… Jackie also did a great job for us, closing down and unsettling players.
"I knew their defenders would be unsettled with Jack stomping around and trying to shut them down."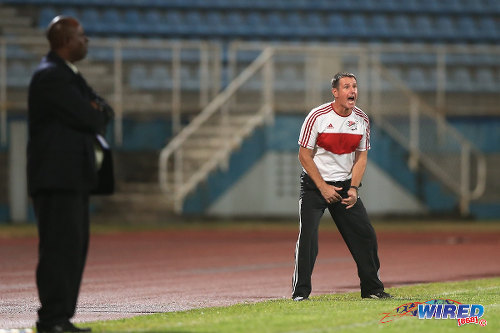 Still, it took a goalkeeping error to separate the two teams. Marcano's speculative left footed effort appeared to have been taken comfortably by Connection custodian and St Kitts and Nevis international, Julani Archibald, in the 27th minute.
But either the slippery conditions or Rochford's movement off the ball distracted Archibald and he dropped the ball on his landing. And Rochford, a two-time Trinidad and Tobago World Youth Cup player, was rewarded for charging the box with a simple tap-in for Central's opener.
"Julani had a lapse in concentration and he has to learn to land softer with the ball," said Jean. "But he is a young lad who has had a really good season with us."
For the last ten minutes, Central wilted a bit as Colombian midfielder Yhon Stiven Reyes began finding space to link with Connection's front three.
And Winchester nearly conjured up a fine equaliser in the 34th minute but for a fine flying save by Central custodian Jan-Michael Williams.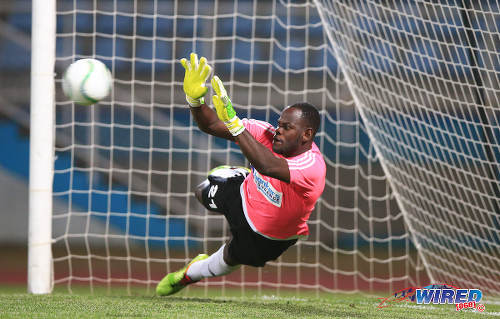 Guyanese match referee Sherwin Moore was struggling too and was easily below the standard set by Jamaica's Karl Tyrell, who officiated in the semifinal.
Ford was cautioned for a late challenge on Oliver while the latter player received his obligatory booking for dissent. But Central's Nathaniel Garcia escaped uncensored with a dangerous aerial challenge on Gerard—one of four Williams-es on the field—while Gerard and Jones were not booked for lunging tackles on Jack and Oliver respectively.
At halftime, Fenwick warned his players to keep the ball away from Reyes. Whereas Fevrier and Jean pondered about wrestling control in central midfield where Jones, a right back by trade, looked rattled.
"We wanted to get our players into their rhythm and to keep them calm (at halftime)," said Jean. "We had a chat with Arcia too because we wanted more dominance in midfield. But we were not confident that he could have given us everything (for 45 minutes)."
The first 10 minutes of the second half were even. Winchester, who has a great record against Central, was a handful and dragged his teammates along with him. While Devaughn Elliot produced an energetic and forceful performance at left back.
In the 57th minute, Arcia replaced Jones. Fenwick responded, two minutes later, by swapping the tiring Rochford with Guerra.
In the 60th minute, Ford tripped Garcia and received his second caution and a red card. Colombian defender Christian Ocoro Viveros and speedy attacker Neil Benjamin Jr were preparing to come on at the time. But Fevrier and Jean delayed the change to discuss a new approach.
They still had not made their move when, five minutes later, Central's bustling pair of Goodridge and Jack closed down Reyes and Shannon Gomez in quick succession. And Gerard responded to shut down the Sharks' promising counter attack with a crude tackle on Garcia.
Moore showed Gerard, also a Kittian international, a straight red card.
"The second (red card) especially took the wind out of us," said Jean. "We had to take out 'Chinee' (Reyes) and put in Viveros because we knew Chinee wouldn't have the legs (in such circumstances)."
Viveros was barely on the field for a minute when Central doubled their lead. Winger Jason Marcano played a brilliant, angled pass behind the Connection defence and Jack produced a clever clipped finish for the most important goal of his career.
Fevrier reacted again and Benjamin was introduced, although not in the conditions that Connection initially intended to use him.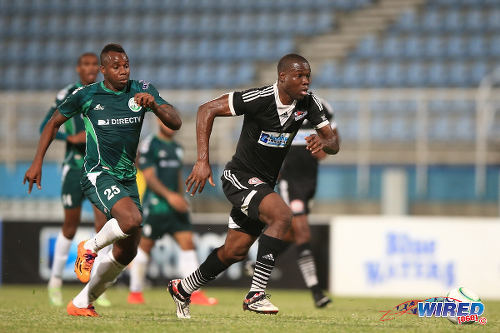 "We knew (Central) would be tired because they played an extra half hour (in the semifinal)," said Jean. "So we always wanted to use 'Benjie' in the second half. Unfortunately, some of the guys were not using the space in front of Benjamin well enough and playing the ball for him to run on to."
At the other end, Fenwick was trying to close down the game as he replaced Garcia and tiring defender Akeem Benjamin, who had a fine Caribbean Cup, with midfield technicians Leston Paul and De Silva.
"I reverted to Leston Paul and De Silva when they had a man sent off," said Fenwick, "because I felt that was the time to keep possession better and move the ball around. And I thought we got chances then."
Central, predictably, were dangerous on the break against nine players. But Jack was still at centre forward and his passing left a lot to be desired. Guerra, in particular, was constantly frustrated by Jack's inability to work a proper wall pass.
Remarkably, Connection created more opportunities than ever in the final 15 minutes. Was that testimony to a lack of intensity after Fenwick's three changes? Had Central grown complacent?
Or was Arcia able to have such a galvanising effect on even an undermanned Connection team?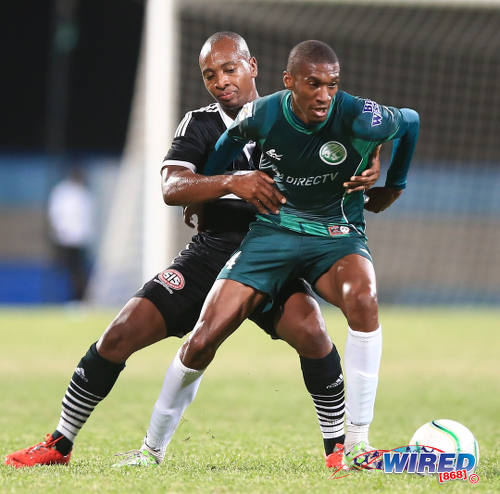 Viveros wasted a golden opportunity in the 79th minute after an Arcia free kick found him unmarked in the opposing penalty area while Jerrel Britto and Arcia also went close.
Archibald did well to deny Jack in the 84th minute, after a threaded De Silva pass, but Connection ended strongly and deserved their late goal.
Goodridge, who dropped into central defence after Benjamin was withdrawn, lost possession on the edge of his own area and his namesake, Connection's Benjamin Jr, finished with poise.
Both coaches saw the closing 15 minutes differently.
"I felt relatively comfortable until we made a mistake ourselves," said Fenwick. "They were shooting from distance and I thought we contained them very well."
Jean felt Connection might have clawed their way back with an earlier goal.
"They scored the two goals and they deserved the victory," said Jean. "We could have won but they took their chances. That is how football is.
"Now we know there is a challenge in (Couva) with two big teams."
Central's players and staff have been embroiled in a bonus dispute with the club's board in recent weeks. Perhaps Central operations director Kevin Harrison might view Oliver's conciliatory tone after the final to be even more valuable than trophy.
"With our play, you can see it wasn't really on the guys' mind," said Oliver. "It got blown out of proportion…
"It was just a breakdown in communication after Brent (Sancho) became Sport Minister and left the club."
So will the players accept Central's offer of 10 percent from the Pro League's million dollar first prize? Or did they get the 50 percent demanded for players and staff?
"The final decision is we had a great season," said Oliver, with a smile. "I don't want to get into it much. But whatever happens, the guys will be satisfied…
"All in all, the guys really love Central. We are not just about the money."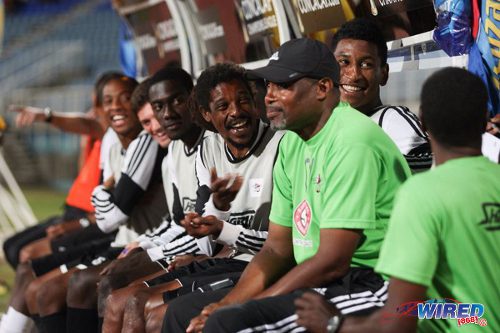 Fittingly, Oliver, who Fenwick suggested would become a great coach when he retires, was happy for a composed finish to a frenetic affair and a topsy-turvy season.
"It is an excellent, magical feeling to be Caribbean champion," he said.
Jean promised that Connection will return stronger than ever to reclaim their crowns next season. More intriguing Couva Clasicos are on the way then.