A heroic late showing from Central FC goalkeeper Jan-Michael Williams and an ice cold finish from DIRECTV W Connection playmaker Hashim Arcia will ensure an all-Trinidad and Tobago showing in tomorrow's Caribbean Club Championship final from 6 pm at the Ato Boldon Stadium in Couva.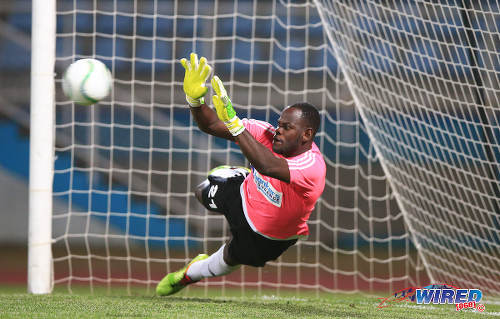 And not just any two Pro League clubs either. The regional final will be a local grudge match as Connection and Central square off for another "Couva Clasico."
Connection and Central have both also qualified for the 2015 CONCACAF Champions League while Haiti's Don Bosco FC and Jamaica's Montego Bay United FC will fight for the last remaining berth in Sunday's third place play off from 4 pm at the same venue.
The most important staff member in either camp this weekend probably will not be the coaches, though. It will be the physiotherapists.
Central needed 30 minutes of extra time plus penalty kicks to get past Don Bosco FC in last night's semifinal. And the "Couva Sharks" were outnumbered for significant portions of the contest as star striker Willis Plaza was ejected in the 66th minute while right back Kaydion Gabriel hobbled through extra time with a thigh injury and is ruled out for the final.

"Last night, we had people falling like flies and a lot of that goes back to Police game which was brutal," said Central coach Terry Fenwick, who is still without injured striker Dwight Quintero. "Plaza's sending off is a big blow and we have a problem at right back because we were informed last night that we cannot replace injured players.
"But at least we are through to the (CONCACAF Champions League)."
Connection avoided the physical torment of extra time. But the "Savonetta Boys" were physically pounded too by a fast, strong Montego Bay outfit before eking out a 1-0 win.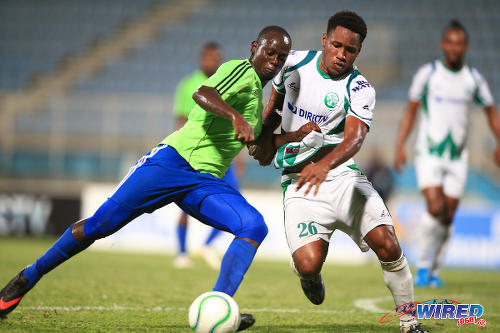 "With the battering the two (Pro League) teams got last night, I think (the final) will depend on who is physically and mentally fit," Connection assistant coach Earl Jean told Wired868. "The game took a lot from them after losing plaza and then having an extra half hour… It will be a very interesting game."
Five of Connection's starting line-up last night were below 21 years of age and there was much to admire in the way they dealt with Montego Bay's challenge in a contest that swung back and forth.
Lanky "MoBay" midfielder Ronaldo Rodney got the best chance of the match, in the 52nd minute, but skied his shot. And, in the 69th minute, Arcia showed him how it is done with his seventh goal of the competition, which placed him on top the scoring charts.
The Jamaicans would not to remember the build-up for the decisive goal.
MoBay winger Allan Ottey was just about to reach the halfway line when, confronted by an opponent, he did an about-turn and fired an outrageous 40-yard dipping ball towards his own custodian. Jacomeno Barrett managed an improvised clearance under duress but Williams quickly relayed the ball back into the opposing area.
And Arcia, as cool and precise as a surgeon, waited for Barrett to lunge before coolly lifting the ball into the back of the net.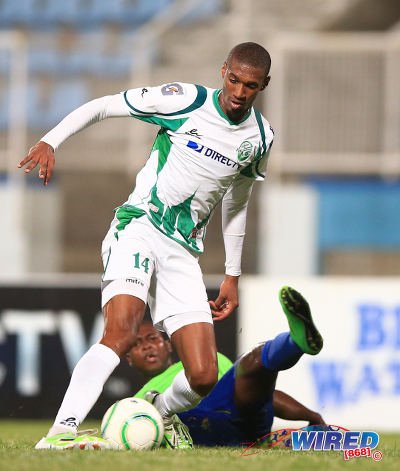 "Hashim is one of the most intelligent players in the country," said Jean. "He is in top form right now and the team is built around him."
Dino Williams came closest to an equaliser in the 79th minute with a dipping effort that forced a flying save by Connection and St Kitts and Nevis international goalkeeper Julani Archibald. But it was a rare effort on target from the Jamaicans who lacked composure in the opposing penalty area.
And MoBay was lucky to end with 11 players on the field as Winston Wilkinson tried to hack Alvin Jones to pieces, in stoppage time, after the defender-cum-midfielder fell on the ball while trying to waste time.
Barbadian referee Adrian Skeete, in an extreme act of generosity to the Jamaican, only showed a yellow card.
Plaza did not get off so easily in the first match when, in a crazy three-minute spell, he was booked twice. Haitian defender Massigno Joseph clearly made a meal of presumed contact to his face while Plaza was trying to protect the ball in the 66th minute.
But Fenwick, for once, was happy to give the match official, Jamaican Karl Tyrell, the benefit of the doubt.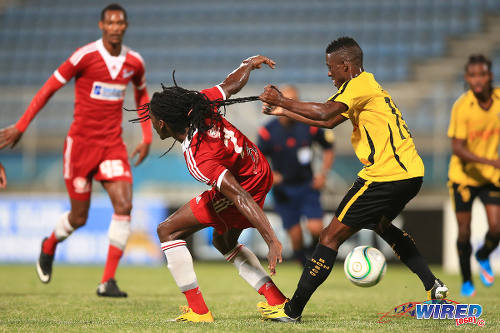 "Plaza wasn't holding anything up last night and I think he let himself and his teammates down with that red card," Fenwick told Wired868. "I didn't see it but somebody of his experience has to be better than that…
"I thought both of the referees last night were fine. They kept up with the speed of the game and tried to play advantage once or twice… They were light years ahead of (Trinidadian referee Rodphin) Harris for one."
Even when the fiery Englishman is praising referees, he is criticising them.
Central's clash with Don Bosco was a cagier affair with both teams guarded and patient rather than adventurous.
In the 42nd minute, the Sharks carved out a wonderful opportunity after a quick passing move that involved Gabriel, Ataulla Guerra, Jamal Jack and Plaza. But Marcano's shot was saved by the legs of opposing goalkeeper Jaafson Origene.
Such sights at goal were rare for either team, though, even after Central went down to 10 players.
Guerra was neat on the ball and brought spectators to their feet with one surging run after rolling the ball through the legs of opposing midfielder Samuel Desroches. But he played so deep that he sometimes collected the ball between his own defenders, and he was largely ineffectual.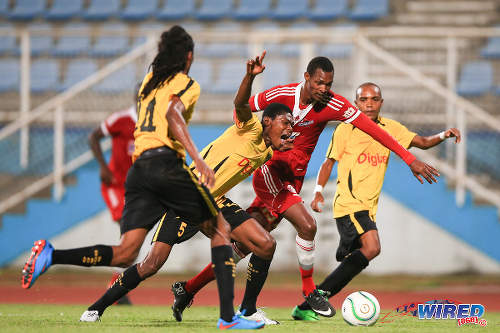 "Guerra shies away from everything that is physical," said Fenwick, in his withering post-match verdict of the gifted Central playmaker.
In the end, penalties were required to separate the two well organised teams and Jan-Michael, who had made CONCACAF's shortlist of top goalkeepers for the past two years, had another night to savour. The "Soca Warrior" made one flying save to his left and two to his right to deny three of the four Haitian kickers.
Defender Akeem Benjamin, who put in an otherwise commendable performance, blasted over for Central. But Elton John, Leston Paul and Uriah Bentick all converted to seal a 3-1 win and a chance for the three year old club to secure the Caribbean title on the first attempt.
"It was a tough gritty performance to see it out with ten men," said Fenwick, "and our goalkeeper pulled us out in the end."
Fenwick contested a Caribbean title once before, while at San Juan Jabloteh, but lost 1-0 to Connection in the 2006 final.
Jean was Fenwick's assistant coach then although there has been little love lost between the pair since.
Central are seeking their third major title this season after copping the Pro League and First Citizen Cup crowns while they face Caledonia AIA in next Friday's Digicel Pro Bowl final. Connection won only the Charity Shield.
Yet, Connection look settled and fresh in the business end of the season. Jerrel Britto is having his most prolific season in the top flight while Arcia is flying and Shahdon Winchester has a terrific record against Central. Captain Mekeil Williams and teenaged right back Shannon Gomez add spunk and pace at the back.
Winchester, Britto, Arcia, Jomal Williams and Alvin Jones, in particular, would hope to use the Caribbean final, which is their final game of the season, to earn a pick on Trinidad and Tobago pre-Gold Cup training squad. Williams (M) and Gomez are almost certain to be invited already.
Jean revealed that Winchester turned down another loan deal in Finland to stay home and help Connection as well as impress Warriors coach Stephen Hart.
"I think Shahdon is getting back to his best and he is a very important player to us," said Jean. "Our front four are in great form and they have great chemistry between them. The final will be a great challenge for us."
For Central, a bonus dispute that pits its board against players and staff continues to rage in the background, while 13 players and most of the coaching staff, including Fenwick, are out of contract on May 31.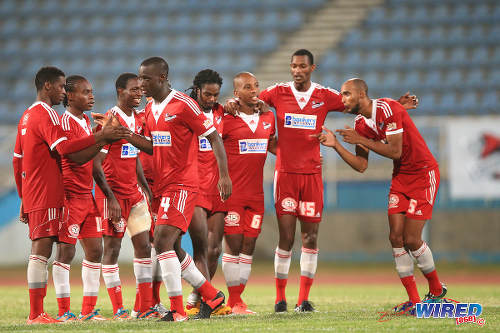 "It's been a challenge keeping the morale of the team high and focused on football with all these issues going on in the background," said Fenwick. "We are looking forward to the final, especially against W Connection, (and) you can see the elation when we won the penalty shoot out…
"It will be a tough game (and) we have no centre forward and several injuries but I know we will put up a hell of a fight. Having got this far, we don't want anything but the (Caribbean) Championship."
It should make for an enthralling final. The Couva Clasico is about to regional.
(Teams)
Central FC (4-1-4-1): 21.Jan-Michael Williams (GK); 15.Kaydion Gabriel, 2.Elton John, 5.Akeem Benjamin, 4.Uriah Bentick; 10.Marvin Oliver (19.Nathaniel Garcia 87); 7.Jason Marcano, 12.Jamal Jack (6.Leston Paul 54), 45.Ataulla Guerra, 8.Sean De Silva (11.Darren Mitchell 61); 33.Willis Plaza.
Unused substitutes: 1.Javon Sample (GK), 3.Keion Goodridge, 14.Jean-Luc Rochford, 17.Marcelle Francois.
Coach: Terry Fenwick
Don Bosco FC (4-2-3-1): 22.Jaafson Origene (GK); 11.Jean Junior Brenus, 5.Canes Jean-Charles (captain), 14.Massigno Joseph, 15.Jimmy Sara (29.Junior Philemont 108); 21.Constant Junior Monuma, 9.Junior Delva; 16.Samuel Desroches (7.Porky Thermidor 113), 17.Venel Sant-Fort, 8.Kerlins Georges (28.Jean Schwetzer Saint-Hubert 79); 23.Benchy Estama.
Unused substiututes: 12.Calixte Felix Alande, 2.Alain Francois, 10.Dumy Fede, 27.Jean Saint-Hubert.
Coach: Jean Junior Natoux
Referee: Karl Tyrell (Jamaica)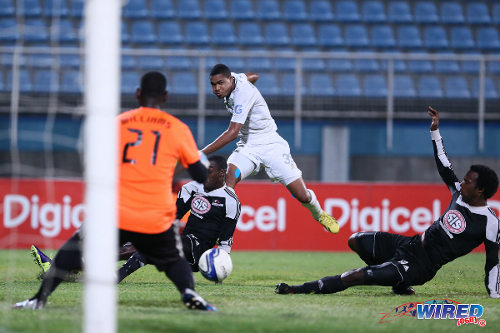 Caribbean Club Championship semifinal round
(Fri May 22)
Central FC 0, Don Bosco FC 0 at Ato Boldon Stadium;
*—Central won 3-1 via penalty shootout
W Connection 1 (Hashim Arcia 69), Montego Bay FC 0 at Ato Boldon Stadium;
(Sun May 24)
Third Place Play Off
Don Bosco FC v Montego Bay United FC, 4 pm, Ato Boldon Stadium;
Caribbean Club finals
W Connection v Central FC, 6 pm, Ato Boldon Stadium.