Columnist Earl Best looks at the chances of Denesh Ramdin's men drawing level with England in the three-Test series, which the tourists already lead 1-0:
Pride, the old saw tells us, goes before a fall but there's no adage that I know of which tells us when pride comes back. I hope that, in the run-up to the Third Test against England which began at Kensington Oval today, newly-appointed West Indies cricket coach Phil Simmons was better informed than I am. Maybe we'll find out this week that it's after an unwarranted nine-wicket defeat.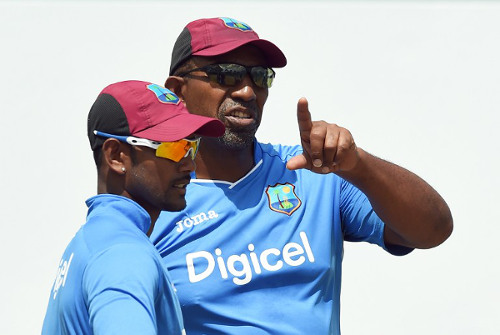 With his team already down 0-1 in the three-match series and now diminished by injury problems, the former Test opener must have been worried all last week.
True, there was that impressive last-day fightback to earn a draw in the First Test in Antigua. True, too, that for the first four days in Grenada, Denesh Ramdin's men had contrived to stop the visitors from getting away from them.
Additionally, by the end of yesterday's opening day in Barbados, the WI had got their noses in front by an inch and were well placed to dismiss the opposition for a modest total.
But growing up in Arima, Coach Simmons would have heard many times, "Si bef pas connaite lageu derrière-i, i pas valé grain zabricot," which is really just a colourful patois way of saying, "Doh bite off more than yuh cud chew."
So I know he knows what he's up against.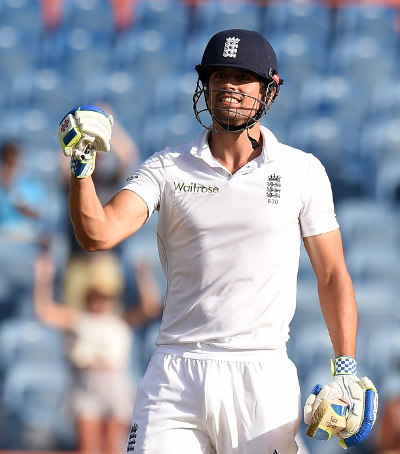 Like the rest of us, he will remember last week's last-day collapse at the National Cricket Stadium in St Georges and he will be acutely aware that the Test race has not usually been won by the side that endureth not to the last.
He knows that his batsmen aren't producing the goods consistently. But he also knows better than merely to hope for a Chanders-cyar-buy-a-run re-tweet from the President to spark Shivnarine Chanderpaul into reaction mode. Or to hope for Viv Richards to open his mouth and provoke a positive Yea-Viv-Talk-Nah reaction from Ramdin.
So last night he was probably still be racking his brain to find something that will inspire his charges to raise their game and give the still confident tourists a fight to the finish.
Wired868 is here to tell him that he doesn't have to look far. Were the coach not a student of the game, we might have whispered to him: "An allrounder, four fast bowlers, a wicketkeeper and a leg-spinner."
And if he looked none the wiser for it, we might have shared the names: "Ambrose, Hall, Holford, Murray, Roberts, Sobers and Walsh."
But to the wise a single word is enough, so we will simply tell Coach Simmons: "Pride." And point him in the direction of his assistant coach (whose name conveniently appears at the head of the alphabetical list).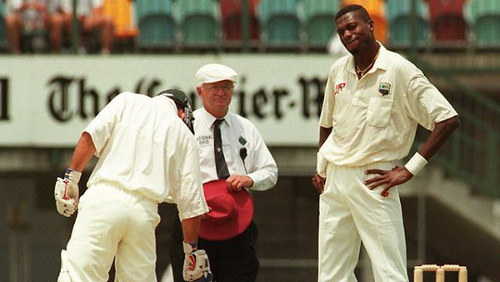 Perhaps that will be enough, Wired868 feels, to invoke the proudest West Indian cricketing tradition and light a fire in the comfortable behinds that Ramdin has to metaphorically whip if WI are not to lose this series 2-0.
……………….
AMBROSE, WALSH, SOUTH AFRICA AND ENGLAND
Curtly Ambrose was the central figure in two splendid West Indian victories that hugely swelled West Indian pride. The first came in Kensington Oval in April 1992, the second at the Queen's Park Oval in 1994.
Chasing 201 to record their first Test win, Kepler Wessels' South Africans were cock-a-hoop when they awoke on the final morning at 122 for 2. Returning to Test cricket after a twenty-year hiatus, they needed a mere 79 runs for victory and the result seemed a foregone conclusion. Nobody told Ambrose. In two twos, the Proteas' hopes and their innings lay in ruins. Walsh, Ambrose's striking partner, had second innings figures of 22-10-31-4 while Ambrose's read 24.4-7-34-6.
Three years later, Hurricane Ambrose struck again, this time devastating Michael Atherton's England. One is not sure what ticked him off but West Indian fans were praying for weeks after that Third Test that whatever it was would not go away.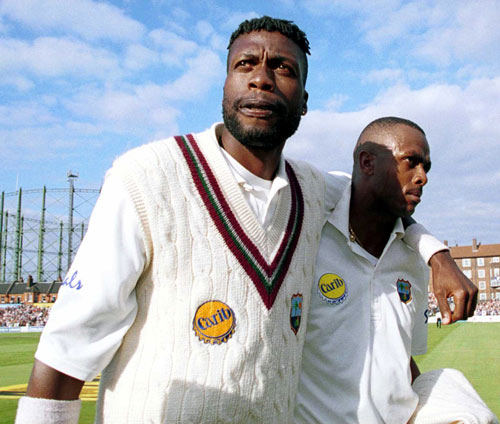 With England needing just 194 in the fourth innings to pull one back in the series, Ambrose put the skids under them and they fell for 46.
Only wicketkeeper/opener Alec Stewart got into double figures, Extras' seven being the second highest score. The rest of the line-up's scores read like an overseas telephone number: (0,1,0,) 6,3,0,- 4,6,1,0
Ambrose's innings figures read 10-1-24-6.
SOBERS WITH HOLFORD AT LORD'S AND HALL AT THE OVAL
Garfield Sobers, now Sir Garry, was also involved twice in moments that might be seen as cricketing Iwo Jimas.
Once in the Second Test at Lord's in 1966, the West Indies were staring defeat in the face with half the side down and almost five sessions left in the match. Joined out in the middle by 26-year-old David Holford, cricket's greatest allrounder refused to surrender.
From a very shaky 95 for 5, the skipper and his young cousin saw WI to the safety of 369 without further loss before Sobers declared.
The West Indies' 1-0 series lead remained intact.
In the First Test in Port-of-Spain in 1968, WI had followed on 205 behind and it was only a matter of time, we all thought, before England conceded and offered to call it off. But with an hour and a half of play left, Sobers' side had collapsed dramatically from 164 for 3 to 180 for 8.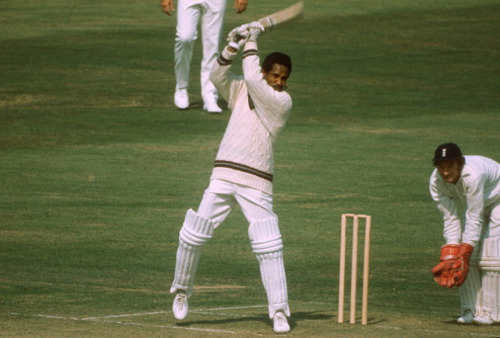 Who, we were asking ourselves up on the Schoolboys Mound, could stop Colin Cowdrey's rampant Englishmen from going 1-0 up? Why, Sobers, of course! With a little help from his fellow Barbadian, Wes Hall.
The match eventually ended in an exciting draw with the ninth-wicket pair defying Cowdrey's attack until stumps.
Asked if he was worried at any point about the Windies losing the match, the tear-away pacer who would go on to become WICB president from 2001 to 2003 responded that he wasn't at all sure that his partner could have survived against bowling of that quality.
MURRAY, ROBERTS AND THE WORLD CUP
It is a 1975 World Cup Group B 60-over game and West Indies are up against Pakistan. They are also up against it. Clive Lloyd's star-studded batting line-up has failed to fire in pursuit of 266. Skipper Lloyd struggles for almost two hours to make 53 but no one else kicks on.
The scoreboard reads 203 for 9 as Andy Roberts strides to the wicket to meet Deryck Murray, the wicketkeeper and the number 8 batsman.
When the match ends with a mere two balls still to be bowled, the West Indians are the victors. The wicketkeeper (63 n.o. off 76 balls) and his fast-bowling companion (24 n.o. off 48 balls) are still together. Their nail-biting last-wicket partnership (without which the West Indians' duck would certainly have been curried) has lasted five minutes short of an hour.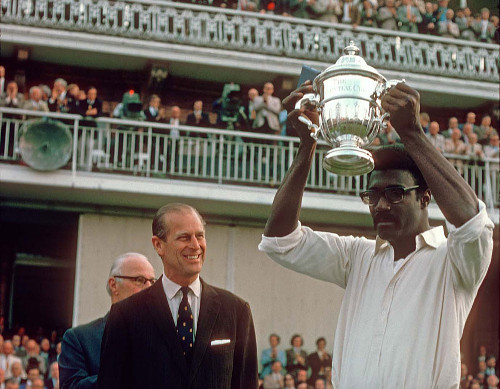 The WI would go on to win their first of two successive World Cups.
………………………….
"What?" I hear you protest. "West Indian pride and no Viv Richards? No Brian Lara?"
Well, yes…and no.
Few unbiased commentators would dispute that WI cricket took a beating under Lara. For all his gifts, the multiple world record-holder never quite succeeded in becoming the leader he was thought to have the potential to be. There can be little doubt that, with Brian Charles Lara at the helm (not once but three times!), standards fell.
His teams did, however, manage, on two memorable occasions, to raise the maroon flag high, high, high… 213, 153*, 100…
In the First Test in Trinidad in March 1999, the West Indians had managed only 51 in the second innings. Ridley Jacobs' top-scored with just 16 apart and Steve Waugh's world champion Australian team took a 1-0 lead in the series. The West Indies Board reacted by giving Lara an ultimatum: shape up, BCL, or give up the rudder.
Lara's response? He took the Windies to the brink of a remarkable series victory with three consecutive hundreds, in Jamaica, Barbados and Antigua.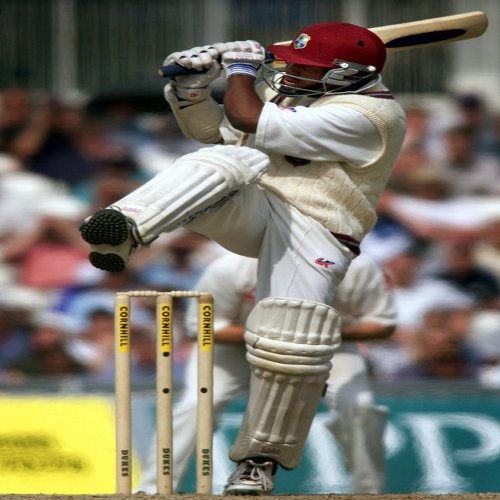 His 153 not out in Barbados in the Third Test was remarkable not simply because it gave his side an improbable 2-1 lead in the series but also because, for the last 20 overs, during which time the score advanced from 248 for 8 to the eventual 311 for 9, numbers 10 and 11 were at the other end.
A one-time world record holder with 519 wickets, Walsh, still the top WI wicket-taker, has a much less enviable record with the bat. Although he contrived to be not out 61 times, he also managed to score 43 ducks in his 132 Tests, a world record.
On that day, however, against Waugh's heroes, including Shane Warne and Glenn McGrath, he successfully defended his wicket while Lara edged his side ever closer to the finish line.
Lara was arguably driven by self-defence but it is hard to imagine that the unwonted solidity of Walsh's defence came from anything but his pride in the maroon cap he wore and the resultant determination not to let the team down…
THE 400-PLUS WORLD RECORD
The second instance of inspired leadership (for which BCL has not really, a statistician friend of mine likes to remind me, been given his due) came in his happy hunting ground in Antigua in May 2003.
Set a world record 418 runs to get to beat a strong Australian side, Lara's men achieved the feat largely on the back of a splendid 123–run partnership between Ramnaresh Sarwan (105) and Chanderpaul (104).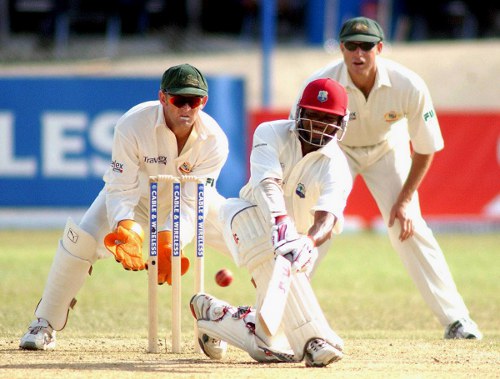 But it has gone largely unrecognized that Lara contributed a total of 128 runs in that match, just one less than the West Indies' top scorer in the game, Sarwan.
And so we come to IVA Richards…
In the early 1980's when the West Indies were indisputably on top of the cricket world, Apartheid offered Richards, the regional side's premier batsman, a blank cheque to come and play cricket in South Africa.
"And when I do that," the black-and-proud cricketer's reported response might be represented as saying, "how will I look my family, my friends and the eight million West Indian people in the eye when I get up the next day?"
……………….
So Coach Simmons can usefully relate all this relate to his charges. Or have Ambi do it.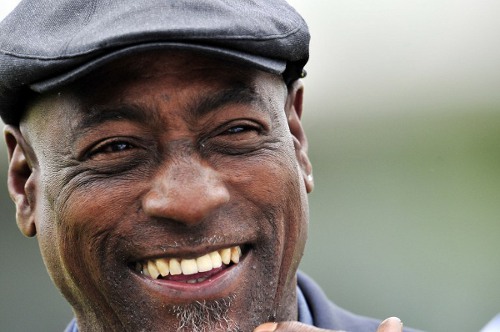 But they'll also have to be careful to make sure they don't talk to certain unnamed cricketers who might wish to offer a reasoned response to Richards' rhetorical question; they, it seems, have no problem seeing regional cricket on its knees.