"Nothing good comes easily," said Caledonia AIA's Jameel Neptune. "No excuses! Find or make a way!"
Twenty-one-year-old Jameel Neptune has his heart set on wearing the "red, white and black." Neptune is a midfielder for Caledonia AIA where he is affectionately called "Shooter"—a name that stuck to him from his early days of playing football on the Cocorite All Purpose Court.
Neptune comes from Waterhole, Cocorite, which is an area known for its negative elements. Yet, with the support of his father, he sees himself becoming an international player and he talks to other youths in his neighbourhood about finding their own way off the block.
Football is his life and he intends to make it his livelihood. Neptune acknowledges that it would not be easy but failure is not an option.
He shared his ideas with Wired868: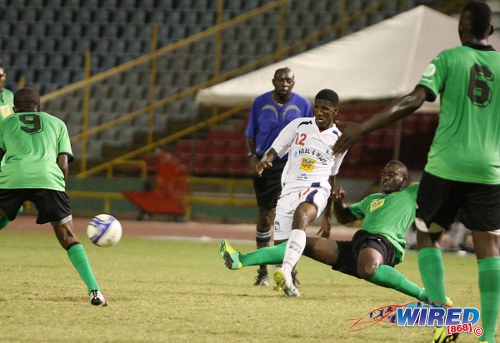 What is your date of birth?
19 July 1993.
What is your home town?
Waterhole, Cocorite.
What school did you attend?
Woodbrook Secondary then Trinity College, Moka.
What is something most people do not know about you?
My father is there supporting me at every game. I have been supported 100% by my father, Glen Gordon.
What do they enjoy doing in their free time?
Playing video games with friends and socializing.
What pushes you to succeed?
I want to play internationally. I have also been inspired by my friend Densill Theobald. He was playing here at Caledonia when I first came into the club and he guided me to fight for what I want to achieve. My father also played although I never saw him on the field; Marvin Oliver and Jamal Shabazz both say that he had skills in his days running ball with a side called Street Life.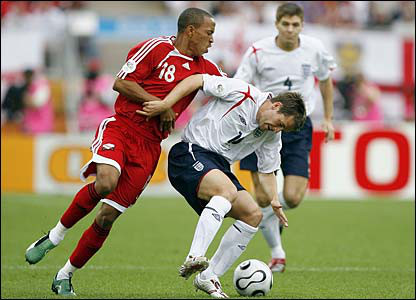 How did you start playing football?
Football is the preferred game in my family, so it was automatic. I started on the Community Courts playing small goal before joining the Clint Marcelle Football Academy at about 7 years old. I also have another relative who played in the Pro League, Cornell Glen. Glen played for North East Stars but is now playing football in India. (Glen's father is my grandmother's brother, on my mother's side).
Have you ever played outside of Trinidad?
Yes, the first time I travelled was to play in the Barbados Cup with the Academy. Since joining Caledonia I also travelled to participate in the CFU Concacaf qualifiers. We trained in Panama and played the tournament in Haiti in 2014.
What was your earliest football memory or best moment in football so far?
It was (a move for) Trinity against CIC on CIC Grounds in a game that ended tied 1-1. It earned me TV6's play of the week.
How do you describe yourself?
I am focused, serious and driven.
Who was your most important coach and why?
Our Caledonia coach Jerry Moe. He is always serious, he does not do short cut processes and he motivates the team.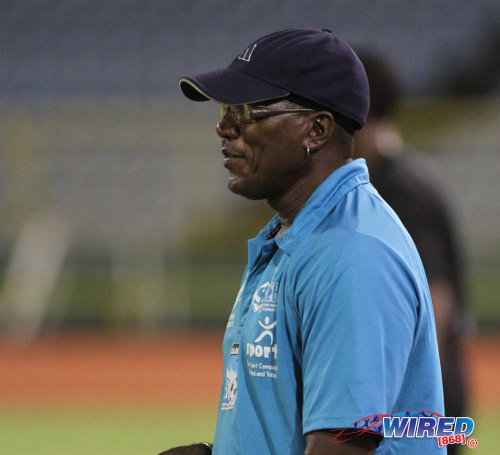 What makes you stand out as a player?
My work ethic… I strive to always be first on the field and I listen to coach and follow his instructions.
Who is your favourite player?
Ronaldinho (Brazil). He has mad skills and was the first player to make me want to sit down and watch a game of football.
Which is your favourite team?
Barcelona FC because I like their style of play. They execute well.
What is your ambition in the game?
I want to reach the top… I see myself playing in the Euro Cup final for Barcelona FC.
What is your target for the season?
My desire is to be selected for the National Under-23 Team and also to make the Senior Team.
What message would you give to other young players?
Don't give up; it takes a lot of hard work. Nothing good comes easily. No excuses! Find or make a way!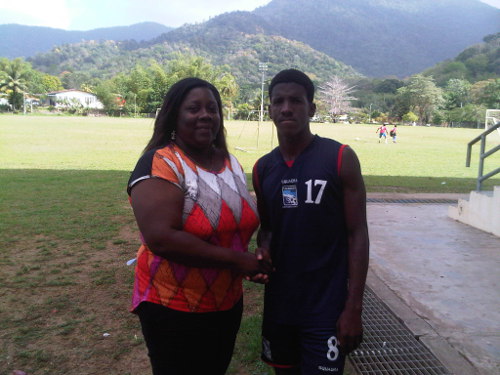 If you could, what would you change at Caledonia?
I would like to see more money invested on our team… One of my major challenges is our team does not have its own training ground. We always have to move around. Sometimes we practice at Maracas Recreation Ground or the National Stadium; but my favorite ground whenever we could use it is at UTT.
How does this affect your team?
The quality of the training is (affected) and sometimes key players get injured during practice due to holes in the training grounds. If we get a good ground that we use consistently I'm sure the team would have better chemistry and convert the quality training into wins.
And what would you change in local sport?
There needs to be more positive recognition for players and sports. I want the Government and corporate entities to invest into sporting activities. Create more obvious options for youths to earn money through avenues like sports and stuff. Our coach is doing his best but players need to be hungry. They have to want it (successful football careers) really bad and have that dream.