There were two Pro League football fixtures today but three contests.
Defence Force, Point Fortin Civic, Caledonia AIA and San Juan Jabloteh were battling for places within the middle to lower order of Trinidad and Tobago's domestic top flight competition. The Army/Coast Guard combination cemented their third place with a 4-2 win over Civic while neither Jabloteh nor Caledonia did themselves much favours with a 2-2 draw.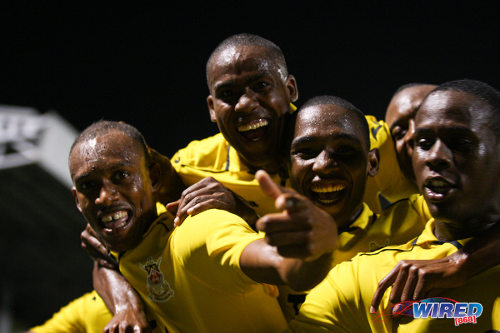 However, Defence Force striker Devorn Jorsling and Jabloteh attacker Kerry Baptiste were fighting for something far more precious than a forgettable league placing. They are wrestling for immortality.
On a dull Sunday afternoon when most football fans chose to stay at home and nurse heavy lunches, the Pro League's top two scorers were hard at work.
At the start of the 2014/15 season, the 33-year-old Baptiste was the Pro League's undisputed scoring champ with 122 goals plundered during a 12-year spell that started with Jabloteh, ignited at Joe Public and also included T&TEC FC and North East Stars before the versatile poacher returned to the "San Juan Kings" last year.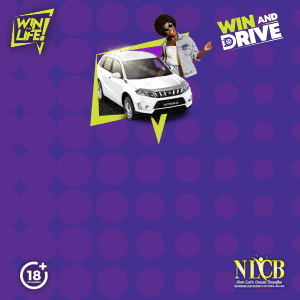 The 31-year-old Jorsling was seven goals behind with 115 items—the bulk scored with Defence Force although he did have one free-scoring season with Caledonia AIA.
Former Trinidad and Tobago international enigma Arnold Dwarika is the only other player to cross the Pro League's 100-goal mark with 103 items shared between Joe Public, North East Stars, W Connection and United Petrotrin.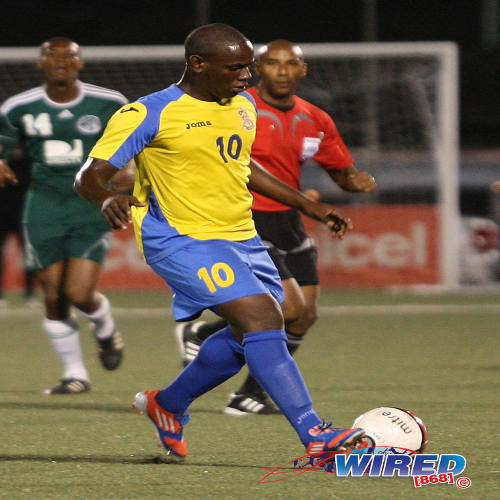 But, at the moment, it is Jorsling who holds the distinction as the Pro League's all-time most prolific marksman and he gave another example of his prowess today with a treble against Civic, which brought his overall tally to 134 league goals. It was his fourth league hattrick of the season and third of this calendar year.
Only Baptiste, Caledonia's Pernell Schultz and Point Fortin's Marcus Joseph have managed a league hattrick this season and all three just have one each.
This afternoon was one of mixed successes for Baptiste and Jabloteh. Already missing three players through suspension, Fabian Reid, Jevon Morris and Caleb Sturge, the boys from Bourg Mulatrasse dominated possession for the opening 20 minutes yet trailed from Caledonia's first real attack.
Caledonia holding midfielder Cristoper Mejia released Nathan Lewis down the right flank and Lewis glided past retreating Jabloteh midfielder Damian Williams to squeeze past goalkeeper Shane Mattis at his near post. Mejia is a Honduran import while Williams and Mattis are both Jamaicans.
The "Eastern Stallions" might have doubled their lead within minutes as Guyana international midfielder Trayon Bobb beat Mattis with a firm downward header only for Jabloteh defender Dillon Kirton to hook an improvised clearance over his own bar from inside the goalmouth.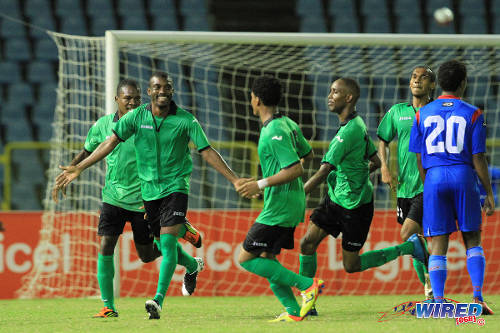 Jabloteh made the most of their escape in first half stoppage time when 19-year-old left back Nkosi David, who was drafted into the first team to cover their suspensions, equalised with an unstoppable left footed rocket from the edge of the area.
The identity of Jabloteh's second scorer was less of a surprise. Tyrone Charles found Baptiste, who now operates as an attacking midfielder, with space inside the opposing area and his finish, as always, was clinical. It was his 131st career Pro League goal.
Jabloteh's lead lasted just four minutes, though, as Schultz, another Guyana international, buried an equaliser past Mattis from inside the 18-yard box for his 13th league goal this season, which is the joint third highest Pro League tally alongside Central FC's Ataulla Guerra.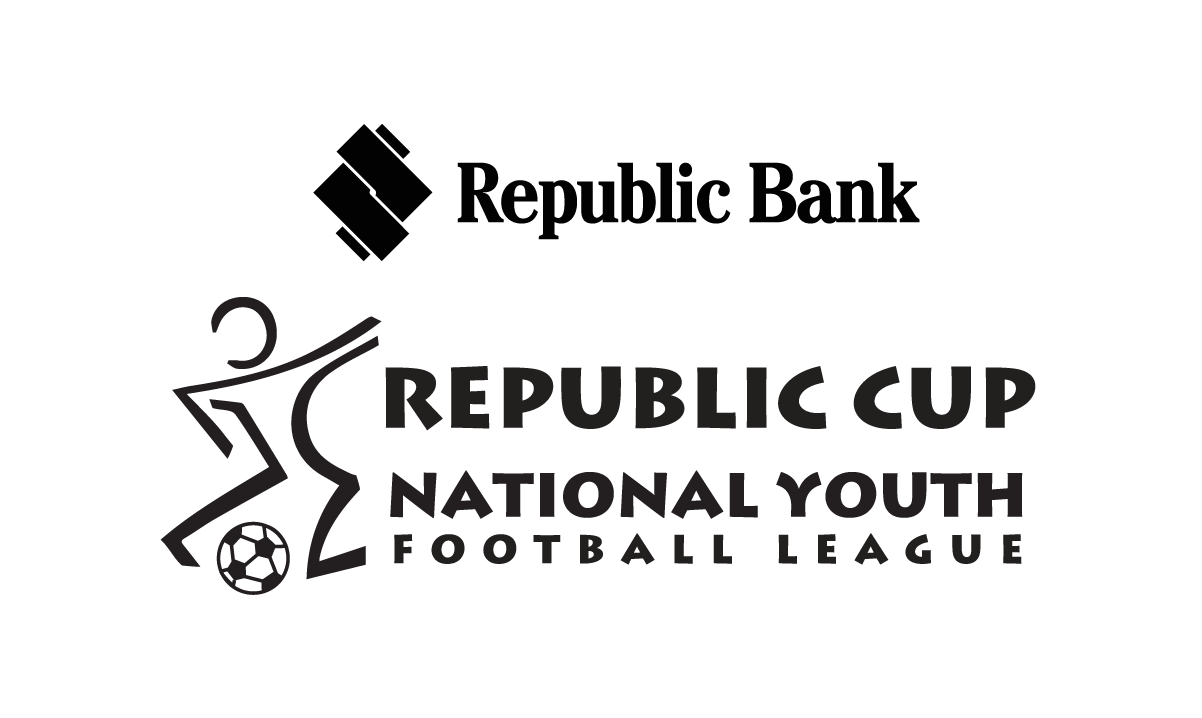 Jabloteh coach Keith Jeffrey decided to trust in his younger talent for a decisive goal and off came Baptiste and Jamaican striker Newton Sterling while midfielder Neil Mitchell and Trinity College East schoolboy Sean Bonval were introduced.
Williams, like Johan Peltier before him, struck the frame of the goal in the 88th minute while lightening almost struck twice for David, who was a foot wide with a 22-yard effort in the closing seconds. But Jabloteh had to settle for a point.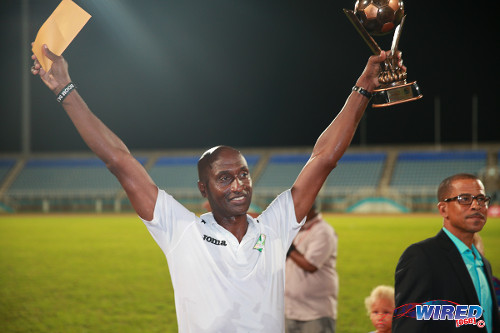 On the bench, Baptiste pouted at his demotion and flung his training jersey on the ground as he watched the final 20 minutes with a scowl.
Jorsling is the man right now.
(Teams)
San Juan Jabloteh (4-2-3-1): 30.Shane Mattis (GK); 4.Garth Thomas, 19.Dillon Kirton, 24.Adrian Reid, 20.Nkosi David; 11.Damian Williams, 12.Brendon Boucaud (28.Kendes Garcia 73); 29.Tyrone Charles, 10.Kerry Baptiste (captain) (21.Neil Mitchell 72), 9.Johan Peltier, 8.Newton Sterling (27.Sean Bonval 77).
Unused substitutes: 36.Raheem Belgrave (GK), 3.Brent Sam, 23.Brendon Figuera.
Coach: Keith Jeffrey.
Caledonia AIA (4-2-2-2): Shemel Louison (GK); 12.Kareem Joseph (captain), 23.Jamil Joseph, 16.Pierre Hitner, 22.Jameel Neptune; 5.Cristoper Mejia, 26.Nicholas Mercano; 27.Nathan Lewis (30.Domini Garnett 67), Trayon Bobb; 29.Mickaeel Gordon (15.Franz Husbands 67), 28.Pernell Schultz.
Unused substitutes: 34.D'Eandre Villaroel (GK), 25.Anthony Charles, 35.Israel Honore.
Coach: Jerry Moe.
Referee: Keilon Bacchus
Pro League results
(Sun Apr 12)
Caledonia AIA 2 (Nathan Lewis 18, Pernell Schultz 65), San Juan Jabloteh 2 (Nkosi David 45, Kerry Baptiste 61) at Larry Gomes Stadium;
Defence Force 4 (Devorn Jorsling 37, 66, 73, Kerry Joseph 60), Point Fortin Civic 2 (Andre Toussaint 38, Glen Sutton 52) at Mannie Ramjohn Stadium.