ONE OF FIFA's top corruption investigators is claiming that the inspection report on countries bidding to host the World Cup in 2018 and 2022 can no longer be trusted, calling into question the votes that gave the tournament to Russia and Qatar.
How come? A Zurich lawyer, hand-picked by Sepp Blatter, has accused former Chilean football president Harold Mayne-Nicholls, who chaired the inspection team, of breaches of FIFA's Ethics Code.
Former Zurich prosecutor Cornel Borbély alleges that Mayne-Nicholls accepted gifts, is disloyal to FIFA, failed to co-operate with the Ethics committee investigation and does not have "an ethical attitude."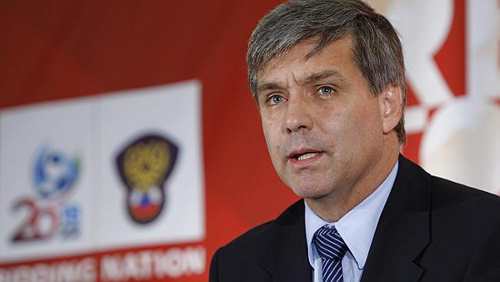 In an explosive confidential letter last month Borbély wrote that your 'behaviour seems to be a cause enough to doubt the integrity of the inspection process and your evaluations.'
Mayne-Nicholls is planning to run against Blatter next year for the FIFA presidency and is one of the most respected figures in the world game. He co-ordinated the FIFA inspection teams for the 2010 World Cup – that led to it going to South Africa – and chaired the group for 2018 and 2022.

The attack by lawyer Borbély could lead to Mayne-Nicholls' suspension from football and exclusion from next year's FIFA presidential election, denying national associations an alternative to Blatter.
Former FIFA official Guido Tognoni said, 'Harold is one of the most honest football officials you could ever meet. The action against him is totally disproportional considering all that happened around the 2018/2022 bids.'
In January this year Mayne-Nicholls accepted an invitation to discuss the World Cup bidding process in New York with lawyer Michael Garcia who leads FIFA's investigation into allegations of corruption in the bids by Russia and Qatar. Mayne-Nicholls paid the $3,000 cost of his flight and hotel from his home in Santiago, Chile.
Sitting with Garcia in his Lexington Avenue, New York, law office was Tim Flynn, an ex-FBI man, now with the Louis Freeh private detective agency. Mr Flynn has previously worked for FIFA on security at youth tournaments and Mr Freeh is a former head of the FBI. Michael Garcia was appointed by the Bush administration as chief federal law enforcement officer for the Southern District of New York. He retired in 2008 and went into private law practice.
One of my sources, close to FIFA's investigations, told me that while Garcia could not engage in clandestine activities, like tracing bank accounts, Freeh's company had that capability.
The transcript shows that no allegations of any kind were made against him during a recorded interview lasting two hours. On the contrary Mayne-Nicholls revealed disturbing activities by some members of FIFA's 22-man executive committee when they voted to give the next two World Cup tournaments to Russia and Qatar.
He told Garcia, 'The mistake was putting two bids together, once you did that it was a chaotic situation immediately.' It led to illicit vote trading. 'I was there for the Congress and . . . you could feel the decision was taken much earlier than this. I'm sure that 20 of those 22 votes were decided (in advance).'
'I talked with the members before, and I heard that Qatar was really strong and Russia was really strong, and I was really surprised.'
Harold Mayne-Nicholls: 'I knew that England was not in a good position, because a lot of members, they don't like England. But I thought that Spain and Portugal was really strong, and I thought that the US would go, will win it easily. That was my feelings. England was really a very professional presentation, very, and Australia was very professional too and a very nice country.'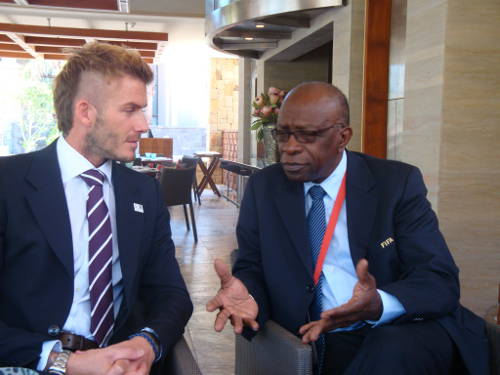 He added, 'Members of more than (more) than one team have told me that, while they felt the evaluations were terrific and looked at the right things, there was a sense even among the evaluation team that what you did wasn't going to make a difference.'
Mayne-Nicholls did not skirt around the massive problems he found in Qatar.
'No, no. They could, they cannot, they cannot do the World Cup there, but that's what, that's my feeling. It is possible, but it is high risk.'
He also told Garcia of his experience in the heat on the way to a stadium that had cooling equipment. This was in September 2010, after the boiling summer.
'They drop us one block away from the [stadium] and we have to walk this 38, 39 Celsius degree, and it was terrible. It was really tough, me with a tie, jacket. And we get in the stadium and inside (it) was 22, 23 degrees and we immediately felt better.'
There were more problems in Qatar.
'The other big risk is transportation. You will be moving 140,000 people at the same time, the same day. I don't see that (will be) very easy. I'm not sure if the members of the ExCo took (this)into consideration. I remember hearing one of them, Mr. Grondona, saying, "I will not be alive for that time so it's not my problem." In Spanish he said, "Yo no voy a estar vivo."'
Grondona died in July this year, aged 82. His son Humberto is being investigated by Rio police for ticket rackets in Brazil this summer.
IN THE PRIVACY of Garcia's office Mayne-Nicholls had other criticisms of the Qatar and Russian decisions.
'It was not even an economic decision, uh, for FIFA, because if you take an economic decision, the first thing you do is to say, "Where I can sit more people on the stadium to get better revenues?"  That's the US and England. And we went to the two places where we will find more difficulties to put people on the stadium, Russia, because it's far away, and Qatar, because they are such a small country.
'The best one was the US by far, 5 million seats against 2.7 or 2.8. England had three point something, 3.6, I think, against 2.9 or 3.1. A World Cup-record five million tickets would generate $1 billion in ticket sales.'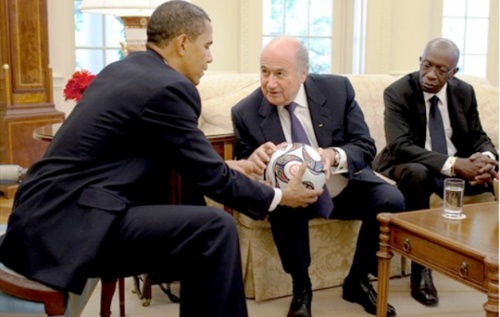 Garcia was curious to hear Mayne-Nicholls' view of the FIFA argument that they were taking the World Cup to new regions.
'A public relations statement,' he replied. 'That was never on the table. If that was on the table they would never allow England, Spain to run for the World Cup. (And) US, Japan and Korea. They already have that one.'
'The decision would have been between, 'Belgium, Holland with Russia, Australia with Qatar.'
Garcia: You never had the sense that that was part of what was being considered in the process?
Harold Mayne-Nicholls: 'No, no, no. That was never thought by the General Secretary, by the FIFA president, by the members, in any conversation, in any visit, nothing. That was never on the table.'
Mayne-Nicholls revealed to Garcia that he had been refused permission in 2004 and again 2010 to rank the bidders.
'I remember the President telling me that, the people from Russia complaining, "Why is the US number one and I'm number two?" because it will be a ranking for the country, not a football ranking, not a soccer ranking. How can you then give an explanation to Mr. Putin that put you [him] fourth and Belgium and Holland is number three and he will never accept that, and he may say to Asia, "Well, leave this organization."
Garcia also wanted to know if "consultants" Peter Hargitay and Fedor Radmann, both with track records for FIFA bribery, had tried to influence the report?
Mayne-Nicholls: 'Yeah, of course, all of them.'
Michael Garcia: 'And what did they say to you?'
Mayne-Nicholls: I don't know. I don't remember, but I'm not very friendly when I don't want to be.'
Mayne-Nicholls and his team completed their tour of Qatar on September 17, 2010. As was his custom, he made a few comments to local media but declined to take questions. What he said at Doha airport was brief and made him no friends.
He told reporters, 'Qatar faces logistical challenges' but did not expand. Then he was off to Zurich to write up the Qatar notes for the evaluation report.
When the report was published, he told Garcia, FIFA General Secretary Jérôme Valcke congratulated him, 'This is the best report I have ever seen.'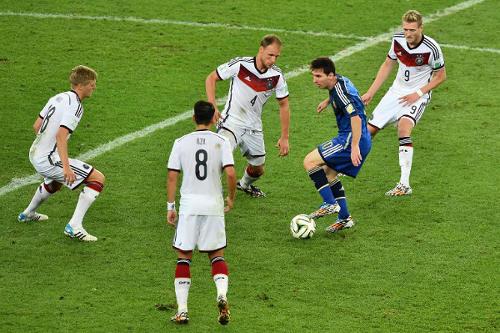 Not everybody at FIFA in Zurich shared that enthusiasm. Three years later in October 2013, Mayne-Nicholls spoke at the Leaders in Football conference in London and warned that a World Cup was almost impossible in June and July and that November and December would be chaotic for leagues all around the world. The best option, he suggested, was January/February. He made no criticisms of FIFA or Qatar.
FIFA was outraged. Mayne-Nicholls told Garcia that two days later Deputy General Secretary Markus Kattner, threatened him with legal action if he spoke out again.
'If FIFA wants to get transparency and a better democratic system, you cannot tell the people you are not allowed to talk. I have never seen something so anti-democratic like that in football.'
Mayne-Nicholls was pleased to tell Garcia that there were no public complaints about his evaluation.
'The people from Qatar they told me before the election, "You gave us a, a hard job." but on a nice way, no pressure.' But they hated the publishing of Qatar's killer summer temperatures.
The Russians tried it on – and their complaint literally blew up in the faces. 'Mutko complained that I said Russia's airports are not secure. Two weeks later there was a bomb in Moscow Airport.'
DURING HIS TOUR of Qatar Mayne-Nicholls was invited to visit the Aspire Sports Academy. Its Director Andreas Bleicher showed him the marvelous facilities, said the Academy was owned by 'private investors' and talked about how they invited young footballers from all over the world to train with them. Bleicher made clear that he was not part of the Qatar 2022 Bid Team.
When Mayne-Nicholls got home to Chile he emailed Bleicher telling him it had been 'a real pleasure' to visit the Academy and asking if his son and nephew could visit to train. And his brother a former Chilean Davis Cup player who coached Steffi Graf, was looking for tennis coaching opportunities.
Bleicher replied that he would pass this to the Qatar Tennis Federation. Then he discussed accommodation for the two youth players plus another six from Chilean clubs.
But ten days later Bleicher wrote to say that as Qatar was bidding to host the World Cup, 'We believe it might be advisable not to follow up on these topics at this point, as this might leave space for incorrect interpretations, even though Aspire is not involved in the bidding process, of course not. But other not/wrongly informed parties might mix things up.'
Mayne-Nicholls took his point.
'Dear Andreas, I fully agree. Let us wait until 2011. I think that is the best to establish a Long Term agreement. Best regards, Harold.'
That was it. No trips, no training, no benefits in either direction. Nothing from or with Aspire. Mayne-Nicholls met with Garcia in New York in January 2014 and they parted amicably.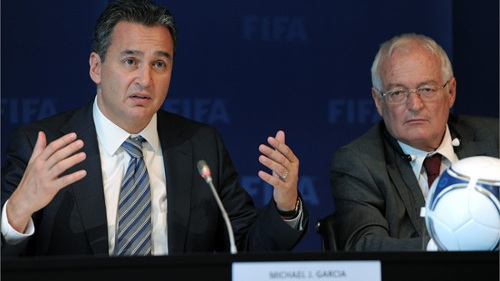 But four months later he received a letter co-signed by Garcia and his Swiss deputy Borbély. The tone had changed from friendly to accusatory.
'In light of new information we have received, we are writing to request your further cooperation.'
This new information was the exchange of emails between Mayne-Nicholls and Bleicher in late 2010. They wanted all documents and a written statement within ten days.
He replied the same day, promising to search his various email accounts and: 'At the same time I give you my authorization to check (if you can) all my e-mails sent and received on my FIFA account, which was closed at the end of 2012 or beginning 2013.'
Mayne-Nicholls also pointed the investigators to a suspect deal between Qatar and Club Libertad in Paraguay, associated with the deeply corrupt ExCo member Nicolas Leoz and similar deals in Argentina with Arsenal, the club belonging to senior FIFA vice president Julio Grondona and in Thailand, home of ExCo member Worawi Makudi.
Another five months passed and Borbély wrote again, announcing that he had launched 'investigation proceedings' and alleging that Mayne-Nicholls had 'repeatedly asked for personal favours.'
Borbély continued, 'your response, on 20 May 2014, made no detailed reference to the email communications previously mentioned, in a broad manner referred to the content of some correspondences and selectively referred to a later exchange with Mr Bleicher.'
This, said Borbély, 'seems to be a cause enough to doubt the integrity of the inspection process and your evaluations.'
Borbély, a former Zurich public prosecutor, revealed that there was 'a file in our possession' and fired off a list of 36 questions to be answered within 12 days.
One was: 'Do you consider that the exchange of correspondences referred above, between you and Mr Bleicher somehow compromised your assessment on the Qatar Bid? Indicate why?
Mayne-Nicholls replied, 'Of course not. Because they had nothing to do with the bid.'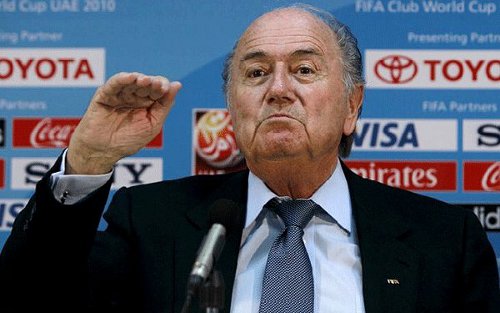 He added, 'In my capacity as President of the FA of Chile it was my duty to look out for contacts for the benefit of football in Chile.'
Bafflingly to Mayne-Nicholls, Borbély then focused his concerns on the mention in the evaluation of Qatar of the temperature issue.
He asked, 'During the presentations made prior to the vote to select the host nation for the FIFA World Cup 2018/2022, did you make special emphasis on the temperature in Qatar. If so, please indicate when and to which extent.
Mayne-Nicholls replied, 'Of course I did. Please read the comment in the bid evaluation report. It is public and known world-wide. And it shows clearly that I had a special reservation toward the Qatar bid not considering any other elements than the job I had to do for the evaluation report.'
It is difficult to see what offence Mayne-Nicholls can have caused by listing the temperatures in Qatar that, as he had told Garcia ten months earlier, he took from the Encyclopedia Britannica.
Mayne-Nicholls also volunteered to Garcia that the bid teams from Australia, Russia, USA and Qatar had presented his team, including Danny Jordaan from South Africa and two FIFA officials, with iPads.
He added, 'We decided to keep them due to the fact that they included key information about the bid process. This happened in agreement with FIFA's General Secretary.'
Borbély's investigation report will now be agreed with Garcia and Ethics Committee members from Guam, Colombia, France, Mauritania and New Zealand.
It will then go to Judge Hans-Joachim Eckert in Munich who will consult with more members from Uruguay, Senegal, Norway, Papua New Guinea, China and the USA before announcing his decision.
Mayne-Nicholls said yesterday, 'People from soccer know me, and that if you offer me something, I will go immediately to report it.'
IT IS UNLIKELY that the "evidence" collected in the "investigation" by Garcia and Borbély into Harold Mayne-Nicholls will be reported.
Bearing in mind Borbély's harsh and unforgiving language it can be expected that Judge Eckert will be urged, in private documents we will not be allowed to read, to suspend him until after the FIFA election in May.
Garcia and numerous football officials have requested that his recent report into allegations of corruption around the Russian and Qatar bids should be published. This is forgetful of them: All have signed up to Blatter's carefully crafted 2012 Ethics Code.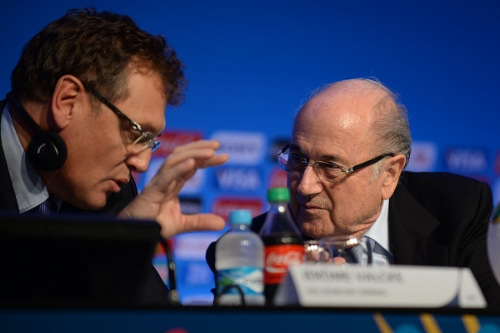 Page 49, Section 78 states: 'The Ethics Committee may decide not to communicate the grounds of a decision and instead communicate only the terms of the decision.' There is no rule permitting publishing.
It is soon forgotten that Garcia's previous report into the $100 million in bribes paid to FIFA's leaders by the ISL marketing company is forever buried. Unbelievably he cleared Blatter of knowing on March 3 1997 that a £625,000 payment from ISL to Havelange that landed by mistake in FIFA's bank account was a bribe. But we are not allowed to see the evidence.
The most crucial document in Garcia's bundle must be the transcription of his 'interrogation' of Blatter.
What was the date of this interview? Where did it happen? Was it in the comfort of Blatter's office? What questions did Garcia ask? Was he as tough on his wealthy paying client as he was in his past life as a prosecutor investigating organised crime, terrorists, murderers in New York?
That's all secret. We will never be given answers to any of these questions.
Is Seppy-weppy sitting comfortably?
In Chapter 18 of my new investigation book Omertá I tried to guess how the interrogation went:
Garcia: Is Seppy-weppy sitting comfortably?
Blatter: Get on with it.
Garcia: You had no idea that the payment from ISL to Havelange was a bribe, did you?
Blatter: Of course not, you over-paid buffoon.
Garcia: Can I have my cheque now?
Blatter: This is all secret, right?
Garcia: Anything you say, boss.
Blatter: Christine, outside, has the cheque ready for you. Or would you prefer cash? Grondona will fix it.
Garcia's secret report went to Judge Eckert who ruled, without revealing any evidence, that Blatter 'may have been clumsy . . . but this does not lead to any criminal or ethical misconduct.'
Mayne-Nicholls is unlikely to be so fortunate.
Editor's Note: Read more stories on FIFA corruption at Andrew Jennings' Transparency In Sport website.