East Mucurapo Secondary continued their Cinderella run in this year's Coca Cola National Intercol competition with a 1-0 victory over San Juan North Secondary yesterday in the semi-final round.
Mucurapo is now just one win away from copping the National Intercol title, which is a stark contrast to the school's Premier Division campaign which ended in relegation. Mucurapo has now overcome the likes of St Anthony's College, St Mary's College, Speyside Secondary and San Juan in their Intercol journey and only St Benedict's College stand between them and Intercol glory at next Friday's final from 5 pm at the Hasely Crawford Stadium, Port of Spain.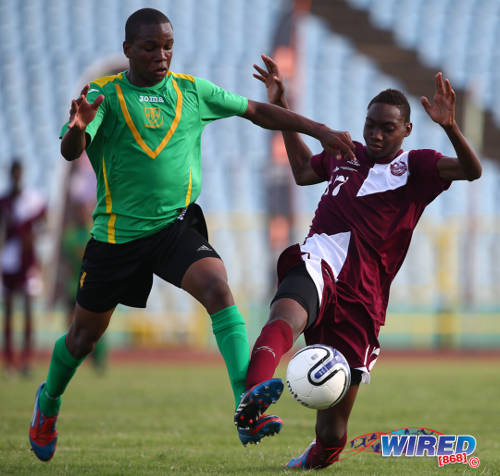 The Benedict's schoolboys have also proven that they are no fluke and can boast of ousting the Premier Division and Big 4 champion, Naparima College, on their way to the grand finale.
The boys' Intercol final will be preceded by the girls' knockout final, which features Point Fortin East Secondary and St Augustine Secondary and kicks off at 3 pm. Admission for the girls' and boys' Intercol final is $20 for uniformed students and $40 for adults or students without uniform.
Hopefully, it will be easier on the eye than boys' Intercol semifinal at the Larry Gomes Stadium.

San Juan's giant duo of Josiah Trimmingham and Brent Sam did not show their almost telepathic understanding yesterday and the Bourg Mulatrasse team was sluggish without it while Mucurapo also struggled to put together a proper passing game as both teams often reverted to long balls instead.
Trimmingham was deployed in his natural position at centre-back although he played most of the season as a defensive midfielder. His absence in the centre of the park allowed Mucurapo's Glenroy Pierre and Micah Lansiquof to dictate most of the midfield play.
After a goalless first half, both teams tried to up the ante in search of that all-important go ahead goal. Sam tried to squeeze a shot in at the near post in the 49th minute but was thwarted by an alert Aaron Enil in the Mucurapo goal while Mucurapo attacker Kathon St Hillaire shot just over after cutting in from the right flank.
In truth, St Hillaire was one of the liveliest players on the pitch and often had San Juan opponents Brandon Semper and Jamal Roach scampering on the flank as they tried to contain him. And the wily forward got his reward in the 71st minute when an attempted clearance by Trimmingham cannoned off the Mucurapo player and settled neatly in the back of the net; San Juan's custodian D'Eandre Villaroel was a mere spectator.
It was a goal that summed up the scrappy match up to that point although St Hilliare's teammates could not care less how the goal came as they dashed after the scorer.
San Juan coach Jerry Moe responded by making two substitutions in quick succession while also pushing Trimmingham further forward. Trimmingham almost rewarded his coach in the 81st minute but was unable to keep his shot under the bar after Enil spilled a crossball.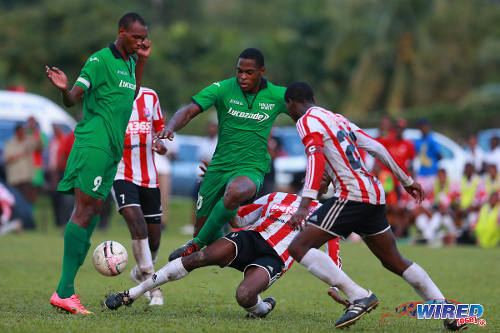 The Bourg Mulatrasse boys were finally showing urgency and even played 'ball-boys' for the Mucurapo players, as there were none available. The deadly Sam was showcasing his long throw ability too although San Juan probably needed him inside the box more.
San Juan mustered one last effort in stoppage time but Trimmingham's low right-footed drive was stylishly stopped by Enil while Pierre almost added the icing on top for Mucurapo only for his inventive finessed effort to drift just wide.
As it turned out a second item was not needed for the boys in burgundy as St Hilliare's fortunate item was the only goal of the contest.
(Teams)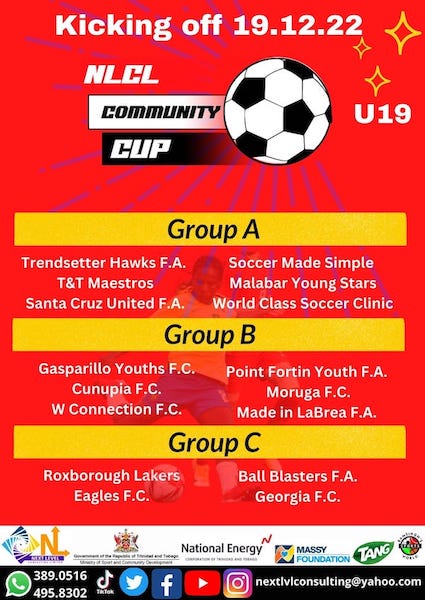 San Juan North (5-3-2): 1.D'Eandre Villaroel (GK); 16.Brandon Semper (5.Shayon Eustache 76), 6.Jamal Roach, 20.Josiah Trimmingham, 24.Levi O'Brien(Red card 90+2), 3.Hakeem Wilson; 25.Kyle Williams, 17.Jarvis Oneel (27.Romario Rochard 62), 18.Marcus Rosales; 22.Jermell Britto (11.Jeankeon Alexander 73), 9.Brent Sam (captain).
Coach: Jerry Moe
East Mucurapo (4-3-2-1): 30.Aaron Enil (GK); 7.Malique Quow, 5.Adofa Perpignac (captain), 4.Keshawn Mark, 6.Akquinda Marslin, 13.Micah Lansiquof, 21.Sherlon Roberts, 20.Glenroy Pierre (22.Ishaq Abdullah 90+2), 10.Kazim Donald, 11.Kathon St Hillaire. 26.Nkosi Mc Queen.
Unused Substitutes: 14.Keshawn Hutchinson, 16.Christian Grillet, 25.Okera Cox.
Coach: Selris Figaro
Referee: Cecile Hinds
Coca Cola Intercol semifinals
(Fri Sep 28)
San Juan North Secondary 0, East Mucurapo Secondary 1 (Kathon St Hillaire 71) at Larry Gomes Stadium, Malabar;
(Thu Sep 27)
St Benedict's College 1 (Anthony Herbert 20), Carapichaima East Secondary 0
Coca Cola National Intercol Finals
(Fri Dec 5)
Girls' Intercol final
Point Fortin East Secondary v St Augustine Secondary, 3 pm, Hasely Crawford Stadium;
Boys' Intercol final
St Benedict's College v East Mucurapo Secondary, 5 pm, Hasely Crawford Stadium.